A Guide to Supremacy, Essay Example
Pages: 9
Words: 2360
Essay
This Essay was written by one of our professional writers.

You are free to use it as an inspiration or a source for your own work.
It is no secret that every human sometimes envisions living in a utopian society where individual has complete power and control over their decisions and choices. However, if humans had absolute power over their lives, the world would have been in a much worse socioeconomic state than what it is currently. Fortunately, the absolute power humans have is restricted or limited by rules and regulations adopted and upheld in modern day's society. Thus, humans are only entitled to some amount of power and as a result are rendered incapable of exercising power in its entirety. In Susan Faludi's essay "The Naked Citadel" she stresses on The Citadel institution's imitation of absolute power over their young recruits through the use of violence and intimidations. However, all these injustices were able to be kept secret for so many years not because they were above the law but because the victims in this situation were under the notion that those were obligatory steps to becoming a "whole man" (Faludi 83). Karen Ho in her essay, "Biographies of Hegemony," also presents the manipulative and bias means that Wall Street employs to elicit absolute power when recruiting new employees to work as investment bankers. She elaborates on the idea that the recruitment processes are geared in favor of students from Ivy League schools, especially Harvard and Princeton, based on their idealistic notion that they have absolute power because they are the "smartest" (Ho 167) candidates for the job. When in reality, their standards of smartness are not held to the same standards as the rest of the world. Therefore, although absolute power only exists outside of reality, a group of individuals with a common goal in mind are able to generate absolute power in reality by misleading themselves to believe that they have in their possession something of great significance to their subordinates. Where power is a state of mind derived from a collective treaty that draws and/or eliminates limits to what behavior is deemed acceptable. This is evident in the manner in which certain behavior, such as homosexuality is freely accepted by cadets in the Citadel. This power is then maintained through the elimination of possible threat or competition to the power at hand, which is achieved by establishing certain policies that will also encourage a successful handover of power from the reigning power to other individuals who share similar bonds. Rituals construct power through both codified and uncodified treaties practiced by those who seek power, developing and warranting veneration of the structure of social dominance or the individuals in such acclaimed position.
Absolute power only exists as an illusion of the mind. There are rules, regulations and consequences that restricts the level of power one can attain thus limiting absolute power into sub levels of power instead. Just because absolute power does not exist doesn't mean that one cannot pretend or act as if they have absolute power. If absolute power were to exist in the world today, it will be defined as the capacity to impact or influence the actions or behaviors of another human. Since the mind is not limited or restricted by rules and regulations, one is entitled to believe or deceive themselves to possess absolute power over their subordinates. This total power can then be exhibited in several ways, whether emotionally, mentally, or physically. Either way is a valid form of executing absolute power as long as there are individuals willing to feed into the lies of those in power. Take the cadets in The Citadel for instance, they were taught to believe that men had absolute power over women in the real world. As a result, the upperclassmen exuded to absolute male dominance over their fellow male cadets instead of women, by taunting the knobs with feminine derogatory words, insults and beatings. Faludi then compares this unreal misogynistic circumstance to that of a "restage drama casting" the "male knobs in all the subveient feminine roles" (85). The comparison to a "restage drama" suggests that the absolute male power the institution exerts is only a form of play, an artwork or even a fantasy. Even in the 1800's when the Citadel was more militaristic and women were not allowed to vote in the United States, men were still not seen harassing, abusing and maltreating women just because they had more rights under the law at the time. Moreover, in reality men don't go around sexually harassing and degrading women to prove that they have absolute power without receiving any repercussions. As a result, one can conclude that the absolute male power the cadets thought they had over women is an illusion that only exist behind the walls of their school. Ho also makes reference to the illusion of absolute power the elites create through their continuous referral to themselves as the smartest people in the world. However, the elites unlike the cadets did not rely on the illusion of role play but instead relied on their credibility along with the use of contagious art of word to exude absolute power. Just because the elites at Wall Street had many years of experience in the field and held many high positions, their words are automatically believed to be true. To ensure that the students from Harvard and Princeton in doubt were convinced they had absolute power over everyone in the world, the recruiters began to refer to students as "'[t]he best', 'the greatest' and 'the brightest' minds in the world" (167). By the experienced Wall Street workers and recruiters continuously using flattery words such as smart, bright, and greatest, they are able to build absolute power because the students believed the words to be credible. In today's competitive job market, graduate students who are considered smart for the job will have to have had experience and insight on the specific field of work. However, this strategic choice of words the elites employs manipulates the minds of students in Harvard and Princeton to think that they have all the skills needed to work in a field of finance without even majoring in finance. That being said the absolute power the elites and the upperclassmen thought they had were only true and real to them but not to the rest of the world. Therefore, absolute power can exist only inside the realms of one's mind.
Although absolute power is unrealistic, it can become a reality when individuals with a common bond or goal in mind are able to exercise absolute power by creating a world where they deceive themselves to believe that they possess the most valuable thing that their subordinate fears to lose. Power can be exhibited in several ways, whether emotionally, mentally, or physically. Either way is a valid form of executing power as long as there are individuals willing to follow your lead or obey your instructions. However, in order for any of these forms of power to occur, one has to have in possession something of significant value to the subordinate. The item of value can be either tangible like money and food, or intangible like one's identity, and love. This ability then instills fear in the victim's heart which causes him or her to relinquish the right of control into the hands of another individual, thus granting them power over the victim. For example, the upperclassmen in The Citadel, were able to create power over their underclassmen because they believed that they controlled their ability to become whole men. While this dominance through violence prevailed with little to no resisitence, it was a substitute to physical affection. Since the Citadel created a domestic male environment, physical affection could only be depicted through violent actions. The very concept of a whole man is a fallacy that is created through the violent acts that cadets undergo. Men can onlyact and fit the roles of human beings as none can achieve wholeness. In achieving this, it would mean that such a man would not require any human company, love and affection. To the underclassmen, the whole man identity was the end goal that they looked forward to achieving by attending The Citadel. Faludi introduced the "fourth-class system" and many other brutalities the underclassmen endured in hopes industrial skills" (79) as their mission statement imply, most of them became unemployed, bitter and angry. James B. Stockdale the president of the citadel in 1979 even concluded from his experience during his time as president that the Citadel institution "'thought that they were helping people into manhood . . . but they had no idea what that meant-or who they were'" (Faludi 84). Stockdale suggests that to become a man, one must first understand who they are as a person. However, the word "thought" indicates that the citadel institution successfully mislead the cadets into believing that exposure to violence was the way to attain the whole man identity. "This goes to show that the identity of the whole man was extremely vital to the "knobs" that they were willing to allow such dehumanizing acts to be done to them in order to achieve the identity they believed to be real. That being said, the upperclassmen were able to obtain absolute power over the knobs. Ho on the other hand, elaborates on the control and influence the elites have on the upperclassmen and the elites in Wall Street, having the control over the most valuable thing to their upcoming kins, were able to create power that stemmed from the fear of losing their most vital thing in their lives. Katherine Reilly a columnist at the Daily Princetonian advised her peers to not allow " 'the type-A drive for success, money, or power or our fear of ending up outside the realm of 'acceptable' Princeton accomplishment dictate what we do with our lives'".(Faludi 181). Note the word fear adds a rather peculiar value and importance students in ivy leagues associate with attaining a career that meets the ideal Ivy League standards. Knowingly this The elites at Wall Street uses manipulative skills to schmooze in the students into thinking that investment banking is the ideal ivy league post graduate career. This in a way manipulates their minds to invest their time and career into becoming an investment banker. When in reality, the Wall Street is nothing but a platform made favorable for the white man only. In this case, the upperclassmen and the elites controlled the knobs identity as whole men and the Ivy League students' promising career respectively. However, it is important to consider that the elites at Wall Street treat these students as peers. Despite this fact, the students are subordinates to the elites as the elites essentially influence their career decisions by placing pressure on the career standards required of an Ivy League student. Therefore, a group of people with a common background can generate power by having possession of what matters most in their subordinates or kins' lives.
Now that complete power has been attained, one can maintain and transfer this power by establishing policies that eliminates any possible competition or threat to that power. To preserve and pass on absolute power from generation to generation, those in power will have to make sure that no one is a threat to that power. In order to do so, one may have to employ certain skills or policies that will influence or prevent others from competing for that power. The upperclassmen in The Citadel were able to sustain and transfer their power by implementing certain dehumanizing rituals like the fourth class system, "the braze" (Faludi 98), and the "Bananarama" (Faludi 100) .These intimidating rituals were geared to strip the cadets of their pride and to instill fear into them. This destroyed any hopes of retaliation or possible uprise against the upperclassmen in the future. The application of intimidation instills fear that cements the social class system established by previous upperclassmen. According to Adrian Baer, a cadet accused of brutally beating a knob because when saluting his pinky on his right hand did not close completely, there is a strict rule that upperclassmen not fraternize with knobs due to fear of them losing "respect for upperclassmen" (Faludi 81). That being said, the word "respect" indicates that the upperclassmen already had power, since it is a verb traditionally associated to people in power. Respect denotes reverence towards an individual for a given reason, either their character, or as a result of an encounter or event. Reverence signifies an element of elevation of an individual's social status as perceived by another individual or group of individuals. This attribute also holds for peer-to-peer relationships. Therefore, one can infer from Baer's statement that the violent treatments the knobs endure are only necessary steps taken to ensure that they remain powerless. The upperclassmen in a way were using the fear tactics to instill fear in the knobs, for once the knobs cease to fear them, they lose their power. Contrary to Faludi, Ho makes reference to the bias of the elites at Wall Street in their recruitment processes as a way to maintain and transfer their power within only Harvard and Princeton. She argues that the Wall Street recruiters only look for students with a Princeton or Harvard "badge" as if it was "a powerful currency that buys access" (169) to the job. A badge is often used as a sign of membership to a particular group. Therefore, anyone who had in possession this badge or currency is granted membership in the bond or brotherhood that most Wall Street workers share. The elite's biased tendencies proves they were able to preserve their power at Wall Street because their power only circulates within their Alma Mater. Through the instilment of fear the upperclassmen were able to maintain and transfer power while the elites at Wall Street used bias to maintain and transfer their power at Wall Street. Hence, through the imposition of fear and bias, the elites and the cadets were able to eliminate any possible competition to their power, thus ensuring that their power is conserved and passed on for generations to come.
Indeed, by developing their own world the Elites and the Citadel were able to create, maintain, and transfer absolute power.
Time is precious
don't waste it!
Get instant essay
writing help!
Plagiarism-free
guarantee
Privacy
guarantee
Secure
checkout
Money back
guarantee
Get a Free E-Book ($50 in value)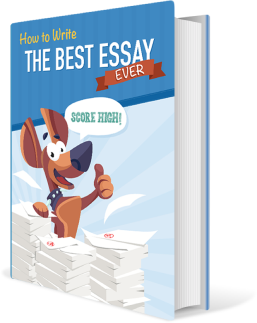 How To Write The Best Essay Ever!