American Art History, Coursework Example
This Coursework was written by one of our professional writers.
You are free to use it as an inspiration or a source for your own work.
Need a custom Coursework written for you?
HIRE A WRITER!
It is arguable that no other artistic form best represents the real nature of American sensibility than that of domestic architecture, simply because this is the "art" in which people choose to live.  It is the art not distanced.  It is also the art that reflects the evolutions in artistic thinking and feeling typically preceding it because the intimacy of the relationship demands some measure of familiarity.  In simple terms, it is one thing to assess a radically modernist painting in a museum; it is quite another to feel comfortable waking up in modernist surroundings when all that has been known before is ornate Victorianism.  Nonetheless, as America surged from the 19th century into the 20th, this is precisely what happened.  All modes of art underwent dramatic revision, ultimately changing the idea of the home itself in the American mind.
How this actually occurred is an extraordinary example of the ways in which that society seeks to define itself artistically.  What is regarded as the rise of industrialization encompasses multiple factors, each powerfully affecting the shifting nation.  Technology was transforming transportation in the rise of the automobile, which in turn generated a distancing from the agrarian to the urban.  At the same time, millions of immigrants were creating new cities, and developing new economies and social constructions in the process, just as the vast migrations of African Americans from the South to the North were changing cultural foundations (Pohl  322).  In a matter of decades, America was gaining a new and turbulent identity.  That this process alone brought about new visions of realism and modernism in art is hardly surprising, but it is more interesting to view these shifts in terms of what was left behind, and in the intimate matter of the way the home was perceived.
The most striking element regarding the widespread adoption of Victorian architecture in America is the obvious one of its being a wholly British influence.  England's Victorian era was a long culmination of its imperial growth, and the complexity and ornamentation expresses, in a sense, a multifaceted and multicultural society.  This was clearly a style  Americans sought to.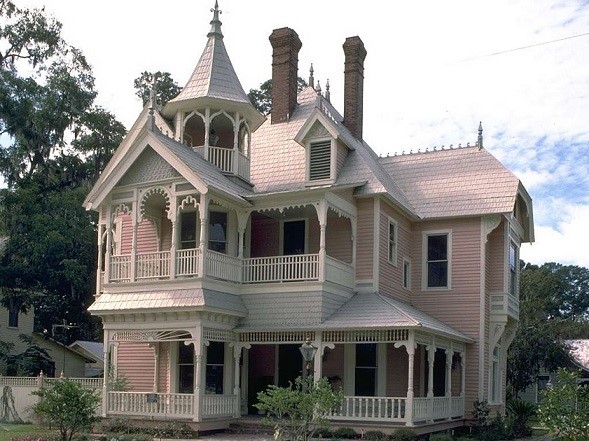 George Barber, Architect
Henderson House, Lake City, FL, 1891
Emulate, and it became a prefabricated industry.  George Barber's Henderson House, for example, was one of multiple, mail-order house plans; the middle-class family could easily create for itself such scaled-down versions of British gentility.  All the attributes of Victorianism are evident, from the cupolas and gingerbread ornamentation to the pastel coloring. Blatant in all of the American Victorianism, however, is an unifying quality: it is borrowed.  These are ideas of domestic life that reflect aspirations far removed from America.  More to the point, they could not survive in a nation virtually exploding into an evolving and expanding identity of its own.
That an American Crafts style would eventually arise from the changes in American society seems inevitable.  As noted, the shifts occurring in the nation during this period created exponential effects.  Immigrant populations filling the cities essentially created the cities,  industrialization was promoting an interest in mechanics beyond the factory, and it was felt that basic realities of form and function could have aesthetic identities all their own.  America was literally "finding itself," and a growing commitment to the setting of the nation itself generated desires to exalt, or employ, this foundation.  The early 20th century work of Frank Lloyd Wright would take this cultural drive to its apex.  Wright has become virtually synonymous with a certain type of domestic architecture, that which seeks to blend the design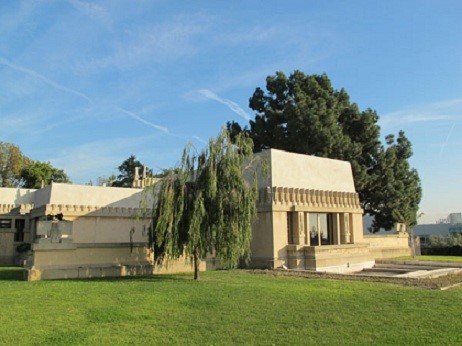 Frank Lloyd Wright, Architect
Hollyhock House, Los Angeles, CA,  1921
Of the home with the natural setting of it as completely as possible  (online lecture).  For Wright, architecture was an expression in which landscape took on aspects of other arts, as in his Hollyhock House in California.  While catering to the client's love of theatricality, Wright saw the design as both poetic and musical (Pohl  384).  It seems evident as well that the temple aspect of the home is intended to both reinforce Barnsdall's love of theater and serve the natural landscape. It is a style that is reminiscent of classical influences, but this in itself supports the sheer Americanism of it.  That is to say, in serving the setting, Wright seems to have had no choice but to echo past architecture that existed to perform the same task, and suit structure perfectly to natural environment.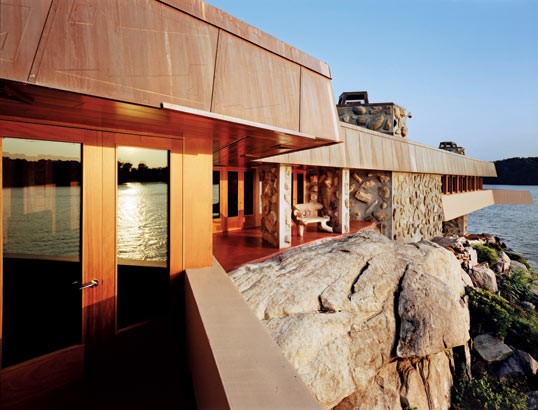 Frank Lloyd Wright, Architect
Massaro House, Petra Island, Lake Mahopac, NY, 2008
At the age of 83, Wright began work in 1950 on his last masterpiece: the "rock house" of New York's Petra Island.  Only recently completed, the home was envisioned by Wright as surpassing his iconic Fallingwater house of 1935, and it is not difficult to perceive his reasoning.  Constructed to both employ and jut over the outcroppings of the island, the home takes the symbiosis of Fallingwater, in which style of design reflects the waterfalls by the home, one step further.  In simple terms, Wright could shape the rock to become a part of the home.  On one level, classic Wright features are evident, as in the low horizontal planes; it is as though Wright seeks to brings the eye to the earth, rather than to the sky.  On another, the stone of the island is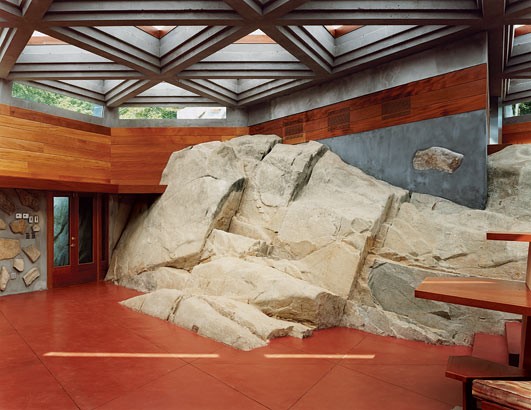 Frank Lloyd Wright, Architect
Massaro House, Petra Island, Lake Mahopac, NY, 2008
Put to more than a metaphorical use.  Massive slabs of granite seem to cascade from the walls of the great room, yet in a wholly organic way.  The house is true to the natural environment but, as is seen so often in Wright's work, it expands on those natural settings, extending them into an idealized human vision of them.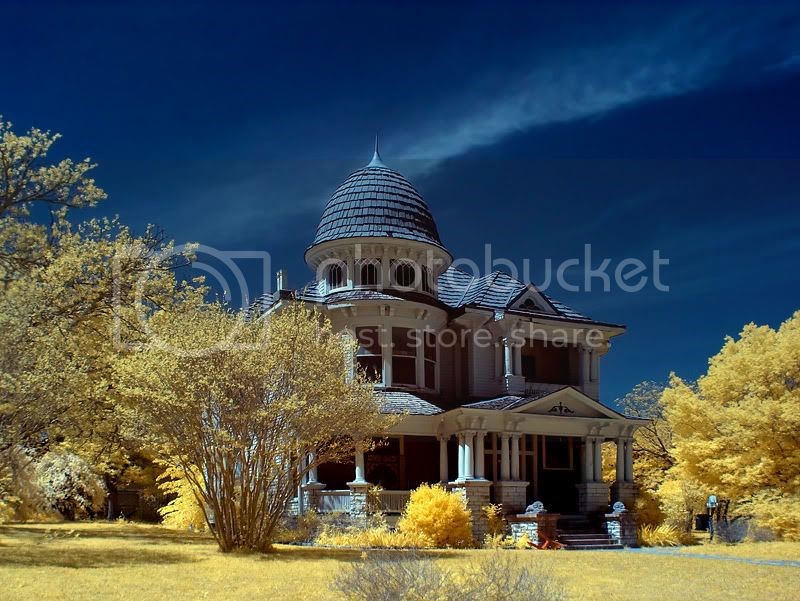 Garvey-Viehl House, Fort Worth, Texas, 1890's
It is only by revisiting the American Victorian, however, that Wright and the Craft movement may be fully appreciated.  Fort Worth's Garvey-Viehl and Ball-Eddleman-McFarland Houses, for example, exist today as powerful contrasts to that movement.  As with Wright, the effect of the architecture here is greater than the sum of its parts.  Triangles and sharp angles compete with rounded balustrades and porticos in both homes; roof ornamentation in each is nearly Byzantine in copper projections and tapered domes.  This is style presented to be style.  It is social statement through ornamentation, and juxtaposing it to Wright's work translates it to an almost alien landscape.  Wright's designs exemplify the evolution of American Craft as focused on the organic and the wider arena of living.  The British Victorian, even in Texas, carries on with a relentless emphasis on multiple styles intent on forging a grandiose, and occasionally Gothic, whole.  Most strikingly, the innate simplicity of Wright and the Craft school creates an  impression of the Victorian as centuries older than its actual, and relatively recent, flourishing.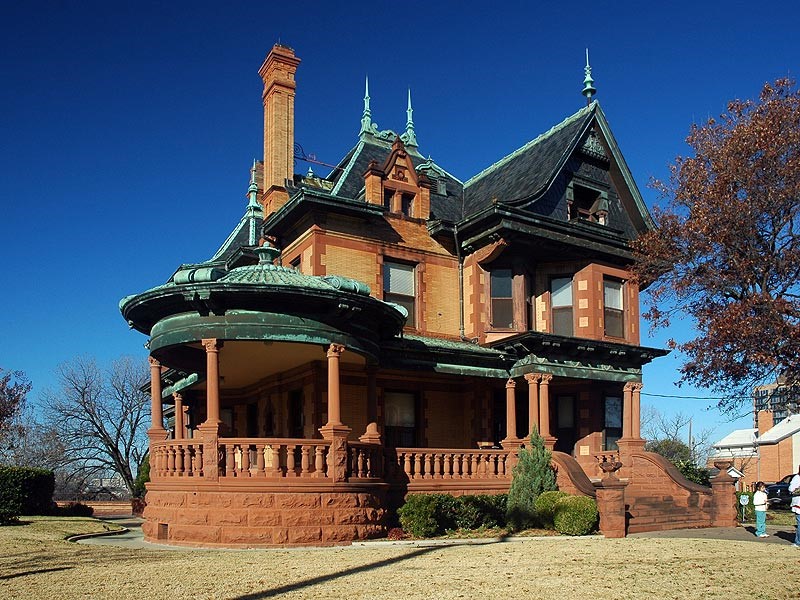 Ball-Eddleman-McFarland House, Fort Worth, Texas, 1899
Works Cited
Coleman, D.  "Loving Frank."  Home Design, New York Magazine. 2007.  Web. <http://nymag.com/homedesign/greatrooms/37252/>
Fortwortharchitecture.com.  Ball-Eddleman-McFarland House.  2012.  Web.  <http://www.fortwortharchitecture.com/ed-mc.htm>
HollyhockHouse.net.  The Aline Barnsdall Residence.  2010.  Web. <http://hollyhockhouse.net/?page_id=55&pid=16
Northwestern.edu.  East Coast Victorians.  2012.  Web. <http://faculty.wcas.northwestern.edu/~infocom/scndempr/bedbreak/east.html> Online Lecture.  2013.  Web.
Pictus.com.  Garvey-Viehl House, Fort Worth, Texas.  2012.  Web. <http://www.pixtus.com/forum/infrared/121196-garvey-veihl-house.html>
Pohl, F. K.  Framing America: A Social History of American Art, 2nd Ed.  New York: Thames and Hudson, 2007.  Print.
Stuck with your Coursework?
Get in touch with one of our experts for instant help!
Messenger
Live chat
Time is precious
don't waste it!
Get instant essay
writing help!
It's a Free, No-Obligation Inquiry!
Plagiarism-free
guarantee
Privacy
guarantee
Secure
checkout
Money back
guarantee
Get a Free E-Book ($50 in value)
How To Write The Best Essay Ever!