Back to School Offer
Get 20% of Your First Order amount back in Reward Credits!
Get 20% of Your First Orderback in Rewards
American Art History: The Ironworkers' Noontime, Coursework Example
This Coursework was written by one of our professional writers.
You are free to use it as an inspiration or a source for your own work.
Need a custom Coursework written for you?
HIRE A WRITER!
While a great deal of 19th century American art addresses issues of war and international conflict, other schools were paying more attention to the shifting realities within the nation itself.  These were extraordinary, as America was evolving from a largely agricultural culture to an industrialized one, just as vast tides of European immigrants were creating a new population.  Artists of the era, not unexpectedly, employed the genres they felt best captured these realities, with focuses on both the declining pastoral and the newly industrial.  It is in the latter, however, that a stronger sense of America's development as an entire society may be better identified.  If the Hudson River School addresses change only through an emphasis on idealizing the natural, the more realistic art of the era captures the moment, revealing multiple shades of influence and meaning in a "snapshot."
A striking example of this new realism is presented by Thomas Anshultz, and  it is interesting to note how this painting in question represents a departure from most of the artist's other work.
Dozens of his paintings reflect peaceful scenes of domesticity and nature, created before and after 1880 (athenaeum.org); not so  The Ironworkers' Noontime.  In this vivid and highly realistic work, Anshultz captures more than an hour's break for hard laborers.  Certain aspects of the American condition of the era are blatant.  It is obvious that the figures are working men in a gritty, industrial setting.  More than this comes through, however, and in ways illustrating cultural elements surrounding the scenario and in accord with artistic intent of the period:   "These ordinary, commonplace scenes featured….distinctly American relationships, often revealing social tensions structured along racial, class, or gender divisions" (online lecture).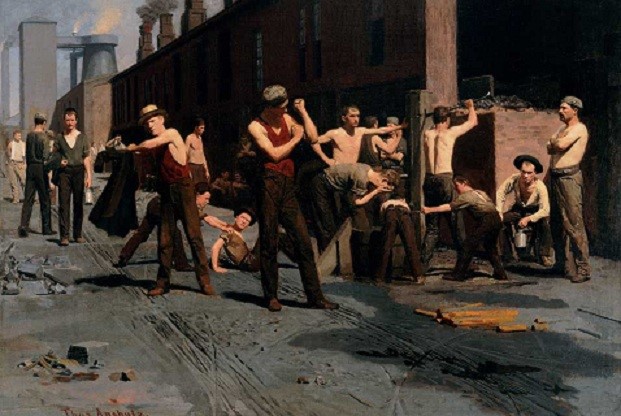 The Ironworkers' Noontime
Thomas Anshutz, oil on canvas, 1880
The Fine Arts Museums of San Francisco
The light, for example, makes a statement regarding the structure of the society.  The men are clearly strong, but the dominant impression is not their illumination in the noon sun; rather, it is the factory behind them in deep shadow.  Even as the backs of the men are largely turned to it, it remains the most potent image, and this reinforces the supremacy of industry.  Put another way, the factory is given the same importance that would be attached to a field in a pastoral work; it is the environment, and basis for life.  This is further emphasized by the spatial relations of the work.  In the rear, chimneys fuming smoke reach to the sky, as there is no visible end to the tapering off of the factory arena.  This is an alien world in which nature has no part, except as expressed in the attitudes of the men.
These attitudes say a great deal.  Most notable is the quality of harsh, pragmatic realism regarding them, which contrasts the more idealistically stylized representations of American workers as craftspeople plying their trades (Pohl  262).  The men are spaced in what may be termed a tribal way.   There is a sense of individual space around even those near to one another, and sense that a form of defiance fuels it.  Shirts are off; the figure in the foreground appears to be flexing a bicep.  Then, what is absent from the painting is as revealing as what it offers, and  the only communication is between children playing on the ground.  It is interesting, in fact, that the only glimpse of two men perhaps speaking is blocked by an outstretched arm, as if to convey the unimportance of such interaction (Pohl  262).  The primal presentation of the men, seemingly "uncaged" from their labor for break, is so strong that much is said, or may be interpreted, regarding their American lives.
This is unskilled labor, that role was primarily filled in the day by immigrants, and the nation's culture practiced a kind of segregation based on multiple factors, or perceptions.  In New England, for example, the masses of immigrant workers were perceived in both social and religious terms, and unfavorably in both by the established, chiefly Calvinist, power structure.  These were not only uncultivated workers; they brought with them dangerous ties to European, and largely Catholic, faiths.  Industrial discipline of the late 19th century, then, took the form of a larger ambition, and one enhanced by political agendas to maintain the class structure.  Harsh regulations were imposed on workers to improve efficiency, but also to "keep them in their place" as men unworthy of pursuing the women beyond their own immigrant culture, and as men whose religious views must be similarly constrained (Peet, Hartwick  112).  In basic terms, as one level of society sought to exert control over another, the social, political, and the religious combined to strengthen the class divisions.  Anshultz in no way overtly presents these historical schisms, yet the effect is unmistakeable.  The swagger of the men, expressed in a variety of extremely masculine postures, challenges.  There is a feeling that, the noon break notwithstanding, these are workers ready to take action and defy the superiors behind the shadowed factory.
Works Cited
Athenaeum.org.   Artworks for Thomas P. Anshultz.  2012. Web. <http://www.the-athenaeum.org/art/list.php?m=a&s=du&aid=570> Online Lecture. 2012, Web.
Peet, R., & Hartwick, E. R.  Theories of Development: Contentions, Arguments, Alternatives. New York: Guilford Press, 2009.  Print.
Pohl, F. K. Framing America: A Social History of American Art, 2nd Ed.  New York: Thames & Hudson, 2007.  Ptint.
Stuck with your Coursework?
Get in touch with one of our experts for instant help!
Messenger
Live chat
Time is precious
don't waste it!
Get instant essay
writing help!
It's a Free, No-Obligation Inquiry!
Plagiarism-free
guarantee
Privacy
guarantee
Secure
checkout
Money back
guarantee
Get a Free E-Book ($50 in value)
How To Write The Best Essay Ever!