Community Health Marketing Portfolio, Term Paper Example
Presentation Overview
Alzheimer's is the leading cause of dementia affecting seniors aged 65 and older. The disease affects the brain and results in memory loss, impaired judgment, personality changes, and loss of language skills (Alzheimer's Association, 2011). The disease affects the patient as well as his or her family. The role of the caregiver is typically assumed by a family member and can be a stressful and emotional responsibility. Watching a loved one deteriorate is no easy task. It is for that reason that a program should be implemented to alleviate the stressors associated with the aggregate population of Alzheimer's caregivers. The program will be designed to help caregivers understand the process of the disease as well as give them sufficient tools to effectively care for the patient as well as themselves.
This portfolio and presentation will examine the importance of social marketing, define measurable objectives and outcomes, and describe the program to be implemented. It will further discuss the evaluation tools chosen as well as the reasons for choosing them. Further information in the portfolio will address how these actions will relate to the effective care of Alzheimer's patients as well as their caregivers.
Program Overview
Most recent research related to Alzheimer's disease does not effectively address the role of the caregiver. Failure to do so showed a significant gap in programming as it relates to Alzheimer's patients and their caregivers. This is an important topic for various reasons; Alzheimer's is the sixth leading cause of death among adults aged 18 and older, more than five million adults older than 65 suffer from the disease, and these numbers are expected to double by 2050. Unless effective methods to treat and prevent the disease are utilized, the number of Alzheimer-related deaths will increase significantly (U. S. Department of Health and Human Services, 2010).  Caregivers are often regarded as the second patient to the disease because of the extensive burden of caring for Alzheimer's patients.
Alzheimer's caregiver interventions will include the development of educational programs which will effectively address the concerns and stresses associated with caring for Alzheimer patients. It is suggested that these programs are presented monthly and that one-on-one counseling sessions are included to address individual stressors for Alzheimer caregivers. These sessions will also educate caregivers on available community resources to successfully manage their duties as caregivers. More specifically, the interventions will focus on caregivers who work with Alzheimer patients who are in the pre- or early stages of the disease. This will ensure that caregivers are equipped with the necessary tools to effectively cope with the disease. The interventions will address caregivers on an individual basis as it is important to address varying personalities and cultural backgrounds of the caregivers (Morano & Bravo, 2002).
Trained community health counselors will conduct the sessions at designated community health centers. In order to be effective, the program should last for at least six months. In addition, follow-up sessions will be scheduled to evaluate behavioral changes among caregivers as a result of the interventions.
Program Proceedings
Introductions
Program administrators will discuss the program goals, common stressors for caregivers, and statistics which relate to the disease. The initial phase of the discussion will be supported with visual graphics to present the significance of Alzheimer's in the United States. The purpose of these visual presentations is to give program participants a clearer understanding on the importance of proper care for both patient s and caregivers.
Statistical Evidence
The National Institute on Aging estimated that in 2010, between 2.4 million and 5.1 million Americans have been diagnosed with Alzheimer's disease. With the continuation of current population trends, Alzheimer's disease numbers will significantly increase. The reason for this estimate is because the disease typically affects people aged 65 and older. Current population trends indicate that people aged 65 and older will grow from 39 million in 2008 to 72 million in 2030 (Greenlee, 2010). The Alzheimer's Association reports that nearly 10 million baby boomers will be diagnosed with Alzheimer's during the remainder of their lives. These staggering numbers will create challenges for the patients, their caregivers, and the healthcare system (Alzheimer's Association, 2011).
In an effort to transform health and long-term services, state and federal governments are engaged in developing community-based programs. An important factor which will be addressed by these community-based programs will be cost-effective ways to sustain family caregivers so that social and developing care needs of Alzheimer's patients can be met.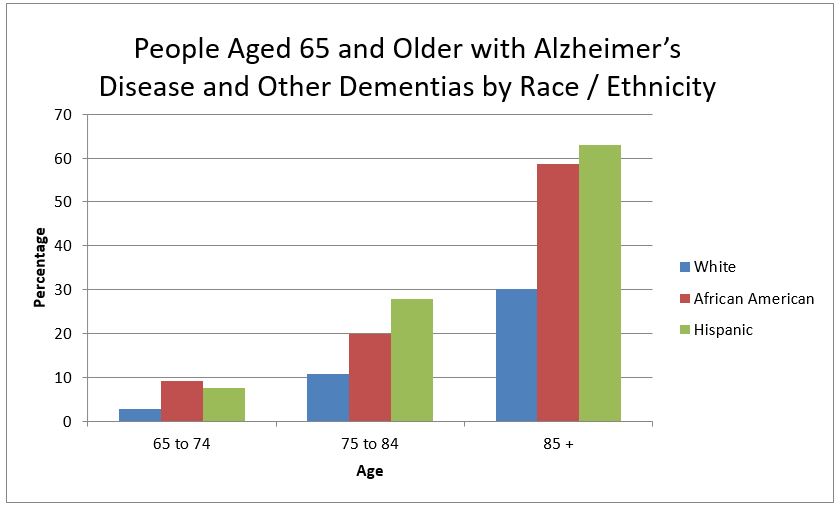 Source: Washington Heights-Inwood Columbia Aging Project, 2006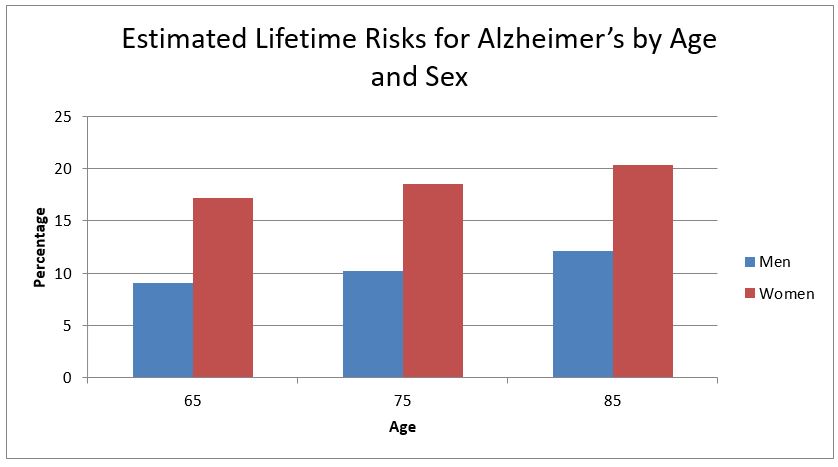 Source: Alzheimer's Association, 2010
Successful Program Implementation
Implementing a program that focuses on the well-being of caretakers of Alzheimer patients is crucial. Measuring program effectiveness and ensuring proper utilization of resources is therefore essential. The program will only be successful if program objectives are delivered effectively and if resources are appropriately utilized.
Ongoing evaluation will provide an atmosphere of continued improvement. This will allow the program to build upon previous successes while modifying and improving other program areas (Glick, 2004). Glick illuminates the importance of eliminating ineffective program features in order to avoid repeating mediocre program components. Ongoing program evaluation will include monitoring participant interest during program delivery so that program administrators can effectively adjust course material to suit the varying needs of participants, and post-program evaluation to determine the overall effectiveness of the program.
The purpose of the program evaluation is to determine if caregivers were successfully educated on personal care and well-being while caring for Alzheimer's patients. A positive response would indicate that the program made an impact on community members and was therefore successful.
Survey data suggests that there is a significant problem that should be addressed in the aggregate population. The problem refers to increased numbers of caregivers complaining of being overly stressed and burned out. In addition to these factors, little resources are currently available to alleviate some of these detrimental factors.  As a result, caregivers' physical, mental, and emotional health is affected. In addition, the quality of relationships between caregivers and their patients are also affected. Research conducted by the Alzheimer's Institute indicate that more than 60 percent of caregivers attribute increased stress to caring for a loved one with the disease. Because of the increased stress, caregivers were unsure if their loved ones received adequate care. Relationships between caregivers and patients were strained because of the increased demands placed on caregivers. In fact, an alarming 66 percent of survey respondents reported feeling 'blue' or 'sad' while dealing with patients. These feelings were often accompanied by physical aches and pains. Furthermore, caregivers reported a reduction in social activities as a result of caring for the patient.
Source: (Schulz & Martire, 2004)
According to the Stress/Health Model, the primary stressors placed on the caregiver include the level of patient cognitive impairment, the frequency of patient problem behaviors (e.g., agitation, restlessness, wandering, aggression), number of hours per week spent providing physical assistance with instrumental or personal activities of daily living (e.g., bathing, dressing, shopping, housework), and helping the patient to negotiate the health care system (e.g., getting to physician appointments, taking prescribed medications).  A second set of stressors, thought to be a consequence of the primary aspects of care giving may be less obvious to health care professionals because of their relatively limited contact with patients and family caregivers.  For example, as a result of the patient's physical and emotional dependency on the caregiver and fundamental changes in the nature of their relationship, the quality of the relationship between caregiver and care-recipient often decreases over time (Schulz & Martire, 2004).  The right column of the concept model illustrates the different interventions or strategies to produce a significant improvement in caregivers' ability/knowledge, and burden.
Different interventions will effectively improve caregivers' coping abilities.
Retest to Measure Change in Reported Caregiver Stressors
After the completion of the six-month intervention program, participants will be interviewed to determine program effectiveness. If the program was successful, caregivers will report decreased levels of care-related stressors. The caregivers will be re-tested for health risk behaviors by completing the original questionnaire for the test-retest method to evaluating program effectiveness. This process is an accepted method to measure the effectiveness of interventions which are designed to change attitudes or behaviors (Glick, 2004).
These studies use trained observers to count the number of people complaining about stress issues directly related to caring for patients with Alzheimer's.
Conclusion
Public health policies are implemented by community representatives who adequately distribute political and economic resources in order to meet specific public needs. This includes promoting and protecting the health the community. The purpose of this intervention is to increase the quality of life for caregivers of Alzheimer's patients. Doing so will not only improve the well-being of the caregivers; it will also improve the quality of care that Alzheimer patients receive. Effective program implementation will result in a decrease in the number of caregivers who report physical, mental, and emotion strain as a result of caring for diagnosed patients. Social influence will contribute to persuade caregivers to adjust their behaviors and attitudes in an effort to improve their lives.
This program will support the goals of Healthy people 2020 by educating and empowering caregivers to improve the quality of their physical and emotional health, and subsequently the quality of their lives.
Works Cited
Alzheimer's Association. (2011, June 8). Education and Awareness. Retrieved June 9, 2011, from Alzheimer's Association: http://www.alz.org/index.asp
Glick, D. F. (2004). Program Management. Community and Public Health Nursing, 490-515.
Greenlee, K. (2010). Until There's A Cure: How to Help Alzheimer's Patients and Families NOW. Senate Special Committee on Aging. Washington, D. C. : U.S. Department of Health and Human Services.
Morano, C. L., & Bravo, M. (2002). A psychosocial model for Hispanic Alzheimer's disease caregivers. Gerontologist, 42(1), 122-126.
Schulz, R., & Martire, L. (2004). Family caregiving of persons with dementia. American Journal of Geriatric Psychiatric, 12(3), 240-249.
S. Department of Health and Human Services. (2010). Healthy People 2020. Retrieved June 9, 2011, from hhs.gov: http://www.healthypeople.gov/
Time is precious
don't waste it!
Plagiarism-free
guarantee
Privacy
guarantee
Secure
checkout
Money back
guarantee