Back to School Offer
Get 20% of Your First Order amount back in Reward Credits!
Get 20% of Your First Orderback in Rewards
Health Care: Enterprise Risk Management, Term Paper Example
This Term Paper was written by one of our professional writers.
You are free to use it as an inspiration or a source for your own work.
Need a custom Term Paper written for you?
HIRE A WRITER!
Introduction
Enterprise Risk Management is a business model adapted by organizations and is expected to identify, address as well as seize opportunities to minimize risks within the organization's functions. The following paragraphs will explain basic elements of enterprise risk model in relation to basic risk management; Brannan and Taylor paper; Risk Heat Map and an analysis of JCAHO's top ten actions.
Explanation of how enterprise risk management is or is not different from basic risk management.
Wayne L. Brannan and Jennifer R. Taylor (2006) posed some important relevant questions in attempting an explanation of why enterprise risks management now. These questions pertain to considering whether a healthcare audit reveals that my facility has failed to report of irregularities or the chief Urologist was subsequently charged with research conflict of interest. Also, what if my facility inappropriately billed for time and services while functioning under a federally funded grant? More importantly, if or my organization was noncompliant in interim life-safety measures? (Brannan & Taylor, 2006).
Precisely, these questions summarize how enterprise risk management is or is not different from basic risk management. Further, the analysts explained that the present healthcare financial structure is so complex that it exposes managers and health care workers to risks of being accused and convicted of fraud, which is prevalent in twenty-first century health care management practice. Basic risk management while it examines potential risks of inappropriate expenditures similar to enterprise management healthcare organizations structure with Medicaid, Medicare and Accountable Care Act Provision must establish a logical framework for identifying the scope of potential risks relevant to practices within the organization. Specifically it relates to evaluating risk exposures and responding to them (Brannan & Taylor, 2006).
Explanation of figure 5 – page 9 of the Brannan and Taylor paper on ERM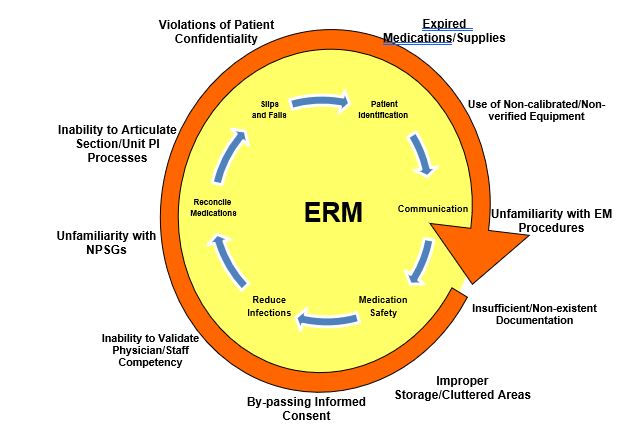 This ERM Fusion model is a mechanism designed to evaluate a hospital/organization's exposure to risk of non-compliance regarding NPSGs requirements. The ones considered routine being practiced by the facility on a daily basis are also evaluated to determine accuracy of compliance. These routine functions are represented in the inner circle as patient identification, communication, medication safety; reduce infection; reconcile medications and slip and fall. In cases where ther facility does not continuously honor both NPSGs and routine modes of duty execution accreditation of the facility could be in danger (Jablonowski, 2006).
These are encapsulated within the ten actions that will make or break an organization. Violations of Patient Confidentiality They include expired medication supplies; use of non-calibrated verified equipment; unfamiliarity with EM procedures; insufficient/ nonexistent documentation; improper storage/cluttered areas; bypassing informed consent; inability to validate physician or staff competency; unfamiliarity with NPSGs regulations; inability to Articulate Section/Unit PI Processes and violation patient confidentiality (Shaw, 2006).
Explanation of Figure 2 –Risk Heat Map – page 6 of the University of Regina document.
Figure 2 Risk Heat Map and Corresponding Treatment
(University of Regina, 2006).
According to of the University of Regina document Risk Heat Map there are three major levels of risk impacts namely, significant, moderate and minor. Further for each level there are three supporting risk management action perceived as low, medium and high. The crucial strategy must aim at extensive management, monitoring the risk identified as well as merely considerable management if it is low risk. At this significant level risk identified range financial Loss >$ 5MM; stakeholder faith impacted and lasts >18 months; Isolated or Multiple Loss of Life; significant or multiple events of fine, fraud or legal action; complete system crash with loss of critical data; inability to recruit, retain staff to operate and labor disruption that impacts graduation (University of Regina, 2006).
The second level is less severe requiring an evaluation of whether the risks are worth accepting at the low stage. The medium supportive management intervention seeks to enforce a worthwhile strategy while the high stage requires management effort. This is after financial Loss < $5 MM; stakeholder faith impacted and lasts 6-12 months; significant injury to one or more; isolate incidents of a fine, fraud or legal action System crash during a peak period; difficulties in recruit and retain staff and labor disruption that impacts operations of any duration (University of Regina, 2006).
Minor risks have been identified as financial Loss <$ 500 000; stakeholder faith impacted and lasts <6 months; isolated injury; civil or criminal action threatened; system off-line periodically during non-peak period. The supporting risk management relate to a low strategy of simply accepting the risks, medium accept, but monitor and high manage and monitor (University of Regina, 2006).
Analysis of five JCAHO's top ten actions that will make or break an enterprise according to the Risk Heat Map criteria in the Risk Heat Map
Analysis Table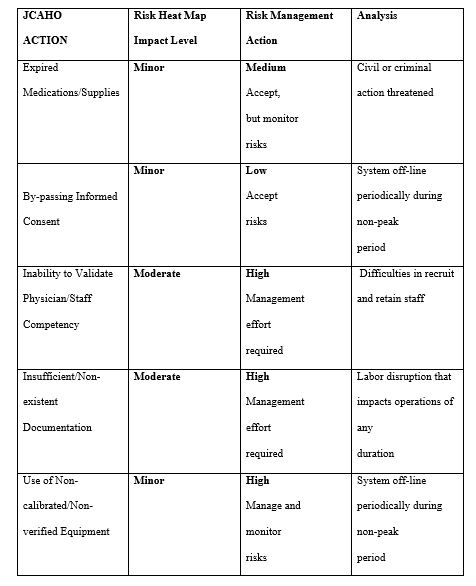 References
Brannan, W., & Taylor, J. (2006). A Model for Enterprise Risk Management Within a Healthcare Organization. Retrieved on July 24th, 2013 from http://www.asse.org/practicespecialties/riskmanagement/docs/Brannan%20&%20Taylor%20Article.pdf
Jablonowski, M. (2006). The Real Value of ERM. Risk Management Magazine. Shaw, J. (2006). Managing All of Your Enterprise's Risks. Risk Management Magazine. University of Regina (2006). Enterprise Risk Management Framework. Policy 10.105: Enterprise Risk Management Policy
Stuck with your Term Paper?
Get in touch with one of our experts for instant help!
Messenger
Live chat
Time is precious
don't waste it!
Get instant essay
writing help!
It's a Free, No-Obligation Inquiry!
Plagiarism-free
guarantee
Privacy
guarantee
Secure
checkout
Money back
guarantee
Get a Free E-Book ($50 in value)
How To Write The Best Essay Ever!