Back to School Offer
Get 20% of Your First Order amount back in Reward Credits!
Get 20% of Your First Orderback in Rewards
Health Promotion Analysis, Term Paper Example
This Term Paper was written by one of our professional writers.
You are free to use it as an inspiration or a source for your own work.
Need a custom Term Paper written for you?
HIRE A WRITER!
Assessment
Health promotion programs represent an opportunity to explore the different elements that contribute to effective outcomes for communities that require these types of programs to promote survival and wellbeing. It is important to identify the target group and any cultural, language, or religious barriers that might exist within this group to improve communication and to recognize how to share health information and provide guidance effectively to the group. For this assignment, the group that was selected was Haitians facing a high risk of diabetes, and this group was selected because of the barriers that currently exist regarding their understanding of diabetes and the impact of this lack of knowledge on their overall health and wellbeing. One of the key issues for this group is language because the primary language spoken is Creole; therefore, the diabetes education effort required fluency in Creole in order to achieve the desired outcomes.
Many Haitians are unaware of the risks associated with their food choices and the level of physical activity that they participate in on a regular basis and therefore, face critical challenges and a higher risk of type 2 diabetes in their adult years. It is important to minimize these risks by providing effective programming efforts that will encourage this group to improve their behaviors related to diet and exercise to reduce their risk of type 2 diabetes over time. In cultures where customs are valued highly and groups use food and drink as a form of togetherness, it is important to educate this group regarding how to cook and prepare foods that are healthier in nature by using substitute ingredients and techniques to reduce calories, fat, cholesterol so that proper weight management is achieved. These elements are active contributors to the development of new ideas and approaches to educate these groups regarding their risk of type 2 diabetes in order to accomplish the desired objectives. For Haitians who speak Creole as their primary language, the education effort in question must be spoken in Creole so that program participants will understand and better relate to the subject matter and will demonstrate their willingness to make changes in their own lives. From a behavioral point of view, it is necessary to develop a greater understanding of the potential impact of this education program for Haitians from a behavioral point of view because a shift in behavior is the beginning step to successful outcomes for this population group. The proposed activity would provide this education in a format that is easy to understand and will provide participants with guidance regarding diet and exercise that will reduce their risk of type 2 diabetes over time.
Evidence from Research
In an effort to embrace the concept of health promotion in the Haitian culture and the barriers that exist, it is important to recognize prior research and its impact on these activities. For example, a study conducted at the United States-Mexico border utilized cultural identifiers to determine if recruitment and prevention strategies were influential in shaping outcomes for patients with diabetes and their self-management behaviors (McEwen et.al, 2010). The study utilized a pretest-posttest approach that was IRB approved to evaluate the impact of behaviors on diabetes self-management after a social support intervention (McEwen et.al, 2010). The target population was Mexican-Americans between the ages of 18-64 who speak Spanish and lived near the border of Arizona and Mexico (McEwen et.al, 2010). The study utilized several instruments, including the Summary of Diabetes Self-Care Activities and the Diabetes Distress Scale, and included nine separate interventions over a six-month period, six in groups and three individually, all of which were delivered in Spanish by Promotoras (McEwen et.al, 2010). The study results indicated that after the intervention efforts, the study participants had greater success with diet and exercise after the intervention, which led to improved diabetes self-care (McEwen et.al, 2010). The study indicates that by providing intervention efforts that are sensitive to cultural and language barriers, patients are likely to effectively respond to these interventions and to other indicators to improve their health and wellbeing as related to type 2 diabetes (McEwen et.al, 2010).
As a diabetes educator, it is important to reflect upon the most relevant topics regarding this disease and how they impact Haitians in order to garner their attention and respect in a desirable manner. These efforts demonstrate that it is important to evaluate the different conditions that exist for Haitians and how they might respond to diabetes education in different environments. Therefore, it is likely that they will better respond when they are in their own surroundings where they are most comfortable. As a result, the programmatic effort would take place in the Haitian community in order to accomplish the desired objectives in a manner that is consistent with the education plan.
The issues surrounding health literacy and cultural barriers are particularly relevant for Haitians and require further understanding and discussion. For example, "Cultural barriers to care include language, religious beliefs, family ties, interactional styles, gender norms, and misconceptions about Western medicine" (Shaw et.al, 2008, p. 4). Therefore, it is important to recognize these barriers and to minimize them as best as possible through the evaluation of the choices that many Haitians make that may limit their willingness to change their behaviors or to seek medical treatment under specific conditions. These elements are active contributors to the ability to achieve success in the educational effort and to promote greater wellbeing within this population group.
Planning
A successful learning environment regarding type 2 diabetes education requires an effective understanding of the different elements that are active contributors to existing lifestyle choices. Therefore, when conducting a type 2 diabetes education effort with a culturally diverse population such as Haitians, it becomes necessary to determine how this group might benefit from the different aspects of lifestyle change that are proposed. With these considerations in mind, it is necessary to determine how to plan a programmatic effort that will capture the needs of this population as effectively as possible to ensure that all possible concerns are addressed as best as possible through the intervention effort. With this process in mind, the type 2 diabetes educational program must consider barriers for this cultural group as well as the opportunities that are available to support this population by using specific learning strategies to accomplish the desired objectives.
The proposed planning effort must incorporate a number of learning objectives that coincide with the content that will be provided to this group. These efforts are critical to the success of the endeavor and in promoting a successful understanding of the risks for this population based upon their existing lifestyle behaviors. The primary goal of this education program is to recognize that there are significant challenges related to this endeavor and that the modification of lifestyle behaviors for this population group may be very challenging if they do not effectively understand why their current behaviors are not appropriate in the prevention of type 2 diabetes. Therefore, additional measures must be taken from a learning perspective that will support these objectives and provide education and outreach that is culturally appropriate and sensitive to this population group.
The proposed outline of the lesson plan for this educational effort is as follows: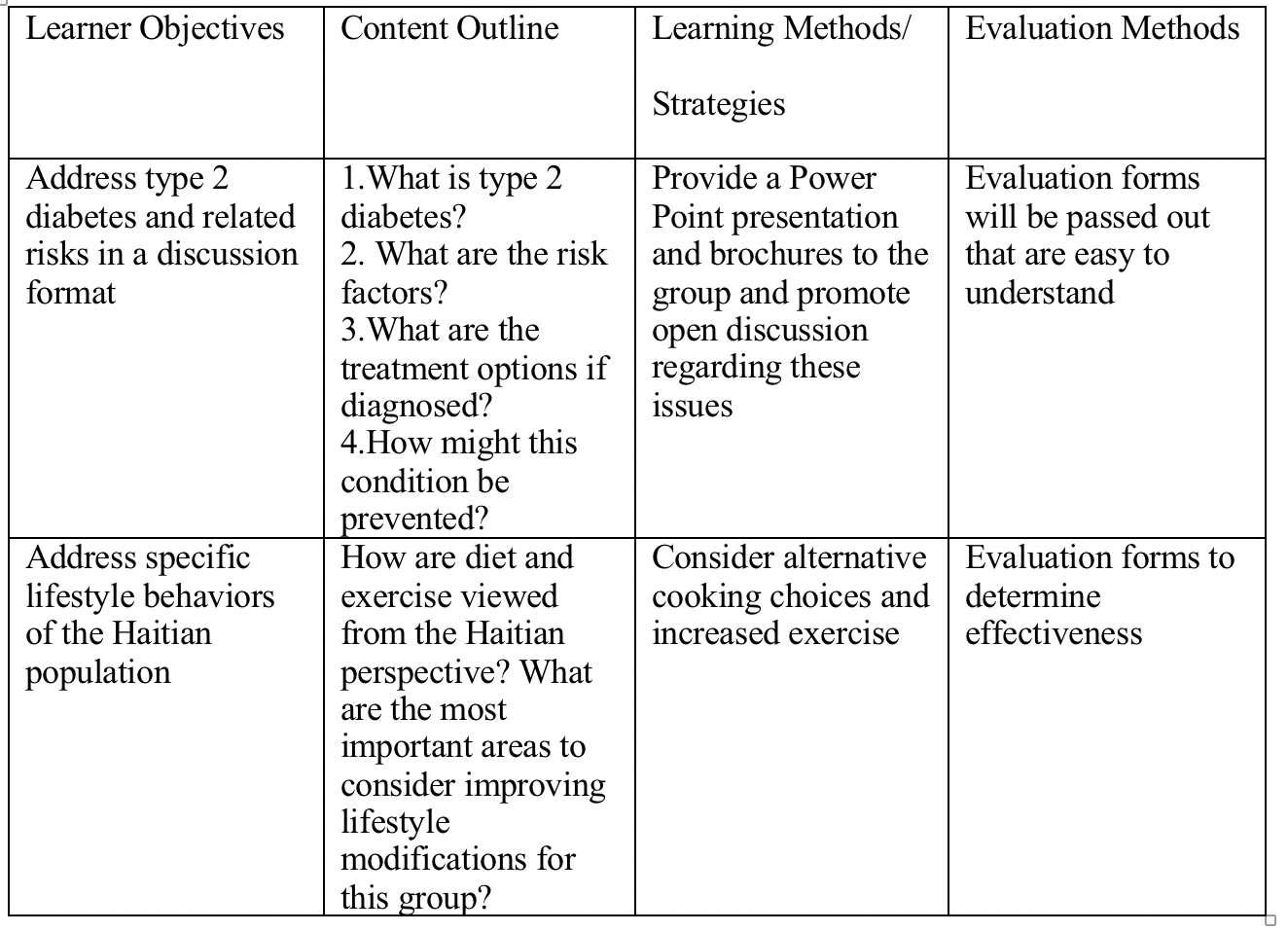 Presentation and Evaluation
For this particular population group, it is important to develop a strategic approach which captures the most important aspects of type 2 diabetes and how they relate to this population group. Most importantly, providing a culturally sensitive educational program is likely to engage participants in the discussion and in promoting a better understanding of the importance of diet and exercise for this population group in reducing their risk of type 2 diabetes. Under these conditions, it is also important to identify specific learning areas that are most relevant, such as diet, exercise, and general lifestyle changes in order to maximize the educational experience for these individuals. In this context, it is important to develop a strategic approach to the educational program that will satisfy the needs of this population and also provide some degree of shock value for these participants so that they are very aware of the risks associated with this condition and how to avoid a diagnosis as best as possible.
The development of a solid educational program to accomplish the desired objectives requires an effective understanding of the challenges and limitations of this culture and their awareness of type 2 diabetes. By speaking to the group in the Creole language, this is likely to break any tension that might exist at the beginning of the program and will further engage the group in an open discussion. In addition, it is important to reflect upon the different lifestyle behaviors that this group participates in on a regular basis because this will emphasize the relevant aspects that may lead to negative outcomes.
For the educator, providing the group with a framework for recognizing their lifestyle behavioral weaknesses is critical to the success of the educational effort. In addition, it is important to develop an effective understanding of the different challenges and limitations that exist in supporting this population and in encouraging modified behaviors. There must be a level of trust in place that will promote desirable outcomes for this group that are grounded in specific behavioral changes upon completion of the program. It is expected that the evaluation phase will include the measurement of specific lifestyle modifications and if they have had any real impact on type 2 diabetes knowledge and the risks associated with this condition. This will encourage Haitians to examine their own behaviors and to determine if they are at greater risk of type 2 diabetes as a result of their lifestyle choices. These efforts will demonstrate the impact of type 2 diabetes on this population group over time.
References
McEwen M.M., Pasvogel, A., Gallegos, G., and Barrera, L. (2010). Type 2 diabetes self-management social support intervention in the U.S.-Mexico border. Public Health Nursing, 27(4), 310-319.
Shaw, S.J., Huebner, C., Armin, J., Orzech, K., and Vivian, J. (2008). The role of culture inhealth literacy and chronic disease screening and management. Journal of Immigrant and Minority Health, retrieved from
http://anthropology.arizona.edu/sites/anthropology.arizona.edu/files/u3/Shaw%20et%20al_JIMH_new.pdf
Stuck with your Term Paper?
Get in touch with one of our experts for instant help!
Messenger
Live chat
Time is precious
don't waste it!
Get instant essay
writing help!
It's a Free, No-Obligation Inquiry!
Plagiarism-free
guarantee
Privacy
guarantee
Secure
checkout
Money back
guarantee
Get a Free E-Book ($50 in value)
How To Write The Best Essay Ever!