Back to School Offer
Get 20% of Your First Order amount back in Reward Credits!
Get 20% of Your First Orderback in Rewards
Hieronymus Bosch's Paintings, Coursework Example
This Coursework was written by one of our professional writers.
You are free to use it as an inspiration or a source for your own work.
Need a custom Coursework written for you?
HIRE A WRITER!
The Afterlife in Western Art
The relationship between Christianity and art in Europe is extensive, highly complex, and reflects just how fundamental faith was in European society.  It is natural for a modern mind to distinguish between church and state, and even church and society; for long centuries in Europe, however, there were no dichotomies, and the power of the church was inestimable.  Put another way, in understanding the representation of the afterlife as reflecting Catholic ideas, it must be understood that there was an immense political component to the process.  This is reinforced, in fact, by the Great Schism of 1378 through 1417, when several popes vied for the right to claim the office.  The church itself was a commercial and military enterprise, and more than one pope led armies (metmuseum.org).  Consequently, Catholic faith was a significant factor in all life, and this then emphasized all the more its assertions on the nature of the afterlife.  It also seems logical that the sweep of the Bubonic Plague in the 14th century enhanced the power of the Catholic Church as the Middle Ages gave way to the Renaissance, simply by virtue of its being so "apocalyptic" an event.  As philosophers like Brant would emphasize, there was a sense in the common mind that death and devastation on this order must be a divine retribution for man's sins (online lecture).
In terms of art, this translated to interesting, and evolving, modes of expression.  As the church insisted on exalting its own power, commissioned artists created landscapes of stunning beauty, romanticizing Catholic concepts of the creation and the afterlife.  The timing of this is particularly compelling, in that shifts of expression were nearly contemporary.  For example, much of Michelangelo's work may be viewed as classically Renaissance, in that it conveys  the idealized view of divinity essential to the agenda of the church.  With Michelangelo, there is no question that man is glorified only through his relationship to God as prescribed by the church.  There is great beauty in his depictions of humanity, but there is also a reinforcement of divine majesty as surmounting this, and as being a greatness "belonging" to the church.  In the Sistine Chapel detail of the expulsion from Eden, for example, the guiding angel actually seems to represent the authority of God as established by the church.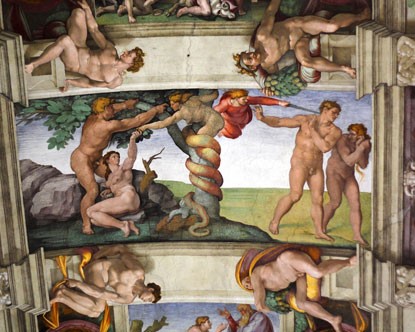 Michelangelo. Detail: Ceiling of the Sistine Chapel
1508-1512. Sistine Chapel  Apostolic Palace, Vatican City, Italy
Shortly thereafter, however, Hieronymus Bosch would change this mode of divine representation.  While Bosch is considered a Renaissance artist, his work clearly reflects attitudes and beliefs of the late Middle Ages (online lecture).  Moreover, there are aspects to it strikingly going to Protestant concerns, even as his imagery is powerfully Gothic and extreme.  The essential nature of Protestantism was reactive; this was a revolt, or "protest," against the established order of the Catholic Church.  Protestants particularly rebelled against the immense structure of Catholic ritual and representation, which they believed stood in the way of the individual's access to God and divine will.  Not unexpectedly, then, this would translate into a demystifying of the elaborate conceptions of heaven and hell (online lecture).   While Bosch certainly held to mysticism, the sheer graphic quality of his work removes it from any idealized conceptions.  His influence may be viewed as post-Michelangelo, similar time periods notwithstanding, due to his work being Dutch and consequently removed from the sphere of Italian art and the Roman church.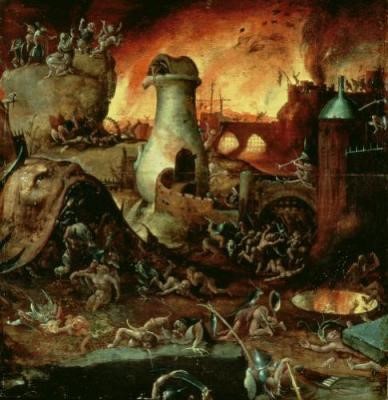 Hieronymus Bosch, Hell 
1490. Palazzo Ducal, Venice, Italy
As is evident in the above, Bosch completely dispensed with beauty.  Michelangelo's serpent is fearsome, but it is still beautiful;  for Bosch, hell is marked by ugliness, and an ugliness seeming to be the just reward for man's sin.  There can be no underestimating of the importance of the timing, again, in regard to these changing views.  As the Middle Ages gave way to the Renaissance, so too was the Catholic Church responding to the threat Protestantism.  What Bosch's work represents is not a radically different interpretation of hell in the afterlife, but one distanced from the grandeur of the Catholic powers.   When the paintings of Bosch are compared to those of other, Italian Renaissance artists,  there is a gritty realism to the afterlife combined with a sense of the fantastic that in no way resembles any mystical realm.  The pain of hell in Bosch is virtually tangible.  His damned are not in the grip of powerful remorse or despair; they express physical suffering, which emphasizes the innate mortality of them.   They do not evince sorrow; they exhibit agony, just as living men and women feel pain.  His landscapes, also, while bizarre, remain on an earthly dimension.  The hell of Bosch's afterlife gives an impression of a strangely organic city, filled with clumsy, man-made structures and perversions of the same.    What occurs after life, Bosch represents, is only an extension of what mankind may experience on earth.  This is an afterlife that is, in a word, more down to earth, just as Protestantism sought to link man's relationship with God with no "third party." This influence would take more gentle expression as well in the 16th century, as evidenced in the later work of Brugel.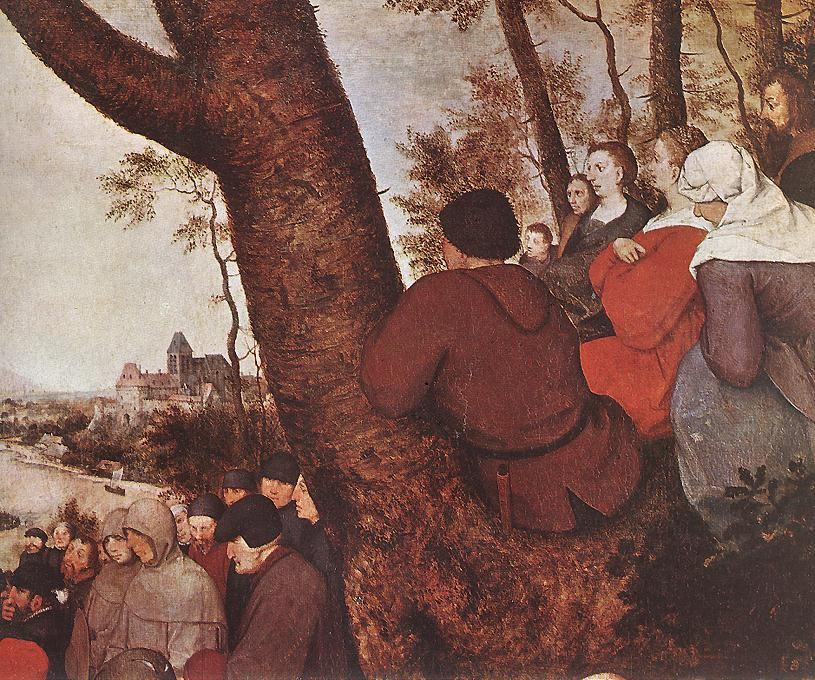 Pieter Brugel the Elder.  Detail: Sermon of St. John the Baptist
Musee des Beaux-Arts, Lille, France
Brugel's work, coming so soon after Bosch and Michelangelo, reveals a new and stunning dimension inspired by Bosch: ordinariness.  The people watching John the Baptist are common peasants, clearly in a modern setting of the time.  There is the sense that they are pausing in their daily activities to take in the sermon,  and this is the absolute spirit of Protestantism, wherein the divine is as one with mortal life.  In a remarkably short time, then, it seems that the drastic changes occurring in European faith would move art from the grandeur of Michelangelo to the grittier and more frightening visions of Bosch, and finally to a leveling of heaven and the word of God down to a very mortal plane.
Works Cited
ArtBible.info.  Art and the Bible: Hieronymus Bosch, The Last Judgment.  2012.  Web. Retrieved from http://www.artbible.info/art/large/165.html
Hieronymus-Bosch.org.  Hieronymus Bosch: The Complete Works.  2012. Web.  Retrieved from http://www.hieronymus-bosch.org/Hell-(detail).html
Metmuseum.org.  The Papacy During the Renaissance.  2012.  Web.  Retrieved from http://www.metmuseum.org/toah/hd/pape/hd_pape.htm
Smithsonian.com.  The Measure of Genius: Michelangelo's Sistine Chapel at 500.  2009.  Web. Retrieved from http://www.smithsonianmag.com/arts-culture/The-Measure-of-Genius-Michelangelos-Sistine-Chapel-at-500.html
Web Gallery of Art (WGA).  The Sermon of St. John the Baptist.  N/d.  Web.  Retrieved from http://www.wga.hu/frames-e.html?/html/b/bruegel/pieter_e/09/index.html
Stuck with your Coursework?
Get in touch with one of our experts for instant help!
Messenger
Live chat
Time is precious
don't waste it!
Get instant essay
writing help!
It's a Free, No-Obligation Inquiry!
Plagiarism-free
guarantee
Privacy
guarantee
Secure
checkout
Money back
guarantee
Get a Free E-Book ($50 in value)
How To Write The Best Essay Ever!