My Best Vacation, Essay Example
Pages: 4
Words: 1012
Essay
This Essay was written by one of our professional writers.

You are free to use it as an inspiration or a source for your own work.
Pakistan is a country filled with warm people and deep traditions. My vacation to Pakistan allowed me to obtain a first-hand experience of the different aspects of its culture, such as the food, clothes, music, and historical places. During my vacation, I was able to visit all four province of Pakistan: Punjab, Sindh, Baluchistan, and Khyber Pakhtunkhwa (KPK). Even though all four provinces have their own history and unique culture, they all share a common humanity and tenderness for people and their land. The purpose of this paper is to offer a first-hand experience of the different cultures and traditions in each of the four Pakistan provinces.
The first province of Pakistan that I visited was Punjab. I was very especially excited because my mother and father both have a Punjabi background. The people in Punjab were especially warm and kind-hearted, and eager to share their customs with us. During my stay in Punjab, I had the opportunity to attend a beautiful and lavish wedding that lasted for 15 days. The wedding in Punjab was very different than most weddings in the United States. The actual marriage ceremony occurred on the first day. The next five days consisted of dancing, music, different competitions, and games. After that, there was a bridesmaid party, a bachelor party, a and a night out for the families of the bride and groom. To me, it was not like going to a wedding, but rather watching a beautiful fairy-tale movie.
During the rest of my stay in Punjab, I visited the city of Lahore. My family and I took the opportunity to really explore it. I was excited to visit the most famous Wagah border ceremony, or the "beating retreat ceremony." The ceremony is a power-packed parade by Pakistani Rangers and takes place every evening before the sunset. In my opinion, the beating retreat ceremony is one the best experiences and is a "must-have" destination for foreigners and native Pakistanis.
After visiting Punjab, I traveled to the province of Sindh. The Sindhi culture is unique because it has roots in Indus valley civilization. While staying in Sindh, I attended a Sindhi musical concert hosted by one of the most famous Pakistani music legends Abida Parveen. Her voice was magic; the type of Sufi songs she sang sent peace to my soul. The Sindhi people were so kind-hearted and readily welcomed me into their lives. One example of their unique customs is the traditional and very expensive gift exchanging ceremony. The Sindhi people always give a traditional and expensive Sindhi shawl and hat to their guests or anyone who becomes attached to them. In addition, the Sindhi outfits are very different than in any other Pakistani provinces. Most of the Sindhi outfits are white and reddish color with traditional prints. Witnessing so many people in these unique and beautiful clothes make the Sindhi culture seem that much more peaceful and mesmerizing.
After visiting Sindhi, I traveled to the province of Baluchistan. At first I was struck by its vastness. Baluchistan is an area of barren lands, mountains, and desert. The Baloch culture is known for its traditional arts and crafts, festivals, and storytelling. The people of Baluchistan speak the Balochi language. The roots of the Balochi language are from the Iranian culture. During my stay in Baluchistan, I had a chance to visit Balochi fair. I was amazed at all of the vibrant colors; yet there was something soft and refreshing about the experience. People dressed very pleasingly in white loose salwar, or pants, and a long white knee-length shirt. Some men even wore beautiful turbans. Women wore knee-length shirts with intricate embroidery in the front. The embroidery consisted of embedded round mirror-work. Baluchi women had to wear a long dubbata, or scarf, to cover their hairs and shoulders. I was surprised to find that in Baluchistan, men and women ate separately. Men were served first, and then women were able to eat their food. Another difference was that in Balochi culture, men0 have more freedom of speech than women. Other than the inequality of men and women, the Balochi culture is very peaceful and colorful.
My last visit was to the province of Khyber Pakhtunkhwa (KPK). The people of KPK are known for their hospitality and relaxed attitudes. During my stay in KPK, I visited their famous markets, which have a huge variety of goods at traditionally low prices. Even though I was only able to stay for two days in KPK, I found the visit to be very stress-relieving. The environment was peaceful and very clean. During my stay in KPK, I had a chance to drink the most famous tea of KPK, the Peshawari Kawa. The Peshawari Kawa is a traditional green tea, served in tiny cups with a small amount of saffron. KPK is very different than all the other provinces due to its serene atmosphere. I would have liked to have extended my stay in KPK. However, I but am glad that KPK was the last province that we visited, because it gave us a chance to recuperate for our long trip home.
Experiencing Pakistan was a chance not only for me to explore my family's history, but to also better understand their culture. Even though there is some tension and conflict between the United States and the Middle East, experiencing Pakistan first-hand allowed me to appreciate its people as individuals. The Pakistani culture was warm and inviting, and each province had their own unique tradition. I feel blessed; because not only that I was able to better understand my heritage, but that I am now able to able to say with authority that people in Pakistan are not like the stereotype portrayed in the media. Pakistanis are warm and welcoming, and the fact that this blood flows through my veins fills me with a sense of pride.
Time is precious
don't waste it!
Get instant essay
writing help!
Plagiarism-free
guarantee
Privacy
guarantee
Secure
checkout
Money back
guarantee
Get a Free E-Book ($50 in value)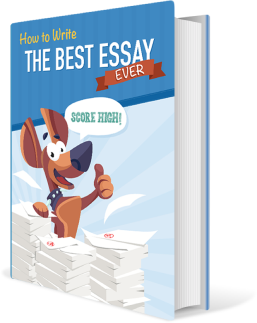 How To Write The Best Essay Ever!