The Promising Concept of Teaching Grit, Essay Example
Pages: 5
Words: 1273
Essay
This Essay was written by one of our professional writers.

You are free to use it as an inspiration or a source for your own work.
Should College Composition professors at CMU try to teach their students to have grittier?
Grit refers to the quality of being able to sustain your passions, working hard on them, over disappointingly long periods. It is the persistence, determination and resilience that makes and individual pursue something no matter what hurdle is on the way (Duckworth et al, 2011). The idea of grit originated from Angela Duckworth, a psychology professor at the University of Pennsylvania. Duckworth appreciates the role of effort in achieving personal success. She believes in sticking with things repeatedly over extended periods of time until you master them.
Duckworth further compared grit with intelligence. In her comparison, she argued that, despite intelligence being key factor to success, it has been known to have many inadequacies. One of the inadequacy noted was for instance, smart individuals are not necessarily high achievers and vice versa. She also observed that students who score low in intelligent test could compensate it with grit in order to achieve academic success.
Acquisition of grit trait has not been attributed to any known process. The debate on what makes some individuals to be grittier than it makes others has been ongoing. Research has also showed that gritty nature of some students varies with situations. An instance, where this variation was exemplified is that, when it comes to family matters like fixing bills of unemployed parent, some students excelled very well but may drop out of college when confronted with persistent financial problems (Duckworth & Eskreis-Winkler, 2013).
However, Duckworth believes that any human quality is greatly influenced by the environment. She observed that just as research has revealed intelligence being influenced by the environment hence grit is not an exception. This view was further boosted by the observation that, in any population introvert persons change over time and in due course, they become less introverts. Therefore, less gritty people may also change and become grittier, since introvert and grit are both human qualities.
Duckworth's research further revealed that, grit is a godsend when confronting and overcoming very challenging situations particularly by students. Many research findings and Duckworth's agree that, going through college is a challenging experience for every student around the world (Duckworth & Eskreis-Winkler, 2013). College life comes with many challenges that confront students head on and the most affected lot is the first generation and community college students. Such Students are met with financial difficulties. In addition, they might be having family obligations and lack of the kind of family support to run to for assistance to go through college life. Striking a balance between bulk assignments and short submission deadline with the above commitments may prove overwhelming and may force the student to quit from the system (Duckworth et al., 2011).
"When college is hard grit helps", this is a sentiment echoed by Duckworth. She acknowledged the immense challenges faced by first generation and community college students. She noted that, students who succeed in getting associate degrees are on average grittier than those who acquire bachelor's degrees (Duckworth & Eskreis-Winkler, 2013). In my view, first year college students regardless of socioeconomic backgrounds too face the same challenges. Although it may not be the same as the magnitude experienced by first generation and community college students who happens to come from humble backgrounds. To support my view is that, fresh students across the board have inadequate skills and experience in tackling academic issues and are not used to pressure from huge assignments accompanied by short submission time. This in itself is a great challenge to students.
Grit can be best acquired through learning as observed by Duckworth. College is a challenging environment particularly for the first year college students as observed in the foregoing paragraph. It is against this views that professors in college composition at Central Methodist University should teach first year students to be more gritty.
A number of schools have recently adopted the idea of teaching grit. An example is the launch of Intellectual Virtue Academy in Long Beach, Calif by Jason Baehr, a philosophy professor at Loyola Marymount University. In this school, a culture where struggle and risk taking is valued and has been introduce in classrooms. Kids are also thought how grit has been fundamental in the success of others. The fact that, successful individuals failed a number of times in their desperate attempt to succeed and they finally succeeded is emphasized. Another example of a school that has pursued the idea of grit is Lenox Academy for Gifted Middle school in Brooklyn, New York.
In these schools, teaching focuses on approaches such as developing growth, mindset philosophy. In this philosophy, students get to appreciate the fact that they can get back and forth until they get what they want. Secondly, the instructors have tried to pull students out of their 'comfort zones' intentionally. Students are taught to 'hit the wall' many times and pick up the pieces and move on. The main aim is to make students learn how to respond to frustrations and failure and be comfortable with struggling. Thirdly, they have shifted the class room focus on right answers to determination and hard work (Duckworth & Eskreis-Winkler, 2013).
However, teaching grit has had a number of challenges and criticism. One of the challenges is a structure or a defined way of teaching grit. According to Duckworth, there is not enough evidence to be certain that, grit can be taught. The schools that have adopted teaching of grit are merely at the experimental level. Concerns have also been raised on how to measure grit and how students are graded on grit, Duckworth attested to the fact that it is hard to measure grit with fidelity. The concerns of reinforcing the teaching of grit outside classroom have been observed (Duckworth, & Eskreis-Winkler, 2013). For instance, the success of this endeavor should involve parents who will act as enforcers at the home setting. However, grit has received strong criticism. Some argue that grit is not even a trait but a bye product of other traits like determination and courage. They further observed that, it is not bringing any meaningful solution to the academic curriculum. Other proponents claim that humans ought to pursue what they love most, and that children will not go to good schools to get quality education if grit is over emphasized. They also had issues with the emotions of smart students would feel if they were told they are not good unless they are grittier. A harsh critic says the idea will soon die a natural dead.
All the challenges notwithstanding, I recommend that professors in college composition at Central Methodist University should teach first year students to be grittier. This is based on the facts that, there is high prospect of grit being teachable only if the institution embarks on in-depth research on the best teaching methodologies. Another reason for my support is that, from research, first year college students regardless of their backgrounds are faced with enormous challenges and teaching grit comes in handy. A number of challenges that hinder the success of teaching grit should be looked at. One way to address the challenges could be research on the best methodologies and incorporation of parents as enforcers of reinforcement.Also, grit assessment tools developed by Duckworth should be enhanced. Grading system for assessing student must be invented. Another issue is to allow students to develop grit in their areas of interest.
References
Duckworth, A. L., & Eskreis-Winkler, L. (2013). True grit. The Observer, 26(4), 1-3.
Duckworth, A. L., Kirby, T. A., Tsukayama, E., Berstein, H., & Ericsson, K. A. (2011). Deliberate practice spells success why grittier competitors triumph at the National Spelling Bee. Social Psychological and Personality Science, 2(2), 174-181
Time is precious
don't waste it!
Get instant essay
writing help!
Plagiarism-free
guarantee
Privacy
guarantee
Secure
checkout
Money back
guarantee
Get a Free E-Book ($50 in value)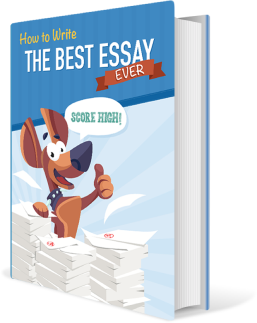 How To Write The Best Essay Ever!