Back to School Offer
Get 20% of Your First Order amount back in Reward Credits!
Get 20% of Your First Orderback in Rewards
Tony Kushner's Angels in America, Coursework Example
This Coursework was written by one of our professional writers.
You are free to use it as an inspiration or a source for your own work.
Need a custom Coursework written for you?
HIRE A WRITER!
Introduction
The difficulty in assessing how Tony Kushner's acclaimed play, Angels In America,  reflects views of the afterlife as presented by historical eras lies in just how expansive that reflection is.
While a very modern work, there are virtually no concepts of heaven and hell, certainly as promoted by Western cultures, that do not have a place within it: "Kushner summons a restless pastiche of the historical and the supernatural, the theological and the political"  (theatreinchicago.com).  The play and its characters are alternately Gothic and Baroque, monotheistic and pagan, and Romantic and Renaissance.  Most particularly, however, the play  relies on Old Testament creeds and shatters them in its incorporation of man as both deity and demon.  Angels in America, in a very real sense, brings together every conception of the afterlife as it is known to humanity, for the sole purpose of revealing an afterlife that is completely dependent on mankind for its creation.
Discussion
To begin with, much is usually made of the timing of Kushner's play's conception, in that its vision of a modern apocalypse answered the needs of the Reagan years, in which political strife combined with the AIDS epidemic to generate a new sense of mortality.  This is certainly valid, yet it is also important to note that the 1980s were far from bring the only era in which humanity confronted an awareness of impending doom.  What is worth noting, then, is the severity of the decade, in promoting this new sensibility.  More to the point, the play's key element of AIDS is clearly essential in relating it to the past.  Here was a new and deadly illness, and one largely inexplicable.  So too did the Bubonic plague terrorize Europe in the mid 14th century, and generate a widespread fascination, if not insistence, on investigating the afterlife (online lecture).
The Christian concept of the Last Judgment took hold, inspiring art that fed public demand for representations of just what the end would be.  Leonardo DaVinci would present a finality all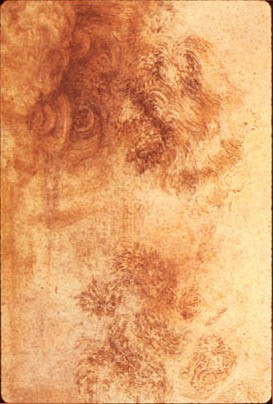 Leonardo DaVinci
Deluge, c. 1514
his own in his Deluge, suggesting flood as returning in the final judgment.  Arguably, the political nightmares of the 1980s, along with the seemingly fatalistic pestilence of AIDS, could be viewed as Kushner's Deluge.  Turmoil is the core of the play, and in myriad forms.  The chief characters of Prior, Louis, Belize, Joe, and Roy Cohn interact in ways desperate and frenzied, mostly driven by the specter of death that AIDS represents.  In basic terms, then, Kushner provides his audiences with an apocalypse that is, if less dramatic than the Biblical flood or Bubonic plague, just as impactful on the lives of his people.  The exact nature of the end is unimportant, in terms of Kushner's interpretation; what matters is that he creates a maelstrom reminiscent in scope, as perceived by his characters, to the legendary disasters of the past.
This set in motion, there is then the matter of Kushner's afterlife itself.  It is no simple construct, and the author seems to revel in fabricating a heaven and hell pieced together from bygone eras.  For example, the heaven of the play, if that is indeed what it is, is a supernatural variation on San Francisco, rendered almost whimsically so (online lecture).  To Cohn's inquiry as to what the afterlife is like, Belize is ambiguous, not directly stating whether it is heaven or hell she is describing.  The scenario she does depict is eerily somewhat both:  "Big city. Overgrown with weeds, but flowering weeds. On every corner a wrecking crew and something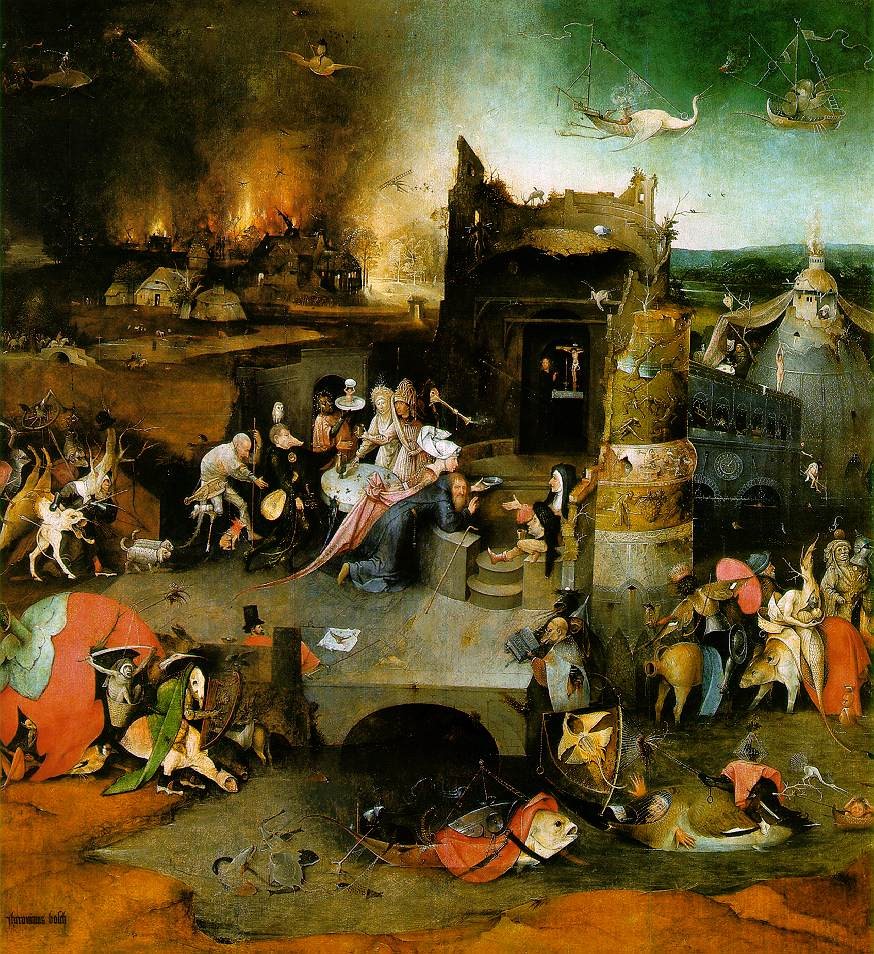 Hieronymus Bosch
The Temptation of St. Anthony, c. 1500
new" (Kushner).   This is automatically reminiscent of the surreal landscapes of Hieronymus Bosch's vision of hell, in which frantic souls run through scenes oddly organic and urban.  Bosch's early Renaissance visions are usually – and strangely – purgatorical as well, as in the above panel.  Kushner definitely expresses the same sort of tumult, or limbo between heaven and hell, as his characters wrestle with death and their individual conceptions of what is after life.  The author creates a landscape in which all of his people are free to envision the afterlife as they require or envision (online lecture).  What this translates to, then, is a reflection of ancient beliefs holding man accountable for the creation of sin itself: "The play adheres to Judeo-Christian apocalyptic traditions and can in a sense be read as an interpretation of the Book of Revelations colored by Judaic Messianic traditions" (jewish-theatre.com).  In his very modern play, then, Kushner utilizes the beginnings of monotheism, even as his assortment of archangels equates to a political re-imagining, or reinterpretation, of Catholic hierarchy.  At the same time, Kushner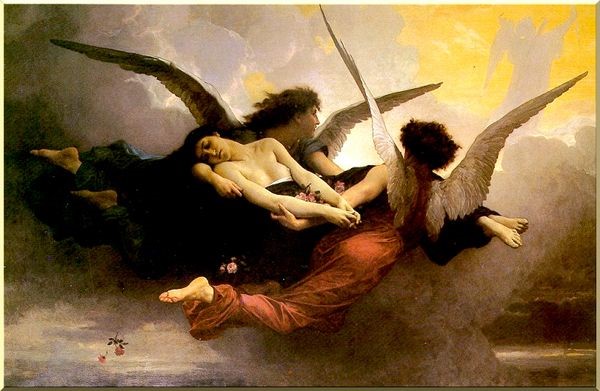 William Adolph Bouguereau
A Soul Being Brought to Heaven, 1878
In a way that transcends Christian ideologies:  "Souls were rising, from the earth far below, souls of the dead, of people who had perished…and they floated up, like skydivers in reverse, limbs all akimbo, wheeling and spinning" (Kushner).  This is mass deification of a kind, even as the souls are powerless.  Even in its despair, however, it nonetheless evokes the Romantic Classicism of Bouguereau, as in the above image.  Essentially, then, Angels in America reflects a wide range of how the afterlife has been perceived by cultures and artists through the centuries.
Conclusion
Given Tony Kushner's creative drawing upon of the history of belief, his play still creates an impression of the afterlife in a singular way, even if it is one that also borrows from ancient faiths.  Kushner clearly chooses to present a dizzying array of afterlife possibilities, only anchoring them with familiar labels and figures of angels, heaven, and hell.  What he also does, and emphatically so, is present these conceptions as man-made in the sense that humanity ultimately creates its own heaven and hell.  Angels in America then echoes virtually every representation of the afterlife before it, for these themselves reflect mankind's role in shaping what is after life.
Works Cited
Dartmouth.edu.  Leonardo.  1998. Web.  Retrieved from http://www.dartmouth.edu/~matc/math5.geometry/unit14/unit14.html
Ibiblio.com.  Bosch, Hieronymus: The Temptation of St. Anthony.  2002.  Web. Retrieved from http://www.ibiblio.org/wm/paint/auth/bosch/tempt-ant/
Jewish-theatre.com.  "Tony Kushner's Angels in America : A  World in Need of Salvation." 2012. Web. Retrieved from http://www.jewish-theatre.com/visitor/resource_articleDisplay.aspxarticleID=1221&refPage=http://www.jewish-theatre.com/visitor/resource_list.aspx?resourceType%3D6
Kushner, T.  Angels in America: A Gay Fantasia on National Themes.  London: Nick Hern Books, 2007.  Print.
Nouveaunet.com.  Bouguereau.  2002.  Web. Retrieved from http://www.nouveaunet.com/bouguereau/death.htm
Theatreinchicago.com.  Angels in America, Review.  2012.  Web. Retrieved from http://www.theatreinchicago.com/playdetail.php?playID=4750
Stuck with your Coursework?
Get in touch with one of our experts for instant help!
Messenger
Live chat
Time is precious
don't waste it!
Get instant essay
writing help!
It's a Free, No-Obligation Inquiry!
Plagiarism-free
guarantee
Privacy
guarantee
Secure
checkout
Money back
guarantee
Get a Free E-Book ($50 in value)
How To Write The Best Essay Ever!