Water Lilies vs. Venus & Adonis, Term Paper Example
Claude Monet's Water Lilies Vs. Peter Paul Reuben's Venus & Adonis
Water lilies: Claude Monet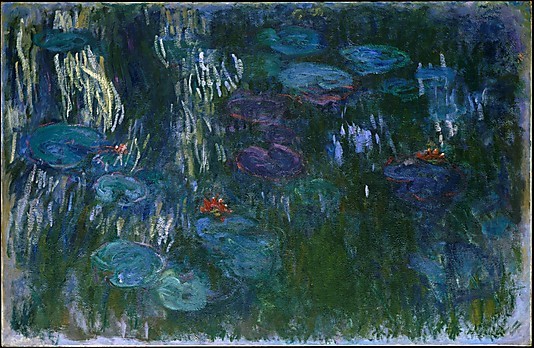 Fig[1]
When asked what colors he used for his "Water Lilies" collection, Monet stated, "in short, I use white lead, cadmium yellow, vermilion, madder, cobalt blue, chrome, green. That's all." On the gallery page for Monet's work at the Metropolitan Museum of Art, it's noted that his infatuation with gardening drove him to dig up a pond and plant lilies around 1893. He tended his garden for six years before first getting the notion to paint one.  In 1899, Monet painted his first water lilies combination and from that point on it became a feature part of his work (The Metropolitan Museum of Art, 1). Monet was said to have worked non-stop routinely from project to project, "for more than twenty years on a large-scale decorative series, attempting to capture every observation, impression, and reflection of the flowers and water (The Metropolitan Museum of Art, 1)." By 1915, Monet established an entirely new  style of painting. His newfound work involved a departure from his old paintings into experimental designs of fluids that were almost considered a style of abstract art.  These works began in the late teens and they were never released but kept in his studio until his death.
Monet did not get full appreciation for his work during his lifetime. His works were reassessed in the 1950s and the paintings were identified as precursors to abstract expressionism (ClaudeMonet.com).  As it's noted on the official Claude Monet site, "In his effort to capture just the right amount of light and dark, Monet always worked on several canvases at once and furiously followed the changing daylight. He painted intently, disregarding all the topical trends, and declared to his astonished contemporaries (ClaudeMonet.com)." His diligent and monotonous focus on perfection can be seen in this piece as it sustains multiple levels of blues and greens with the perfect distribution of daylight.
Monet's working style centered on an ethic of continual activity. He worked on all of his paintings, revising, over and over until he felt they were complete. Arguably, he never thought they were complete, because they were not released until after his death. This pattern can be seen in the Water Lilies, as all were worked on, again and again, while others were during the last dozen years of Monet's long life, when the final phase of his innovative Impressionistic style opened the path to abstract painting after World War II (Smith, 1).
Monet applied his paint in quick patches of short lines.  Each shade of blue, and each line represented "in trails of horizontal ellipses (the pads) that move from turquoise to bright green to dark green as they progress across the canvas, in and out of the shade; and in soft, cloudy pileups of mostly white figure eights (mist). It is all about accumulation: the layering of color, the build-up of texture (Smith, 1)." Researchers note that to this day art aficionados are overwhelmed by the shear body of work Monet left behind. His style of painting became infamously known as "action painting," "all-over painting" and "American-type painting (Smith, 1)." Despite the ridicule that might be applied to Monet's transition into a hyper active production of the Water Lilies collection, historians note that nothing had really changed with his work it was just taking a natural progression to its final "final logical conclusion (Smith)."
Venus & Adonis: Rubens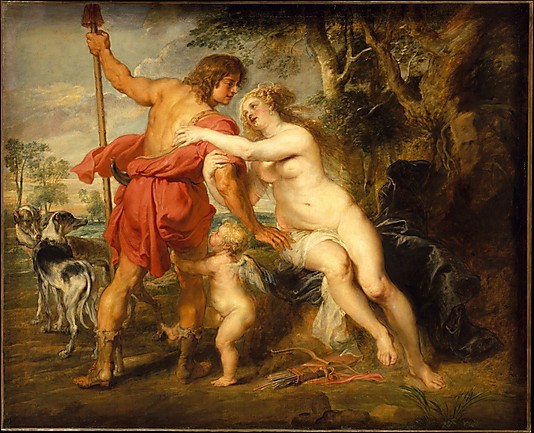 Fig[2]
Upon first glance the painting, without reference to the title or any description, the image implies that there is some form of familial interaction happening. It can be interpreted as a father spending quality time with his family or as a man trying to escape the responsibilities of fatherhood. Benford supports this interpretation noting that "Adonis' legs reflect his ambiguity — his left leg is poised for departure while his right leg is firmly planted, as if he will accept Venus' embrace (Benford, 1)." The child holding onto his leg supports the initial glance perspective of this being a family. A more in depth analyses of the painting brings to light all of the social, religious, and artistic relevance and eliminates the first glance perspective and delves deeper into religious nature of the piece. The official description of this piece is, "Venus, assisted by Cupid, vainly tries to restrain her mortal lover Adonis from setting off for the hunt, knowing that he will be killed by a wild boar." Putting the painting in its natural context, it becomes clear that the child is not a baby, as or an angel despite his visible wings, but the iconic mythological figure Cupid. The female in the picture is the Goddess Venus and the man Adonis is her mortal lover. All of this puts the religious context of the painting in a humanistic, mythological, or even pagan light, but it definitely secular. There are many physical aspects to Ruben's paintings, both literal and figurative factors.  Ruben's iconography can be seen in the brand he established known as "Rubenesque." To this day, this label is identified as ample and voluptuous bodies, which are heavy waisted. This style of painting has also been characterized as humanistic. It can be seen in how Adonis is very muscular and Venus is more plump and curvy. Ruben was even known use apply cellulite and dimples to the bodies of both men and women. The infamous aspect of Ruben's style is most commonly known as his unique use of blood in his red paints. Critics have noted that it makes his paintings more luminous and captivating.
Baroque Style & Impressionism
Benford points out that this painting, which stems from the Baroque style, was a direct contradiction to the prominent style of the time which involved painters during the 1600s who were taught to display the prominence and beauty of the Catholic Church in all of their work.  Painters were commissioned to create emotionally moving, captivating works of art to reinforce the dominance of the Catholic Church, but to also convert non-believers. This was the background during creation of the Baroque style, which was secular and humanists by nature. This is one core similarity shared by Impressionism and Baroque that they both promote secular and humanistic ideals. This is also what Ruben's "Venus and Adonis" have in common with Monet's "Water Lilies" One thing that Baroque and Impressionism have in common is that they both reject the western world's religious and traditional ways in promotion of secularism and individualism, and these characteristics can be seen in our two mention pieces.
The goal of the impressionist artist was to create art for art's sake, as opposed to sparking revolution. This can be seen immediately in the simplicity of Monet's work as it does not seek any philosophical merit (Stevenson, 1). Baroque on the other hand, is a much more visual and it's actually the opposite of simplistic. This is a major contrast between the two styles and also between the two paintings in that Ruben's painting exudes power and brightness, as well a certain mysticism and epic force through its mythological subject matter. As the author notes, "also it is very different from Impressionism in the technique, and form. Where Impressionism is focused on light, and loose form, Baroque is still very disciplined , and focused on the contrast between shadow and light, with more emphasis on highlighting in the shadows then infusing light within the painting (Stevenson, 1)." Baroque is none to use bright colors and infuse it with deep meaning and symbolism. This is in part the reason why Baroque has become identified to this day with romance and passion.
Comparing & Contrasting the Two Works
Both works in their function and use, iconography, and their social, religious, and artistic relevance, have two very different uses. Monet's work is more laid back. He focuses more on simple iconography. He established a tradition or brand of painting simple natural surroundings, while Ruben glorifies the magnificent and extreme of life's limitations One thing that Baroque and Impressionism have in common is that they both reject the western world's religious and traditional ways in promotion of secularism and individualism. One of the main aspects of Impressionism and Monet's "Water Lilies" can be seen in his focus on light. Natural subject matters are also a defining element of the time as well, specifically those that have absolutely nothing to do with deep hidden meaning, religious matters, or concerns for morality (Stevenson, 1)."
Monet's works perfectly exemplify impressionism, specifically "Water Lillies" as it utilizes the natural element of the lake to create multiple levels of serenity in a non-religious manner. "It's similar to looking at a landscape painting and imagining laying in the fields or sailing the waters that exist in the recesses of our imagination, all in all impressionism to me seems like an escape into an alternate reality that focuses on fun and transitional of the moment (Stevenson, 1)." Impressionism and Baroque both epitomizes the western worlds rejection of the religious and traditional, in favor or secularism, and individualism. Both of these aspects can be see as "extensions of humanism and the westerns world grasp on what it really means to live on this earth" in the two paintings in this analysis (Stevenson, 1). Monet's painting demonstrates this through it's simplistic natural use of nature and earthly elements, and Reuben's piece reinforces this ideology through is choice of mythology over promoting religious dogma, which is an even bolder statement considering it was the dominant style of the time (Stevenson, 1)."
Work Cited
Benford, Susan. "Famous Paintings: Venus and Adonis." Famous Paintings Reviewed. N.p., n.d. Web. 16 Dec. 2012. <http://www.themasterpiececards.com/famous-paintings-reviewed/bid/23653/Famous-Paintings-Venus-and-Adonis>.
Saltme3. "Water Lilies – Monet – Virtual GalleryAgaigio For Strings."YouTube. YouTube, 18 Mar. 2007. Web. 16 Dec. 2012. <http://www.youtube.com/watch?v=Jdj84IVwv7w>.
Smith, Roberta. "Serenade in Blue." The New York Times. The New York Times, 11 Sept. 2009. Web. 16 Dec. 2012. <http://www.nytimes.com/2009/09/11/arts/design/11monet.html?pagewanted=all>.
Stevenson, Britney. "Impressionism and Baroque." BritneysBanters Blog. N.p., n.d. Web. 16 Dec. 2012.
The Metropolitan Museum of Art. "Water Lilies Claude Monet (French, Paris 1840–1926 Giverny)." The Metropolitan Museum of Art. N.p., n.d. Web. <http://www.metmuseum.org/Collections/search-the-collections/110001585>.
The Metropolitan Museum of Art. "Venus and Adonis Peter Paul Rubens (Flemish, Siegen 1577–1640 Antwerp)." The Metropolitan Museum of Art. N.p., n.d. Web. <http://www.metmuseum.org/Collections/search-the-collections/110001988>.
"Water Lilies, 1916 by Claude Monet." Claude Monet. N.p., n.d. Web. 16 Dec. 2012. <http://www.claude-monet.com/waterlilies.jsp>.
[1] Water Lilies. (French, Paris 1840–1926 Giverny). Claude Monet. " Beginning in 1899, and continuing for the rest of his life, paintings of this pond were the dominant theme of Monet's art."
[2] Venus and Adonis. (Flemish, Siegen 1577–1640 Antwerp). Peter Paul Rubens. "This picture was influenced by but not modeled after Titian's "Venus and Adonis" (Prado, Madrid), which Rubens copied in Madrid in 1628–29."
Time is precious
don't waste it!
Plagiarism-free
guarantee
Privacy
guarantee
Secure
checkout
Money back
guarantee