Back to School Offer
Get 20% of Your First Order amount back in Reward Credits!
Get 20% of Your First Orderback in Rewards
Afterlife in the History of Art, Coursework Example
This Coursework was written by one of our professional writers.
You are free to use it as an inspiration or a source for your own work.
Need a custom Coursework written for you?
HIRE A WRITER!
Conversions to Christianity
Throughout recorded history, there has been a powerful link between religion and government, and these relationships have been so intertwined  that it is difficult to comprehend which actually influenced the other.  The history of the United States is marked by this, as the division between church and state was a founding principle, and one in place to break free of the traditional, European models of nations.  Long before this, and in one of the most strikingly overt instances of how important this relationship has been, the Protestant King Henri IV converted to Catholicism, supposedly uttering the famous phrase, "Paris is worth a mass" (Finding France).  Essentially, and while greatly criticized by his fellow rulers, Henri believed that only by accepting the dominant faith of France could he end the religious civil wars that had been destroying the nation.
This same type of interaction on a grand scale most definitely occurred in the reigns of three rulers of antiquity.  Actual motivations of spirituality aside, Raedwald, Clovis, and Constantine all embraced Christianity in ways necessary to preserving their kingdoms.  In the process, and clearly an influential element in the conversions themselves, the surrounding cultures were increasingly moving to Christianity as the prevalent faith.  Cycles were then set in motion wherein faith and politics mutually, and vastly, impacted on one another.  In such complex circumstances, determining which influence initiated the processes is not easy, simply because religion in these eras was often a kind of response to how the people were living within their governments.  For example, the transition of Early Judaism to Early Christianity seems to have been very much affected by the conditions of the Roman Empire:  "Specifically, Jews believed that God would send a prophet that would help them liberate themselves from Roman rule" (online lecture). So, too, would Raedwald, Clovis, and Constantine both affect and be affected by this evolution of faith, and in ways emphasizing more temporal concerns.
For example, Raedwald reigned as king over the East Angles from 600 to 625, and his rule is most remembered for his being the first English monarch to have been baptized as a Christian (Princeton).  It is important to note that, prior to Augustine's visit to England and encouraging of Raedwald to convert, the culture was largely pagan, and fiercely held to Norse theologies infused with those of the ancient Britons.  Raedwald's conversion, then, indicates just how powerful Christianity was becoming, in that it now extended to the island beyond the continent.  It is arguable that this factor, rather than any spiritual conversion, motivated Raedwald; his England was a divided land of several kingdoms, warfare was common, and he would seek to ally himself with any interest so dominant.  That politics fueled his conversion is supported by the fact that he maintained both pagan and Christian altars in his homes (geni.com).  Nonetheless, if the king was divided, the fact remains that there was royal support for Christianity, which faith increasingly appealed to the common people.
Not long before Raedwald's actions, Clovis of the Franks would create similar changes to both faith and state in what is today, roughly, France.  He reigned in the late 5th and early 6th centuries, and, according to Gregory of Tours, adopted Catholicism and broke away from the Arian Christianity practiced by his people for reasons both temporal and spiritual.  His wife, Clotilde, was a Catholic princess who sought his conversion, but he made this step only after his victory at the battle of Tolbiac.  In this age, it must be remembered, triumph in war was inevitably seen as divinely aided, so the conversion was by no means speciously motivated.   In his History of the Franks, in fact, Gregory of Tours seems glad to "politicize" the achievements of Clovis in a way reflecting the rewards to kings who follow the true faith: "Daily did God cause Chlodovocar's enemies to fall into his hand, and increased his kingdom; seeing that he went about with his heart right before the Lord, and did that which was pleasing in His eyes" (Fordham University).   Similarly, the Chronicle of St. Denis has Clovis eagerly "making a deal" to God Himself: "'I pledge you perpetual service unto your faith, if only you give me now the victory over my enemies'"  (Fordham University).  Once again, Early Christianity is seen as inextricably connected to the struggles of the nations and rulers in place.
Before this, the pattern of faith as intertwined with political and military ambition is evident in the reign of Constantine, from 274 to 337.  Just as with the later Clovis, Constantine supposedly won a great victory and decided that the Christian God had been responsible for it, even as multiple artworks illustrate his moment of conversion as a divine epiphany.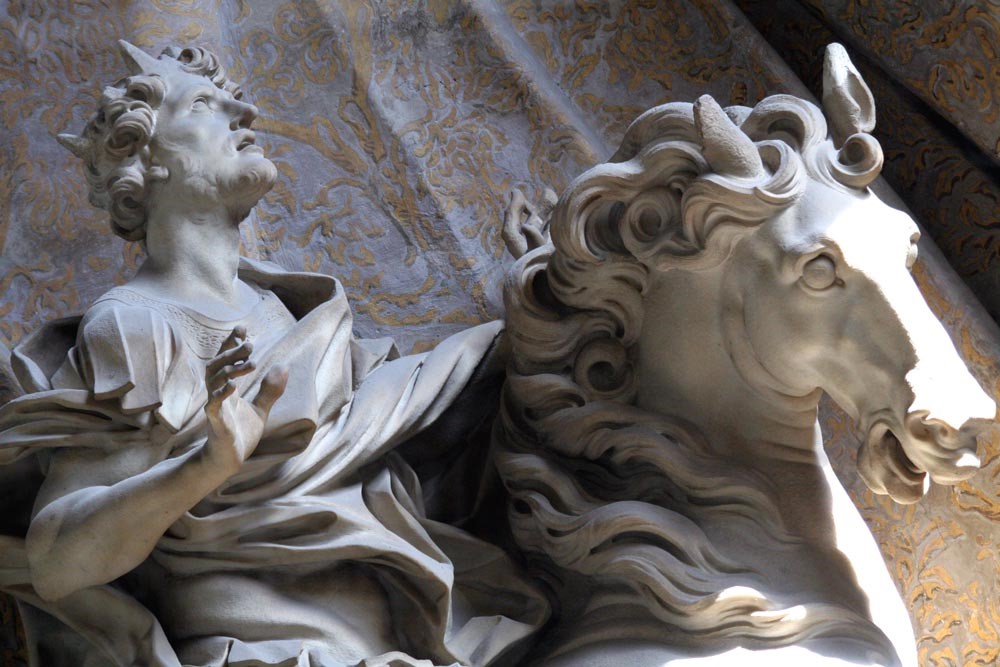 Constantine Statue
Bernini, 1670.  St. Peter's Basilica
The reality is likely less poetic.  Constantine was an emperor over what was still an enormous state, and he saw the persistent rise in Christianity among the peoples of his various nations.  He saw as well a supreme advantage in uniting all under one "banner" of worship, with its core in Rome (University of Denver).  Then, and no matter how profoundly Constantine himself was moved to convert, similarities between the old Roman faith and Christianity rendered transitioning for himself and for the people less traumatic.  The Roman worship of the sun, simply, was transposed to accept Christ as the living embodiment of the sun.  This is both somewhat surprising and highly important.  It would not be until 392 that Theodosius would formally close all Roman, pagan houses of worship and temples, and establish Christianity as the state religion; in those intervening years, then, it seems Christianity was not a radical overturning of the old faith, but an increasingly accepted modification of it. Then, with the increasing acceptance, Christianity could begin to assert itself in all elements of the culture, and Christian ideas regarding the afterlife were given artistic form in sarcophagi (online lecture).
Unknown artist, 359.  Vatican CitySarcophagus of Junius Bassus
Ultimately, as the careers of these three great rulers illustrate, the adoption of Christianity in Western cultures was by no means strictly a spiritual matter.  No historian can truly assess just how profoundly Raedwald, Clovis, or Constantine felt the need to embrace Christianity.  What seems clear, however, is that their motives were composed of multiple elements, not the least of which was a desire to perpetuate and strengthen their authorities.  As this occurred, so too did the faith itself become infused in the cultures over which they ruled.  It is all the more interesting, then, to note how so spiritually perceived a religion was so encouraged by the pragmatic interests of kings.
Works Cited
Finding France.  French History: Renaissance France.  N/d. Web.  Retrieved from http://www.findingfrance.com/history/renaiss.html
Fordham University.  Medieval Sourcebook: The Conversion of Clovis: Two Accounts, 496.
Chronicle of St. Denis: Chlodovocar, King of the Franks.  1998. Web.  Retrieved from http://www.fordham.edu/halsall/source/496clovis.asp
Geni.com.  About Raedwald, King of East Anglia.  2012.  Web.  Retrieved from http://www.geni.com/people/R%C3%A6dwald/6000000006101328503
Princeton.  Raedwald of East Anglia.  n/d. Web.  Retrieved from http://www.princeton.edu/~achaney/tmve/wiki100k/docs/R%C3%A6dwald_of_East_Anglia.html
St. Peter's Basilica.  Constantine Statue by Bernini.  n/d.  Web.  Retrieved from http://saintpetersbasilica.org/Statues/Constantine/Constantine.htm
University of Denver.  Portfolio: Constantine. 2012.  Web.  Retrieved from https://portfolio.du.edu/pc/port?page=4&uid=21015
Vanderbilt.  Art in the Christian Tradition.  Sarcophagus of Junius Bassus.  2007. Web.  Retrieved from http://diglib.library.vanderbilt.edu/act-imagelink.pl?RC=46352
Stuck with your Coursework?
Get in touch with one of our experts for instant help!
Messenger
Live chat
Time is precious
don't waste it!
Get instant essay
writing help!
It's a Free, No-Obligation Inquiry!
Plagiarism-free
guarantee
Privacy
guarantee
Secure
checkout
Money back
guarantee
Get a Free E-Book ($50 in value)
How To Write The Best Essay Ever!