American Poplar Culture, Essay Example
Pages: 1
Words: 1927
Essay
Wedding day is one of the most important rituals we go through in life because it officially announces our attention to dedicate our life to a single person and start a family of our own. Like other rituals, weddings have also evolved over time while retaining some of their ancient elements but one thing that has remain unchanged is our enthusiasm about wedding celebrations. Fifty percent of first marriages dissolve in America (Shister, 1998) yet wedding costs see no signs of coming down. in addition, the impact of popular culture on wedding sees no signs of slowing down. We are being bombarded with wedding-themed reality shows, celebrity weddings gossips and details, and marketing by commercial wedding industry on a continuous basis. A quick search on websites like YouTube will generate countless wedding related videos with millions of views.
Not only divorce rates have gone up over time but it seems that the state of wedding has also been changing. More and more Americans are moving away from traditional weddings as the statistics show. 42 percent of the weddings in 2008 were traditional but the number had gone down to 29% in just two years by 2010. The loss has been shared by several other forms of weddings that have been gaining popularity out of desire for uniqueness and creativity such as green weddings, theme weddings, destination weddings, and unique weddings. The ratio of unique weddings went from 13 percent in 2008 to 19 percent in 2010, a gain of about fifty percent over two years. Similarly, theme weddings went from 3 percent in 2008 to 5 percent in 2010 (McMurray). About 5.5% of all weddings in America take place in Las Vegas, accounting for more than 1 in 20 marriages (PBS). It is a reminder that places with family connections do not have as high priority in a couple's wedding plans as it used to be in the past. It is possible that these trends are also being promoted due to our obsession with celebrities whose weddings get prominent media coverage from gossip magazines to entertainment TV channels and websites.
There were 1.61 million weddings in America. The number peaked at 2.48 million in 1984 and had fallen to 2.08 million in 2008 (The Wedding Report). The U.S. population was approximately 140 million in 1945, approximately 236 million in 1984 (U.S. Census Bureau), and approximately 307 million in 2009 (U.S. Census Bureau).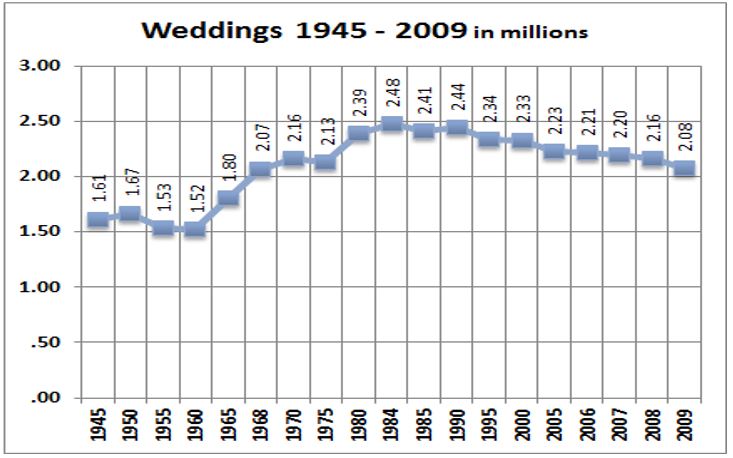 Source: The Wedding Report
Even though the number of weddings has gone up overall during the period 1945-2009 but as a ratio of total population, they have gone down. This may be due to more liberal values and the fact that many couples do not see marriage as a necessary condition of relationship or starting families. The data also confirms the decline of marriages among couples as the National Center for Health Statistics reported that nearly 40 percent of the babies born in the United States in 2007 were delivered by unwed mothers. The 1.7 million out-of-wedlock births of the total 4.3 million births, is a 25 percent jump from 2002 (Ravitz, 2009). These unmarried mothers include celebrities such as Angelina Jolie and Bristol Palin.
Early weddings in America were private family affairs, generally held at the home of the parents of the bride or groom but by 1820s and 1830s, upper class weddings became more lavish in style with additions of cakes, dinner receptions, and a toast to the bride and the groom. The more noticeable changes came after the industrial revolution which produced a sizeable middle class with a desire to have more elaborated weddings than their ancestors. Early weddings were simple in terms of dresses, too. Many women in the nineteenth century had only one best dress which they would also wear as a bride and the dress would not be always be white but could be any color including black and grey. The white dress was probably first popularized by newly crowned Queen Victoria of Great Britain who wed who wed Prince Albert in 1840. By the latter half of the century, weddings were not entirely privately organized affairs due to the rise of wedding professionals and vendors. By 1920s and 1930s, the commercial potential of the wedding tradition had become apparent to some and the large stores responded by introducing bridal departments. The royal wedding of Prince Charles and Princess Diana created a new image of perfect wedding and average costs began to soar in the 1980s and the 1990s. Today, it's not uncommon for couples to spend more or less $20,000 on their weddings (Random History).
Wedding costs have been increasing over the last half century. An average wedding cost $2.24K in 1945 and continued to increase every year through 2007 when it peaked at $28.73K. The average cost would decline for the next two years, reaching a low of $19.58K before resuming its upward trend again in 2010 at $24.07K (McMurray, Weddings and Average Wedding Cost 1945 to 2010). The decline in 2008 and 2009 could be attributed to economic crisis which led to lower demand for wedding-related products and services.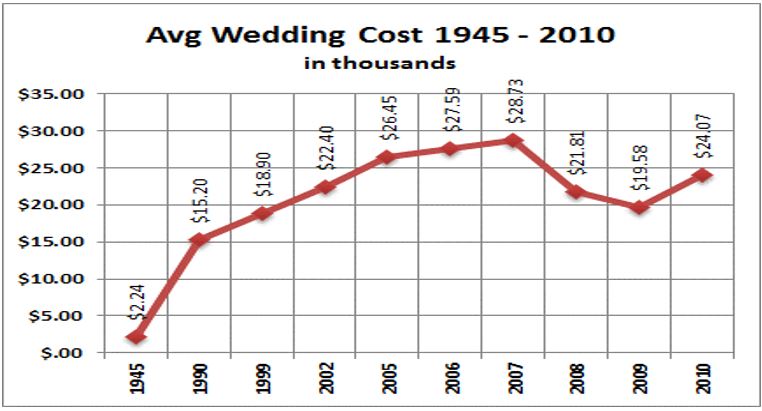 Source: The Wedding Report
Americans' obsession with wedding celebrations have found a place in one of the fasting growing entertainment television segments commonly know as Reality TV. Some 20 percent of all reality television shows are wedding-themed such as A Wedding Story, Bridezillas, Platinum Weddings, My Big Fat Fabulous Wedding, Get Married, Whose Wedding Is It Anway, The Bachelor, The Bachelorette, and Married Away. In addition, famous Hollywood movies such as Peggy Sue Got Married, The Wedding Planner, and The Wedding Singer continue to enjoy non-stop re-runs on different television channels (Giorgio). Advertisers are aware of the American obsession with celebrities' weddings that Kim Kardashian succeeded in turning her wedding into a profitable commercial venture. Kim Kardashian got most products and services for free or at a deep discount. Examples include a $2 million ring, three $20,000 Vera Wang dresses, a $15,000 worth 10-tier wedding cake, $400,000 worth of Champagne, $750,000 worth of food, $10,000 worth of invitations, and $2 million worth of Mark Gardens floral arrangements. The ultimate cost to the Kardashian family was approximately $500,000 while deals such as selling engagement and wedding pictures to People and ads during the Wedding Special on E! has netted the family $17.9 million profit according to The New York Post estimations (Starcasm, 2011).
Many rituals such as bridal showers, bachelor parties, and wedding dances have become an important part of wedding celebrations in America. These rituals have interesting history behind them. Bridal showers have probably their origins in the tradition of men bringing gifts to the bride's father to prove his intent. Gifts would include fine fabrics, finest dishes, gold and silver to prove that the bride and the children would be provided with a good care and home. But once a poor couple was denied the bridal dowry in Holland due to the groom's lowly status and the groom's friends showered the bride with gifts to set up housekeeping. The generosity of the groom's friends is probably what gave birth to the bridal showers tradition (The American Wedding, 2008).
Similarly, bachelor parties are thought to have originated in ancient Sparta where the groom feasted with his male friends, a night before the wedding, pledging his friendship and loyalty to them. The parties would involve women, food, and drinks and the ceremony would be meant to say goodbye to wild antics while pledging continued allegiance to friends (The American Wedding, 2008). Wedding dance is another important component whose history may not be well-known though it is speculated it might have originated in the Middle Ages (Sove). A couple named Jill and Kevin gave a whole new definition to wedding dance when they invented a new way of entering the Church for official ceremony and got their best men and bridesmaids involved as well. The video of the dance was uploaded on popular video website YouTube and has generated over 71 million views to date (TheKheinz, 2009).
Another trend that has been taking place in America over the last few decades has been the increase in median age for both men and women at the time of their first wedding. The median age for both men and women continued to decline from late nineteenth century until mid twentieth century after which it started an upward trend. The increase became steeper in the 1970s as shown in the graph (GrowMap, 2009). The increase in median age may be due to different factors such as more women going to college and pursuing careers, more liberal values in the society in which it is becoming common to pursue long term relationships outside marriage, and rising wedding costs that force couple to delay their wedding plans.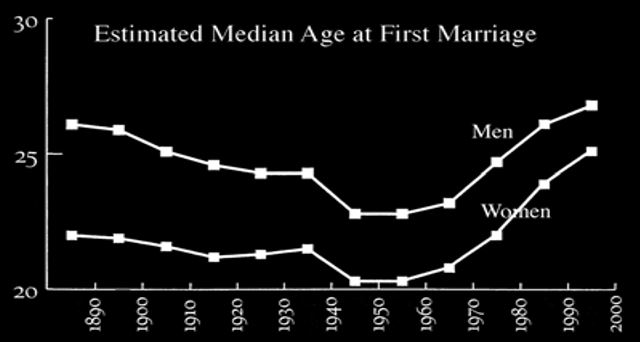 The concept of marriage has been evolving in America but the wedding celebrations are as alive as ever though they have been going through an evolution as well. The wedding industry may get further boost if gay marriage is recognized by law on a wider scale in America and possibly, giving rise to new wedding traditions as well. We have always viewed marriage as a legal union of a man and a woman but the media has been changing our views and more and more Americans are now open to the idea of legalizing same-sex marriage. We are increasingly getting weddings ideas from what we see on television channels and read on the internet. Wedding gown designers such as Vera Wang are as huge a celebrity as any other prominent fashion designer. The gossip magazines are paying millions to celebrities for exclusive access to wedding pictures because they know their readership will go up. The traditional weddings may be declining but the worldwide coverage received by the Royal Wedding of Prince William and Kate proves that women still dream of fairy tale weddings in this modern age.
References
Giorgio, R. (n.d.). Weddings and Reality Television. Retrieved December 11, 2011, from http://www.americanpopularculture.com/television.htm
GrowMap. (2009, December 28). Wedding Boom Predicted for Next 22 Years. Retrieved December 11, 2011, from http://www.growmap.com/wedding-boom/
McMurray, S. (n.d.). Couples move away from Traditional Weddings. Retrieved December 11, 2011, from The Wedding Report: http://www.theweddingreport.com/bz/index.php/couples-move-away-from-traditional-weddings/
McMurray, S. (n.d.). Weddings and Average Wedding Cost 1945 to 2010. Retrieved December 11, 2011, from The Wedding Report: http://www.theweddingreport.com/bz/index.php/weddings-and-average-wedding-cost-1945-to-2010/
PBS. (n.d.). Las Vegas: An Unconventional History. Retrieved December 11, 2011, from http://www.pbs.org/wgbh/amex/lasvegas/sfeature/sf_weddingstories.html
Random History. (n.d.). A History of the American Wedding. Retrieved December 11, 2011, from http://www.randomhistory.com/1-50/009wedding.html
Ravitz, J. (2009, April 28). Out-of-wedlock births hit record high. Retrieved December 11, 2011, from CNN Living: http://articles.cnn.com/2009-04-08/living/out.of.wedlock.births_1_out-of-wedlock-unwed-mothers-wedding-dress?_s=PM:LIVING
Shister, N. (1998, October/November). Queen for a Day. Retrieved December 11, 2011, from Boston Review: http://bostonreview.net/BR23.5/Shister.html
Sove, M. (n.d.). Wedding Dance History. Retrieved December 11, 2011, from http://www.ballroomdancechicago.com/Ballroom_Dance_Chicago/Blog___Ballroom_Dance_Lessons_Chicago___First_Dance_Lessons_Chicago___Wedding_Dance_Lessons_Chicago/Entries/2010/6/9_Wedding_Dance_History.html
Starcasm. (2011, August 22). Big Business: Kim Kardashian reportedly profits $18 million from her wedding. Retrieved December 11, 2011, from http://starcasm.net/archives/116970
The American Wedding. (2008, June 23). The History of Wedding Invitations. Retrieved December 11, 2011, from http://www.theamericanwedding.com/blog/?view=cat&cat=History
The Wedding Report. (n.d.). US Weddings. Retrieved December 11, 2011, from http://www.theweddingreport.com/
TheKheinz. (2009, July 19). JK Wedding Entrance . Retrieved December 11, 2011, from YouTube: http://www.youtube.com/watch?v=4-94JhLEiN0&feature=player_embedded
U.S. Census Bureau. (n.d.). Historical National Population Estimates: July 1, 1900 to July 1, 1999. Retrieved December 11, 2011, from http://www.census.gov/popest/data/national/totals/pre-1980/tables/popclockest.txt
U.S. Census Bureau. (n.d.). Population Estimates. Retrieved December 11, 2011, from http://www.census.gov/popest/data/national/totals/2009/index.html
Time is precious
don't waste it!
Plagiarism-free
guarantee
Privacy
guarantee
Secure
checkout
Money back
guarantee