Back to School Offer
Get 20% of Your First Order amount back in Reward Credits!
Get 20% of Your First Orderback in Rewards
Baroque and Romanticism, Coursework Example
This Coursework was written by one of our professional writers.
You are free to use it as an inspiration or a source for your own work.
Need a custom Coursework written for you?
HIRE A WRITER!
Introduction
It is ordinary to view art in terms of only an expression of artists, even as cultural and social influences are acknowledged.  The reality is far more layered, as even cursory examinations of any artistic period reveal.  On one level, important movements in art are frequently fueled by social, religious, and cultural evolutions occurring within societies, as when the glories of Renaissance art celebrated the power and majesty of the Catholic Church.  On another, and very much going to the living, adaptive quality of art, movements are often born, not from inspiration, but by means of response.  What ensues, and as may be observed in presentations of the afterlife, is that the most crucial concerns of humanity reflect ideologies generated by rebellion, or even strictly political urgency.  The latter largely accounts for the emergence of the Baroque, as the former appears to provide the foundation for Romanticism.  As opposed as these two movements are, aesthetically and otherwise, they share a common feature.  Both the Baroque and Romantic eras were extensive and diverse artistic epochs created as a form of response, and both reflected and influenced vastly different ideas regarding the afterlife.
Discussion
Given the sheer scope of what is termed "Baroque," it is all the more remarkable that this artistic style was so driven by practical and pressing concerns.  In the 16th century, the rise of Protestantism in its various forms created a threat to Catholic supremacy as enormous as the status of that supremacy itself.  This was a church with influences and ties on and to every aspect of European societies, from the military to the economic, and its dominance relied on the wholesale adherence of the people in these societies.  It was, in no uncertain terms, critical for the Catholic Church to reassert its supremacy, and the most effective strategy it could employ was imagery and art which would once again establish Catholicism as the sole avenue to salvation (online lecture).  This, it was felt, could be achieved by greatly emphasizing the splendor of even the most glorified Renaissance imagery.  The Baroque would, not unexpectedly, live on to reflect matters removed from the church, and be interpreted differently by various cultures.  Baroque Christianity, however, had a job to do, if the authority of the pope was to survive (online lecture). Consequently, the afterlife, so crucial to human belief, was presented somewhat as a possession of the Catholic Church, or certainly as a state of being made possible only through that church.
This is powerfully evident in the grandeur that is St. Peter's Basilica, in Vatican City.  While a multitude of artists and craftsmen, including Bernini and Michelangelo, had hands in the completion of this monumental edifice, what endures is the quintessential Baroque effect.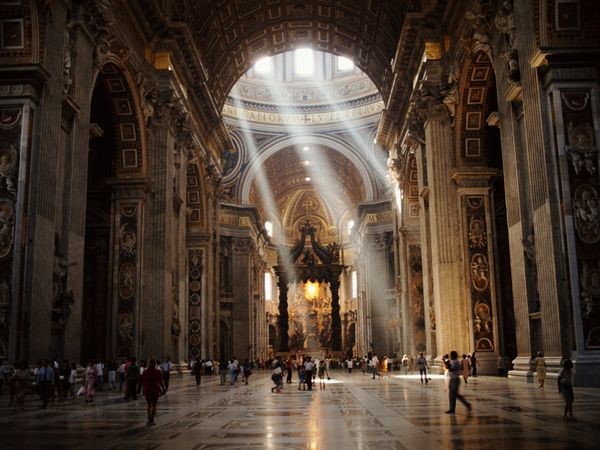 St. Peter's Basilica, Vatican City
The scale is, simply, astounding, as are the grandiose architectural embellishments.  The above view of the interior reveals lavish style details reflecting Byzantine excess, in gilding and form.  More dramatically, the light entering through the dome creates an unmistakeable impression: heaven is above, and this site of Catholicism is clearly the access to it.  It is, in fact, difficult to identify any work of art or architecture more blatantly intent on linking itself to the grandeur of Christian heaven.
The Baroque would undergo different interpretations, of course, as it moved through Europe.  Most, inevitably, would be more subdued.  Nonetheless, the same reinforcing of Catholicism is seen, as in the French painting of Gregory de la Tour seen .here.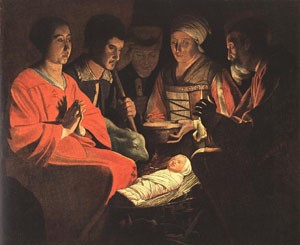 Adoration of the Shepherds
Georges de la Tours, c. 1645 – 1650
Louvre, Paris
Comparison with Italian Baroque.  The shepherds, and even the Christ child, appear very human, and the scene is clearly humble.  What is of importance, however, is that the adoration itself is being conveyed, and emphasizing Catholic doctrine in the divinity of Christ.  As with St. Peter's, this is no literal representation of the afterlife.  Nonetheless, it is the afterlife that is at the heart of each work, because the tenets of Catholicism are centered on man's acceptance of the faith as his portal to heaven.  In these senses, then, the Catholic Church essentially inspired the Baroque as a consistent, if exquisite, mode of propaganda (online lecture).
In much the same way, the artistic movement that would be identified as the Romantic arose as a response, and in this case to what had long dominated before it.  It may even be argued that Romanticism sought to challenge earlier styles of expression, including the Baroque, because it was chiefly interested in exploring man's direct connection to nature, and to forces inexplicable and universal.  If the Age of Enlightenment promoted reason as mankind's guiding force, it also, and inevitably, paved the way for a kind of extreme pragmatism, and one that would generate a turning to spirituality.  Here, the cyclical nature of ideologies and cultures, religiously infused and otherwise, is once again evident.  In simple terms, the rise of scientific rationalization in the 18th century coincided with industrialization, and it appears to have been perceived that humanity was moving dangerously far from essential elements of being.  Science inevitably enhances commerce, and those dissatisfied with the emphasis on the practical responded with Romanticism (online lecture).
What is striking here is that, in Romanticism, the afterlife is usually hinted at, rather than represented.  This goes to the core of the movement, which actually sought to maintain natural and universal forces as mysteries, and it is perfectly exemplified in the work of Friedrich.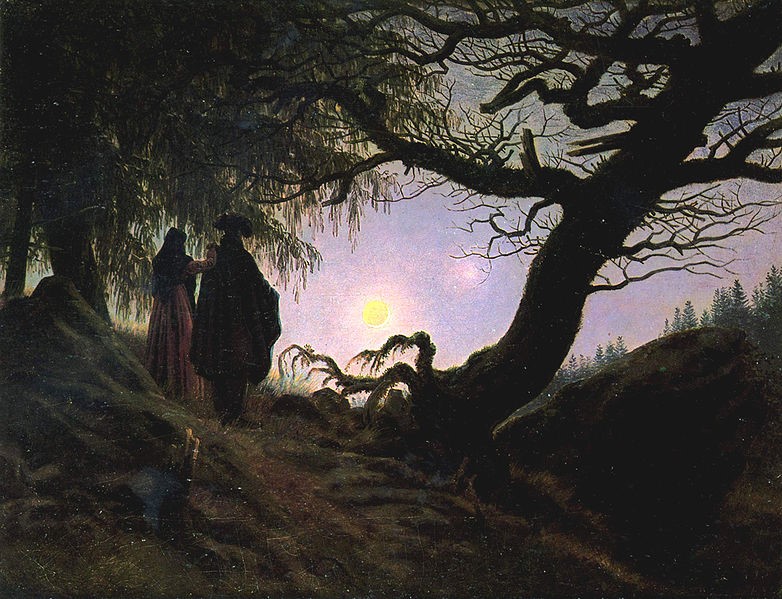 Man and Woman Contemplating the Moon
Caspar David Friedrich, c. 1830-1835
What is immediately apparent is scale; if the moon is centered and dominates, the couple portrayed are not diminished by it.  This is Romanticism as wonderment mixed with respect, which may be said to define the movement.  The man and woman may be looking at some aspect of the afterlife or divine forces, but the more urgent reality depicted is that of their inability to know.  Nature, in Romanticism, is itself divine, be it in the form of a distant moon or an ancient forest, and it keeps its secrets to itself.  It is tempting to "read into" these works spiritual meaning regarding the afterlife, but they offer no assistance to the viewer.  The same is true of another Friedrich work, seen here.  On one level, it may well be a modern interpretation of a journey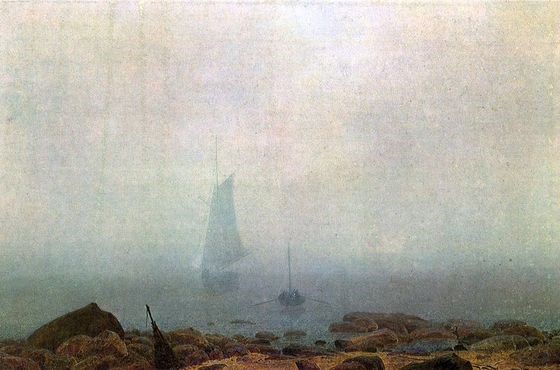 Fog
Caspar David Friedrich, 1807
Kunsthistorisches Museum, Wien
Across the river Styx, leading to the underworld of ancient myth.  It makes, however, no such claim, and consequently reveals the ironic pragmatism behind Romanticism. It seems to say, make of this boat what you will, because the Age of Enlightenment has given us no true knowledge of what lies beyond.  All we can know is that there is an ineffable majesty to the natural world.  A reaction against knowledge, Romanticism replies by emphasizing only what may be seen and by adamantly refusing to probe further.
Conclusion
It is an irony that great art endures in a way removed from the forces that give rise to it. The art survives and has meaning, yet the often urgent objective behind its creation becomes irrelevant.  In examining such objectives, however, further meaning is attached, and the art certainly merits the process.  In the cases of the Baroque and the Romantic, distinct forces inspired the distinct styles, and both in reactive fashions.  Catholicism sought to reassert its immense authority, so the grandeur of the Baroque was generated to meet that need; the Age of Enlightenment, creating a kind of spiritual void, fueled the elegant mysteries of Romanticism.  In both, also, ideas regarding the afterlife conform to the aesthetic agendas.  The Baroque and Romantic movements were lengthy, diverse epochs created as a form of response, and each reflected and influenced very different ideas regarding the afterlife.
Works Cited
3PipeProblem.com.  Caspar David Friedrich and the Primordial Landscape.  2010. Web. Retrieved from http://www.3pipe.net/2010/11/caspar-david-friedrich-and-primordial.html
Artandculture.com.  Fog, Caspar David Friedrich.  2012.  Web.  Retrieved from http://www.artandculture.com/media/show?media_id=107820&media_type=image
History of Art: Study Guide.  Baroque.  2012. Web. Retrieved from http://www.ruf.rice.edu/~fellows/hart206/baroque.htm
National Geographic.  Italy Photos: St Peter's Basilica. 2012. Web.  Retrieved from http://travel.nationalgeographic.com/travel/countries/italy-photos/#/st-peters-basilica_6809_600x450.jpg
Stuck with your Coursework?
Get in touch with one of our experts for instant help!
Messenger
Live chat
Time is precious
don't waste it!
Get instant essay
writing help!
It's a Free, No-Obligation Inquiry!
Plagiarism-free
guarantee
Privacy
guarantee
Secure
checkout
Money back
guarantee
Get a Free E-Book ($50 in value)
How To Write The Best Essay Ever!