Back to School Offer
Get 20% of Your First Order amount back in Reward Credits!
Get 20% of Your First Orderback in Rewards
Kandinsky's Concerning the Spiritual in Art, Coursework Example
This Coursework was written by one of our professional writers.
You are free to use it as an inspiration or a source for your own work.
Need a custom Coursework written for you?
HIRE A WRITER!
Introduction
Occasionally, an artist steps out of his role as an artist to become a theorist and critic of the process itself.  This is the case with Wassily Kandinsky who, in the early 20th century, achieved greater notoriety for his analysis of art than for his own creations.  Drawn to the abstract, as were so many artists of his era, Kandinsky nonetheless established parameters regarding it, and emphasized to abstract artists their chief responsibility: to use color and form to elevate humanity, and illuminate the mysteries of spiritual existence.  In no uncertain terms, the work of legendary artists during and beyond Kandinsky's time serve as evidence of his vast influence in reinforcing spirituality in abstract expression.
Discussion
It is inevitable, if unfortunate, that Kadinsky's name is linked to a single expression of his thinking, that of the pyramid.  The metaphorical structure he envisions is certainly valid, for it affirms a tenet of his ideology: the artist has an intrinsic responsibility to lead the way in comprehending the spiritual, and consequently must occupy the pinnacle of the pyramid of humanity: "Every man who steeps himself in the spiritual possibilities of his art is a valuable helper in the building of  the spiritual pyramid which will some day reach to heaven" (Kandinsky).  As crucial as the perception is, it nonetheless tends to eclipse Kandinsky's more relevant ideas regarding art, the abstract, and spirituality.  One of these is his consistent equating of painting with music.  It was, in fact, Wagner's Lohengrin that inspired him to turn to painting, as the work generated in Kandinsky artistic responses in color and imagery (artarchive.com).   In the Wagner, Kadinsky "heard" his memories of his beloved Moscow, and was urged to translate them into images.  Art aims at expression of the soul's strongest forces and, for Kadinsky, music was the surest mode of access: "A painter…cannot but envy the ease with which music, the most non-material of the arts today, achieves this end" (Kandinsky).  There is a kind of musicality in all of Kandinsky's own works, as seen here, and even the title reflects the artistic connections.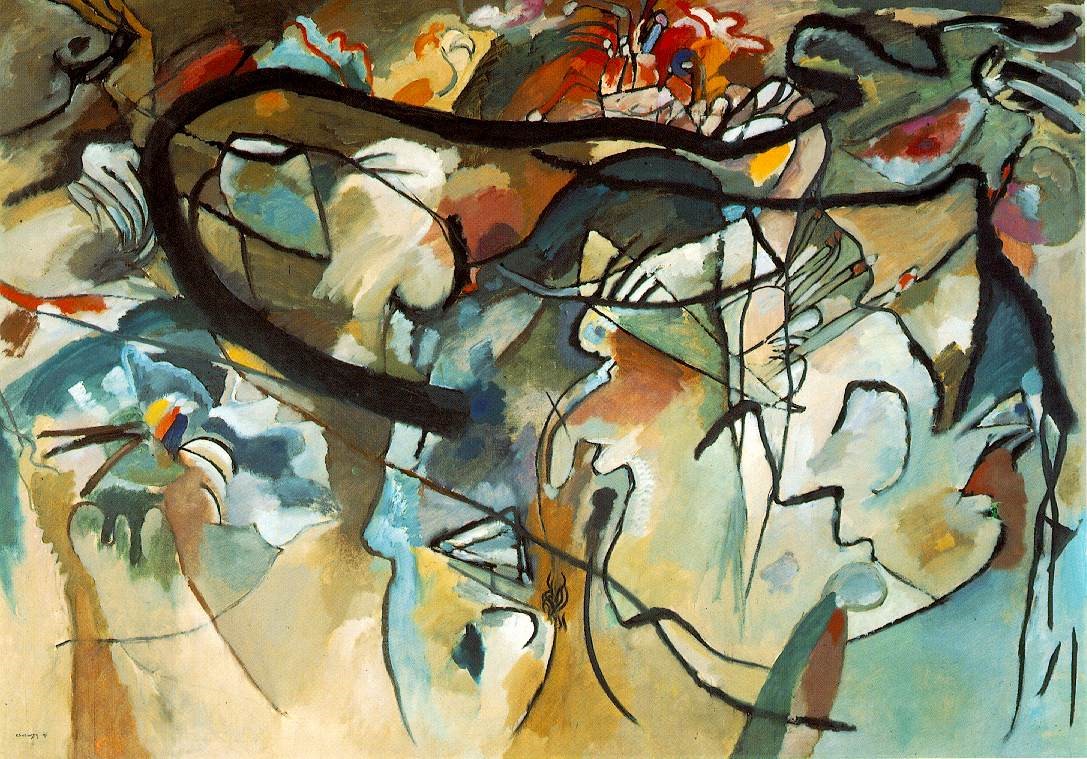 Wassily Kandinsky
Composition V, 1911
The painting is virtually symphonic, as various elements indicate shifting rhythms and tones.  It has a vitality usually associated with music, and color is as impactful here as form.  The work actually moves from lightness to darkness in a vertical way and, personal interpretations aside, this promotes a powerful sense of the spiritual.  It is highly abstract, teasing the eye with possibilities of profiles and human forms, but those hints themselves indicate the "inner" existence that is spirituality.
It is also important to note the timing of Kadinsky's influence as related to the rise of abstractionism.  These were turbulent years, and on international levels never before known.  The enormous impacts of world war and disease, decimating populations and perhaps generating a dissatisfaction with traditional views regarding an understandable afterlife, demanded new ways of perceiving meaning (online lecture).  With the advance of realism and impressionism, representations of the afterlife were less defined, and an ambiguity regarding it pervaded in the late 19th and early 20th centuries.  It seems as if the artistic world, true to Kadinsky's emphasis on artistic responsibility, was determined to fully explore all abstract avenues in order to better "see" spirituality, or what has meaning beyond the material.  It would be a strategy long in place, and reinforced by the next world war.  Artists here, clearly inspired by Kadinsky's views, devoted themselves to further exploration.  The impetus seems clear; in a world where nothing material may be relied upon, the ineffable is paramount.
Two artist in particular represent this sensibility, and honor the Kandinsky legacy of artistic responsibility.  They do it, moreover, in highly individualized manners, as abstractionism demands.   Jackson Pollock's work, for example, is notable as a response to post-war confusion.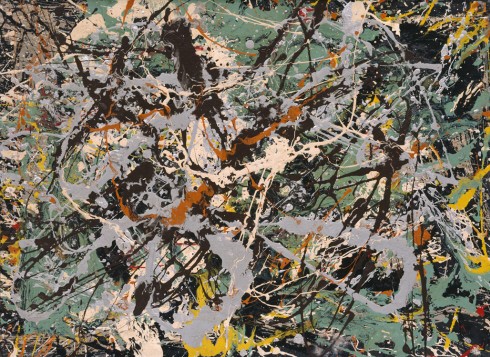 Untitled, Silver and Green
Jackson Pollock, 1949
The Guggenheim, New York
In this work, the notorious "drip" style of Pollock is evident, but there is a great deal more going on.  If Kandinsky adhered to musicality as a theme, it may be said that Pollock chooses to employ dissonance, which is itself a form of music.  There is, in fact, an energy to the piece that resembles Kandinsky's Composition V:  layers and planes are established through the lines, even as the colors used provide further dimension.  This is an abstract representing spirituality, in a sense, because it represents nothing else, and the subject is affirmed by the kind of ordered confusion seen.  It seems to be a vision of the unknown, yet the unknown as humanity feels it.
Less frenetic, but equally spiritual, is the subdued work of William de Kooning.  De Kooning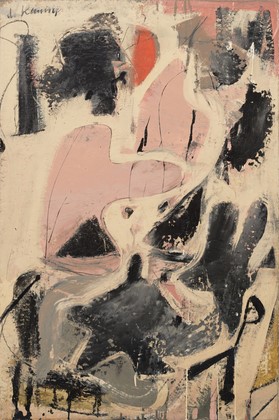 Valentine, 1947
William de Kooning
Museum of Modern Art, New York
appears to seek a kind of "middle ground" between the abstract search for spirituality and the identifiable realms of life.  In the lower left, something like a human form is visible, yet it is eclipsed by the spiritual and emotional resonances or emotions it emits, or confronts.  The title indicates a theme of love, yet the work may be perceived in a broader way, as humanity's relentless need to grasp what is within.
Conclusion
Perhaps no other modern artist occupies the singular position of Wassily Kadinsky, in terms of enduring as much as a theorist as an artist. His influence, simply, cannot be overstated, merely because the abstractionism he promoted lives on today, as it must.  If his ideas were born from a time and world wherein traditional models of faith, and consequently artistic representations of them, no longer answered need, that world is very much the same today.  Humanity, it seems, decided that spirituality is larger than any recognizable construction could convey, so only the avenues of the abstract may reveal its truth.  Kandinsky's response was to emphasize the role of the artist in taking the lead here, and in seeking the spiritual through an actual determination – and obligation – to do so.  As artists influenced by him demonstrate, it is a legacy widely embraced, as it remains in force today.
Works Cited
Artarchive.com.  Wassily Kandinsky: Kandinsky and Music.  2012. Web.  Retrieved from http://www.artchive.com/artchive/K/kandinsky.html
Guggenheim.  Jackson Pollock.  2012. Web.  Retrieved from http://www.guggenheim.org/new-york/collections/collection-online/show-full/piece/?search=Jackson%20Pollock&page=1&f=People&cr=5
Kandinsky, W.  Concerning the Spiritual in Art.  1914.  Web.  2009.  Retrieved from http://web.mnstate.edu/gracyk/courses/phil%20of%20art/kandinskytext.htm
Newsweek.  The Daily Beast.  "Kadinsky's Heirs."  2012.  Web. Retrieved from http://www.thedailybeast.com/newsweek/galleries/2009/09/15/kandinskys-influence-on-painting-is-far-reaching.html#slide3
Stuck with your Coursework?
Get in touch with one of our experts for instant help!
Messenger
Live chat
Time is precious
don't waste it!
Get instant essay
writing help!
It's a Free, No-Obligation Inquiry!
Plagiarism-free
guarantee
Privacy
guarantee
Secure
checkout
Money back
guarantee
Get a Free E-Book ($50 in value)
How To Write The Best Essay Ever!