Back to School Offer
Get 20% of Your First Order amount back in Reward Credits!
Get 20% of Your First Orderback in Rewards
Business Ethics, Research Paper Example
This Research Paper was written by one of our professional writers.
You are free to use it as an inspiration or a source for your own work.
Need a custom Research Paper written for you?
HIRE A WRITER!
Within the context of this lecture I gained further insight into the work of Immanuel Kant and the concept of freedom and responsibilities in relation to ethics. Within the Metaphysics of Morals, by Immanuel Kent, he defines actions as essentially being good or bad resulting in two imperatives.  These being categorical Imperative: you should conduct yourself considering   that you expect others   to act the same way.  Practical Imperative, here we must treat others only as ends, not merely as means.  (Hughes).  Kant placed freedom at the centre of his thinking on human existence.  He referred to this as being central to the autonomy of will, meaning freedom is a causality of living; as such freedom and morality co-exist.
It was interesting to compare Kant with the work of Sartre.  With Sartre on extentialism he sets out what it is to be human, as such adapting methods of phemonology.  Sartre agreed with Kant on the concept that each individual is endowed with unlimited freedom. Sartre went on to say that freedom was all about the ability to make choices and as such it was impossible not to make choices (Onof). In defining concepts of both being and nothingness, there have been a number of different points that highlight a universality concept that is similar to Kant's views. This is not really a revelation because both Sartre and Kant share very similar views with one another with both holding the value of concepts of freedom and humanity.  It is fair to say that everybody, leastwise in Western democracies, has both freedom of expression and the right of choice.  As such this can be morally bad or good.  In theory we are all bound by the law of the land and as such our interpretation and application of these laws will vary according to our own moral standards.  If you are an educated person with a relatively affluent upbringing you are more likely to respect and uphold the law. In this case the laws seem much more pertinent to your position and role in life.  If you are a poor person with no education and forced to survive in the streets of a City, then your ethics are much likely to be tuned more towards survivalist as opposed to upholding the common law.
Without a doubt there are times where personal and professional ethics can collide.  A good illustration might be in the medical profession where a Doctor and Nurse are looking after a terminally ill patient.  Should the patient be allowed to suffer or should the patient be allowed to pass peacefully away.  The professional ethic is all about saving life whilst the personal ethic may be more humanitarian and preventing suffering. To make matters worse it has legal connotations and the Doctor may face legal consequences if he breaches his medical ethics of doing all to save lives.  A similar problem may face the litigation lawyer defending a client who ultimately they may believe to be guilty.  The Accountant who allows a fraud to be perpetrated on behalf of his client or acts improperly when filing tax returns.   (Noonan).
This lecture examined the concepts of marketing and advertising ethics focusing on both on the work of Arrington and Pufferey.  Owing to the amount of unethical and dishonest marketing practices, as carried out in the USA, the public are looking for improved codes of ethics and marketing practices.  Standards of marketing are not strictly governed by codes of ethics, as compared to other more regulated professions like law, medicine, accountants etc. the American marketing Association.  [AMA] is attempting to bridge the gap but can only make code binding upon some members.  An underlying question is will any rigorous code of ethics improve marketing practices of business behaviour?  The first consideration must be enforcement; only if you can make people obey the code of ethics does it become worthwhile.  The concept of ethics in marketing now extends beyond the conventional into that of the global market place and use of the internet.  Journalists involved in marketing have no clear cut code of ethics or responsibilities to follow. The professions can only regulate so much in terms of prescribing a code of ethics. They can make it a conditional part of their membership but in the wider context it becomes a social responsibility of business engaged in marketing practices.    We therefore need a framework, similar to that shown above, in order to regulate ethical behaviour within the market place.  It becomes a social problem to resolve and similar to juvenile crime in the USA. As the Police cannot prevent juvenile crime neither can the professions fully regulate marketing behaviour or the way Corporate business goes about compilation of its' marketing strategies.
The American Marketing Association (AMA) provides guidance on ethical standards for both its members and those engaged in the practice of marketing. The Association has three prime aims: (i) Do no harm! – Adherence to the law and the code of ethics in marketing (as provided by AMA and binding on its members).  The code of ethics attempts to maintain the highest standards of marketing practice (ii) Foster trust in the marketing system.  Products that are promoted are for intended use.  Do not deceive or mislead the public. Marketing strategies should not be misrepresentative to the public.  (iii) Practice ethical values — This to enhance customer confidence and integrity in the marketing system (Dawson)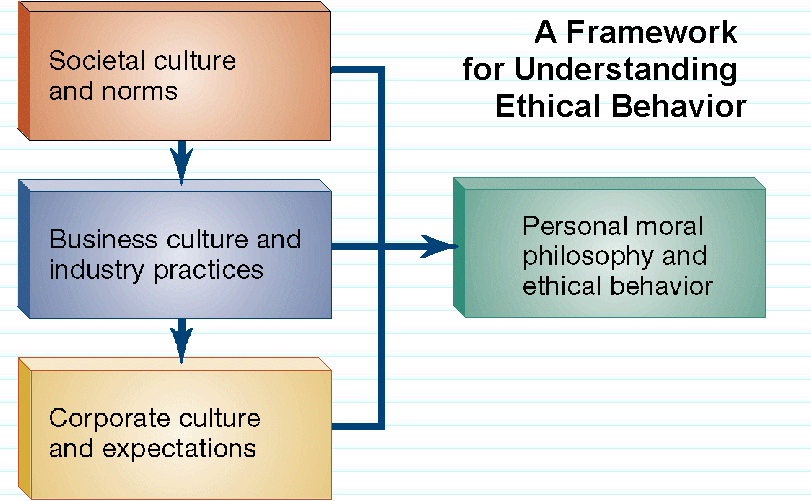 Psychological egoism in ethics is a fascinating subject. The held view of psychological egoism is that everyone acts in their own self-interest with the view of gaining benefit for themselves.  Business has a responsibility to conduct itself in a fair, equitable and professional manner exercising a responsibility to its shareholders. The conditions to employ women and children, particularly in third world overseas locations, are such that it should ensure a safe, hygienic and environmentally safe workplace. It must pay a remuneration that is equitable to the value of the work done i.e. consider the organic fair trade producers of Coffee in Africa and South America. They have a duty of safety to their employees to ensure that they are not ill-treated or made to work long hours. Children in the Cocoa and Chocolate industry of Africa have been cited as one area where child slave labour has been employed.
Business Organizations need to conduct an audit of their operational practices in order to ensure they are not faced with these types of ethical dilemmas. The shoe Company Nike did not realise its extent in the use of child labour, particularly in Cambodia and Pakistan and had to make a series of adjustments.  Firms can also use vendor surveys and only do business with those firms that adopt a similar code of business ethics.  Helplines and websites are other useful means of soliciting information about unethical practices and in addition, educating employees on the standards and ethical behavioural practices that are expected from them.
The problem is that there are still an increasing number of businesses that are unaware of their ethical responsibilities in the marketplace.  This includes a lack of fair trading practices or exploitation and the use of cheap child or female labour, particularly in third world countries.  The problem has manifested itself in a wide range of commercial products including that of textiles, chocolate, coffee and tea plantations etc.
Works Cited
Dawson, E.J. "). The American marketing association code of ethics: Instructions for marketers." Journal of Business Ethics (2004): 921-932.
Noonan, J.T. Professional Ethics or Personal Responsibility. New York: Monroe, 1975.
Onof, C.J. Sartres Extensialism. 2009. http://www.iep.utm.edu/sartre-ex. 20 11 2012.
William Hughes, Jonathan Lavery, Katheryn Doran. Critical thinking an introduction to the basic skills. New York: Broadview Press, 2009.
Stuck with your Research Paper?
Get in touch with one of our experts for instant help!
Messenger
Live chat
Time is precious
don't waste it!
Get instant essay
writing help!
It's a Free, No-Obligation Inquiry!
Plagiarism-free
guarantee
Privacy
guarantee
Secure
checkout
Money back
guarantee
Get a Free E-Book ($50 in value)
How To Write The Best Essay Ever!