Classroom Environment Plan, Essay Example
Pages: 1
Words: 1820
Essay
Introduction
Beginning teachers can easily become overwhelmed with the many facets of teaching.  During the first couple of years as a new teacher, the focus on pedagogy can take a backseat to defining and shaping a personalized, classroom environment conducive to learning.  Establishing a well-defined system gives structure to everything that goes on in the classroom benefiting both the teacher and students.
A classroom environment plan (CEP) outlines a teacher's methods and strategies used to maintain a classroom environment that promotes students' achievement.  Because the teacher and students know exactly what to expect, the CEP provides for better assessments and limits behavior problems, allowing teachers to focus more on teaching.  Many factors contribute to the overall classroom environment.  A good CEP should address the following elements:  rules and procedures, and managing student work, and the physical environment.
Explanation of Plan
Ideas
Techniques
Implementation
Expected Outcomes
Physical Environment
The physical environment of the classroom can play a big part in a student's ability to learn, both mentally and physically, especially in the science education.  "It is in science classrooms and laboratories that students work, learn, and experience real science, using the tools and practicing the skills and habits of mind that encourage science learning. Students form their first and most lasting impressions of the importance of science there." (NSTA, 1999).
I believe the best way to teach science is through hands-on activities and labs, and the layout of the classroom should reflect this.  According to James T. Biehle (1996), a combination classroom and laboratory provides maximum instructional options and is "more in keeping with the best practice recommendations for science instruction where laboratory activities are freely intermingled with classroom instruction."  Biehle provides the following layout as a prime example.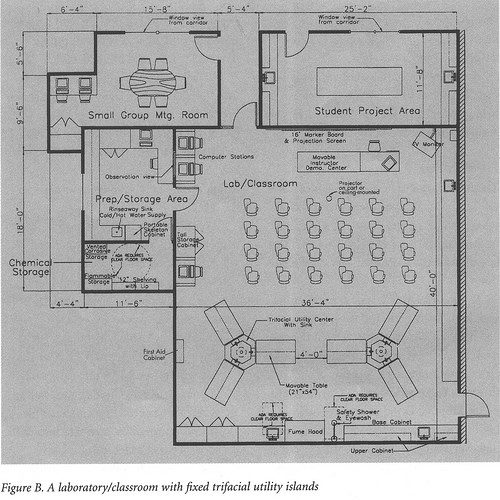 The spacious class/laboratory will allow me to move freely to interact and assess each student.  The arrangement of the desks is flexible, allowing for group work as well as individual work.  Demos should be incorporated in science teaching regularly.  A mobile demo table can support a variety of demos.  The small group meeting room and project area benefit's a differentiated classroom, providing a space without distractions.  A science classroom needs a large storage space for all materials and supplies needed.
Summary
My classroom environment plan is a result of my experiences as an intern.  Early in my first rotation, I realized managing a class involved much more than just a basic set of rules and procedures.  It soon became apparent to me that many other factors should be considered when creating a learning environment, such as an effective system to manage students' work and behavior.  My mentors have completely different perspectives, and their classroom management reflects this.  My first rotation was teaching AP Physics with mostly juniors.  My mentor in this rotation did not have a CEP as all the students were eager to learn and very-well behaved.  With no inclusion classes or behavior issues, I could focus on the content, making teaching much easier.  My current rotation, on the other hand, is 9th grade Chemistry with three inclusive classes.  While the content moves at a slower pace than high school, maintaining the students' focus at this level can be much more challenging.  My mentor in this rotation has a well-thought out, organized CEP derived from years of experience with students at this age.  Planning to such a degree is necessary considering the students' maturity level and the importance of altering instruction for students with special needs.  By observing my mentors' different teaching perspectives, I began to construct a plan that was appropriate to my teaching ideals.  As I began teaching, I would adjust my plan accordingly–the more experience I have, the more my plan evolves.
As an emerging professional, I still have much to learn about teaching.  Having a CEP will eliminate many issues first-year teachers experience.  My CEP will allow me to focus more on teaching the content rather than figuring out how to resolve an issue as it arises.  I have a guideline to follow, saving time and effort.  I know what to expect, and the students know what to expect.  Students will adapt to their environment.  A well-organized classroom creates a positive environment for the students, maximizes learning, and minimizes behavior problems.
Rules
According to Belvel (2009), students need rules to stay psychically and psychologically safe during the lessons. Teaching secondary science requires safety measures, as well as an advanced classroom management system.
Basic class rules
Basic class rules would be provided to students using a classroom agreement system. This would require the adherence, knowledge and understanding from all students. The classroom agreement needs to be signed by all students prior to the beginning of the course. Still, Ebert and Cuyer (2010) mention that there should be no more rules in the classroom than any student is able to remember. The basic rules would include
Following the instructions
Positive communication with other students and educators, speakers
Self-monitoring
Rules for no lateness
No unauthorized absence
Not leaving the classroom unauthorized
Consequences for failure to follow rules
Different stages need to be established, however, the first stage of disciplinary action needs to be focused on the confirmation of rules and acceptance. Reconfirming the requirements, creating a positive discussion should always be a part of the disciplinary process.
Procedures, together with the classroom rules need to be disclosed with every pupil and signed by them in the beginning of the term. They need to gain a full understanding of what is expected of them and what the consequences of not adhering to the policies are.
General procedures
Beginning-of-period procedure
There is a need for creating a 4-week period when only warnings are issued within the classroom. This is to make sure that all pupils are aware of the policies and are given appropriate time to get accustomed to the rules.
Attendance check needs to be completed in the beginning of each lesson and the end of the day as well. Pupils need to be aware that a lateness of more than 10 minutes would result in a day of absence recorded I their file.
Students absent the previous day
A one-on-one session during the day needs to be completed to establish the reason for absence, the next steps and discussing any issues regarding class timetable, transport or family.
A tardy card would be issued to every student, upon discovering inappropriate behavior towards classmates. There would be only 3 cards allowed per semester, and a formal disciplinary procedure would be started after the second card has been issued.
Behavior expected of all students
Instead of focusing on what is not allowed, according to Ebert and Culyer (2010), a pledge should be created to be signed by the whole class individually. Individual students should understand the importance of allowing others to listen, contribute and express their ideas freely, communicate in a manner they would like to be communicated in, and being punctual.
A small signal should be agreed to for seeking permission to leave the room. The only accepted reason would be family matters, medical reasons or comfort breaks. In order to avoid disturbance, students would be required to hold up a sign for the teacher.
Use of material/equipment (for students and teacher)
Safety guidelines should be introduced to the class in the beginning of the semester, while equipment would be color-coded. One color would mean free to use for all students, other would require the presence of a teacher, while some of them would only be used by an educator.
Ending the period
Procedures during Seatwork and Teacher-led instruction
As during these classroom activities students would be required to remain at their seats, attention should be paid to gaining full focus and eliminating disturbance of other students.
Student attention during presentations
Cross-checks and quizzes would be issued in the end of the presentation to ensure full accomplishment of the project.
Student participation
Students might be required to come up with questions to ask after the presentation or seatwork has ended, occasionally create a report of their personal or group experiences.
Procedures for seatwork (talk among students, obtaining help, out-of-seat procedures
When seatwork has been completed, students would need to share their thoughts and ideas with the rest of the class.
Procedures for student group work
During group work, students need to share responsibility and ensure the safety of others, as well as their own.
Use of materials and supplies needs to be based on the written instruction provided by the teacher. Groups need to wait for others to catch up and individuals need to support each other.
Assignment of students to groups needs to be completed based on abilities and interest. A mixed group would be required and the groups should be changed every 4-weeks.
Student goals and participation
Students should be setting their own goals and review them in the end of the group setting.
Cooperative learning should be supported; group goals and achievements put down in the learning records.
Miscellaneous procedures
Signals need to be agreed to, for asking permission to leave the classroom, asking questions and wanting to add to the content. These need to be clear and well-known to all students.
PA announcements/other interruptions
Interruptions need to be reduced to the minimum, therefore, the beginning or end of the class should be reserved for announcements.
Special equipment/materials (computers, live animals, etc.) need to be handled according to the policies; no downloads or use of third party storage, including CD, DVD and USB devices is allowed.
Fire/Disaster drill procedures need to be communicated in the beginning of the semester; spot checks issued to ensure understanding.
Managing Student Work
Grading system/Record keeping
The grading system needs to be communicated with every student, before issuing the assignment. Records would be kept to determine development areas of individual students.
Feedback/monitoring Procedures
Monitoring student work in progress needs to be recorded; identifying students needing extra support with assignments is crucial.
Long-range monitoring has to be done according to 2-month period reviews, while the results and developments need to be recorded.
Communicating assignments and work requirements
Instructions for assignments
Clear, written assignment papers need to be handed out 1-4 weeks before the deadline. Sessions should be held to make sure that students have the opportunity to ask questions and get guidance on completing the work.
Standards for form, neatness, and due dates opportunities. Neatness of work would be graded, as well as the content and knowledge.
Procedures for absent students
Parents of absent students would be contacted the first time, to make sure they are aware of the policies and consequences, as well as the absence.
After the first instance, disciplinary action is need to be taken; starting with an informal discussion. The second instance would result in speaking to parents and issuing warnings, while disciplinary procedures would be started after the 3rd unauthorized absence. During each stage, the next steps and consequences of continuing with the behavior need to be clearly communicated.
References
Biehle, J. T. (1999). Designing High School Science Facilities. The Construction Specifier.  Retrieved from http://insideoutarch.com/designing-high-school-science-facilities/
National Science Teachers Association, NSTA Guide to School Science Facilities, 1999
Belvel, P. (2009) Rethinking Classroom Management: Strategies for Prevention, Intervention, and Problem Solving.
EbertE. S.,, Culyer, R. C.(2010)  School: An Introduction to Education Cengage Learning
Time is precious
don't waste it!
Plagiarism-free
guarantee
Privacy
guarantee
Secure
checkout
Money back
guarantee