Congress Resolutions in Health Care, Research Paper Example
Women's health and wellbeing is an issue currently being discussed at length within the 113th Congress. The following discussion will examine two different resolution initiatives related to women's reproductive health and wellbeing. This is an issue that not only affects women at a reproductive age, but also their families and their futures. Prevention is in the main focus of the political and social discussion, and it is evident that there are indeed disparities between different economic, ethnic and sociological groups within the United States based upon freedom of choice and the ability to make independent decisions without governance.
The two resolutions addressed below attempt to reduce the access-gap within society, depending upon individual social or economic status. In general, affordable preventive services within the realm of reproductive health would result in lower rates of STDs and teen pregnancies. Furthermore, cancer screening coverage could be increased, resulting in early detection and a greater opportunity for successful treatment. The discussion will focus on the legislation regarding emergency contraception and birth control programs that impact the female population within child bearing age. The purpose of the current study is to determine whether the two proposed Congressional resolutions will successfully improve the level of access to emergency contraception and family planning services.
Problem Identification
There are several sociological and economical issues identified by the Congressional sponsors of the two resolutions. For example, family planning services are not included in some of the lower cost and economical insurance coverage plans, which signifies that many women are unable to obtain preventive screenings and thereby risk their health because of their economic status (S.Res. 60). In addition, Resolution 94 further expresses fears that women from diverse backgrounds are disadvantaged at birth by the health care system. The two proposed bills are designed to reduce the gap in knowledge regarding emergency and regular contraception methods and access among women. Unfortunately, access to emergency contraception and family planning services vary by state (Henry J. Kaiser Family Foundation, 2013). A Health Affairs publication from 2006 confirms that disparities exist between women regarding the use of contraception. The percentage of women who do not use contraception among low income women rose from 8 percent to 14 percent between 1995 and 2002, while the percentage only rose from 7 to 10 percent among women at an income level equivalent to 250 percent of the poverty line.
Background
Family planning programs have been in existence for several decades in the United States, and according to Arons et al. (2012), there is currently a debate regarding health plans and whether they should cover contraception. The authors also try to clear a common misconception, most notably that teenage girls face the highest risk of unwanted pregnancies. Quoting statistical data, the authors confirm that out of all pregnancies of unmarried women, 54 percent occur between the ages of 20 and 29. (Arons et al.) Women at risk of unintended pregnancy receiving contraceptive service also varies based on social, income status and ethnic background, according to Frost (2013). Women, on the other hand, are more likely to suffer from poverty than men and will have limited access to contraception, and the report also confirms that in the year 2009, 28 percent of all working unmarried women with children lived below poverty level (U.S. Department of Commerce Economics and Statistics Administration, Executive Office of the President, Office of Management and Budget, 2011). Caal et al. (2012) emphasize the fact that approximately 30 percent of Latina women give birth to a child before the age of 20. Based upon these statistics, there is a distinct call for a different approach to managing reproductive health care in the modern era. Therefore, the question that the issue calls for is as follows: Why are there disparities in the society regarding access to reproductive health services and can legislation increase the level of access among the entire female population in reproductive age, with a focus on disadvantaged groups?
Statistics
There are a number of statistics available within the publications that have been reviewed. For example, Frost (2013) states that increasing poverty is responsible for the rise of using publicly funding health care providers for reproductive health care. The number of women attending public clinics rose by 23 percent between 2006 and 2010, and statistics also demonstrate that in the United States, the use of contraceptive services declined from 2002 to 2006-2010 from 42 to 40 percent, respectively (Frost, 2013, Figure 1). Furthermore, Shattuck and Kreider (2013) noted that in 2011, 35.7 percent of women who gave birth were unmarried, while the teenage birth rate declined between 1998 and 2008, according to Caal et.al (2012, Figure 5), this decline was smaller in the case of non-Hispanic teenagers.
Social Factors
The number of non-marital births was higher among groups with low educational attainment, household income or non-US nativity (Census.gov, 2011, Table 1). Although unmarried births do not directly reflect the number of unwanted pregnancies, there is a connection between the two figures, and certainly there is a logical connection between access to reproductive health care and the number of unwanted pregnancies (Herndon Alliance, 2011).
Economic Factors
The poverty level among Black and South American origin adult populations is significantly higher than among Hispanic people, and this has an impact on the level of access to health insurance and access to care. In the United States, Medicaid, the current insurance program for the poor and other disadvantaged persons, cost approximately $480 billion in 2011, which utilizes funding from state governments and the federal government to finance its programs (Indiviglio, 2012). Medicare, on the other hand, cost $560 billion to operate in 2011 (Indiviglio, 2012). Furthermore, within the next 25 years, Medicare and Medicaid will increase anywhere from 9.6 percent to 10.4 percent of gross domestic product (GDP) (Indiviglio, 2012). However, the Affordable Care Act represents an opportunity to reduce costs by approximately $360 billion over ten years, with additional reductions associated with lower prescription drug payments (Indiviglio, 2012).
Ethical Considerations
Several US and international publications call for ending discrimination within the healthcare system. Resolution number 94 also states that gender discrimination is still present in the health care system, as well as throughout society. The authors view the modification of the Affordable Care Act as the right answer to overcoming gender disparities in health care access.
Political Forces. Legal Factors and Ideologies
Affordable quality health care should be provided for all residents of the United States, regardless of their gender, race, social-economic background or religion. A recent report confirms that the right to health should be an inclusive and non-discriminative right, and this concept is embraced by the current United States government, as well as the introducers of the two resolutions examined within (Office of the United Nations High Commissioner for Human Rights and the World Health Organization). Further, the report also confirms that health care must be accessible, affordable, of good quality and acceptable. (Office of the United Nations High Commissioner for Human Rights and the World Health Organization)
According to a recent publication by Herndon Alliance (2011), the coverage of birth control extension would reduce the number of unwanted pregnancies and the cost of abortions. In addition, Public Law 111–148 (2011) covers procedures and access to reproductive health care, as well as contraception services. The law could be made more effective and comprehensive by the implementation of the two resolutions analyzed within the current discussion.
Issue Statement
Resolution number 94, established in the 113th Congress, states that 50 percent of uninsured women in the United States have no regular physician. Furthermore, the resolution states that the increased use of Medicaid rather than Medicare due to affordability reasons is not sufficient to cover every woman. However, one of the main issues the introducers of the resolution includes greater freedom provided for women with regards to contraception, abortion, and medically accurate information. Resolution number 60 is currently supported by the Senate in order to create legislation that supports women currently use Public Health Services under title X of the Public Health Service Act and title XIX of the Social Security Act getting access to birth control, cancer screening, contraception, and family planning services. The extension and continuity of the Planned Parenthood program is also mentioned as an alternative.
Stakeholder Analysis
By extending contraception and family planning and reproductive health services to a larger group of women, it is evident that changes would have to be made in order to make the cover more affordable and accessible. Below the impact on some of the primary stakeholders will be analyzed.
Health Care Providers
Healthcare providers must offer the necessary services to their patients in a manner that is consistent with key objectives in promoting quality of care and treatment. In addition, these providers must work to provide equal access to healthcare for the insured and to support those without insurance until they obtain a suitable healthcare plan.
Planned Parenthood Program
Cancer screenings and birth control programs must continue in order to extend care among low income and disadvantaged women. Women will need to be informed regarding their options and the freedom to choose contraception methods, as well as their choice of whether or not to have children.
Women in Disadvantaged Groups
Women with low socioeconomic status are disadvantaged within the US health care system. These women lack access to care and treatment across a variety of areas, including preventative measures and concerns that are common for females. It is important to consider how expanded insurance provisions will play a role in supporting greater access to healthcare services on a consistent basis.
Insurance Agencies (Medicare and Medicaid)
Medicaid and Medicare must initiate discussions regarding coverage related to reproductive health as included in different packages. A consultation with government agencies, as well as review of statistical data, is necessary in order to create new policies and packages that are comprehensive, affordable, and accessible for all persons who might otherwise not have private insurance.
Research Bodies and Agencies
Women and those from disadvantaged populations must be provided with the opportunity to participate in clinical trials that could improve outcomes related to a specific condition and that support the development of new clinical trials to test new drug therapies and devices that will make a difference in the lives of many Americans.
Government Agencies
It is necessary to establish a schedule to enable reproductive healthcare to be more affordable for all social and ethnic groups. Therefore, expanded access to these services would promote greater diversity and equality throughout the healthcare system.
Goals and Objectives of the Health Policy
The goals and objectives of the two resolutions are aligned with the Affordable Care Act and the government initiatives detailed in the Healthy People 2020 national agenda. Point 13 of the Healthy People 2020 agenda addresses family planning and health care. The increased use of contraception is one of the primary objectives; however, in achieving this goal, there is a need for a supportive system that is affordable, non-discriminative, and comprehensive. The target for females who receive formal information regarding contraception methods before the age of 18 is 76.4 percent (Healthy People 2020).
The second goal to consider is the ability to provide expanded access to basic healthcare services for disadvantaged populations on a consistent basis in order to accomplish the desired objectives of increased provisions for healthcare for all persons. These efforts will support greater health outcomes for those who have lacked routine access to care in the past.
Alternatives and Options of the Policies
While the two resolutions are currently supported by the Senate, their evaluation and implementation will be lengthy. Instead, the policies and initiatives initiated by the government prior to the Affordable Care Act should be successfully implemented within the health care system. The Senate has two options: 1) create a bill based on Resolutions 94 and 60, or 2) attempt to implement the initiatives and policies of each resolution independently. The authors of the current study assume that the first option, provided that the legislation is in harmony with equality and diversity programs within the United States, would be more cost-effective and appropriate.
Evaluation of Options
Criteria
Efficiency of resolution. The selected criteria would analyze whether the method of issue implementation would have immediate, positive and permanent effects on the quality and accessibility of health care.
Cost. The cost of research, legislation and legal research supported by an effective method of implementation, as the cost of contraception for uninsured women can reach 1,200 dollars per patient per year. Even those insured must pay approximately 200 dollars a year for appointments and oral contraception pills. This might be a burden for not only low income women, but the entire female population of the United States. (Arons et al.) Women must gain access to affordable healthcare opportunities so that they will experience greater health and wellbeing (Wider Opportunities for Women, 2009).
Impact on disadvantaged women. This would demonstrate a measurable increase in access to reproductive health care services among the female population with low socioeconomic status. Many women experience limited access to healthcare services due to social circumstances and other factors (Pomeroy, 2013).
Option One – Implementing Resolutions 60 and 94 in Affordable Health Care Act
Efficiency of resolution
As the Affordable Care Act is currently law in the United States, the modifications made would be simple to implement. As Resolutions 94 and 60 are in line with the initiatives of the Act, their integration would make the Act more effective in eliminating discrimination and in reducing healthcare disparities for women in many areas (Pomeroy, 2013)..
Cost
In comparison to the cost of unwanted pregnancies, abortion and interventions, the cost savings would make up the extra expenditure needed for the implementation (Frost, 2013).
Impact on disadvantaged women
Disadvantaged women should be a focal point of the relevant sections within the Affordable Care Act, as their access to advice, information and care would be extended not only regarding reproductive health, but also other preventive and medical services.
Pro: Simple and effective implementation of the policies and greater impact on health care, not restricted to reproductive health services, because reform must be comprehensive and appropriate for many populations (Pomeroy, 2013).
Con: There is a risk that the harmonization process with the Affordable Care Act would introduce issues that slow down the implementation of the new initiatives, as it is believed by many experts that healthcare access will not be improved with this initiative (Roan, 2012).
Option Two – Creating separate policies to increase access to reproductive health care and decrease disparities.
Efficiency of resolution
Option two would call for a lengthy process of inter-agency discussion and research. Therefore, the interest of stakeholders would not be best served. Furthermore, it would be more difficult to manage bills related to new policies than simply complying with the current Affordable Care Act, which is mandatory for all providers.
Cost
The cost of research, consultation, background studies would be higher, as they would need to be created separately. Furthermore, the healthcare budget would require revisions, in addition to Medicaid and Medicare programs. According to Frost (2013), in 2006 alone, unintended pregnancies cost the government 11 billion dollars in Georgia.
Impact on disadvantaged women
While disadvantaged women would have improved access to some reproductive health care services, their care would be restricted to some of the treatments detailed in the two resolutions. The disparities within reproductive health care would be reduced; however, access to services would not change.
Pro: Immediate reduction of health care access disparities regarding reproductive health care, particularly in areas where low income families reside because they will have access to this care through health insurance (Arons et.al, 2012).
Con: Preparing the relevant legislation would pull resources from the Department of Health and Human Services, and this would signify that the decision-makers would not be able to focus on the bigger picture, and this would be devastating to many women who require these services. It is necessary to examine the larger drivers of these disparities and to determine how to best move forward in utilizing resources by examining the much larger picture that is taking place (Boonstra, 2008).
Findings/Results of Analysis – Summary
The discussion has demonstrated that it is important to effectively deal with women's reproductive health care access on a separate level. However, it is also evident that the implementation of the two discussed resolutions would be more effective if they were integrated into the Affordable Care Act. Research of disadvantaged groups and their level of access is necessary; yet, there is a need for non-profit agency and research support to find the best ways of introducing the new initiatives into the existing health care system in the United States.
Conclusions
While the two initiatives examined focus on gender equality and social disparities, it is evident that the source of the problem does not lie within the health care system. Rather, it is based on societal structure and inequality. The role of the government should be to support disadvantaged groups and provide them with equal opportunities and rights within the health care system. Resolutions 60 and 94 are strong examples of the Senate's support of responsibility for social equality.
References
Arons, J., Panza, L., and Rosenthal, L. (2012). Young Women and Reproductive Health Care. Center for American Progress, Retrieved from http://www.americanprogress.org/wp-content/uploads/issues/2012/07/pdf/youngwomen_contraceptive.pdf
Boonstra, H.D. (2008). The impact of government programs on reproductive health disparities: three case studies. Guttmacher Institute, 11(3), Retrieved from http://www.guttmacher.org/pubs/gpr/11/3/gpr110306.html
Caal, S., Guzman, L., Renteria, R.A., Manlove, J., Garcia, K., Rodrigues, K., and Wildsmith, E., (2012). Reproductive health care through the eyes of Latina women: insights for providers. Child Trends, Retrieved from http://www.childtrends.org/wp-content/uploads/2013/03/Child_Trends-2012_08_31_FR_LatinaReproductive.pdf
Census.gov. 2011 data release. Retrieved from http://www.census.gov/acs/www/data_documentation/2011_release/
Economic Security & Health Care Reform. Wider Opportunities for Women, Retrieved from http://www.wowonline.org/documents/WOWHealthCareResourceGuide_000.pdf
Emergency Contraception (2013). The Henry J. Kaiser Family Foundation, Retrieved from http://kff.org/womens-health-policy/fact-sheet/emergency-contraception/
Expressing the sense of the House of Representatives regarding women's health and economic security. S.Res. 94, 113th Cong. Retrieved from http://www.govtrack.us/congress/bills/113/hres94/text
Frost, J.J. (2013). U.S. women's use of sexual and reproductive health services: trends, sources of care and factors associated with use, 1995-2010. Guttmacher Institute, Retrieved from http://www.guttmacher.org/pubs/sources-of-care-2013.pdf
Health, United States, 2011: With special feature on socioeconomic status and health. Centers for Disease Control and Prevention, Retrieved from http://www.cdc.gov/nchs/data/hus/hus11.pdf
Indiviglio, D. (2012). The old, the poor, and U.S. health care explained. Slate, Retrieved from http://www.slate.com/blogs/breakingviews/2012/08/23/the_old_the_poor_and_u_s_healthcare_explained_.html
The Patient Protection and Affordable Care Act. Pub. L. No. 111-148, 124 Stat. 119 (2010).
Pomeroy,C. (2013). The U.S. health disadvantage: a crisis that we must address together today. Huffington Post, Retrieved from http://www.huffingtonpost.com/claire-pomeroy/us-health-report_b_2480147.html
Publications & Reports (2006). Health Affairs, 25(4), 1175-1177, Retrieved from http://content.healthaffairs.org/content/25/4/1175.full.pdf+html
Recommended communications strategies (2011). Herndon Alliance, Retrieved from http://herndonalliance.org/resources/talking-to-women/aca-recommended-communicatons-strategies.html
Reproductive Health and Healthy People 2020. (2010). Office of Population Affairs, Retrieved from http://www.hhs.gov/opa/pdfs/reproductive-health-and-healthy-people-2020.pdf
The Right to Health: Fact Sheet No. 31. Office of the United Nations High Commissioner for Human Rights and the World Health Organization, Retrieved from http://www.ohchr.org/Documents/Publications/Factsheet31.pdf
Roan, S. (2012). Affordable Care Act won't end disparities. Take Part, Retrieved from http://www.takepart.com/article/2012/11/21/affordable-care-act-wont-end-disparities
Shattuck, R., and Kreider, R. (2013). Social and economic characteristics of currently unmarried women with a recent birth: 2011. American Community Survey Reports. Retrieved from http://www.census.gov/hhes/fertility/
S.Res. 60: A resolution supporting women's reproductive health. Govtrack.us, Retrieved from http://www.govtrack.us/congress/bills/113/sres60/text
Women in America: indicators of social and economic well-being. U.S. Department of Commerce Economics and Statistics Administration, Executive Office of the President Office of Management and Budget, Retrieved from http://www.whitehouse.gov/sites/default/files/rss_viewer/Women_in_America.pdf
Appendix
Comparison of Methods to Implement Resolutions 60 and 94 into the Affordable Care Act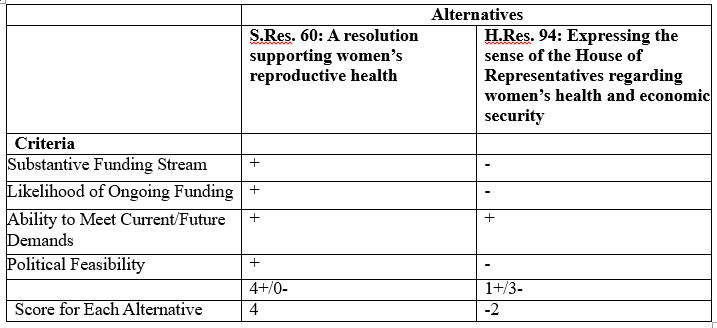 Time is precious
don't waste it!
Plagiarism-free
guarantee
Privacy
guarantee
Secure
checkout
Money back
guarantee