Crossing the Chasm, Research Paper Example
Executive Summary
Somatics LLC is the parent company responsible for Thymatron Instrument production. Thymatron is an electroconvulsive instrument for treating extreme cases of psychiatric disorders. Founded in 1984, Somatics also handles sales, marketing, along with retailing of the ECT machines. It also manufactures, distributes, and promotes these products. Elektrika is a Somatics exclusive supplier. In regions with no dedicated distribution centers, Somatics relies on suppliers for heavy-duty manufacturing [1]. After the manufacturing, Somatics then does the final touches of assembling, testing, and retailing the finished products to healthcare providers.
Introduction
The Digital revolution is already disrupting many sectors. Medical device players, like other industries, are facing headwinds and unique opportunities with clear winners and losers. Somatics and many other companies competing for a space will need to rethink their strategies to stay competitive and win a share of their competitive markets [6]. Realizing the need for change, almost all senior executives in respective companies have declared digital health a top priority.
Somatic LLC, the main product they sell for this purpose is Thymatron. This product is Electroconvulsive medical `equipment for treating patients with acute mental disorders [2]. Electroconvulsive treatment is a modern treatment for a patient with mental or emotional disorders with significant depressive and psychotic symptoms. During therapy, a patient is sedated, administered oxygen and muscle relaxants, and then receives small doses of electrical stimulation in the scalp. Evidence from several studies points to several efficacy levels of ECT therapy, mitigating psychiatric disorder in more than 90 percent of patients who opt for it, most of whom remain stable for several years after treatment [2] This procedure induces a wave of chemical activity in the brain that helps restore normal functioning. The procedure mirrors cardioversion only with ECT; treatment uses smaller amounts of electricity. Thymatron DG, Thymatron DGx, and Thymatron System IV are models of ECT which Somatics produce the DG, DGx, and Thymatron System IV delivers the same electrical energy. The Thymatron IV contrasts from earlier models in tracking and in ways that the doctor can select the electrical stimulus. Somatics no longer offers the DG or DGx for sale.
Somatics
Somatics LLC has the following core objective: the company will distribute and provide medical care through the design, manufacturing, and retail of high-quality Thymatron ECT devices. Second, the company will assist the medical industry in reaching its customers through efficient prevention, diagnosis, and treatment by providing integrated and interoperable ECT devices. Third, the company will meet annual goals and objectives with due consideration for social and environmental impact. Finally, the company will aim to develop a lean and efficient operating model to meet profit incentives, sustain growth, and maintain innovation.
Marketing Size
In 2018, the market for electroconvulsive treatment equipment was worth USD 14.36 billion.
As seen in the graph below, it was predicted to increase at a compound annual growth rate (CAGR) of 1.69 percent to reach 16.20 billion USD in 2025.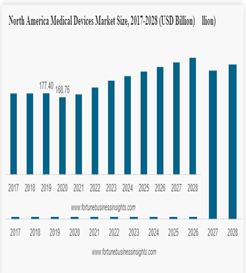 Fig 1 1 2017-2028 North America Medical Devices Market Size
Direct/Indirect Sales Forces 
While Innovation is required for MedTech production, the same is equally true for sales and distribution of developed products.
Besides its primary functions in designing and manufacturing medical devices, Somatics plans to stretch its distribution capacities for wider markets. The company will extend its distribution networks through mergers and internationalization [4]. Internally, the company will leverage its corporate image to boost marketing efforts through product education, customer support, and targeted marketing. Implementation of these strategies should put the company in total control of the entire manufacturing and distribution pipeline. Specifically, the implementation strategies include evaluating distributor discount structures, channel management, and international price structures. The company projects that implementing half of these strategies should get Somatics Distribution moving in the right direction [2].
The company targets both domestic and international clients. The company's domestic care profile encompasses hospital buying groups, independent physicians, managed care groups, and medical supply houses. In the past decade, hospital buying groups have dominated this market segment with about 40 percent of all ECT device purchases, and it is projected to hit 70 percent by 2022. On the foreign markets, Somatics only partners with distributors. Somatics collaborates with key suppliers in distributing its products. In New York, for instance, Elekrtika manufactures Thymatron's main body and ships it to Somatics in Florida [3]. Together with suppliers, the company designs, manufacture, and ships its electrotherapeutic devices to Florida, New York, New Jersey, New Hampshire, Massachusetts, and Distributions Centers in Attieh Medico, Saudi Arabia, and across the world to meet its financial objectives.
Another indirect sales force is medication effectiveness for psychiatric disorders which varies with individuals. Typically, patients begin with low doses and increase gradually depending on mental, physical, and emotional states. However, when other interventions are unsuccessful, with better seizures control.
Competitors
Somatics most suitable growth path expansion focuses on the device potential markets. According to McKinsey's research, winning MedTech companies have a few factors in common. First, they all have a revolutionary idea that can provide replicable outcomes to all their clients including caregivers, vendors, patients, and clinicians [1]. They also attract the best talents in business valuation who can reimagine business processes cut-down operational barriers, speed up decision making, and skyrocket growth projections.
Somatics' immediate competitors include AlterG, PartsSource, and Digirad. Like Somatics, they are equally new to the industry, success will be determined by their speed of innovation, customer satisfaction, and quality of services [4]. Most importantly, MedTech companies should be persistent in their journeys to get closer to the market providing, high-quality, affordable, and convenient service to their users.
Annual Sales/ Revenue Targets
Somatic produce ECT machines are used for the treatment of major depressive disorders. The company retails these products in three models, including Thymatron DG, Thymatron DGx, and Thymatron System IV. The total addressable market for Thymatron devices in each use case is $55 million, $40 million, and $70 million consecutively [3The company produced $20 million in sales last year, a 4 percent decrease from the prior year.
COVID-19 recovery methods, on the other hand, are expected to yield better results, with a projected 6% increase in annual revenue. However, all three of Somatic's Thymatron devices are reimbursed through subscription payments; as such, the company does not list prices or revenue goals for confidential purposes. In addition, purchases outside the country are subject to proprietary negotiations [3].
Regulation
According to the FDA website, they are "responsible for protecting public health by ensuring the safety, efficacy, and security of human and veterinary drugs, biological products, and medical devices and by ensuring the safety of the US food supply, cosmetics, and products that emit radiation."[13]
They are also in charge of progressing health services by aiding to expedite the innovation process that results in medical supplies being "more effective, safer, and more affordable and by helping the public get reliable information on the use of medical products"[13]. The recent upgrades on the switching component by Dr. Lee Kwan on the Somatics Thymatron IV device recently gained the U.S. Food & Drug Administration approval for seizure management in low-to-moderate electric current stimulations.  December 29, 2015, FDA proposed a new rule for the reclassification of ECT therapies. On regulation, the agency's main core responsibility entails weighing risks and benefits for a particular device and determining if specialized adjustments are required for treatment efficacy. Besides reviewing published literature on ECT treatment [8], the FDA compares this form treatment of treatment with alternatives. FDA determined that ECT is an effective treatment for patients with mania schizophrenia, and other psychiatric conditions with treatment resistance. Since 1984, when the FDA approved the Somatics Thymatron ECT device for sale, more than 4,300 Thymatron devices have been utilized around the world. Several clinical trials have looked at the device's effectiveness in treating severe depression. Depressive illness improvement rates have ranged from insignificant to complete recovery, with the majority of studies showing significant improvement. There have been no instances of substantial clinical deterioration.
The FDA reclassified the Electroconvulsive Therapy (ET) proposed to treat catatonia or major severe depressive episode (MDE) associated with major depressive disorder (MDD) in patients aged 13 and older, from a class III device to a class II.
As a result, this would also affect the product code. Regulation number 21 CFR 882.5940. The new code (QGH) for the product better describes ECT devices intended to treat catatonia.
Marketing Strategy
Webinars are a terrific way to improve support and service in the medical device sector. Somatics' marketing has primarily been driven by digital channels, beginning with a television commercial and progressing to YouTube and Google Searches as the company grows. Somatics is actively developing a branding strategy that will include more webinars to educate consumers on specific applications, procedures, and advantages [6]. Nonetheless, the company is attempting to reach an agreement with the local state football team as part of its marketing strategy.
Assessment Summary
Since the company opened new service lines, Thymatron DG and Thymatron DGx creating this focus did not come easily. With company stakeholders suggesting direction product use, Somatics executives demonstrated that their choices presented better chances for commercial success. However, the company's revenue was highly impacted by COVID-19 [8]. When it comes to competitors, the top market players like Johnson & Johnson, Abbott, and Medtronic focus on highly competitive strategies such as collaborations, acquisition, R&D, and launches to strengthen their market presence globally [8]. For small companies like Somatics, to survive in such a space, they need to develop cutting-edge revolutionary strategies. For example, the Thymatron System IV delivers returns, but there is still room for advancements in its technical functionality [8].
Technology Assessment
Clinical Need and Previous Solutions
Medical technology is shaping the future of healthcare in huge ways. With fast-growing populations, governments, individuals, and communities at large will need affordable technology to bridge the gap between maintaining high levels of care and delivering quality affordable treatment that most patients expect [7].
One central area that requires such radical innovation is psychiatric treatment. In 1934, brain convulsions caused by camphor and pentylenetetrazol were first utilized to treat psychiatric diseases [7]. In 1938, electrical inductions (ECT) were introduced. These were quicker to give and less expensive, so they quickly became the standard treatment approach. The inhalant anesthetic flurothyl was investigated and proved to be clinically efficient in inducing seizures in 1957[7]. A Thymatron device is such an innovation that has been demonstrated to be effective in treating several psychiatric disorders [7]. For the treatment of clinical depression, ECT devices are slightly more effective than transcranial magnetic stimulation. ECT device was first used successfully in inpatient treatment in the year 1938 [3]. Now for almost a century, ECT has remained the device of choice for severe clinical depression treatment. The Thymatron device and Mecta Spectrum are standard medical treatment devices for adults with extreme psychiatric disorders [4]. In terms of operation, the Thymatron induces seizures 42% more effective than rival competitors. Better seizure controls imply higher patient remissions. Moreover, the Thymatron has a simple front panel that is easy to use. Most of its critical components start automatically upon pressing the start button [11]. These include recordings of suppression index, determination of seizure endpoints, and several other metric measures.
Sensor Description
Thymatron System IV operating at low current stimulation generates electric impulses closer to the neural action threshold, which could lower cognitive side effects. Operating the device at higher amplitudes is highly effective but carries the risks of significant cognitive side effects [12]. These results show that clinicians can mitigate seizures with low current stimulation ECT sessions. When combined with experimental therapeutic approaches that integrate electroconvulsive and transcranial magnetic stimulation for better efficacy results, it often results in safer psychiatric disorder treatment [12].
System Diagram
Anesthesia depth monitor: it provides feedback on the anesthesia level. Propofol anesthesia is becoming more widely used because of propofol's biphasic action and tight association with the tendency to abbreviate seizures, many centers have made depth monitoring a standard practice [7]. The Thymatron System IV has a front panel to display 3 EEG measures that relate to the anesthesia depth.
A 0.25 MS pulse width stimulus: setting the ECT exclusively to administer the entire dosage range, with periods of 8 seconds for peak efficiency. The ultra-brief pulse ECT yields a significant reduction in cognitive aftereffects [7]).
A 4-channel printer: allows you to keep track of two channels of EEG, plus ECG and EMG at the same time proving a piece of hard copy evidence for later use.
Heart rate measures: peak heart rate is a primary measure of cerebral seizure duration and quality [9]. This is subsidized by continuous heart rate monitoring for safety and seizure generalization.
The device's main specifications are as follows: current: 0.9A constant isolated from line current. Frequency: 10-10Hz in 10Hz increments. Pulse width the Thymatron system IV is available with either 0.25 or 0.30 MS pulse width for ultra-brief. Duration: 0.14 to 8.0s in increments of equal charge. Requirements: 100-130 volts A.C., single phase, 100VA/220-240 Volts, 50/60 Hz switchable [5]. The Thymatron device has several redundant levels of error identification and protections with stellar operation efficiency. An operator can tune it to several computational methods to provide seizure quality analysis, automatically provide stimulus and seizure endpoint determination. For documentation purposes, this information is printed in a readable, concise discharge report [10]. In addition, Thymatron system IV has a manual that supersedes and replaces all previous versions.
Fig 2 1 A Diagram Illustrating Brain Volume against Pulse Depth from a Thymatron Device ECT Session
System Limitation
Regarding the side effects of the ECT, numerous drawbacks can occur. Memory loss, headaches, low blood pressure, and nausea are some of the symptoms. Patients with pre-existing cardiac sickness, poor pulmonary condition, a history of brain injury, or medical difficulties after previous courses of anesthesia or ECT are more prone to develop serious side effects. When it comes to the system's technical limitations, a large static discharge can cause it to reset [12]. In roughly five seconds, the machine would perform another "SELFTEST" and be ready to treat. Keep the treatment room humidified and have a proper grounding system on your mains to reduce static electricity.
When ECT is administered to a patient who has a DBS device implanted, the DBS device may be damaged or malfunctioning, resulting in patient injury.
When ECT is administered to a patient who has a DBS device implanted, the DBS device may be damaged or malfunctioning, resulting in patient injury. – When used as directed, this device relieves symptoms for a brief time. Long-term safety and effectiveness of ECT treatment have not been shown, and long-term monitoring may be required [11].
This medical electrical equipment necessitates extra caution in terms of Electromagnetic Compatibility (EMC), and it must be installed and placed into service following EMC guidelines.
Thymatron® ECT Systems are designed for use in electromagnetic environments where radiated RF disturbances must be controlled according to particular parameters such as separation distance, transmitter's rated maximum output power, frequency, and so on.
Crossing the Chasm Analysis
When a company achieves first success by selling its first product, they target two distinct types of clients with their marketing efforts. Early adopters are the first to buy new technology items, followed by innovators. Early adopters are not technologists, despite being similar types of clients. The early majority and late majority of customers, as illustrated in the technology adoption life cycle (Figure 3), are the most common. The majority of the early adopters enjoy new technology and acquire it. The bulk of people buy standardized technology in their later years. When technology is included in a larger product, the laggards buy it without knowing it exists [9]. To indicate a shift in purchasing behaviors, Geoffrey Moore created a chasm between early adopters and early majority purchase habits. The two groups are split, with the early majority refusing to accept a new product if it is promoted using the same means as the early adopters. When diverse groups purchase the same product, this dissociation necessitates a corporation changing its marketing and sales techniques.
Fig 3 1 A Diagram Illustrating Technology Adaptation Lifecycle
High Tech Parable Similarities
The firm announced a planned update in 2009. Thymatron System IV was expected to have an anesthetic depth monitor, improved imaging technology, and individualized brain targeting with innovative stimulation patterns in its most recent release. These enhancements held the potential to result in new types of non-invasive, customized neurostimulation for persons suffering from treatment-resistant depression [5]. The anesthetic component has obtained regulatory approval, and the business anticipates that the other aspects will be approved within the following two financial years. In a double-blind, randomized control trial, the Somatics Thymatron technology was found to be reproducible, quick, and highly effective for severe mood swings clinical depression in more comprehensive clinical settings, according to an empirical study published in the American Journal of Psychiatry. Only five days into the medication, 79 percent of the individuals in the study were in remission. Somatics has raised a total of $150000 in two seeding rounds, the most recent of which is scheduled for June 30, 2020 [4]. This innovative technique is personalized to each person's brain connectivity and can be supplied in an accelerated timeframe. This new version is the latest in a long line of crucial improvements for the Thymatron System IV, demonstrating how Somatics is always enhancing its products in response to the needs of practicing clinicians [4].
Alternative Crossing Technologies
In his seminal book, "Crossing the Charm,"   Moore argues achieving breakthroughs with tech-based products lies in navigating the transition phases from early adopters to selling products in mass markets. Going by these sentiments, most executives in Somatics would agree the Chasm is the most challenging puzzle the company is currently facing. Somatic has had major blows in recent decades with earlier inventions with avoidable labeling errors, to vast and costly economics such as shortcomings. Healthcare Investors base decisions on several factors including cashflows, and Capital expenditures [6]. Occasionally, a company may have clear financial incentives, but with a high cost of adoptions arising before the financial upswings, investment decisions might point to other promising venturers. Likewise, a company may have substantial cost budgets in one period, with the benefit accrued across a timeline of long-term budgets.
Outside investment decisions, other issues can hamstring the speed of adoption. For example, Somatics LLC had just been sued by a patient citing damage from undergoing treatment with one of our hospital clients on one such occasion. This lawsuit hugely impacted the company's reputation in the industry, implying a reduction in sales prospects in subsequent financial years. As a result, startup companies in the medical field need to be aware of the stakeholders involved in the industry, understand their roles and levels of influence.
A key difference between medical products and technical products is the need for the former to meet regulatory standards [6]. Developing positive patient evidence is a critical factor in gaining approval for a medical license. The agency's approval process has slowed due to pandemic restrictions, but Somatics is confident that they will remotely address regulators' concerns. The company has generated as much as possible to eliminate in-person inspection from the agency; so far, the company estimates significant success with this strategy [6].
Crossing the Chasm in medical technology requires a combination of proven strategies from leading technology, sound business valuation, global regulatory approval driven by patient outcomes and scientific evidence, and a clear understanding of the innovation process.
Conclusion
Speeding adoption involves understanding many levers in the industry. On the business, front means understanding economic factors both at the macro and micro levels.  Lack of resources can greatly impact the output of the company. Besides developing marketing strategies aligned to their core objectives, companies in medical technology must meet the long-term needs of different purchasing segments in a sustainable and economic sense as they scale operations and venture into different purchasing zones. Most importantly, medical device companies need to recognize the value of collaboration and sound business valuation to realize the functional value that extends investments costs and human evolution.
References
[1] K. Tominga, H. Okazaki, I. Utagawa and E. Yamaguchi, "Symptom predictors of response to electroconvulsive therapy in older patients with treatment-resistant depression," International journal of general medicine, vol. 4, p. 515, 2011.
[2] E. Shah and R. Rothstein, "Crossing the chasm: tools to define the value of innovative endoscopic technologies to encourage adoption in clinical practice," Gastrointestinal Endoscopy, vol. 5, no. 91, pp. 1183-1186, 2020.
[3] http://www.thymatron.com/main_home.asp, "Thymatron," Somatics LLC, 2019. [Online]. Available: http://www.thymatron.com/main_catalog.asp. [Accessed 2021].
[4] S. Iyengar and J. Florez, "Crossing the Chasm between Clinical Evidence and Clinical Practice," Journal of TransNational Sciences, vol. 2, pp. 414-421, 2017.
[5] J. Clinch, M. Radhakrishman, V. McMillan, E. Morris and S. Keevil, "The geko electro-stimulation device for venous thromboembolism prophylaxis: a NICE medical technology guidance." Applied health economics and health policy, vol. 2, pp. 135-147, 2015.
[6] G. Moore, Crossing the Chasm: Marketing and Selling Disruptive Products to Mainstream Customers, New York: HarperBusiness, 2014.
[7] Cooper, Kathryn, and Max Fink. "The chemical induction of seizures in psychiatric therapy: were flurothyl (indoklon) and pentylenetetrazol (metrazol) abandoned prematurely?" Journal of clinical psychopharmacology 34, no. 5 (2014): 602-607.
[8]McDonald, William M., Richard D. Weiner, Laura J. Fochtmann, and W. Vaughn McCall. "The FDA and ECT." The journal of ECT 32, no. 2 (2016): 75.
[9] Deng, Zhi-De, Sarah H. Lisanby, and Angel V. Peterchev. "Electric field strength and focality in electroconvulsive therapy and magnetic seizure therapy: a finite element simulation study." Journal of neural engineering 8, no. 1 (2011): 016007.
[10] Abrams, R., 2002. Stimulus titration and ECT dosing. The Journal of ECT, 18(1), pp.3-9.
[11] Sackeim, H.A., Haskett, R.F., Mulsant, B.H., Thase, M.E., Mann, J.J., Pettinati, H.M., Greenberg, R.M., Crowe, R.R., Cooper, T.B. and Prudic, J., 2001. Continuation pharmacotherapy in the prevention of relapse following electroconvulsive therapy: a randomized controlled trial. Jama, 285(10), pp.1299-1307.
[12] Larson, G., Swartz, C. and Abrams, R., 1984. Duration of ECT-induced tachycardia as a measure of seizure length. The American journal of psychiatry, 141(10), pp.1269-1271.
[13] https://www.fda.gov/
Time is precious
don't waste it!
Plagiarism-free
guarantee
Privacy
guarantee
Secure
checkout
Money back
guarantee