Customer Loyalty Programs Geared Towards Women, Thesis Paper Example
Introduction
Growth of a business is dependent on customers and to achieve growth it is necessary that the business acquire more customers or get more business from present customers. Acquisition of customer is an expensive deal and every promotional activity even if it is successful wastes large amount of money. Response rate of a promotional activity in search of new customer is not more than one percentage and this indicates that 99 percent of money spent in this regard is dead loss (B. Barry).
Thus it is more economic to gain business with existing customers than to search for new ones. For this firms rely on two methods; tempting customers to shop more frequently or by tempting them to buy more quantity. In order to increase the volume of purchase usually come kind of sales promotion like package price or promotional discount is offered (Aîda and Pierre).
Customer loyalty programs are useful when a firm aims to get more business from existing customers by getting them to buy often more than earlier. Such programs necessitates some prerequisites like choice for customers among service providers, frequent goods purchase, providers offering equivalently, customer membership of multiple tier, unused points expiry, top tire customers with varying experience (Merch_Matters).
This paper tries to analyze loyalty programs in general and especially in retail industry from the perspective of retailer and consumer, especially women consumers. It tries to analyze the roles of loyalty programs in market, economy and among customers. The paper also tries to find out the view of market, consumer and business towards various loyalty programs introduced by retail sector. To accomplish this it is necessary to know various types of loyalty programs in market today.
Types of loyalty programs
Loyalty programs that offer discount, stimulation, association and nearness are included by Dowling and Uncles (1997) for defining working loyalty programs principles. Debelak (2005) later refilled the list with two more types for composing the typology of loyalty programs of every type and they are discount, evaluation, reward, cooperation, partnership and coalition. Thus we can see that there are various types of loyalty programs (Don) and now it is necessary to understand the effectiveness of such programs.
Effectiveness
Loyalty programs are gaining more popularity as a means to establish or strengthen customer relationship. But it is also necessary to check whether such programs are effective or how effective they are. Research in this regard shows that most loyalty programs that are ordinary in nature or normal in pattern fail to obtain any exceptional advantage for firms. One factor that erodes any gains of loyalty program is competitive forces that exist in present market (Don)
It is always necessary that the managers calculate all costs associated with a loyalty program and compare it with the benefit that the firm is likely to gain with such a program before introducing it. Assessment must be realistic and not rhetoric in nature. If a loyalty program is to succeed it must be able to enhance the products value proposition overall. Buyers will be then motivated to purchase such a product or avail such a service and thus the program will support other defensive and offensive marketing strategy of the firm (Zeithaml, Rust and Lemon). It can be found that loyalty programs exist mostly in retail sector and it is this sector that tries to benefit mostly from such programs.
Loyalty programs in retail sector
Interaction of customers with retailers is on a daily basis now and this is same even if shopping is for apparels, grocery or for sipping a coffee. Products are available from various firms and most of them are similar in nature and with same price. Such an environment reduces the importance of brand and has increased competition between shops and not among brands (Glynn).
There are several outlets in retail sector which customer patronizes and retailers find it very challenging to retain loyal customers and thus his business. One method adopted by retailers for increasing purchase is loyalty programs. This is how loyalty market of retail sector became broad in nature. Loyalty programs in certain segments like grocery have become ubiquitous. Nielsen (2005) is of the opinion that more than 60% of American and European customers are members of at least one loyalty program of a grocery store. It is to be noted that almost 50% retailers in UK have loyalty program.
Loyalty programs usually aim to create competitive advantage and at the same time maintain a healthy profit margin. One of the aims of a loyalty program is to increase the cost of switching, customer share and ensure purchases repeatedly. Though loyalty programs are very common most of them fail to achieve intended results. If cost of switching is low customers can easily hold various loyalty cars and based on their contingency shop at various stores. Companies in usual case offer discounts to all those joining loyalty programs with out segmentation of any clear nature and this leads to discount retailing and leading to an increase in the expense of firm.
Failure of a loyalty program might be due to technological or strategic failure. If a firm fails to differentiate its members base on their intrinsic value it is to be considered as strategic failure. If maintenance cost is very high and capability of integration is poor with a system that is not flexible it can be considered as technological failure (B. Barry). To better understand this system we need to understand common features of loyalty programs.
Common features
Loyalty program helps the retailers to know their customers better and more than possible in usual transactions that are faceless. For implementing a loyalty program that will be successful it is necessary that some kind of segmentation is introduced in it. For this retailer will have to collect the data of customers like contact, demographic date, preferences in shopping and buying behaviour (Zeithaml, Rust and Lemon).
Least cumbersome method is to be adopted for enrolling members and this is because store associate will have only very less time for this. Design of enrollment of member must be simple and must not take much time for enrolling new member. Most preferred method for registering new members must be manual registration offline. Online registration by customers is also adopted by certain companies. Members must be able to earn points and burn the same through various channels. There must be flexibility and the program must be able to provide the customer with a consistent experience and this must be available through all channels utilized by customer (Aîda and Pierre).
Segmentation is very essential to provide complete satisfaction to customers of high value and for increasing the profitability of customers of low value. This will also help to map true value of customer to a segment. Tailored targeted promotions are used by retailers for satisfying the desires and needs of customer of each segment. Accomplishment of this varies according to services and products offered value of a customer and servicing of customer segment along with various other things. Whole Idea is to make sure that there is high response and promotion effort is effective (B. Barry).
Loyalty programs aim to provide the retailer with competitive advantage. For maintaining his lead program must be adjusted and evolved and this must be in accordance with the needs of customers, requirements of business and changes offered by competitor. For a promotion to become successful it is necessary that the retailer bring right promotion methods at right time. The program developed must be able to enable promotion set ups according market desire (Glynn).
Some of the methods that are likely to bring success are grouping customers of common status or character to a tier. Make sure that the bonuses and tier rules are closely associated to desires and needs of customer and incentive of member is to be increased to a maximum for earning great returns for company.
Statements can be generated through email, web or mail to those members who are enrolled. Transaction history of members is to be provided in statement along with expired and accrued points.
Retailers are getting only very low margin and hence structuring of accrual rules is very vital for them. Accruals rules are to be different for partners who are participating in coalition loyalty programs. Accrual rules must be well defined for both non purchase and purchase action (Aîda and Pierre).
Customer loyalty program helps the retailers to increase and improve their reputation and to acquire better equity of brand. Other benefits include decrease of price competition, greater wallet share, increased retention of customer and increased footfall and this is to be tracked for measuring program success (Glynn). Retailer need to track expenditure incurred towards marketing, effectiveness of campaign and identify the member segment that is most successful.
It is on the basis of uploaded transaction that exact calculation is to be made. Points are to be calculated by loyalty engine on the basis of accrual rules that are made for promotions. Both redemptions and accruals are to be calculated by loyalty engine. Transaction log must be provided to understand the reason behind processing or non processing of transactions. Loyalty programs on the same hand faces several issues as well.
Issues with legacy systems
For a loyalty strategy to be successful it is necessary to have right technology that is capable enough to execute the program. Though this is understood by most retailers, many of them are struck by the solutions that were implemented during early 1990's. If the technology used in legacy system is limited it will hamper the ability of company to offer loyalty programs of high value that are targeted precisely. Most retailers are not able to achieve target goals due to inadequacy of technology.
Loyalty programs must be able to increase customer base and at the same customer loyalty and this is achieved by creating a value proposition that is unique in character. Such value proposition cannot be easily matched by competitors. If a retailer is not able to respond to competition it will cause severe handicap. Promotion changes become time consuming and costly due to legacy system. In most cases it is very difficult to enhance promotions as they are hard coded and thus the retailer will not be able to adapt to varying dynamics of market and thus they fall out of competition (Aîda and Pierre).
Another issue faced by retailers is the high cost of system and this will reduce the profit gained from such programs. This is because custom applications are adopted by retailers in most cases to run loyalty programs and with such programs it is very difficult to share cost among partners. This makes it difficult to achieve economies of scale and thus the maintenance cost is intensified.
Next issue is with customer data access for analysis. Issues like customer view fragmentation and inability to leverage key data of loyalty allows retailer to derive limited value from customer data. At times profitability drivers of organization are not tied consistently to recognition and member rewards. This also limits the ability of retailer to create promotion that is targeted and complex.
It is also found that among consumers it is women who are most attracted towards loyalty programs.
Women's participation
Focus of loyalty programs' is on observed behavior of people and not on the needs, personalities, motivations or attitude of customers to a brand.  Most customer loyalty programs are aiming at women as women tend to spend more than men and women are also considered as frequent shoppers. According to a study by Maritz, the marketing firm, women aged 35 to 54 are likely to use vouchers of discount more likely and so companies target women of this age through loyalty program than by adopting promotion methods (Steve).
According to the study, loyalty card is carried by following type of people. They are either a young person, female, those with children under 18 years of age or are from Northeast. In the survey it was found that 62 percent women who participated in survey carried loyalty cards while only 54 percent men were having loyalty card. It is not shocking to note that loyalty cards are more frequently owned and used by women for most people expect women to conduct primary purchase for home than men (Tim and Will).
In an online survey conducted by Leger Marketing among 1,525 Canadians, it was found that out of those who participated in survey 80 per cent of women were having membership to more than one loyalty program, while only 69% men had membership. According to this Survey by Leger Marketing, one among four women who participated in survey has loyalty cards at least five in number. This is because women shop more than men and this is why they join loyalty programs more often than men. It is for the same reason that companies aim to attract women towards their loyalty programs. They hope to get more offers and deals and thus save money and men usually do not think so. Women can be found to spread too thin and are always trying to maximize their rewards and hence will not focus in one or two programs (Steve).
Only 18% men who participated in survey was part of more than three loyalty programs and this is because they are less likely to join such programs as women. 36% women who participated in survey was part of three or more loyalty program. It was also found that women are more interested in loyalty programs with 91% women who participated in survey was member of at least one loyalty program and only 77% men were party to at least one loyalty program. Though men are also interested to become party to loyalty program they tend to become members of one or two programs and to concentrate. This is because they are shopping very less in comparison to women and hence need to spend less than women. Women shop for themselves and other family members and thus will be spending a higher amount. This increases the tendency to gain as much discount as possible while spending (Parago).
It is also found that women are controlling $20T per year in consumer spending world wide and this amount is likely to increase to $28T in next two years. It is the purchasing power of women that successful retailers target and loyalty programs are leveraged for attracting such customers and to entice them to come back. Age is also important in deciding target customers. Retailers are of the opinion that youth are more attracted to discounts and offers and hence they are to be targeted most. Thus it can be seen that young women are the target population of most loyalty programs (Parago).
Retailers understand that youth are more engaged and those engaged more is likely to spent more amount. As youth coming out of college will have more needs but less earnings they can be easily attracted by loyalty programs. Further youth is always attracted to brands and loyalty programs of youth will be beneficial to companies that are reputed brands (Tim and Will).
Women of 18 – 24 are not of the opinion that loyalty programs are beneficial to them and only 5% who participated in the survey said that they has benefited from such programs. But those above the age of 65 are more satisfied by this program and 27% of this age group had a positive approach to loyalty benefits. Thus it is to be understood that retailers need to concentrate more on youth with their loyalty programs as they are the next generation and has to be attracted for increasing customer base and customer loyalty. For a retailer to become successful it is necessary to place experience of customer at centre of loyalty and reward strategy of retailer (Tim and Will).
Gen Ys and women tend not to be loyal consumers in comparison to older Boomer consumers. But with economic recession more consumers have become sensitive to deals and prices. Women participation has increased by 29% and participation of Gen Ys has increased by 32%. Nearly half of women as well as Gen Ys is of the opinion that rewards programs plays an important role in recession and  hence loyalty programs are "more important" during the recession. Loyalty programs have gained more popularity with 27% of Gen Ys feels the need to actively seek new loyalty programs so that they can stretch their budgets. Redemption of rewards has stayed relatively constant even with an increase in loyalty program membership (Parago).
Loyalty programs are used by Women and Gen Ys as a saving strategy. Hence, loyalty programs can attract more customers by stressing on the fact of savings and such program is more likely to be successful. Future savings can be stressed more and focus must be on rewarding buyer and not others. Both genders are found to participate mostly in grocery loyalty programs, and women participate more in retail loyalty programs and mainly in grocery related ones. Women use loyalty cards every time they shop and this is not so with men who often shop with out using their loyalty cards. They use loyalty cars only at times in comparison to women. Overall, it can be seen that women use loyalty cards more often than men and tend to become members of such program more than men. Thus retailers target women more than men while introducing a loyalty program and the customers are made to feel that these programs are beneficial for them in future for they are able to save for future (Steve).
For understanding loyalty programs from the perspective of consumer and retailer a total of fifteen loyalty programs that are prevailing in retail sector is selected. These loyalty programs were selected on the basis of its acceptance among consumers and success. Another criterion for selection was various methods adopted by these programs like customer participation by Express. To get a clear picture of various perspectives it was necessary that almost all types of loyalty programs that are in existence in present market is analyzed. Retailers having women customers were mostly chosen for this paper aims to understand the role of loyalty programs among women. Various schemes, methods, benefits, perks, facilities, restrictions, costs etc offered by loyalty programs were analyzed.
Various loyalty programs in retail sector
Tesco Club card
Club card was launched by Tesco in 1995 and this is owned and run by Tesco alone. Club card holders get points while shopping with Tesco and its partners like National Tyres, Beefeater, Alders and Marriot. Partners also issue points for program and some partners participate only as redemption partners.
According to Tesco shoppers use club card in every eight out of ten shopping they make at Tesco. There are about 25 million club cards at present and this represents 14 million households and there are more than 10 million accounts that are active. Redemption rate of Tesco club card is 20 -40% and in next five years of introduction of club card sales of Tesco has increased by 52%. Every week Tesco.com is handling 500,000 transactions.
For every ₤1 spent at Tesco Club card members get one point. There are 10 club card partners and additional points can be collected from them. When 150 points is accumulated by a member points will be converted to club card vouchers. This is at the rate of 1p for a point and thus provides with a discount of 1%. For every 100 points accumulated a discount voucher of ₤1 is provided. Club card statement is mailed to members along with vouchers once in every 3 months and members can spent those vouchers for further purchase both online and offline to get discount on shopping bill (Aîda and Pierre).
Macy's
Macy's card according company is used for rewarding their customers and it can be used for unlocking the value a customer can find at their stores. Macy cards represent the purchasing level of customers and for this they are color coded. Base line card received by most customers is Macy's Red Star Rewards card. With increase in spending card will become Gold Star Rewards card or Platinum Star Rewards card. Best customer is provided with black Macy's Elite Star Rewards card (Melissa).
Star rewards are based on the amount of money spent by each customer and level of benefits is different for each tier. Merchandise reward certificate is received by upper end customer and with rising purchase percentage customers receive free services like gift wrap, basic alterations, free delivery and exclusive events and offers (Merch_Matters).
Frequent buyers who are members of loyalty program are included in the categories like intimate apparel and hosiery. In order to improve readability enhanced credit statement is issues by the company and this statement also helps to show benefits and rewards that Macy customer earns. This facility is available at Macy.com and there customers can monitor and track their activity of star rewards (Melissa).
Target – Red card
Target provides five percent discount to holders of its credit, debit and RED cards for both online and purchase from stores. The program is designed to increase the revenue of the company and also to measure the sales. It also aims to boost the credit card portfolio of Target. As RED card will increase sale through both credit and debit card decline in portfolio rate will be accelerated (Monica).
It is from people who are having a strong credit profile that large part of sale in this type is generated. That means those who are able to pay their credit balance on monthly basis is the majority who participate in this program. Only few retailers are having their own credit card business and Target is one among them. This is profitable to merchants and at the same time they are also at the risk of being liable for bad debt of customer (Monica).
Though this loyalty program of Target led to some write down during 2008, they are able to increase in coming years with the recovery of economy. Visa card is no longer issues by the company to its shoppers and instead they are providing access to proprietary credit card of the company to its new card holders (Businessweek).
Express
Express NEXT is the loyalty program launched by apparel retailer express. In this program customers can earn points for their purchase and at the same time for engaging with Express through social media. NEXT loyalty program is launched in partnership with Brierley+Partners and the program aims young customers. Youth just out of college is the main focus as they are considered as the most engaged customers of Express. Those customers who engage with Express are considered to shop more and keep a longer relationship. Express says that "the more engaged a customer, the more often they come back" (Dan).
With this program those customers with an Express credit card will get 50% more points. For every 2500 points a customer who does not hold a card will earn $10 while a cardholder will earn $15. Other ways to earn points using card are by retweeting an Express tweet and this will earn 5 points while reviewing of an item on Express.com will earn 10 points (Chantal).
It was on the basis of consumer demand that this system was developed and points based system was found to be very important. In this system consumers get a chance to engage while for company it is a system based on points. One method of engaging is reviewing and another is tweeting. Core intention behind the development of this program was the desire to help young members to engage more. With this system company is able to learn about consumers, collect their data and this helps to understand consumer attitude towards social media interaction and brand interaction (Dan).
Shopkick
Shopkick is the loyalty program that is more rewarding.  In this program there is no extra step, no rules that are confusing and no plastic cards. All that is to be done is to walk into a store like Target, Best Buy, Macy's, Old Navy, Crate&Barrel, Exxon, Toys"R"Us, Mobil convenience stores etc and rack up points or "kicks." These über-versatile points do not need any application filling or purchase. All you need to do is to walk in to your favorite store with a Smartphone to earn kicks instantly.
If you are making purchase using MasterCard or Visa you will be able to collect more kicks. Kicks can be used for purchase and hence this is described as an ultimate guilt free shopping experience by the company (Shopkick).
Amazon.com
Amazon Prime introduced its customer loyalty program in 2005. Program is considered as an effort to study online marketers as it represents a customer loyalty program direction which is likely to become norm one day.
Though customer loyalty programs are free options with purchase power they are introduced by companies to tempt customers to continue with their purchases from a particular company. Amazon customer loyalty program necessitates customers to pay $79 per year for availing two day free shipping facility for purchases from them for any order size. This gained much popularity for the two barriers for online purchase was removed, shipping charges and long delivery time. With this program customer base of Amazon Prime became 2 million by 2009 and by 2010 it became 6 million.
Since 2010 February, company turned Prime to an incentive program online, exclusively for digital media. Later company added TV streaming, movie and Kindle Owners Lending Library to Prime membership. Prime members are to buy a Kindle for accessing eBooks on loan (Yelena). Certain aspects of Amazon Prime can be applied by any retailer and the key attributes of Prime are:
Gap between digital and hard goods is cleverly bridged and this empowers customer with the facility to buy downloads or traditional merchandise or both with benefit.
There are no complexities in this program like collection of points, tracking it and redemption. Benefits are offered and can be related directly to preferential service. Thus basic idea of a customer loyalty program is thus redefined.
Prime works on the basis of paid subscription and provides with a revenue stream that is on going for Amazon. Further more customers are qualified for loyalty program as payment made by customers provide with an added value. About $18.7 billion is gained by the company from its prime members and this amount to 40 percent of its domestic revenue in 2010.  Thus Amazon has created a new type of customer loyalty program (S. Barry).
Overstock.com
Members of Club O receive reward as cash for every purchase. Cash rewards are given to Club O members for making purchase from Overstock.com. A certain percentage of amounts spent on every purchase you make go into reward account of Club O, and that amount can be used for purchase from Overstock.com. Being a member of Club O loyalty rewards program you get back more from the amount you spend at Overstock.com.
Shipping is free for Club O members and online shopping has more advantages than a brick-and-mortar store shopping, but cost incurred towards shipping does not count among them. At times shipping cost might amount to same you thought you were going to save. Each order you make will cost shipping charges and thus it is in reality a hassle. Overstock.com's rewards club members are provided free shipping for almost every order. Orders made solely of media, books, games or movies need to be above $25 for availing free shipping (Overstock.com).
There are exclusive deals for Club O members. Overstock.com's reward program members also benefit from discounts, and exclusive deals along with insider information. Members of rewards club will know about upcoming sales earlier than regular customers (Chandler).
Nordstrom
Nordstrom Inc., the luxury retailer in its bid to gain more loyal customers has expanded its reward program for customers to earn extra perks. There are four cards to choose form and they are visa signature, retail, Nordstrom debit and visa check card. With an approval for Nordstrom card, a Nordstrom Fashion Rewards Level 1 membership is free and thus you gain the eligibility for reward points, privileged access and complimentary services (Nordstrom).
With this new program minimum purchase necessary to qualify for loyalty program of four tiers is reduced to half and other benefits include free tailoring up to $100 and early access to sales for each member. With increased shopping, customers will get more fringe benefits. If a customer spends $5000 annually on their debit or credit card of Nordstrom they will reach Level 3 and thus will avail the facility of 24-hour concierge service. Earlier this amount was $10,000. To reach 4th level a customer will have to spend $10,000 per year which was $20,000 earlier. 4th level customers have the benefit of private shopping parties at their preferred location of Nordstrom and they will also get tickets to fashion shows along with other perks.
Customer loyalty program was expanded with an aim to bring shoppers of broader range to them on behalf of recovery of economy. Along with this company has also opened new Nordstrom Rack outlet stores and has also bought HauteLook Inc., the online discount site (Shan). With this program company also aims to provide to its customers better service while building long-term relationship.
DSW
Free loyalty program for shoppers of DSW is called as DSW Rewards. To become a member you will have to sign up and new members will receive 500 bonus points with signing up. With each purchase points can be earned. Gift certificates are given to members of loyalty program as this point increases. For every 1,500 points earned a customer will get $10.00 certificate. For shoes that are regularly priced 10 points are awarded for every $1.00 and for clearance sale 5 points are awarded for every $1.00 spent. Members also get access to events of double point, advance information on promotion events, email offers that are personalized a special gift certificate for birthday and more.
Those acquiring more than 6000 points per calendar year are called as premier members. Premier members benefits with exclusives like extra 50% points for every purchase, free shipping next day, opportunity for special triple point's and from customer service premier priority attention (usingmiles).
Barnes & Noble
Loyalty club of Barnes & Noble is for purchase of children's items and this is available for parents and others. B&N Kids' Club is the program and is available online and in-store. With this you can avail various promotions on books for children, games and toys along with exclusive deals. For those who join in this program 30% off coupon is provided as an incentive for those items that are available under this program or puzzles and adult games.
Other than this a $5 coupon is also provided to members for purchase worth $100 for children's toys and books, monthly e-mail newsletter subscription, birthday presents from Barnes & Noble Café and they can also create a free digital book on http://www.Tikatok.com which is an interactive Web site for kids to illustrate and write their own books (Promo).
Shop Runner
To become a member of Shop Runner loyalty program you will have to spend $79 per year. Members can shop online through retailer site or through company website.  Members benefit from discounts and special deals, and the membership can be used by a maximum of four members of house and there is no minimum size for orders to be made.
Biggest benefit of Shop Runner Loyalty program is that the members are provided with the benefit of 2 day free shipping on product purchase and along with that they are also provided free return from retailers of Shop Runner. There are 15 retailers for Shop Runner on board and this includes Toys 'R' Us, Calvin Klein Underwear, GNC Live Well and NBA Store and the company is planning to include 23 more retailers (Nirosha).
Williams-Sonoma
Card holders of Williams-Sonoma loyalty program will earn reward points for the purchases they make using their Visa card. Points can be redeemed by card holders for culinary themed awards. Awards include gift cards of Williams-Sonoma; recent Williams-Sonoma purchases statement credits, travel packages that are customized and select Williams-Sonoma stores cooking events. With the new Williams-Sonoma Visa card customers will get one year free shipping for purchases online through Reserve Program of Williams-Sonoma. 24/7 Custom Concierge is also included in this and this is through the Visa Signature Concierge program. It also provides exclusive benefits for those making bridal registration. The card helps the customer to realize savings in fast and simple manner and to gain access to goods that are exceptional and to gain experiences from Williams-Sonoma.
Three reward points is awarder to customers for every dollar they spent at Williams-Sonoma and in addition to this customers will get one point for every dollar they spent using their Visa card. With their first qualifying purchase they will also get 2,500 bonus points and this can be redeemed immediately for a gift card worth $25 or for statement credit. Visa Signature Concierge service that is customized is also provided to card holders and this can be accessed by cardholders of both Williams-Sonoma Visa Signature and Platinum cards. With Visa Signature Concierge service customers can access 24-hour assistance on reservations of dining, ticket purchase of special events and travel plans.
Card holders are provided assistance to find Williams-Sonoma gift during their shopping that is right for them with a gift giving service that is customized. Facility can be made use of while shopping for luxury travel packages that are exclusively designed for customers of Williams-Sonoma. Card is free of any annual fee and bridal registrant cardholders gets an additional reward of three points for gift purchase made by others from Williams-Sonoma bridal registry  and a discount for first wedding anniversary (BusinessWire).
Abercrombie & Fitch
Loyalty programs of old fashion offer discounts to customers, gift certificates and some other rewards on the basis of purchases. The A&F Club member will get free shipping for purchase above $150 online, promotions and offers.
Other than this members will also benefit from access to photo galleries and exclusive video, for computers and mobile devices digital wallpaper and downloads and special music playlists.  For weather members will also get dressing help. Members will also get a five-day forecast through member site for the city of member along with suggestions for dressing. Birthday rewards are also promised and there is the facility to skip lines during special events (Barbara).
The credit card of Abercrombie and Fitch is useful for making purchase at stores of Abercrombie and Fitch, on the website of Abercrombie.com and from catalogs of Abercrombie and Fitch. It is the World Financial Network Bank that issued the Abercrombie & Fitch and they are the ones administering the card. Some financial terms are included in usage of Abercrombie & Fitch store credit card for purchase from Abercrombie & Fitch and they are
Absence of annual fees
Outstanding balance necessary for monthly payments
Lack of interest for complete payment of account balance before end of billing cycle
99% APR that is variable is added each month to balances that is outstanding
Reward points provide the company with an opportunity of customer interaction through mobile devices and social media. This will help A&F to get a clear picture about their customers and their requirements (Dan).
Victoria Secret
Victoria's Secret provides to its customers Angels Card that is 100% free. Customers can sign up online or at any Victoria's Secret location for Victoria's Secret Angels card. Payment can be made at any Victoria's Secret location and this can be done at register and there is no need to bring bill. Payment can be made online also through Angels Card Website.
There are several benefits for Victoria's Secret Angels card and with this customers earn points on every dollar they spend on various kinds of Victoria's Secret merchandise or White Barn Candle Company or Bath & Body Works.
One point is awarded for $1 and for every 250 points that accumulate customer is provided with a free gift card providing discount of $10 on any purchase. Gift card will be mailed to eligible customer and on following month of earning of eligibility. Other than gift card customer will also earn one level that is equivalent to a gift card worth $10. Customer can check point summary by logging in to Angels Card account online (Sara). Gift card earned can be applied to any merchandise including clearance sale and also on items that cost $10 or less. Booklets are also sending to customers and such booklets will have little coupons in them.
If you are not able to make instant payment while purchase using Victoria's Secret Angels card, a hefty APR of almost 22% can be expected.
Toys "R"US
Toys"R"Us introduced Rewards"R"Us program effective from 7/1/'12 – 10/27/'12 with an aim to reward fun.  Members will get points for their purchase and are also offered discounts and shopping events exclusively for members. Members can generate rewards as dollars and enrolment is necessary for customers to become members. Enrolment to Rewards"R"Us program is possible at participating stores of Babies"R"Us and Toys"R"Us or online at ToysRUs.com/my rewards. Those getting approval for "R"Us Credit Card becomes the member of Rewards"R"Us automatically. One of the criteria to become member is that you have to be a US resident and minimum age is 18 years for qualification to "R"Us Credit Card. If you are 13 or above you can enroll to free Rewards"R"Us program which do not provide credit card. It is not necessary for you to make any purchase for becoming a member. Only those customers who purchase items for individual use are eligible for becoming members of Rewards"R"Us program and corporations, associations, groups or commercial customers and those purchasing for resale will not be able to become members. One customer can have a single membership only and rewards vary according to store or by member. This depends on various factors like when, where or how the member signed up.
Members will get two points for every dollar spent for purchases that are qualifying at Babies"R"Us and Toys"R"Us stores or online during some promotional periods. If a member is spending on V.I.B he will receive one point for every dollar spent. Very Important Baby card includes purchase of infant formula, diapers, baby wipes, gift cards, baby food, video games, video game accessories, video game hardware and products of Apple. Those purchase that qualify will not include assembly fee, Buyer Protection Plan, breast-pump rental fee, Layaway fees, delivery fee and fee towards shipping & handling (ToysRUs).
Research review
From the review of above research it can be understood that loyalty programs plays two roles in retail market. Retail companies find loyalty programs as promotional methods and also as a revenue source. Most loyalty programs treat customers merely as consumers while some like Express and AF try to engage them in business. Loyalty program is a part of their research and development process and it invites consumers to be part of their development process. Thus in this case consumer plays the role of partner and here there is a progress in role of consumer's role.
Three roles can be attributed to loyalty programs and they are market role, consumer role and economic role.
Market role
In this role loyalty programs provides with two aspects of purchase and engagement. Most loyalty programs like that of Tesco, Amazon, and Shop Runner view loyalty programs as a mere means of promotion. Such loyalty programs provide consumers with discounts and points and there is no role for consumer to play.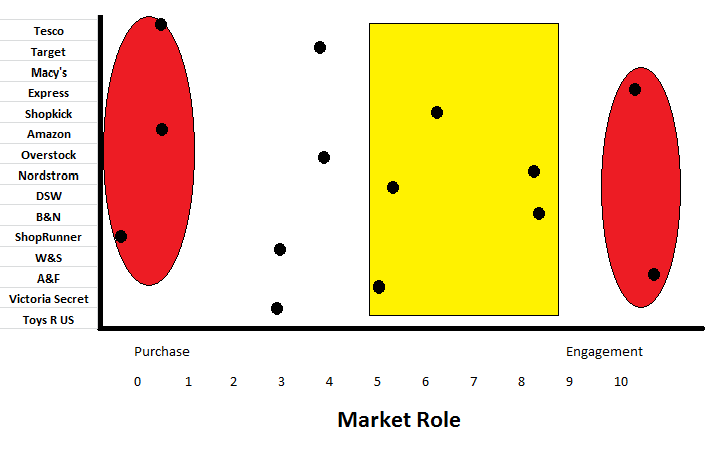 There is no involvement from consumer and hence the program only aims promotion of company. These types of loyalty programs can be further considered as a part of service offered by companies. These are purchase driven programs and only those consumers who make purchases are benefited from this. There is no role for consumers to play and benefit increases with increasing purchase. Free shipping facility is one thing that consumers look at when they are making more purchases. Though there is several purchases driven loyalty programs it can be seen that most companies try to adopt the method of consumer engagement along with purchase.
With this companies tries to bring in some amount of involvement for consumer in activities of companies. Some try to engage consumers through social media, for example Express, while some others try to engage consumer by educating them about products. With this method companies try to create some kind of friendly feeling and attachment for consumer towards company and thus gain loyal customers who will purchase only from that particular company. For this several methods are adopted and one is by creating a feeling that consumer is provided the opportunity to take part in decision making of company or is allowed to sneak peak behind the scene. Some of then are Shop Kick  which provides with kick for every visit to store, and when a consumer visit the store there is chances of purchase. B&N engages kids through online content and it is related to their sale of books at their stores. Nordstrom provides with custom shopping parties and free tickets to in store fashion shows and creates a feeling that consumer is a part of the company and more such facilities are provided with increase in purchase. Those like AF and Express try to engage consumers through social media and create a feeling that it is according to consumer priority that they are providing their service. Thus consumers feel more close to company and this increases purchase.
Consumer role
Another type of loyalty programs provides with credits or free to those making purchase under loyalty programs and they are finding such programs as revenue source. By providing credits they make sure that the customer comes back to them for making further purchase. Thus these programs try to increase the revenue by tempting customers to come back for purchases. Here customers are viewed as consumers and partners. Loyalty program is a method to generate revenue and for this various methods like credit cards, annual fees etc are adopted.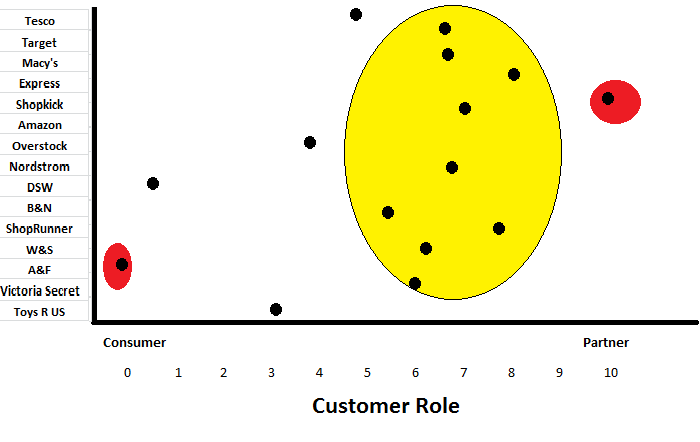 As consumer is to spend some money for getting membership they will try to make maximum purchase from same company. They will have the feeling that they can make maximum benefit only by making purchase from that company alone. Only revenue generation is through credit cards and annual fees and they do not use methods like promotions or coupons. Amazon.com, B&N, ShopRunner, Williams-Sonoma Reserve and Overstock are examples of this kind which generate revenue as annual fee. Macy's Nordstrom and Target are those providing credit facilities to generate income. If you have a credit card there is a tendency to make purchase and they are also providing some discount for purchase using credit card.
Other than credit card and annual fee certain retailers adopt the method of promotions to generate revenue and customer is viewed solely as consumer. This might be through email of offers and promotions and YoysRUs and DSW are example of this kind. On the contrary ShopKick consider customer as their partner and their sole existence is on the base of consumers they possess. Those signing in for loyalty program of Shop Kick are agreeing to use their check in as a method of marketing and the company provides rewards and points in return.
Economic role
In this role loyalty program either try to bring in new business or to support existing business. Existing consumers are provided rewards and special discounts or is informed of promotions earlier to others and thus gain support for business.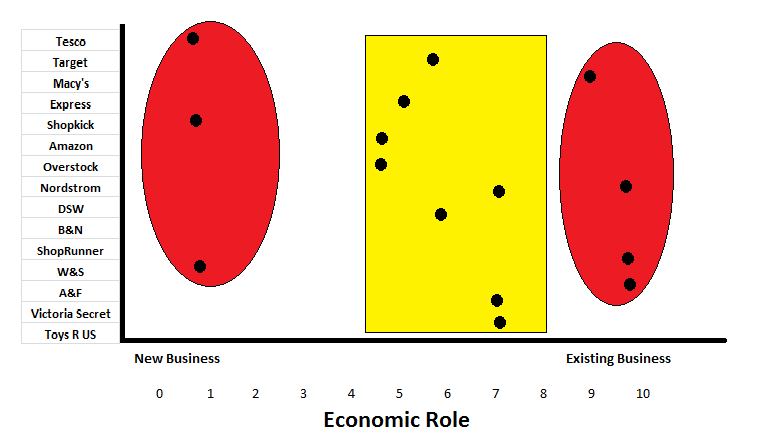 Those like Victoria Secret try to attract new consumers by offering them with credit cards and exclusive member privilege of early access to promotions and other offers. Target, Nordstrom, Macy's, ToysRUs is trying to bring in new consumers by offering credit cards. Though you can use such cards for purchase along their store line you are always rewarded more for purchases in their retail stores and thus attract consumer to purchase from a particular store. Extra reward is provided as redeemable coupons, discounts, cash rewards etc and this consumers are supported to make more purchase.
Other than these two types there are other methods like the one used by W&S. They are focusing on those getting married and an extra reward like first wedding anniversary gift is given to those making purchase from a customer's registry. Target consumers are specific and they are people who are ready to spent maximum for best products. They try to make you their loyal customer for a life time starting from marriage. For this they are providing points for gifts purchased for a friend etc. ShopKick uses the method of attracting customers and do not force them to buy any thing for gaining 'kicks'. All you need to do is to visit their shop and it is under the belief that not all visiting the shop will go with out a purchase. Another type is those providing rewards according to the extent you make shopping. For example ShopeRunner and Nordstrom.
Conclusion
On the basis of above findings and it can be seen that loyalty programs mainly plays three different roles from the perspective of market, consumer and economy. Market views loyalty program as a mode of engagement and purchasing while for customer it provides the role of consumer and partner. Economically these programs support existing business and provides with new business. Thus loyalty programs at the same time play the role of revenue generator for company, money saver for consumer and for market increases participation.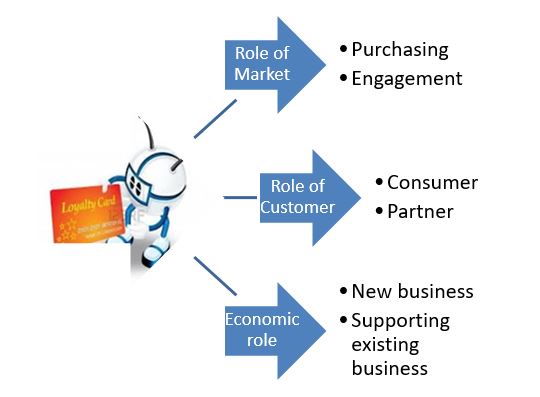 Thus loyalty programs increases purchasing and engagement from market perspective, treats customer as consumer and a partner and brings new business or supports existing business from economic perspective.
Recommendations for future
Based on the study conducted among loyalty programs of 15 retail companies it was found that those targeting on three roles of loyalty programs are not able to perform well. In such circumstances it becomes difficult for consumers to understand the strategy of program and marketing wing of the company will have to put more effort in loyalty program. Such loyalty programs costs more for the company towards its marketing, implementation etc. Among case study companies Express and Nordstrom focus on market, customer and economic roles of loyalty program and hence they are benefiting less from such programs.
When retailer focus on a single role it can be seen that they are able to benefit high from loyalty programs and the program becomes successful. This is because company will have to put less effort in this regard and the cost incurred will also be less. Customers will easily understand the strategy adopted by company and will find it easy to take part in such programs.  Among case study companies Tesco, Toys"R"US, Amazon, W&S and Overstock has adapted this strategy to focus on a single role. Thus they benefit high from loyalty programs.
Another group was the one focusing on either two or three roles. Such companies benefit from loyalty programs but not as the ones focusing on a single role. Such loyalty programs are that of Macy's. Target, ShopKick, B&N, ShopRunner, A&F and Victoria Secret. It is based on these findings that following recommendations are made. Some methods that can be of benefit to companies are also given with recommendations.
Loyalty programs are being re imagined and reinvented with the advent of technologies and marketing opportunities. From above study it is found that there are mainly three purposes for loyalty programs. To increase the benefits from loyalty programs
Companies need to target a single role through one loyalty program at a time. It is also necessary to create strategies that are clear to consumer. Make sure that the program is providing some sort of involvement to consumer and they are not merely viewed as customers. There must be consumer engagement as this will increase customer loyalty. Revenue generating methods like credit card can be added but annual fees is some thing that might turn the consumer away. Most important is to create a friendly situation to consumers and make them feel that the program is made for their benefit.
Technology can be relied on for better utilization of loyalty programs. With increased usage of smart phones and mobile applications associated to it new methods are to be introduced in loyalty programs for gaining new customers and to keep present customer base. This will also help to keep customers engaged and to play the role of a partner. Two methods that can be adopted in future for loyalty marketing is advent of mobile payments and location based marketing (Charlotte)
Location Based Marketing
Location based marketing will help companies to use modern technologies like Wi-Fi, radio-frequency identification (RFID) and mobile phone tracking to deliver offers, reviews, coupons etc to mobile device of the user if they are near by. For this they will have to develop an application like Foursquare or Local Response like media upstarts (Charlotte).
M-Payments
In this method payment process can be expanded and at the same time track and reward loyalty. Starbucks has launched mobile pay program which is very helpful to elevate experience of customer and reward loyalty (Charlotte).
Such technological advancements help companies to offer funny new ways to engage with their customers to create new habits that are rewarding to both. Such methods or programs will make sure that the customer come back to company with out looking for any other shop.
Another method that can be adopted is to leverage the platform of email marketing. There are two ways to do this and they are:
By creating a VIP type status when a customer reach a certain level and from then onwards providing him access to private sales, exclusive benefits, special gifts, rewards etc. All that is to be done is to create a VIP field in the email platform of company based on purchase value per year. On finding those persons who have already spent targeted amount you can offer some special discounts or access to promotional offers in advance. You can also target those customers whoa re nearing the amount and inform them about the benefits of VIP amount. Such activities are likely to increase purchase by consumer. This kind of program is having more potential for delight and surprise than regular offers that are already known to consumers. All that it takes is to design some programs in advance for customers who are likely to get that VIP status. With VIP status customers are given a wonderful opportunity to make their shopping experience fun and interactive (Kristen).
Next method is to create rewards and send it out as gift cards or coupons when a customer reach a certain spending level or when he spends above a certain amount (Kristen). This is also good as it also has some amount of surprise. You can inform consumers reaching certain target that they are likely to receive surprise gifts and when they reach that target send those gifts as coupons or gift cards. You can if possible arrange to provide such coupons at the time of bill payment or via email to consumers to avoid any delay.
References
Aîda, Mimouni-Chaabane and Volle Pierre. "Perceived benefits of loyalty programs: Scale development and implications for relational strategies." Journal of Business Research (2010): 32-37.
Barbara, Farfan. Abercrombie & Fitch Retail Credit Card – How to Apply Online To Get Store Credit. 15 April 2012. 8 December 2012 <http://retailindustry.about.com/od/retailtrendsetters/p/Abercrombie-And-Fitch-Retail-Credit-Card-How-To-Apply-Online-To-Get-Store-Credit.htm>.
Barry, Berman. "Developing an effective customer loyalty program." California Management Review Fall 2006 (2006): 123.
Barry, Silverstein. Amazon Prime: The Future of Customer Loyalty Programs? 21 November 2011. 7 December 2012 <http://www.revenews.com/online-marketing/amazon-prime-the-future-of-customer-loyalty-programs/>.
Businessweek. Ahead of the Bell: Target loyalty program. 4 June 2010. 3 December 2012 <http://www.businessweek.com/ap/financialnews/D9G4FGG80.htm>.
BusinessWire. Williams-Sonoma and Barclaycard Announce New Visa Card. 15 September 2011. 7 December 2012 <http://origin-www.bloomberg.com/apps/news?pid=conewsstory&tkr=V:US&sid=aX.zveF1DrCU>.
Chandler, Warnick. Best Reasons for Joining Club O. 2010. 7 December 2012 <http://www.overstock.com/guides/best-reasons-for-joining-club-O>.
Chantal, Tode. Express loyalty program rewards customers for mobile, social activities. 5 April 2012. 3 December 2012 <http://www.mobilecommercedaily.com/express-loyalty-program-rewards-customers-for-mobile-social-activities>.
Charlotte, Cavaretta. The Future of Customer Loyalty. 26 April 2012. 9 December 2012 <http://blog.mslgroup.com/the-future-of-customer-loyalty/>.
Dan, Eaton. Abercrombie & Fitch launches loyalty club promising discounts, exclusive online photos, other content. 15 August 2012. 8 December 2012 <http://www.bizjournals.com/columbus/blog/2012/08/abercrombie-fitch-launches-loyalty.html>.
—. Express picks up its perks for shoppers. 2 April 2012. 3 December 2012 <http://www.bizjournals.com/columbus/news/2012/04/02/express-picks-up-its-perks-for-shoppers.html>.
Don, Debelak. Bringing Your Product to Market…In Less Than a Year: Fast-Track Approaches to Cashing in on Your Great Idea. New Jersey: John Wiley & Sons, 2005.
Dowling, G, R and M Uncles. "Do Customer Loyalty Programs Really Work?" Sloan Management Review (1997): 71-82.
Glynn, Davis. "How Tesco became Britain's top supermarket." Money Week 9 May 2007.
Kristen, Gregory. Push Repeat Purchases via a Loyalty Program. 8 March 2012. 9 December 2012 <http://bronto.com/blog/drive-revenue-through-very-important-person-vip-programs-email-marketing-customer-loyalty#.UMY4Ankz4Rt>.
Melissa, Campanelli. Macy's Starts Star Rewards Loyalty Program. 21 January 2005. 3 December 2012 <http://www.dmnews.com/macys-starts-star-rewards-loyalty-program/article/86454/>.
Merch_Matters. Their Approach is Not a Tactic, But a New Way of Doing Business. 17 January 2012. 3 December 2012 <www.dmnews.com/macys-starts-star-rewards-loyalty-program/article/86454/>.
Monica, Gerson. Economics Of Target's New Loyalty Program Seem Favorable. 4 June 2010. 3 December 2012 <http://www.benzinga.com/trading-ideas/long-ideas/10/06/315110/economics-of-target%E2%80%99s-new-loyalty-program-seem-favorable#>.
Nirosha, Methananda. Shoprunner – Two Birds, One Stone. 13 Octopber 2011. 7 December 2012 <http://www.powerretail.com.au/multichannel/shoprunner-%E2%80%93-two-birds-one-stone/>.
Nordstrom. Learn More, Compare and Apply. 10 September 2012. 8 December 2012 <http://shop.nordstrom.com/c/nordstrom-card-compare-apply>.
Overstock.com. Overstock.com's Online Community is a Big Deal for Bargain Shoppers. 13 May 2010. 8 December 2012 <http://investors.overstock.com/phoenix.zhtml?c=131091&p=irol-newsArticle&ID=1288154&highlight>.
Parago. Shopping Behavior Insights Study. 2012. 9 December 2012 <http://www.parago.com/marketing/pdfs/2012_ShoppingInsights.pdf>.
Promo. Barnes & Noble Debuts Loyalty Program for Kids Products. 3 November 2010. 8 December 2012 <http://chiefmarketer.com/incentives/news/barnes-noble-debuts-loyalty-program-1103>.
Sara. How the Victoria's Secret Angels Credit Card Points Work. 16 March 2009. 7 December 2012 <http://voices.yahoo.com/how-victorias-secret-angels-credit-card-points-2682662.html?cat=46>.
Shan, Li. Nordstrom broadens shopper loyalty program. 10 January 2012. 8 December 2012 <http://articles.latimes.com/2012/jan/10/news/la-nordstrom-shopper-loyalty-program-20120110>.
Shopkick. What is shopkick? 2012. 7 December 2012 <http://www.shopkick.com/about>.
Steve, Worthington,. The hidden side of loyalty card programs. December 2009. 9 December 2012 <http://www.buseco.monash.edu.au/centres/acrs/research/whitepapers/hidden-side-of-loyalty.pdf>.
Tim, Sansbury and Sikes Will. Retail Reward Programs: They're More Important in the Recession, Say Nearly One-Third of U.S. Consumers. 30 September 2009. 9 December 2012 <http://www.colloquy.com/files/pr093009-a.pdf>.
ToysRUs. General – Rewards"R"Us Program Rules. October 2012. 7 December 2012 <https://rewardsrus.toysrus.com/TermsAndConditions.cfm>.
usingmiles. Loyalty Program Spotlight- DSW Rewards. 26 September 2012. 7 December 2012 <http://blog.usingmiles.com/2012/09/26/loyalty-program-spotlight-dsw/>.
Yelena, Moroz. 5 Customer Loyalty Programs That Pay Off. 7 December 2012 <http://www.realsimple.com/work-life/money/saving/customer-loyalty-programs-00000000057369/index.html>.
Zeithaml, Valarie A., Roland T. Rust and Katherine N. Lemon. "The customer pyramid: creating and serving profitable customers." California Management Review Summer (2001): 118.
Time is precious
don't waste it!
Plagiarism-free
guarantee
Privacy
guarantee
Secure
checkout
Money back
guarantee