Back to School Offer
Get 20% of Your First Order amount back in Reward Credits!
Get 20% of Your First Orderback in Rewards
Economics Commentary on Macroeconomics, Essay Example
Pages: 3
Words: 749
Essay
This Essay was written by one of our professional writers.
You are free to use it as an inspiration or a source for your own work.
Need a custom Essay written for you?
HIRE A WRITER!
Introduction
The economic crisis in the Eurozone raised the specter of long-term economic stagnation and even the collapse of the currency. Many explanations have been offered for the economic crisis in Europe: the profligate policies of the peripheral states that led other more fiscally responsible states to bail them out; an inadequate supervision structure of the European governance body gave France and Germany an early pass that may have contributed to the moral hazard of the other states.  Another explanation, however, seldom heard at the beginning of the economic crisis is also gaining currency: The European economic crisis is a function of German economic policy.  This argument, at least at first glance, seems highly counterintuitive: Germany is the ideal picture of fiscal rectitude in the European Union- the country had the highest economic growth rate of all European countries after the crisis; the country was one of the only in the continent to run a fiscal and current account surplus; finally, the reason for Germany's growth was the envy of the European Union: a sleek, industrial exporting machine that exported goods. \
There is a lot of truth to this purported narrative.  Germany, as an economic model, has a lot to recommend to it, including a robust "apprenticeship" training system and a sound educational system.  There is, however, a problem with this basic narrative: As part of the currency union, Germany is essentially connected to all other countries in the Eurozone- particularly through trade. Some countries will be more competitive and run a trade surplus;  some countries will be less competitive and run a trade deficit.
Germany, as one of the more competitive countries in the Eurozone, arguably had the most room to expand demand and help boost other countries' economy both before and after the economic downturn.  Germany, however, essentially maintained a policy of wage austerity that suppressed domestic consumption, limited imports, and created substantive competitive advantage for the German economy.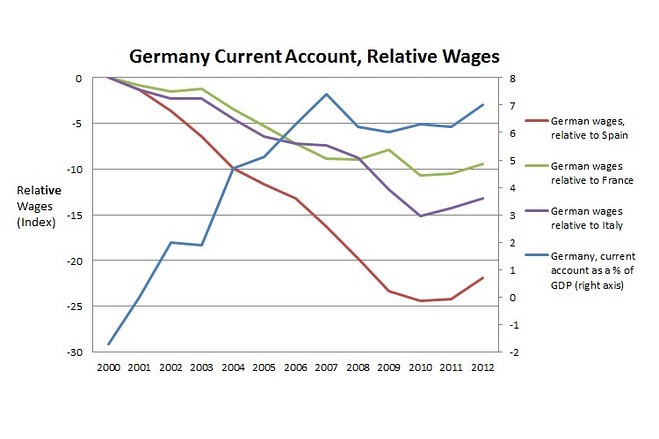 Table 1: Germany Current Account- Relative Wages
There are many ways to look at this potential issue.  One is to look at the German economic growth identity in isolation- Germany with a low consumption rate and limited government support was trying to drive growth through exports.  Another is to look at the connection with neighbors in a currency zone in which although one country can run a deficit or surplus, the trade zone in total must run neither.  This is the logic behind table 1 which shows how Germany used wage policy as a means to run a current account surplus, even in spite of countries in the same region running a current account deficit.  Indeed, looking at the graph shows that German wages versus other "deficit" countries in the Eurozone was much lower: German wages were roughly 75% of the wages in Spain; German wages were roughly 85% of the wages in Italy; German wages were roughly 90% of the wages in France.  These wages were arguably the source of Germany's competitive advantage over the long-run: that is, rather than helping other countries through promoting internal demand, the German government adopted an austere policy of wage control.
The policy of wage control had two main results: 1) the wage controls kept Germany's goods at a lower price than others in the Eurozone- this meant that goods were more competitive vis-à-vis potential countries in the Eurozone; 2) the wage controls limited internal demand in the country for other countries goods'- and this, perhaps, is the biggest indictment of Germany's policy: it was unable to help build domestic demand for imports that could have helped other countries' economic growth during a time period of economic downturn.
Overall, it is not likely correct to say: Germany's economic policy, particularly its wage policy, was a "cause" of the economic downturn in Europe.  Countries that ran a fiscal deficit and did not undertake robust structural reform should not be left off the hook; in the end, however, as part of an economic union the countries of Europe's fate were ultimately intertwined.  Germany's wage policy may have saved it the need to import more goods; however, the country was still forced to shell out for bailing out countries in the Eurozone. Thus, Germany's story should be seen as a complementary story to the existing one- not one to replace it.
Works Sited
Foroohar, R. How Germany Can Save the Euro.  Available at:
http://content.time.com/time/magazine/article/0,9171,2149122,00.html#ixzz2lDjmaRm8
Time is precious
don't waste it!
Get instant essay
writing help!
It's a Free, No-Obligation Inquiry!
Plagiarism-free
guarantee
Privacy
guarantee
Secure
checkout
Money back
guarantee
Get a Free E-Book ($50 in value)
How To Write The Best Essay Ever!