Effect of Failing to Retain Chinese Tire Tariffs, Thesis Paper Example
Abstract
Since China's late entrance into the WTO as a member state at the beginning of the 21st century, the nation's rapidly expanding global economic prospects have instigated a number of ongoing WTO disputes with the developed countries in particular, as the country advances in exportation of virtual stockpile of inexpensive products, and including a massive influx of auto and other related products such as tires into the national markets of former world trade leaders in export like the United States. The foregoing proposal looks at the impact of the DS340 Auto Parts Dispute against China, and in particular as it pertains to the export tire industry and the country's anti-dumping violations in the United States.
GATTires: An Analysis of China-U.S. Trade in Tires
Chapter 1
Introduction
Background
GATTire: An Analysis of China-U.S. Trade in Tires looks at the development of China's formative trade policies since the country's quite recent signatory Membership to the World Trade Organization, and subsequent dispute cases pertaining to its trade in Auto Parts, and attendant cases responsive to Anti-Dumping protocols. In 2006, the European Union and United States followed by Canada filed dispute (DS340) for consultation with the World Trade Organization (WTO) against China in complaint of Auto Parts export trade to those markets. In 2008, the WTO reached decision regarding the grievance, and measures responsive to importation of China – Auto Parts to those countries includes taxes and tariffs, and the export to China with following stipulations:
"(a) Policy on Development of Automotive Industry (Order No. 8 of the National   Development and Reform Commission, 21 May 2004); (b) Measures for the Administration of Importation of Automotive Parts and Components for Complete Vehicles (Decree No. 125), which entered into force on 1 April 2005); and, (c) Rules for Determining Whether Imported Automotive Parts and Components Constitute Complete Vehicles (General Administration of Customs Public Announcement No. 4, which entered into force on 1 April 2005; as well as any amendments, replacements, extensions, implementing measures or other measures related" (WTO, 2008).
Implementation on August 31, 2009 articulated Subsidies and Countervailing Measures: Art. 3, 3.1(b), 3.2; Trade-Related Investment Measures (TRIMs): Art. 2, 2.1; and GATT 1994: Art. II, II:1, III, III:2, III:4, III:5, XI:1, with respect to the claim(s), and the United States countered decision indicating that the Policy Order 8, Decree 125 and Announcement 4 are inconsistent with Article III:5 of the GATT 1994, TRIMs Agreement and SCM Agreement. According to the WTO mediation, the Panel "decided to exercise judicial economy," and "recommended that the DSB request China to bring these inconsistent measures as listed above into conformity with its obligations under the GATT 1994 and the WTO Agreement" (WTO, 2008).
Since China's late entrance into the WTO as a member state at the beginning of the 21st century, the nation's rapidly expanding global economic prospects have instigated a number of ongoing WTO disputes with the developed countries in particular, as the country advances in exportation of virtual stockpile of inexpensive products, and including a massive influx of auto and other related products such as tires into the national markets of former world trade leaders in export like the United States. The WTO disputes with China have been promoted by, and furthered by a high degree of protectionism, as China and its trade partners attempt to shore up inequitable GDP and industrial surplus in their economies, not to mention compete (Brown, 2009).
Problem Statement
Ethics and corporate responsibility can only be approached from a legal perspective. Since the fall of companies such as Enron, we have witnessed a shift in corporate self-representation as companies attempt to shore up responses to regulatory and political pressures that may threaten by way of external factors such as environmental advocacy. Social responsibility and sustainability are now almost uttered on a single breath, as corporations positioned in the energy securities market and other high risk incidence segments attempt to 'mitigate' through identity management and strategic planning to the best effect possible.
While not positioned in lieu of policy application and adherence, the entire culture of international business has changed at almost light speed since the twentieth century, and the influx of policy as an informational moniker for the generation of new capital markets now seemingly exceeds actual activities and risk assessment models employed by the financial suitors whom court venture capital. In short, the global market and its regulatory regime(s) is not surprisingly far more influenced by the expectations of treaties like the Doha than ever before. Coupled with a climate of privatization seeded during the era of structural adjustment in the 1990s, the landscape of industrial manufacturing in China has opened its doors to foreign investment, and in return its liberal exchange amongst stakeholders. What is critical to remember in advancement of the theories contained within this research proposal, is that the global market has surpassed all preconceived ideas about the potential of trade, and with it the legislative policies and the responsibilities that go along with signatory membership to international protocols on commerce and inclusion.
As we turn toward analysis of China's relatively new relationship to the WTO and its impact not only on commercial options in the marketplace, and the financial risk management prospectus of the Chinese Auto Parts industry, and especially tires as they impinge upon United States trade in those goods with volume, below cost price parity it is quite easy to sustain an argument about the relationship between the DS340 dispute between the two countries, and the significance of Anti-dumping legislation which has also promulgated a number of high risk compensatory disputes between China and other national markets. Indeed, it is impossible to conceive of the currency in leveraging a dispute on behalf of the auto parts industry in the United States, without sufficient mention of those attendant disputes.
According to the United Steelworkers Union in 2009, imports of tires from China in 2008 reached approximately 46 million in imports, up from 15 million in 2004, which cost the United States about 5,000 tire worker jobs (Reuters, 2009). The U.S. International Trade Commission (ITC) requested a cascading 55% tariff that would drop to 45% percent year two, and 35% in each subsequent year. Chinese tire makers rejected the new tariff structure, and argued that they would be shut out of the U.S. tire market upon enactment of this policy. At present, China supplies 17% of the market with predominantly low cost tires, and that such an act will inevitably safeguard the United States, but continue condemnation by China's Ministry of Commerce. With both Canada and the United States citing protest against the current trade relationship, the impact of tariffs and taxes by individual nations in the NAFTA trade bloc, will ultimately affect the Chinese tire export business in the region overall, as automotive manufacturing and auto parts in general circulate for assembly and secondary trade distribution also in Mexico (Wise, 2006).
Since the Summary of the Final Act of the Uruguay Round 1986 to 1994, Agreement on Implementation of GATT Article VI (Anti-dumping), economists have pointed to the ineffectiveness of legislative policy on anti-dumping. The WTO states that, "if a company exports a product at a price lower than the price it normally charges on its own home market, it is said to be 'dumping' the product." Regulatory response to the Anti-dumping legislation is largely voluntary, as member nation-states divide their allegiance over the issue and domestic laws are crafted according to jurisdictional decision. The WTO is however firm on the furtherance of stipulations to the Accord, and spends a significant amount of time addressing violations to those provisions.
Competitive market assessment in relation to anti-dumping constitutes the parameter of fairness in the General Agreement on Tariffs and Trade (GATT). Aggregate response by nation-states to those market constraints builds a case for discussion about the auto parts sector, and the after-market trade of cheap tires in the United States, and contributes to discussion of the Uniform Commercial Code (UCC) as 'goods' are already defined by contract law international trade protocol.
Table 1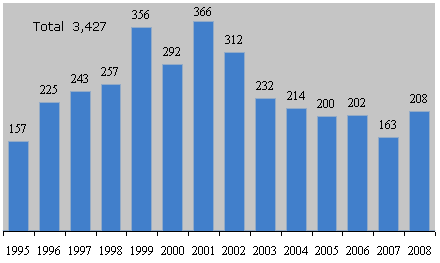 Table 1: Anti-dumping number of investigations initiated, 1995-2008.
There has been a marked 17% increase in the number of anti-dumping investigations since 2007. China is the most frequent subject of the new anti-dumping investigations. The most frequent products in the investigations consist of the 'base metals sector (43 initiations), the chemicals sector (22 initiations), textiles sector (19 initiations) and plastic and rubber sector (14 initiations)' (WTO 2010).
Table 2
Table 2: Anti-dumping number of final measures, 1995 – 2008.
In 2008, application of new domestic legislation to existing international anti-dumping measures increased by 45% in 2008, with 81 new rules reported by eleven member states. Annual rule advancement reached 138 ratification measures in 2008, which was n increase from 197 in 2007 (WTO, 2010).
Finally, commercial ideals as trends in the marketplace assist companies in the exchange of goods, as well as forge new channels for distribution. In the United States, industries where intense amounts of advocacy and litigation are present, so too are opportunities for capitalization as those disputes typically signal increased competition. Some query into labor issues in US-China trade persist, and reactions from unions in the United States are paralleled by a barrage of U.S. legal infiltration into the international arena, and especially toward target of workers' rights as human rights in China. In an effort to buffer against intense competition by China's industrial sectors, the AFL-CIO, and establish has and influential trade union membership in the U.S. has sought "unprecedented petition under Section 301 of the Trade Act of 1974" in denunciation of 'sweatshop' like conditions in Chinese work environments (Yu, 2007). The claims have of course also served as a mechanism of protectionist activism; and to some effect in terms of international consensus on labor related elements within Chinese labor standards (i.e. $0.64 hourly labor cost) as understood according to the UN OECD, Core Labor Standards which constitute the framework for the Fundamental ILO Conventions (Yu, 2007). The Standards four (4) basic provisions: 1) Elimination of exploitive child labor; 2) Abolition of forced labor; 3) Non-discrimination in employment; and 4) freedom of association. China's response to the AFL-CIO complaint was critical, rejecting the grievance as U.S. interested toward future benefits within competitive market draw, rather than as a key point of trade negotiation.
Purpose of Study
Insightful to the remediation between the exercise of national law and international legislation is what Walter A. Rosenbaum (2008) calls a 'Regulatory Thicket,' or mechanistic use of the federal agencies like the EPA to leverage support for the activities of the legal profession in the sectors of energy and environment. At the national level, the expenditure of approximately 20-33 percent of the Superfund's monies per site on litigation indicates that the structuring of omnibus legislation cannot delimit a projected cost for compensatory damages; especially in complex joint and several liability cases where the government is ultimately responsible for clean up. Congressional decision making is mostly crafted by attorneys whom have become politicians.
An official conduit for appropriation of governance funding, international policy bodies are also said to entrench objectives in legal action at all times. The fact that governance agencies also serve as primary expert testimony in the constitution of legislative acts, and in defense of the institution's internal complaints is certainly evidence of over-determination by virtue of structural and systemic fault. Reformation of legislative policy and its administration may benefit from social equity through the inclusion of private or extra-legal firms. Unlike domestic law and policy, international legislative practices are never subject to the ideological restraints of national governance unless conclusively regulated by those states.
Measures to the WTO disputes have been met with response by China, not so much legally, but fiscally. In the past several years there have been quite a few bills to not only raise the value of the national currency, the Yuan, but to peg it to developed economies, and hence put it into circulation for exchange internationally. China is prepared to compete from a capital rather than mere protectionism position, and since the devolution of the global economy in 2008, the country has only benefitted from the advancement of inexpensive exports abroad. The policy instruments of the WTO have begun to reflect the convergence of national law with international legislative priorities so that fiscal audits related to bill of sales transactions from China, once put into correlation with compensatory damages from settlement of legal complaints in the United States proposes to tell a story about the sphere of policy that even diplomatic jargon cannot construct.
Study Hypothesis
Has the United States done enough to render a clear picture of bilateral trade and investment between China and its economic goals and objectives? The WTO disputes stand at the center of US-China trade tensions at present. Linked to the China – Auto Parts complaint, are a series of related complaints elicited by China countering the United States for application of "dumping and subsidies remedies against China" (Griffith, 2010). The dumping issue in particular speaks to the domino effect prompted by a glut of cheap exports in the international chain of trade, and especially in the case of the United States where demand for such products is high. The critical damage caused by subsidies is also readily assessed in this case, where products like inexpensive tires are put into circulation at cut rate price points enabled by China's government subsidy practices; hence toppling national brands in the U.S. in the process. Dumping of bulk goods in this manner has prompted concerns by the United States, but the WTO is also careful in its handling of those cases with China, as decisions must be reached to avoid "double remedy" (Griffith, 2010). The foregoing study looks at the dispute practices of the World Trade Organization in relation to the laissez-faire capital market practices of China's command economy through analysis of the Auto Parts dispute with the United States, and related disputes over anti-dumping measures.
Chapter 2
Literature Review
Scholarly consideration on the project proposes to contribute to the following three bodies of work: 1) Policy Studies on world trade; 2) Analyses of the relationship between international legislation and the development of domestic trade law; and 3) Business and finance queries directed the formative trade tensions developing between China's command economic structure and its impact on anti-dumping restrictions in foreign markets.
Policy Studies on World Trade
In recent years, policy studies have come to reflect major shifts within economic projections in the marketplace as new trade relations develop in response to globalization (Wise, 2006, and Yu, 2007).
International Legislation and Domestic Trade Law
Equally insightful, are studies dedicated to the transformations in international and domestic law in the context of late-capitalism's expansion toward interpretation of legal exigencies not earlier imagined within the history of Western law (Huang, 2003, Snyder, 2010, Wu, 2008 and Zhang 2009 ).
China and the Global Market
Lastly, the study looks to the emergence of China as an economic powerhouse in the world economy, and incorporates work on the recent changes to trade policies within and outside of that nation (Bown 2009, and Griffith 2010).
Get Notifications About New Essay Samples in your Disciplines to Your Email!
Chapter 3
Methodology
Research
Methodologies in the study are based on a tri-partite research design that begins with:
Phase I: Archival incorporation of aggregate industry data on the financial and other prospectus to China's export tire industry in the United States into the study. Law and policy documents related to the sale and dispute over those goods in the U.S. and elsewhere; and public discourse on the topic as it is understood through the eyes of Americans in blog sessions will also be looked at.  Phase I data collection on the project is subject to availability in online archives, and will be conducted over a period of (time frame).
Phase II: Questionnaire substantiates the second step in the research study, and will be forwarded to a convenience sample of tire industry professionals, and counsel whom work on matters similar or parallel to the WTO disputes (See: Appendix).
Phase III: Analysis through comparative study of the qualitative data may be put into statistical narrative grounded in the findings.
Chapter 4
Findings
Graphic renderings of the findings may also utilize statistical illustration. Figures 3 and 4 such illustrate China's share of the U.S. market proportionally and fiscally. The findings to the research may include aggregate of tire sales internationally in scattergram format. Financial data will lend itself to furtherance of narrative discussion.
Figure 1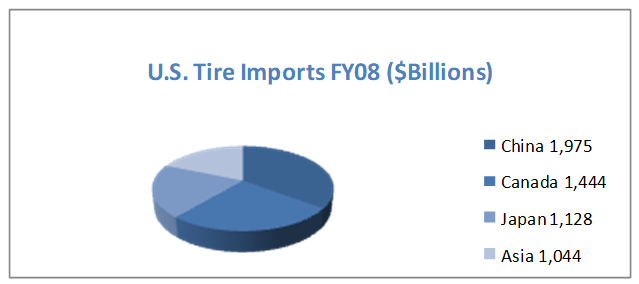 Figure 1: U.S. Tire Imports by country FY08 ($Billions).
Figure 2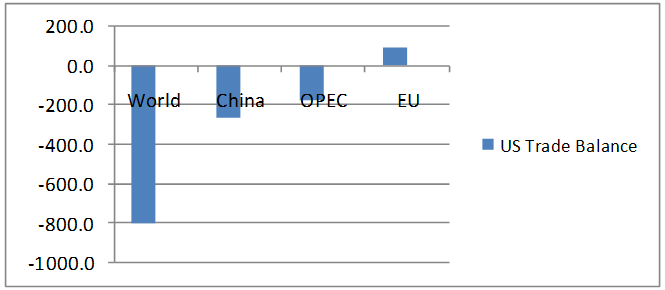 Figure 2: U.S Trade Balance with Major Trading Partners FY08 ($ Billions).
Chapter 8
Summary, Conclusions and Recommendations
Are remedies in fact appropriate in dumping cases involving China is an ongoing debate, and one which the United States meets a double bind in its only partial signatory to the Basel Convention. Since the Summary of the Final Act of the Uruguay Round 1986 to 1994, Agreement on Implementation of GATT Article VI (Anti-dumping), Amendments to the existing signatory protocol with some volitional agreement to liability and oversight by member states. The United States has not, indeed, furthered its obligation to agreement to compensatory payment for dumping violations under the Convention. China, not a signatory to the Convention, is cited often for violation of the treaty. The perspective of the WTO is predictably one of competitive market assessment. The fairness of anti-dumping is addressed through the stipulations of ratified legislative policy, and in particular the articulation of the General Agreement on Tariffs and Trade (GATT). Application of the GATT to DS340 and other related disputes involving US-China trade will continue to entrench the two countries trade motives despite the U.S. dedication to 'free trade.
Appendix
Questionnaire
How has China's entrance into the WTO been affected by its command structure of economy?
Has China been effectively engaged at the WTO, or is the body attempting to address the enormous trade issue with the nation's export record with insufficient protocol given the distinction between communist state oversight of the nation's market, and the international Organization's framework?
Since becoming a member of the WTO, China has been challenged with a number of disputes pertaining to auto part sales in other national markets, and in particular volume inexpensive goods like tires that might be met with violation of anti-dumping legislation. How is this understood in the WTO and by plaintiffs such as the United States?
Is China capable of measuring its own obligation to international trade? If so, what are the current standards of meeting such responsibilities? How do those standards meet or fail to adhere with WTO policy, and with international regulatory compliance?
How do the disputes against China impact the nation's financial prospectus as risk is assessed in relation to the United States (i.e. how does China measure fiscal risk)?
 Is the U.S. market opening to further investment toward distribution and volume sales by those companies?
As international environmental legislation develops, will global tire sales by Chinese companies be able to continue to offer reductions to price parity in the face of those restrictions?
Are the rights of Chinese workers sustainable as a consideration in full cost pricing, as acknowledgement of extremely low wages comparative the U.S. are advocated against by the AFL-CIO union organizers and other vested parties?
As the Yuan advances toward status as a currency of trade, will China's position change in regard to the formation of policy?
How might China and the United States build more effective trade policies?
References
Basel Convention on the Control of Transboundary Movements of Hazardous Wastes and their Disposal, 1988. Basel Convention. Retrieved from:Â http://www.basel.int/
Bown, C.P. (2009). U.S.–China Trade Conflicts and the Future of the WTO. The Fletcher Forum of World Affairs, 33 (1), winter/spring 2009, pp. 27-48.
Bown, C.P & McCulloch (2005). U.S. Trade Policy Toward China: Discrimination and its Implications.
Paftad 30 conference at the East-West Center in Honolulu, 19-21 February 2005 (Revised).
Dispute Settlement: Dispute DS340 China — Measures Affecting Imports of Automobile Parts (2008). World Trade Organization. Retrieved from: http://www.wto.org/english/tratop_e/dispu_e/cases_e/ds340_e.htm
Doha Declaration on Anti-dumping GATT Article VI, Section 7. WTO. Retrieved from: http://www.wto.org/english/tratop_e/dda_e/implem_explained_e.htm#antidumping
Griffith, S.S. (2010). U.S.-China International Trade Issues in 2010. GE Magazine, April, 2010. Beijing: Akin Gump Strauss Hauer & Feld LLP.
Huang, T.W. (2003). Trade Remedies: Law of Dumping, Subsidies and Safeguards in China. London:Kluwer Law International
Joint Report Explains US-China Trade Data Discrepancies (2010). China Business Review, May–June 2010. Retrieved from: http://www.chinabusinessreview.com
Kamalick, J. (2006, 4 September). Another Crisis looms over the US-China Trade Imbalance. ICIS Chemical Business America, 2006, p. 10. Retrieved from: http:// www.ids.com/publications.com
Obama slaps duties on tire imports from China (2009, 11 September). Reuters. Retrieved from: http://www.reuters.com/article/idUSTRE58B08G20090912
Rosenbaum, W.A. (2000). Environmental Politics and Policy. Washington D.C.: CQ Press.
Snyder, F. G. (2010). The Eu, the Wto and China: Legal Pluralism and International Trade Regulation (China and International Economic Law Series). Oxford: Hart Publishing.
U.S.-China Trade Relations: Entering a New Phase of Greater Accountability and Enforcement (2006). Top-to-Bottom Review. Washington D.C.: White House, United States Trade Representative.
Wise, C. (2006). China's Trade with North America: What Does this Mean for NAFTA? Washington D.C.: Woodrow Wilson Center.
WTO Secretariat reports increase in new anti-dumping investigations (2009, 7 May). WTO, Press, 556. Retrieved from: http://www.wto.org/english/news_e/pres09_e/pr556_e.htm
Wu, X. (2008). Anti-dumping Law and Practice of China (Global Trade Law Series). (Kluwer International Law) by Xiaochen Wu. London: Kluwer Law International.
Williams, M. (2005). Competition Policy and Law in China, Hong Kong and Taiwan. Cambridge: Cambridge University Press.
Yu, Hanqian (2007). Labor Involved US-China Trade Relations. International Management Review, 3 (2), 2007, pp. 53-66.
Zhang, X. (2009). International Trade Regulation in China: Law And Policy (China and International Economic Law. Oxford: Hart Publishing.
Time is precious
don't waste it!
Plagiarism-free
guarantee
Privacy
guarantee
Secure
checkout
Money back
guarantee