Back to School Offer
Get 20% of Your First Order amount back in Reward Credits!
Get 20% of Your First Orderback in Rewards
Erikson Ideas, Research Paper Example
This Research Paper was written by one of our professional writers.
You are free to use it as an inspiration or a source for your own work.
Need a custom Research Paper written for you?
HIRE A WRITER!
Introduction
Eric Erikson developed an eight stage theory of identity and psychological development. Ericson was heavily influenced by Freud. In developing his psychosocial theory of development Erikson looked at external influences like parents, society and how personality was developed through the varying stages of childhood. At the core of Erikson's theories were that of 'ego identity' and our personal sense of self-awarenes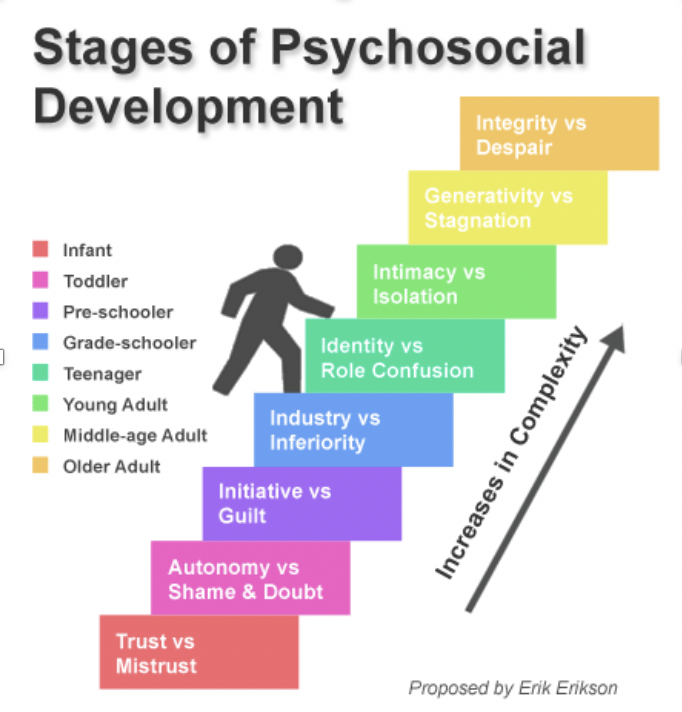 s obtained through social interaction. (Harder, 2011)
He also maintained that our competence was influenced in motivating our behaviours and actions. The concept of managing this stage efficiently he referred to as 'ego strength' or 'ego quality'. Erikson pointed
out that each stage people experienced conflict in the development of quality. Erikson defined 8 stages of personality development as set out in the table below. (Cherry, 2011)
The Erikson Model of Development
Erikson's stage theory illustrates how an individual progresses through the eight stages of life from that of infancy to late adulthood. This is shown as an incremental process where each stage is built upon the satisfactory completion of earlier stages. The table below illustrates the key elements of Erikson's 8 stage model. The grey area is the key formative education years.
Theorist Ideas and the Learning Environment
| | | | |
| --- | --- | --- | --- |
| Stage | Title | Timescale | Description |
| 1 | Trust vs. Mistrust | Birth and 1 year | Trust for care and security |
| 2 | Autonomy vs. Shame | Early Childhood | Childs increased sense of personal control |
| 3 | Intuition vs. Guilt | Preschool Years | Control through social interaction |
| 4 | Industry vs. Inferiority | Ages 5-11 | Sense of self-belief and competence |
| 5 | Identity vs. Confusion | Adolescence | Exploration of independence & self-worth |
| 6 | Intimacy vs. Isolation | Early Adult | Exploration of relationships |
| 7 | Generativity vs. Stagnation | Adulthood | Building lives, career and Families |
| 8 | Integrity vs. Despair | Old Age | Reflection on life |
Teachers often apply psychological theories to facilitate learning. This often includes teaching Erikson's theories at the different grade levels in the educational cycle of learning. For example at the Preschool level teachers would like the ability to focus on personality development of the child. This can be accomplished by working with the child to find projects they are interested in and help develop their abilities in this area. At the Elementary Level teachers should be more focused upon child achievement and development of peer relationships. This involves getting interaction with the students and getting them to participate in decision making. Encouraging the students to work in group sessions. It should be a learning environment without fear or conflict.
It is worth mentioning Piaget here and the similarity with Erikson theories. It was Piaget who suggested that children enter the concrete operational stage of development at around 7 years of age. As such children enter a more substantive degree of logic and reasoning over objects and events. At age 11, they reach the fourth stage of cognitive development and a formal operational stage commences. He identified four key stages of learning: 1) Sensorimotor stage – birth to 2 years of age 2) Preoperational Stage – age 2-7 ) Concrete operations – age 7-11 and 4) Formal operations – age 11 to 15. Piaget signified the importance of developing a curriculum to assist in the education of children and teachers need to be fully aware and take into consideration environmental factors in consideration of learning. Although his theory was criticised Piaget was one of the founding theorists in cognitive development and his contribution was considerable. (Shaffer, 2009).
References
Cherry, K. (2011). Eriiksons Psychological stages. Retrieved 1 1, 2012, from About.com: http://psychology.about.com/library/bl_psychosocial_summary.htm
Harder, A. (2011). Developmental stages of Erikson. Retrieved 1 1, 2012, from Learning Places: : http://www.learningplaceonline.com/stages/organize/Erikson.htm
Shaffer, D. (2009). Piaget. Social and Personality Development , 26-27.
Stuck with your Research Paper?
Get in touch with one of our experts for instant help!
Messenger
Live chat
Time is precious
don't waste it!
Get instant essay
writing help!
It's a Free, No-Obligation Inquiry!
Plagiarism-free
guarantee
Privacy
guarantee
Secure
checkout
Money back
guarantee
Get a Free E-Book ($50 in value)
How To Write The Best Essay Ever!