Final Coop Report, Essay Example
Pages: 1
Words: 1353
Essay
This Essay was written by one of our professional writers.
You are free to use it as an inspiration or a source for your own work.
Need a custom Essay written for you?
HIRE A WRITER!
Acknowledgements
First of all, I offer my gratitude to Allah for the great learning opportunity which will be valuable in both my future personal and professional lives. I once again offer my eternal thanks and praise Him (Allah) for His never-ending blessings.
I would also like to express my gratitude to my parents who have always been there for me. They have encouraged me, prayed for me, and allowed me to follow my dreams. I appreciate the fact they have given me a comfortable life and words cannot express my love and respect towards them.
I am also grateful to my Coop advisor Dr. …………. Whose guidance has enabled me to learn as much as possible from training. He continues to encourage me to strive for productive experiences in the training and inspires me to set high and challenging goals for myself. He was always prompt in answering my questions as well as providing feedback which enabled me to complete my report in a timely fashion.
I would also like to mention my supervisors Mr. James Tan and Mr. Abdullah Al-Owaid and I want them to know I have been really fortunate to have trained under their professional supervision. They were always there to guide me in the face of challenges during training and inspired me to have higher levels of self-confidence. I have learnt a great deal from them and will always remember their kindness that they didn't treat me as merely a trainee but rather like a full-time employee and a close friend.
Last but not least, I express my gratitude to everyone who has taught me something along the way and whose actions have played a major role in shaping my personality.
Executive Summary
The primary goal behind this report is to describe the work experience gained in the Cooperative Program (COOP). I did my COOP at Saudi Aramco in the Contract Review & Cost Compliance Department (CRCCD). My responsibilities included reviewing and analyzing important documents such as Contract Bids, Invoices, and Change Orders.
I intend to utilize this report to demonstrate how Finance helps us develop controls at CRCCD. This report will provide readers with a comprehensive picture of the financial processes used at CRCCD to manage Contracts, Invoices and Change Orders. The report will do so by referring to relevant financial theories and literature that address concepts such as contracting, budgeting, control, and financial modeling.
The first part of this reports deals with finance theories, control activities, and contract types. The next part provides technical details of tasks and assignments I engaged in and the last part constitutes CRRCCD evaluation as well as report conclusion.
Introduction
This report addresses the valuable experiences I gained in the Cooperative Training Program. For the convenience of readers, this report has been divided into five parts.
Cooperative Training Program (Coop) is required of senior students in the Finance Department at the College of Industrial Management. This training lasts for about seven months (28 weeks) and gives students an opportunity to put lessons learnt at the university into practice. In other words, this training is an exposure to the real world.
Saudi Aramco is one of those leading organizations that provide excellent learning opportunities to trainees. Saudi Armco is a major player in the global oil industry. My training took place in Saudi Aramco's Contract Review & Cost Compliance Department (CRCCD). CRCCD's mission is to enhance the cost effectiveness of contract and procurement activities by providing professional financial expertise with a highly skilled, strongly motivated and empowered staff. CRCCD's primary objective is to minimize the financial risk inherent in contracts. In order to accomplish this objective, the department has implemented certain processes in place that start with review and analysis of contract documents and conclude with  final recommendations. All of these processes are supervised by department's executives to minimize cost and maximize company profitability. This strategy allows Saudi Aramco to both minimize costs as well as develop high quality contracts.
This report is divided into four main parts the first of which covers the workplace details. The second part focuses on job history during the 28-weeks training period. The third part addresses the financial and economic theories I utilize at work and the final part focuses on training evaluation and conclusion. References and appendices have been provided at the end of the paper for readers' information needs.
Chapter One: Work Place
This is a detailed description of my workplace. It begins with introduction to Aramco and then focuses on the Contract Review & Cost Compliance Department (CRCCD).
Saudi Oil Company (Aramco)
My Coop training Program took place at Dhahran-based Saudi Oil Company (Aramco).
Background
Aramco was the outcome of a concession agreement by the Saudi Government in 1933 that gave exploration and production rights in Saudi Arabia to California, USA-based Standard Oil. Even though Saudi Aramco started as an American entity, Saudi Government bought it from its American owners Exxon, Mobil, Chevron, and Texaco in the 1980s (1).
After WWII, the company changed its name to Arabian American Oil Company (Aramco). Subsequently, Saudi Arabia experienced a period of growing Arab nationalism amongst Saudis out of frustration due to lack of stake in the growing global demand for oil (6).
Today, Saudi Aramco is one of the largest oil companies in the world as well as the biggest energy producer. The company produces 9.1 million barrels of crude oil on a daily basis and its crude oil reserves are estimated at 259.7 billion barrels. Saudi Aramco is a global player, with affiliates and subsidiaries in 77 countries across Asia, Europe, and North America. It currently employs more than 56,066 workers worldwide.
Organizational Chart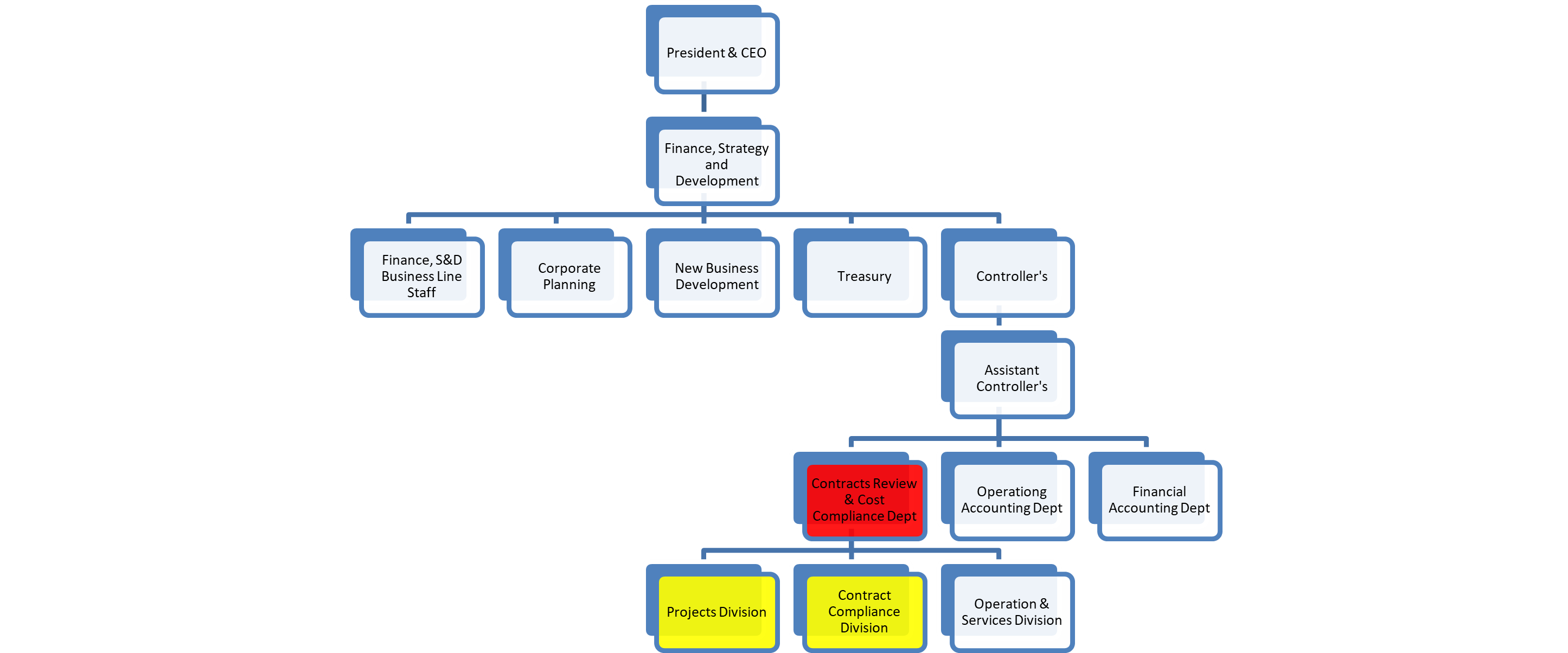 The following chart depicts the Finance, Strategy and Development business. The Finance Staff assists management with monitoring and organizational performance evaluation. The Finance Staff also oversees the company's accounting, treasury and auditing functions. As shown in the chart, the Finance Department is divided into five administrative areas which are Finance, S&D Business Line Staff, Corporate Planning, New Business Development, Treasury, and Controller's.
Contracts Review & Cost Compliance Department
CRCCD is part of the Finance Department under Planning & Performance Management. It provides financial expertise through its highly skilled and empowered staff and is tasked with the primary responsibility of reviewing contracts throughout the entire company. CRCCD is recognized and sought after as a valued business partner in reducing costs of contract and procurement activities.
CRCCD Function
The major functions of CRCCD are as follows:
Contract Functional Review
The Finance Functional Review covers provisions and price reviews. The objective of the provisions review is to prevent ambiguous or incomplete language in the contract that may negatively affect Saudi Aramco's interests. This applies to Invitation for Proposals, Long Form Contract, contract amendments, and any addendum (change in contract provisions before bid closing date) involving financial impact that is issued during the bidding process. Price review helps ensure that Saudi Aramco's contracts are awarded to bidders in the most cost-efficient manner (7).
As Bid Review Team member, CRCCD participates in reviewing bidders' commercial proposals. In addition to CRCCD, Saudi Aramco's Bid Review Team is comprised of representatives from Contracting and Proponent Departments in addition to CRCCD. CRCCD prepares the financial module used for evaluating cost reimbursable contracts, and major capital program contracts.
CRCCD also engages in Functional Review of contracts or amendments where the stated value is at least $1MM.
2- Contract Administration
CRCCD provides support to Project Management in administering cost reimbursable contracts. CRCCD provides full time support staff to international Project Management offices.
3- Invoice Review
CRCCD reviews invoices for all contracts with significant reimbursable elements. CRCCD may be asked by the company's management to review invoices for any type of contract including those with potentially high risk. Such requests are made when the proponent may find the contract too complex or the staff lacks the expertise in the area of a particular contract type. In addition, CRCCD periodically conducts field verification of manpower and equipment to ensure all contractors' invoices comply with contractual terms and conditions.
4- Advisory Services
CRCCD provides advisory support to all Aramco organizations in areas such as procurement cycle and/or financial terms & conditions.
Time is precious
don't waste it!
Get instant essay
writing help!
It's a Free, No-Obligation Inquiry!
Plagiarism-free
guarantee
Privacy
guarantee
Secure
checkout
Money back
guarantee
Get a Free E-Book ($50 in value)
How To Write The Best Essay Ever!