Special education programs for special groups in the society are an endeavour that the government and the society at large cannot ignore. Special groups in this case refer to adults and the financially challenged in the society. This paper aims to look at the administration of adult and community education programs. In particular, the paper will concentrate on the finance of these programs and how the scope and depth of the financing affects the performance of the programs and the delivery of service.
Community Education
These are programs that promote social development work and learning with groups, communities and even individuals in a communal setting by employing a wide range of techniques that are made up of informal and formal learning channels. These programs are usually developed through dialogue with the community within which the program is set. (Dean, 2000)
The community education programs are not limited to the institutional setting that is associated with schools and colleges. Instead these programs entail all professional that are required and are useful in maintaining the running of the education process far beyond the classroom setting. The community education system employs the informal system of education to achieve educational milestones that cannot be necessarily achieved within an institutional setting.
The administration and management of community education is a complex undertaking that requires a great deal of resources (Dean, 2000). One of the most essential resource that determines the scope, depth and effectiveness of community education programs is the financing or funding that the programs usually receive.
Community education programs are usually launched by a community that has identified certain social aspects within the community that pose a challenge to its members. Most of this is done in Districts. These community education programs are mainly funded through two ways:
Programs that involve a youth service program within the whole program are usual entitled to and are eligible for additional revenue. Below is a clear depiction of the community education revenue, levy and aid.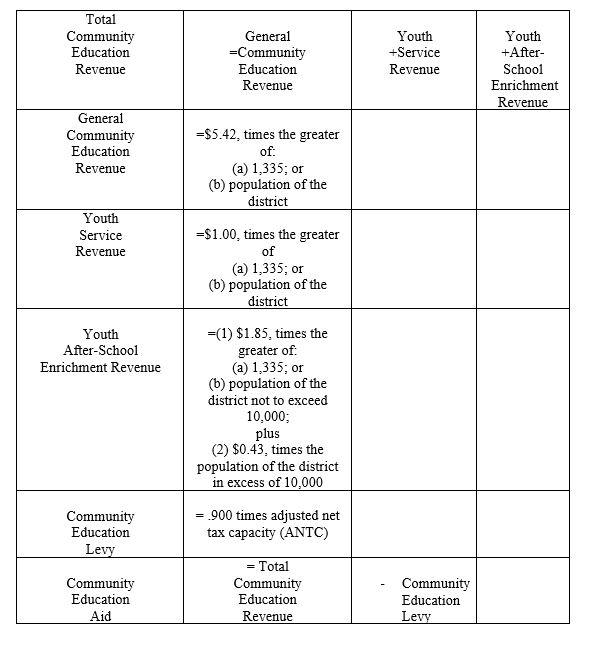 For any district that levies less than the maximum for community education, it receives a reduced amount of education aid. This is usually done in proportion to the amount of money that is under levy.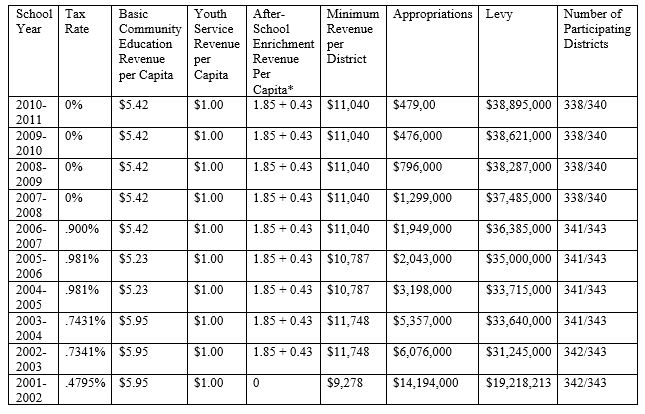 Adult Education Programs
Adult education entails the teaching of adults at the level of 6th grade or below. Adult education programs are characterized by one to one kind of tutoring and/or small group settings. The groups or organizations that administer these type of programs include non-profit organizations, school systems and libraries (Shuttleworth, 2010). The main source of funding for these programs come from grants from government unemployment departments and welfare group to help the given individuals to gain work and life skills to enable their return to the mainstream society.
There are numerous programs that kinds of adult education programs that focus on a specific group. Namely;
Adult Basic Education
Programs for Adults with disabilities
Programs for Hearing Impaired Adults
Adult Basic Education (ABE)
The ABE programs usually offer education for individuals over the age of 16 to allow them to earn their high school diplomas. These programs must usually be ratified by the Commissioner of Education. These programs can however be initiated through a partnership with the office of the commissioner of education and private non-profit organizations.
The ABE funding formula is founded on principles of:
contract hours
population
the enrolment of students with limited English proficiency
the number of adults age 20 or older with no diploma residing in a district
Programs for Adults with Disabilities
Programs for adults with disabilities are usually offered by districts as part of the community education programs within the district. Most of these programs usually include an outreach department that;
identifies adults who require service
holds classes that are specifically designed for adults with disabilities
services all the adults to take part in community education
increase public awareness and develops the role of individuals with disabilities in the society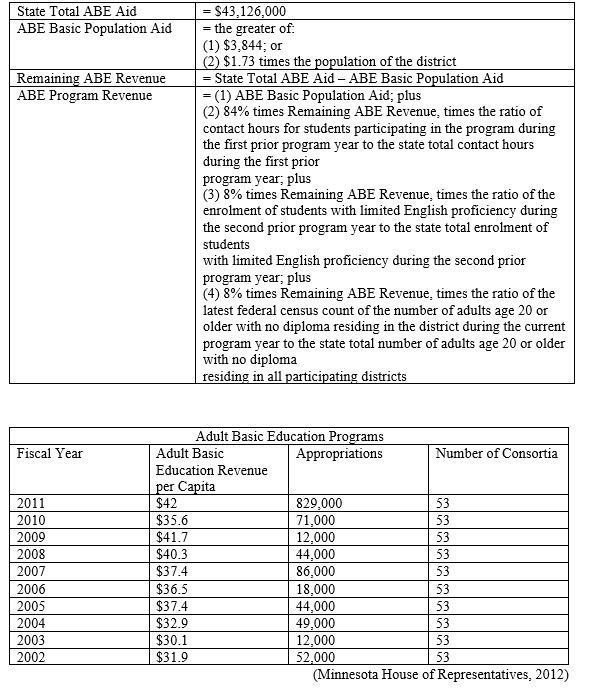 The budget and description of such a program has to gain approval from the Department of Education. Such districts that gain the approval of the Department of Education receives State aid to the tune of $30,000 (Minnesota House of Representatives, 2012). The amount may be equal or less than this figure or one half of the actual expenditures of the program. The remaining part of the program's expenditure is covered by funding from private or public sources, or one-half of the approved program budget or an optional levy that is not to exceed $30,000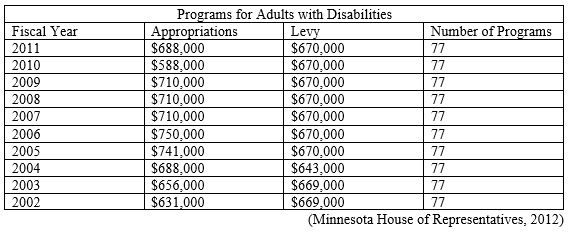 Programs for Hearing Impaired Adults
Hearing impaired adults have their own special needs that makes their education quite different from the kind of education regular adults receive (Dean, 2000). In order to ensure that these individuals in the community can access educational opportunities, the Department of Education organizes and funds support services for them. These services are usually offered to adults who have hearing impairment and;
have been denied access to educational opportunities because of the lack of support services
are presently enrolled, or
are contemplating enrolment in an educational program and would benefit from support services
Those programs offering such services may receive the necessary funding for a note-taker who can convert spoken language to written language in cases where eye contact is essential between the student and the facilitator. Funding may also be given for a translator where necessary.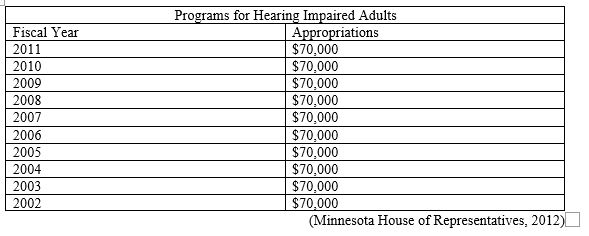 (Minnesota House of Representatives, 2012)
Even though funding is given by government for adult education and community education programs, this funding is not always sufficient to ensure proper delivery of services and support services that are required. As such, it is essential the involvement of the private sector be clearly stated as vital and crucial for the success of these programs.
References
Dean, G. J. (2000). Enhancing organizational effectiveness in adult and community education. Malaabar: Krieger Pub. Co.
English, L. M. (2012). Adult education and health. Toronto: University of Toronto Press.
Minnesota House of Representatives. (2012). Community, Early Childhood, and Adult Education Programs. St. Paul: House Research Department.
Shuttleworth, D. E. (2010). Schooling for life: Community education and social enterprise. Toronto: University of Toronto Press.