Back to School Offer
Get 20% of Your First Order amount back in Reward Credits!
Get 20% of Your First Orderback in Rewards
Helping Children Understand the Key Elements of Diversity, Term Paper Example
This Term Paper was written by one of our professional writers.
You are free to use it as an inspiration or a source for your own work.
Need a custom Term Paper written for you?
HIRE A WRITER!
Part 1: Lesson Plan Observation and Diagram Presentation
With the lesson plans that have been observed, it could be noticed that the most reflective process of learning which the students responded to was the project-based learning approach wherein the students were able to be included in the whole lesson presentation without the feel of being neglected or differentiated because of their culture or their origin. As a result, the attention and the response of the students upon the second lesson plan that has been implemented was more extensive compared to how they tried to comprehend with the first lesson plan that involved unfamiliar words, unfamiliar visionary mind-pictures and illustrations that they cannot get a grasp of. The comparison between the two subjects could be noted as follows: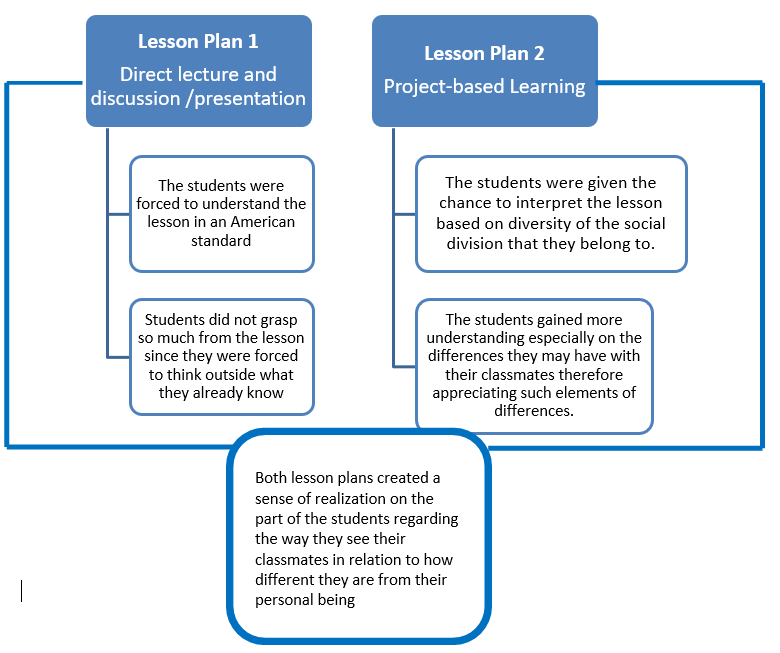 Based from this observation, it is rather expected that the second lesson plan would be able to retain the understanding upon the minds of the students and further make implications on how the students carry the new integrative learning they get as they mingle with their friends and classmates in higher years. Embracing diversity as a form of a normal social aspect directed to modernity becomes a common ground of understanding for the students as they undergo the activities implicated through the second lesson plan that they have been presented with in respective recognition of the principles of project-based learning.
Part 2: Lesson Plan Creation on Social Studies for a Kinder Class
Lesson Title: Learning through the cultures [show and tell]
Subject: Social Studies/Social Knowledge
Grade Level: Kinder
Objectives:
To establish camaraderie among the students amidst the possible diversity they may be involved in class.
To establish a sense of realization on the part of the students as they consider diversity as a sense of normative element in the modern community than a hindrance for them to make friends and correlate with each other in class and even outside
To make it easier for the non-American and the American students to make relative relationships with each other without the need to give so much attention to racial division [seeing it as a non-important element of social relations].
To establish a sense of defining the culture of inclusion in the classroom as guided by the NAEYC principles for early childhood education.
Procedures:
The students shall be asked from where they came from [country] and the nationality they belong to so as to give the class an overview of how diversified their class is based on the racial divisions that the students belong to.
They shall be asked to ask their parents regarding the most important cultures of their native localities that they can show in class. With the use of visual aid and helping audios that the parents can provide their children with, the presentations of the children shall be given way.
There would be a specific day that is scheduled for the presentations of the students in front of class. During this day, the children would be given their own time to present what they have collected. Knowing that children are fond of talking and sharing, this will be the chance they could take to show their classmates how proud they are about their origin based on visuals and other materials that they could present to class.
Expected Outcome:
It is expected that through the implication of this lesson, the students will have a greater appreciation of their other classmates. Seeing how their cultural differences develop the flourishing diversity in the classroom and how this affects their personal relations with others is expected to make a crucial point of mandated direction as to how the children shall see diversity as an element of progress rather than an element of hindrance among the people that they mingle with in class and in the society that they are included in.
Part 3: Differentiation of Instruction
Each student is to be given a chance to share their culture through presentations. This process is expected o make an indicative chance for each young individual to appreciate the fact that they are different from their classmates. Notably, this approach is also expected to help others appreciate each student based on the cultural difference they have from their own as they enjoy the presentations made by their classmates. This way, no racial discrimination is to be welcomed during the discussions. What is encouraged is the aspect of appreciation and developmental progress that the class is to take in relation to how they see their classmates in contrast with their own selves.
References:
2010 NAEYC Standards for Initial & Advanced Early Childhood Professional Preparation Programs. http://www.naeyc.org/ncate/files/ncate/file/faculty/Standards/NAEYC%20Initial%20and%20Advanced%20Standards%203_2012.pdf. (Retrieved on April 4, 2012).
Ainscow M., Booth T. (2003) The Index for Inclusion: Developing Learning & Participation in Schools. Bristol: Center for Studies in Inclusive Education
Thomas, G., & Loxley, A. (2007) Deconstructing Special Education and Constructing Inclusion (2nd Edition). Maidenhead: Open University Press.
Stuck with your Term Paper?
Get in touch with one of our experts for instant help!
Messenger
Live chat
Time is precious
don't waste it!
Get instant essay
writing help!
It's a Free, No-Obligation Inquiry!
Plagiarism-free
guarantee
Privacy
guarantee
Secure
checkout
Money back
guarantee
Get a Free E-Book ($50 in value)
How To Write The Best Essay Ever!