Back to School Offer
Get 20% of Your First Order amount back in Reward Credits!
Get 20% of Your First Orderback in Rewards
Kaiser Permanente: Integrated Managed Care Consortium, Term Paper Example
This Term Paper was written by one of our professional writers.
You are free to use it as an inspiration or a source for your own work.
Need a custom Term Paper written for you?
HIRE A WRITER!
Introduction
My organization is Kaiser Permanente which is considered the largest managed care consortium in United States of America. This organization presently manages an 8.9 million health plan company consisting of 14,600 members; 167,300 employees; 37 medical centers, and 611 medical offices. The health information technology presently being used to its advantage is called the KP HealthConnect and Medical data exchange. KP HealthConnect is a unique health information database designed by this organization to facilitate health record storage and communication for its network of hospitals and agencies (Feachem, Sekhri, & White, 2002).
Besides, Kaiser Permanente has partnered with the United States Department of Veterans Affairs (VA) in establishing a medical data exchange program from a San Diego location. In 2010 the two entities utilized a Nationwide Health Information Network for medical data exchange, which allowed Kaiser Permanente clinicians and the US Department of Veterans Affairs (VA) to access electronics health records of veterans. While this is worthy of commendation for such a huge organization, it is my concern that there is no clinical decision support system (CDSS) to facilitate accurate decisions among health care providers among the 37 medical centers, and 611 medical offices ( Feachem et.al, 2002).
Description of the system and its need.
Importantly A clinical decision support systems are recognized as active knowledge mechanisms. They have the ability of using two or more patient data items which are applied in generating a specific-case case- advice. Simply, it means that a clinical decision support system (CDSS)  actually is a very useful decision support system (DSS) focusing on the use of knowledge management in producing patient centered clinical advice that is expected to improve patient outcomes (Berner, Tonya & La Lande,  2007).
While there have not been reports of any major decision making issues within the organization implementing this system would enhance its image since Kaiser Permanente  has secured an international reputation. Essentially, when a clinical decision support system (CDSS) is combined with an efficient electronic health record (EHR) program the organization builds momentum and more credibility is obtained. KP HealthConnect has communications among eight regions in United States of America. This is an extremely large network which requires either smaller unit systems or clinical decision support software due to the immensity of data which are filtered daily within the network (Berner et.al, 2007).
John Nosta (2013) a Forbes news contributor reported a study in the column where it was discovered that information overload was a huge problem developing within the digital health record system. The author explained that in health care electronic record system information obesity exists. It is a syndrome whereby the volume of information fed within one system is merely clogging the intellectual software. Sooner or later the analyst predicts that these systems will need a dietary program for releasing excess weight (Nosta, 2013). Hence, as a precautionary measure is implementing a clinical decision support system (CDSS).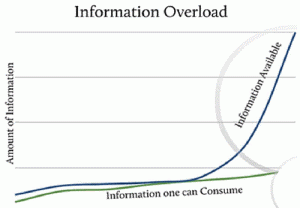 Diagram showing information proliferation (Nosta, 2013)
Further evidence has been advanced by Hall and Walton (2004) who in 2004 conducted a literature review pertaining to information overload in health care systems. The researchers contend that health clinicians complain that their efficiency was impaired by 'information overload when accessing digital systems. Researchers concluded that this was a technical problem which must be resolved from that perspective and not human initiated (Hall & Wilson, 2004).
The diagram bellow shows a clinical decision support system utilizing two or more pieces of a patient's data in arriving at a decision for further health care intervention. Precisely, two data bases are applied; namely a drug profile data and clinical adverse effects database. The system offers three alternatives. Ultimately, KP HealthConnect can release some data circulating within the overall system into a clinical decision support model reflect two-three pieces of patients' data just for decision making purposes ( Nature Publishing, 2013).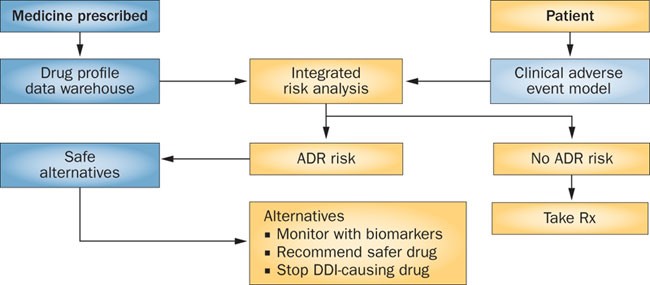 Clinical support system diagram (Nature Publishing, 2013)
Conclusion
Summary of project approach including overall, Team organization and processes.
The approach would entail writing a letter to the KP HealthConnect management from the perspective of an employee in the organization. In the letter I would begin by applauding the wonder digital health record system the organization manages. Subsequently, I would project some personal concerns and those of other employees who seem to be experiencing delays in response time and other irregularities, which may be suggestive of an information overload. In the document I would offer alternative and solutions to the issue.
One solution would be implementing a clinical decision support system to facilitate a lowering the information burden from the KP HealthConnect system. This letter would be written in the form of a petition and signatures from employees endorsing the venture will be solicited. After submitting the petition I will give a response wait time of 2-4 weeks. If the proposal was entertained the possibility of approaching management with a plan would be the next step. During the wait period I will organize a team which will design a proposal if we are asked for one. Based on the management's initial response we will discuss being included in a team to see this venture a reality within the organization.
References
Berner, E. Tonya, S., & La Lande, J. (2007). "1". Clinical Decision Support Systems: Theory and Practice.  New York: Springer Science and Business Media
Feachem, R. Sekhri, N., & White, K. (2002). Getting more for their dollar: a comparison of theNHS with California's Kaiser Permanente. BMJ, 324 (7330); 135–143.
Hall A, Walton G. (2004). Information overload within the health care system: a literature review. Health Info Libr. ;21(2); 102-8.
Nature publishing (2013). Hypothetical Drug Safety clinical decision making system. Nature Reviews.
Nosta, J (June, 2013). Information Overload: The Big Challenge (And Opportunity) For Digital Health. Forbes
Stuck with your Term Paper?
Get in touch with one of our experts for instant help!
Messenger
Live chat
Time is precious
don't waste it!
Get instant essay
writing help!
It's a Free, No-Obligation Inquiry!
Plagiarism-free
guarantee
Privacy
guarantee
Secure
checkout
Money back
guarantee
Get a Free E-Book ($50 in value)
How To Write The Best Essay Ever!