Back to School Offer
Get 20% of Your First Order amount back in Reward Credits!
Get 20% of Your First Orderback in Rewards
Legionnaires Disease, Essay Example
Pages: 4
Words: 971
Essay
This Essay was written by one of our professional writers.
You are free to use it as an inspiration or a source for your own work.
Need a custom Essay written for you?
HIRE A WRITER!
Outline
Introduction
Relevance of Legionnaires Disease
Body
Description of pathophysiology
Signs and symptoms
Etiology
Diagnosis
Treatment
Prognosis
Conclusion
Patient teaching
Introduction
Relevance of Legionnaires Disease
This disease is relatively new after the astounding discovery during an American Legion convention sometime in 1976 at a Philadelphia hotel. Epidemiologists discovered that 29 of the initial 182 cases mainly, men, died. Its relevance/significance to modern science and this assignment are two fold in that it is both fatal and infectious being responsible for a number of classified nosocomial and community-acquired pneumonia (CAP) (Kohler & Wheat, 1982).
Importantly, the organism causing Legionnaires Disease is an unusual bacterial strain, which is not easily isolated because the organism emerges from a large family of 42 species of L pneumophila. Between 1995 and 2005 32,000 new cases were discovered. They were found to be predominantly among the middle aged and elderly with an average of 8,000 to 18,000 new cases occurring annually (Fraser, et.al, 1977).
Body
Description of pathophysiology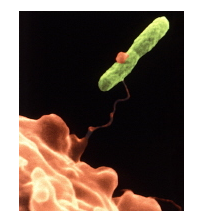 Image of the typical Legionella bacterium (Fraser, et.al, 1977).
Legionella bacterium belongs to an 'aerobic, waterborne, gram-negative, unencapsulated bacillus that is nonmotile, catalase-positive, and weakly oxidase-positive' (Swanson & Heuner, 2008, p 22). Legionella is a fastidious organism that cannot be grown anaerobically or on standard media. Agar is the primary medium culture buffered charcoal yeast extract (CYE) (Swanson & Heuner, 2008). Legionella infect human macrophages and monocytes. Intracellular replication of the bacterium occurs within alveoli cell tissues. These intracellular activities produce protozoa infections and macrophages, which show various similarities in mutation.
Signs and symptoms
Signs and symptoms are usually manifested between 2-14 days after exposure to the bacteria. They include; cough which could either be dry or productive. Often associating shortness of breath; high fever; headaches and muscle pains occ. Pontiac fever is a significant feature of this condition even though not considered the disease itself because Legionnaires Disease ultimately results in pneumonia. There have been reported cases where there was loss of appetite; coordination; vomiting; diarrhea; tiredness; fatigue; low heart rate with high fever (Stout et.al.007).
Etiology
The infection is then transmitted through aerosolized mist inhalation emerging from contaminated water and other sources such as whirlpools, showers, cooling towers, ice machines/potting soil/compost/roadside puddles. However, scientists discover that direct inhalation most often occurs through aerosol-generating systems. This is considered a very important source of infection being noticeable a invention of modernization and social change (Swanson & Heuner, 2008).
Epidemiologists are now associating the disease with vacations or travel particularly exposure to aircraft and hotel infrastructure. Recent concerns have been directed towards the person-to-person direct transmission. Immense studies have been conducted in this area showing that during summer require more air-conditioning systems. Also, scientists have discovered that nosocomial transmission frequently occurs through aspiration, respiratory therapy equipment or contaminated water. More precise data shows a relationship between the disease and humidifiers, nebulizers, and items that were rinsed with contaminated tap water (Swanson & Heuner, 2008).
Diagnosis
This is made through signs and symptoms supported by diagnostic testing. They include sputum tests for culture of the organism and urine antigen tests. These urine tests detect only Legionella pneumophila serogroup 1. The organism is responsible for causing 70% of all reported cases. Credit has been given to Richard Kohler, a junior faculty member at the Indiana University for developing this diagnostic device in 1982. The test was described and authorized in the Journal of Infectious disease. Consequently, arguments have been that some 90% of cases have been missed due to inadequate diagnostic techniques in isolating all the bacteria responsible for causing Legionnaires Disease (Kohler & Wheat, 1982).
Besides, researchers have realized that while Chest X-rays frequently show pneumonia with bi-basal consolidation still there has been increasing difficulty in distinguishing Legionnaires' disease from the many other various types of pneumonia. Hence, when making the diagnosis from symptomatic differentials or radiologic findings only, it requires a number of other tests in confirming the diagnosis (Kohler & Wheat, 1982).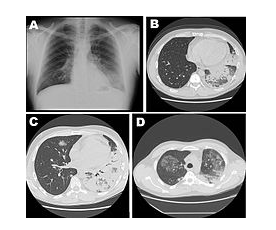 Diagram showing changes in chest cavity during active stages of the disease (Swanson, & Heuner, 2008).
Treatment
Currently the treatment choice includes aggressive respiratory tract quinolones such as levofloxacin, moxifloxacin, gemifloxacin. Newer macrolides inclusive of azithromycin, clarithromycin, roxithromycin have been utilized as broad spectrum antibiotics. However, levofloxacin and azithromycin have proven to be very successful. Tetracyclines are usually drug of choice for infected children over age 12 years old. Quinolones are used for young adults 18 years of age and older.
Prognosis
Fatality rating of Legionnaires' disease has been reported to be 5% to 30% during outbreaks However; it can reach 50% for nosocomial infections if there is no prompt diagnosis and treatment. Also, infections acquired during hospitalization have a fatality rate of 28% (Swanson, & Heuner, 2008).
Conclusion
Patient teaching
The focus of patient teaching is to prevent cross infection during active stages of the disease by ensuring visitors family members wear a mask when in contact with the patient. Usually, isolation is necessary during treatment until the organism is fully destroyed. Further patient education is preventing subsequent infection by teaching clients how to avoid becoming infected. This would be done by exposing them to knowledge to sources of infection
References
Fraser, D. Tsai, T,. & Orenstein, W. (1977). Legionnaires' disease: description of an epidemic of pneumonia. New England Journal of Medicine. 297, 1186-1196.
Kohler R,. & Wheat, L. (1982). Rapid diagnosis of pneumonia due to Legionella pneumophila serogroup 1. J. Infect. Dis. 146 (3), 444.
Stout, J. Muder, R., & Mietzner, S. (2007). Role of environmental surveillance in determining the risk of hospital-acquired legionellosis: a national surveillance study with clinical correlations. Infect Control Hosp Epidemiol 28 (7), 818–24
Swanson M., & Heuner, K (2008). Legionella: Molecular Microbiology. Caister Academic Press
Time is precious
don't waste it!
Get instant essay
writing help!
It's a Free, No-Obligation Inquiry!
Plagiarism-free
guarantee
Privacy
guarantee
Secure
checkout
Money back
guarantee
Get a Free E-Book ($50 in value)
How To Write The Best Essay Ever!