Literacy & Elementary Reading, Essay Example
Pages: 6
Words: 1513
Essay
This Essay was written by one of our professional writers.

You are free to use it as an inspiration or a source for your own work.
Unsurprisingly, research confirms that a student who is not interested in a lesson is less likely to be engaged in learning and is more likely to comprehend less. Teachers have long struggled with the challenge of maintaining practices based on evidence without discarding the potential contributions of adaptations which are increasingly familiar to modern students. Today this is true even of the first through third grade students for which this training has been designed.
Strategies
A strategy is a sequence of events through which to analyze reading (in this example). Strategizing for reading is two-fold: the teacher is learning and modeling this sequence and the student is interpreting and adopting this sequence. The context of the class, the teacher, and the student should aid in finding the best fit. The following strategies are flexible and can be tailored to different needs and goals.
The High 5! Strategy first seeks to make the personal connection between the students' past experiences and their understanding of the literature. If there is a widespread common interest within the student group, then this provides an excellent starting point for discussion about relevant facts. If the reading takes place in a foreign country, the student may discuss culture or the geography of the setting, getting in the mindset to understand the reading as a whole. Second, space should be allowed for students to ask questions before and during readers. For larger groups, this can be easily managed by scheduling mini-breaks after reading a chapter. Next, students should be able to identify what type (or structure) the reading follows. Does it follow a list, a single complicated subject, or multiple complicated subjects? Does it occur in a certain order and why or why not? Fourth, students should be able to create a mental image of the setting or characters. For some, this is difficult, so asking students to cut images from a magazine, collage, or draw their own visualizations is helpful and ensures that they understand the small details of the reading. It also engages their imagination and personal perspective in the discussion. Much like in the fourth stage, the final stage verifies that each student has an accurate understanding of the reading (which Van der Schoot et al. call a mental or situation model) and provides an additional benefit because students describe the events in individualistic ways which may make the content more accessible (Dimock & Nicholson, 2010).
Van der Schoot et al. (2008) advocate a different approach which recommends that comprehension can be better understood by observing the length of time that the students stare at certain factors. For their study, the authors could understand student reading strategies by watching their visual cues. As the teacher observes the student's first fixation, refixation, first pass duration, regression duration, and total duration in the areas observed, they mark these on a chart. The authors cited the use of this approach for comprehension barriers of establishing relative importance of words and for the repetition of certain sentence structures, i.e. an anaphora. Once these observations are made, the results are analyzed for an understanding of the student's receptive skills and the efficacy of their current reading strategies. Thus, narrowing down comprehension delays is an offensive strategy for overall reading mastery.
In addition to learning the strategies themselves, students and teachers alike need to have the strategic skills necessary to determine proper usage. For example, Van der Schoot's approach is not designed for multiple students nor a large number of factors to be studied. Its strength is in its concentrated focus. Yu-Fen (2006) points out that this distinction separates cognition from metacognition, the monitoring of strategy usage. Many of the cognitive strategies were apparent in the High 5! strategy, such as integrating information, recognizing text structure, posing questions, and utilizing general knowledge and associations (Dimock & Nicholson, 2010; Fu-Yen, 2006). Others, such as predicting content, interpreting the text, utilizing general knowledge, reflecting on behavior or process, monitoring comprehension, self-correcting, and reacting to the text, are subtler building blocks of general knowledge attainment. Specific to reading, the teacher should ensure that a student can paraphrase, reread, question individual sentences or vocabulary, and deduce or seek out an understanding of new words (Fu-Yen, 2006).
With the importance of these many components, practice is inextricably linked to strategy acquisition. The Helping Early Literacy with Practice Strategies (HELPS) Reading Fluency Program, which was initially tested among second graders, made great strides with reading comprehension in children from kindergarten to fourth grade (Begeny, 2011). Students were given one or two extra reading lessons (of about an hour each) during the course of a week. The weeks would alternate between one and two lessons and incorporated smaller evidence-based practices which have consistently reappeared in educational research at the primary levels: repeated reading, modeling, phrase-drill, error correction, two verbal cueing procedures, goal setting, performance feedback, and a motivational/reward system. The method of administering the practice is still largely subjective and specific to the teacher. In this example, the dramatic improvement which was seen in student test scores was achieved with the help of tutors- not teachers, reading coaches, or other instructional specialists.
Conclusion
The body of strategies are as diverse as the interpretation of the texts for which they were designed. For the student's success, he must possess both general strategies for interdisciplinary application and local strategies which assist in learning specific components of different subjects (Yu-Fen, 2006). Literacy learning should always be in administered in the context of goals and needs and should form a cycle which alternates between planning, teaching and reteaching, assessing, and reflecting, because teaching is a learning process as well (Miller & Veatch, 2010).
References
Begeny, J. C. (2011). Effects of the Helping Early Literacy with Practice Strategies (HELPS) Reading Fluency Program When Implemented at Different Frequencies. School Psychology Review, 40(1), 149-157.
Dymock, S., & Nicholson, T. (2010). "High 5!" Strategies to Enhance Comprehension of Expository Text. Reading Teacher, 64(3), 166-178. doi:10.1598/RT.64.3.2.
Miller, M., & Veatch, N. (2010). Teaching Literacy in Context: Choosing and Using Instructional Strategies. Reading Teacher, 64(3), 154-165. doi:10.1598/RT.64.3.1.
Van der Schoot, M., Vasbinder, A. L., Horsley, T. M., & van Lieshout, E. M. (2008). The role of two reading strategies in text comprehension: An eye fixation study in primary school children. Journal Of Research In Reading, 31(2), 203-223. doi:10.1111/j.1467-9817.2007.00354.x.
Yu-Fen, Y. (2006). Reading Strategies or Comprehension Monitoring Strategies?. Reading Psychology, 27(4), 313-343. doi:10.1080/02702710600846852
Appendix
High Five! (example taken from Dymock & Nicholson, 2010).
Mrs. Daly: The article describes something that has survived for a long time. Survivor is a keyword. How would you define survivor? Turn to your neighbor and share your definition.
Student: Doesn't survivor mean you have outlived someone or continued to live after some event that perhaps you could not have survived? Lived against the odds? Remember the US Airways plane that landed on the Hudson River in January 2009? The news reported that all crew and passengers survived. They were survivors.
Mrs. Daly: Excellent responses. What characteristics do you think an insect might need to survive for a long time?
Mrs. Daly: We have established that the article describes cockroaches and that it follows a web structure. As you read the remainder of the article, ask yourself what the subtopics are. We know the article is about cockroaches, as the first two paragraphs discuss only cockroaches. Look for captions, headings, figures, and other cues to help you. For example, there are several pictures of cockroaches. When you are finished reading, discuss with your neighbor what the subtopics might be.
Student: The subtopics are body parts, diet, physical appearance, habitat, movement, and unique characteristics.
Mrs. Daly: Well done! Now we are going to make a diagram of the article. This is strategy
Diagrams help us create a mental image—a picture in the mind. Good readers create mental images of the text as they read. For example, the writer says that cockroaches can live even without their heads. The reader can create an image of a headless cockroach.
Readers can also image how the text is structured. A diagram helps visualize the structure. Before we draw a diagram, try to create an image in your mind of what the diagram will look like. Talk with your partner about the diagram that you have both imagined.
Mrs. Daly: We will put cockroaches in the middle of the web. We will then label the subtopics
[see Figure 9].
Note: Students could complete this activity in small groups and report back. The teacher could then collate the subtopics and put them on large sheets of paper or a dry-erase board.
Mrs. Daly: We have identified the topic and subtopics.
Now, as we read, we will identify facts relating to each subtopic. Ask yourself questions, such as, What information does the article provide about cockroaches' habitat? and What extra information does the article provide about cockroaches' diet?
Mrs. Daly: Let's reflect on the lesson. What did we find out about the text structure?
Student: It has a web structure.
Mrs. Daly: How did you verify that it was a web?
Student: It was just about one thing—that's what a web is.
Mrs. Daly: What else did you do?
Student: We divided the information into sections, into subtopics.
Time is precious
don't waste it!
Get instant essay
writing help!
Plagiarism-free
guarantee
Privacy
guarantee
Secure
checkout
Money back
guarantee
Get a Free E-Book ($50 in value)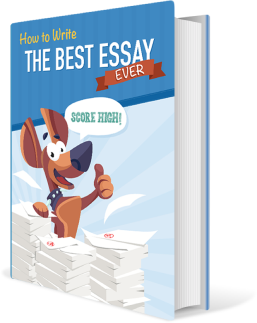 How To Write The Best Essay Ever!