Loctite Marketing Analysis, Research Paper Example
Loctite Case Study
Executive Summary
The objective of marketing plan for Bond-A-Matic 2000 (BAM) is to supplement the  takeover of the 35% market share of SuperBonder through the expansion of the Loctite brand. Loctite executives  must decide  if BAM is a viable enough product to back and support, or if or if improving equipment operations is a better bet for the company. If the BAM is discontinued as a product line, the core focus of the company will be on adhesives.   The only way for the company to successfully launch the initiative needed to improve brand recognition, the Loctite must continue providing high-end adhesives for their consumers. The high level of customization of the adhesives and  equipment used to support other industries that Loctite has branded has garnered the company as a top B2B provider. . The relationship the company has established with its customer base is one of mutual respect for both brand and service. Loctite is essentially an industry supplier of adhesives. The problem is the market is expanding, and in order for Loctite to maintain market share, it must become more fiercely competitive.  .
Company Analysis
Loctite Corporation is a leader in their market, specifically as it relates to the development of adhesives, sealants. The core goal of the company is to of expand into a global  market, and to become a world-wide supplier of adhesives for international industries.  Their plan to combine of a high quality products with low price and attach it to the Loctite brand, is an essential part of their growth. . Loctite maintains a transparent company structure, diving all branches of the organization into three parts. Within  the anaerobic market Loctite has a patent that takes up 85% market share. This is proof that there are very few who have yet to experience the brand.  The problem is retention. Their current goal is to turn first time users into return customers. A little over 70% of IPG sales come from new technologies such as anaerobic and CA. Two of the CA products will be participating in forecasted industrial market growth expectation of 26.42%. These main two products are SuperBonder and QuickSet404.
Customer Analysis
The Bond-A-Matic is positioned as a product that can speak for itself. For customers, and industry leaders, the BAM is marketed for sale, with a complementary SuperBon adhesive. The target audience for this product is not actually individual people, but small to mid level businesses. Dispensing is handled by plant and production engineers.
Competitor Analysis
Porter's 5 Forces is helpful for assessing the marketability of a specific market (profit potential) and the key forces that shape competition.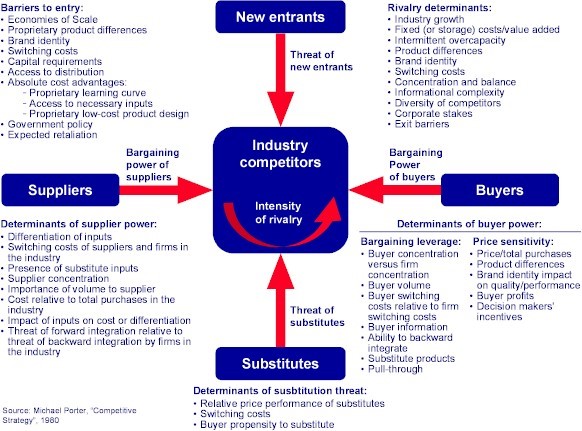 Loctite's marketing is complicated, more so  than the chart above can explain. The company's marketing plan is threatened by combination of the experimentation of some adhesives patents with minimal capital  to enter into certain markets. The specific market the company has the most difficulty entering new products into is the industrial adhesive markets, as many of those coproations, even when familiar with a certain brand, have the tendency to stick with the exact product they already have budgeted. . New competition comes in all markets and an example of Loctite's market competition can be seen in the company #M. They have an extensive sales department that is highly competitive with Loctite.  This competition is intense and can pose a serious threat to Loctie's expansion.
The fact that the  Bond‑A‑Matic 2000 system ispriced at less than one‑third the the lowest cost system  on the market, as well as those produced by by Loctite,  poses the possibility for brand dilution. So while the product poses a threat to other brands, it also poes a threat to itself.
In late 1978, Loctite group established itself as as a leader in the development and marketing of high-performance adhesives. They did this specifically in the industrial market. Now their goal is to take over the market globally .
Mr. Fox, the VP of marketing for Loctite Corporation, in an attempt to expand market share, introduced an adhesive dispensing system called Bond-A-Matic 2000. This had controversial effects on the market.
 Some specifics about their typical customers and their competitors include:
Anaerobic Adhesives – which is mostly for industry use
CAs – which is mostly a commercial consumer  product for individual consumers.
Many of their competitors offer similar product lines.
After careful analysis of all products s introduced by Loctite I recognize   that  Fox should avoid e launching a full-scale of the Bond-A-Matic 2000. Loctite should focus resources and efforts on (instant adhesives), which has been its top earner to date.
Ansoff's Growth Matrix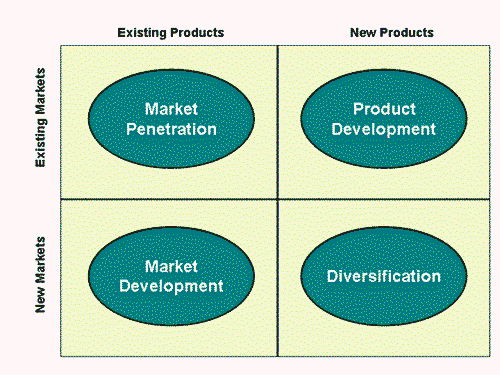 The growth matrix, shows how BAM 2000 falls into the product development category. This group  focuses on leveraging strengths by developing new products. It also  targets existing consumers of  certain brands. New product creation in a company can be dangerous as well. In many cases developing a new product that does not do well in the market can influence the consumer's point of view of other produt lines developed by that brand. This is recognized as brand dilution.
Brand Dilution
Loctite's  plan to sell the Bond-A-Matic dispenser at $175 price, is a controversial one. This is due to the fact that the market is already accustomed to Loctite marketing their products at a certain price. implying to the consumer Loctite is a low quality brand. This was suggested by several executives in the case study. The company's perspective is that Loctite manufactures high margin and high quality products; however, the Bond-A-Matic would be a low margin and low cost piece of equipment.  Loctite has already established favorable brand name recognition for the SuperBonder adhesive…
Market Potential Analysis: determines the size of the market opportunity and answers the question whether there is a segment that sees different value in a certain product or service verses that of its contemporaries. Primary demand creation is the process converting non-customers into customers. On the other hand selective demand creation involves converting  the current consumers of your competitor's into users of your product. For better understanding market potential analysis like this, market research is necessary.
Upon close assessment of this market research on exhibit 3, it is very clear that price does not play a significant factor in the non-purchase of instant adhesive products.  Information, or the lack thereof, does appear to be a cause of much inactivity within the market. It is also clear that 26% of the current consumers of the product expect to see innovations in the years to come. This numbers suggest advancements, or at least the perception of advancement will results in a decline in sales if its not made a priority. There also appears to be a problem with retaining consumers for a second use, as over 70% discontinued use of the product after their first use.
In terms of revenue, a break even analysis must be run for BAM to distinguish whether or not the market is showing the product ample enough terms to stay in distribution. For example a break even analysis, usually estimated monthly for Bam could work as follows:
Break-even Analysis
The break-even Analysis exposes what will be required in monthly returns in order to break even.
Table: Break-even Analysis

Chart: Break-even Analysis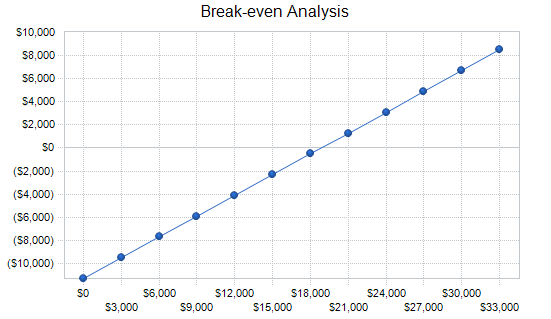 Customer Segmentation: It is 'mission critical' to segment the market by needs and wants. Segmenting by easily visible consumer characteristics such as  geographic, demographic or psychographic could lead to very different results than just behavior attributes. Behavior attributes tend to include product usage, and  benefit segmentation and decision processes. The customer segmentation of theBAM is broken down into two categories. Industrial use and commercial. Since the product serves as a supplement for other markets and industries to [email protected] agreements can be seen as the core sector base, but also the affordability of BAM opens it up to small business and private contractors. The product does not have a viable commercial market even sold at $175 price.
Target Market Selection: The Target Market is Industrial adhesive users. The business market is B2B.
Positioning Strategy: When you have picked your target segment, the last step of Customer Analysis is to decide exactly how you will communicate your differentiable value to it. The main focus on communicating differentiable value will have to come from a dual marketing plan focusing on maintain g the high integrity Loctite has on quality and brand recognition, while suggesting their advanced technology can produce more affordable products. Ultimately pricing the product at $175 will spark enough controversy for being such a cheap price within the market that it will result in draw enough buzz for Loctite to direct further discussion in their favor.
Regardless of your answer to question 1 (go-no-go), if the Industrial Products group is to introduce the new adhesive dispense system, provide the specifics of the marketing mix that you should use
The first step in designing an effective marketing plan is to focus the promotion specifically around the product characteristics as they benefit the consumer. Since the market is  industrial as opposed to commercial the main. The key factors Loctite has working in its favor are the low cost and the current brand name it already has established. The controversy caused by the new low price, and the implication that Loctite may have resolved passed issues with the innovation of new technology could work in the favor of the marketing plan.
Product Characteristics
SuperBonder 420 Adhesive
Low viscosity
Very fast setting
Bonds rubber plastics in combination with metals
Penetrating action
Parts should be closely matched
SuperBonder 495 ([504£) Adhesive
Medium-to-Iow viscosity
Fast setting
Bonds rubbers and plastics or in combination with metals
Parts should be closely matched
SuperBonder 430 ([506) 'Adhesive
Medium viscosity
Fast setting
Bonds metal and plastic
Parts should be well matched
SuperBonder 414 Adhesive
Medium viscosity
Fast setting
Excellent for metal and plastic bonding or in combination to themselves
Moderate strength on hard-to-bond plastics such as polyethylene and polypropylene SuperBonder 416 Adhesive
High viscosity
Bonds irregular or porous surfaces
Excellent for bonding rubber and plastic parts
The said benefits are also core aspect of the marketing plan to establish clear talking points when branding the product. The following are essential to BAM promotion.
Product Benefits
Speed assembly and test
Bond most material in less than 30 seconds without pressure-simplifies fixturing and clamping
Easy to use
Single component-no mixing
No surface preparation normally required
Bond materials to each other or in any combination
Improve product reliability
Bonds have high strength-up to 5000 psi
Bonds have good solvent and weather resistance
Speed production
Loctite SuperBonder adhesives can be automatically dispensed in as small a volume as .001cc at a rate of 60 cycles per minute
Economical to use
Eliminate need for costly heat and curing ovens-Loctite SuperBonder adhesives cure at room temperature
Low cost-per-unit application-one pound contains 40,000 drops at an approximate cost of 1/7 cent per drop
Preserve product attractiveness
Bond is colorless and transparent
Negligible shrinkage-no solvent to evaporate
Automatic application virtually eliminates clean-up problems
Product, Pricing, and Quality Assurance
Pricing of the product, specifically as it relates to affordability, but the ability for consumers within the industry to generate profits from its use as an industrial resource, is the most significant deciding factor in the marketing. When the Bond-A-Matic dispenser  was originally introduced by Fox, he had to decide which customers to pursue.  As noted in the case study, "Only then could he develop a detailed marketing plan and decide whether both models should be made available and whether the Vari-Drop needle as well as the Gluematic tip should be included with each unit." He determined a pricing schedule for the dispenser and accessories, coming to a solution of  $175 price. Many felt this might jeopardize Loctite's quality image.
A nother concern was whether or not  the Loctite name should appear prominently on each product. Executives argued that the Loctite name was identified with high-quality adhesives, not low-cost dispensing equipment. and questioned linking the name with the unproven Bond-A-Matic. It was also suggested that the similarity between the names Bond-A-Matic and SuperBonder  would confuse consumers. The two main approaches Fox was considering was a 3D-day free trial to introduce the product, or, a one-year limited warranty. Loctite to inform purchasers of future product improvements or additions. The Systems Division, however, questioned whether the costs of returned equipment and service repairs associated with these offers would be treated as a marketing or a manufacturing expense.
Advertising
The uncertainity Fox had about whether or not to use advertising to assist the product launch since he could not forecast its impact. An advertising campaign might fail; but it also might be too successful, stimulating unmanageable inquiries and orders. But Fox doubted whether advertisements for the Bond-A-Matic dispenser, even if placed in magazines directed at specific industries, could convey a message sufficiently tailored to stimulate purchase. Nevertheless, L
Bond-A-Matic Marketing Plan
The introduction of  BAM as a unique low-cost adhesive dispensing product named as with the ability to resolve dispensing issues such as clogging in smaller adhesive bottles that had plagued the industry prior to its release, could easily sustain Loctite as a leader in development of high end  adhesives and sealants for industrial and consumer applications. Loctite's mission to become the prime worldwide marketer of instant adhesives for industrial use by 1985.
PRICE: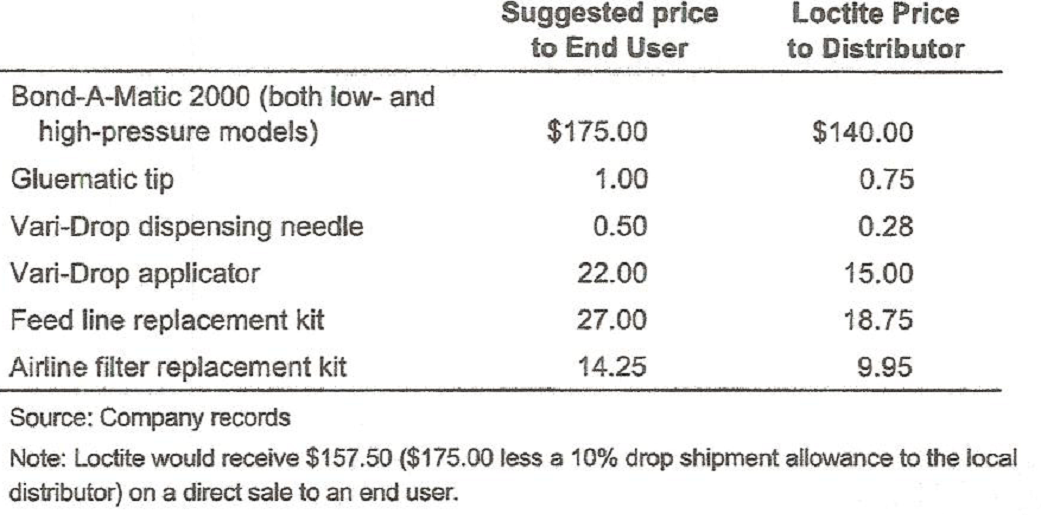 PRODUCT:

Time is precious
don't waste it!
Plagiarism-free
guarantee
Privacy
guarantee
Secure
checkout
Money back
guarantee