Making Arguments, Research Paper Example
This Research Paper was written by one of our professional writers.

You are free to use it as an inspiration or a source for your own work.
Heuristic Assignment PART 1
For this heuristic assignment, three particular topics have been considered for research. Each of which has a great connection to my own opinions and thinking. Basically, I do consider these primary topics to have a great impact on how I see the effects of development and how these social changes impact the society as a whole as well.
National Topic: Should English be the official language of the United States?
English has long been the symbol of the unity that America is specifically grounded upon. For many years, the recognition of the American English language has served as the identity of the American people. Nonetheless, things change. America does not only cater to Americans alone. Today, hundreds if not thousands of people in every American community come from different nations around the globe.
In this case, it is important to show why English should remain to be the official language and how this particular fact would not hurt the idea that America does still and will always welcome immigrants from other countries.
In this regard, the issue on the connection of the English language and the establishment of the American identity shall be challenged by the fact that America today is trying to establish a reputation that it is indeed a free country that welcomes everyone who wants to taste the benefits it could give them.
Possible References:
McCrum, Robert; Robert MacNeil, William Cran (1986). The Story of English (1st ed.). New York: Viking.
Nation, I.S.P. (2001). Learning Vocabulary in Another Language. Cambridge University Press. p. 477.
Plotkin, Vulf (2006). The Language System of English. BrownWalker Press.
Wardhaugh, Ronald (2006). An Introduction to Sociolinguistics. Wiley-Blackwell
Regional Topic: Should children not be exposed to television or the internet until a certain age?
Child rearing is of course a universal issue that not only parents, but also educators give so much attention to.
At present, internet and television has a much impacting effect on how a person thinks, especially when it comes to children being involved in the process.
Experts often mention that children being exposed to these particular gadgets or electronic devices seem to develop behavioural issues. If this is indeed true, then the issue on handling the topic in a research is indeed beneficial.
To note, this topic shall also be open with the fact that program developers of television and computers have counter responded to the case of their process being not suitable for young audiences.
How could these two contrasting forms of development in technology and child rearing be resolved? This could be better handled through the research that is to be considered in this project.
Possible References:
Calvert, S. (2003). Lessons from children's television: The impact of the Children's Television Act on children's learning. Applied Developmental Psychology. http://cdmc.georgetown.edu/papers/lessons_from_children's_television.pdf. (Retrieved on February 16, 2012).
Fisch, S. (2005). Children's learning from television. http://www.br-online.de/jugend/izi/english/publication/televizion/18_2005_E/fisch.pdf. (Retrieved on February 16, 2012).
Shapiro, E., & Nager, N. (1999). The Developmental-Interaction Approach to Education: Retrospect and Prospect. Occasional Paper Series. New York: Bank Street College of Education.
Education Topic: Should your college have separate classes for students who speak English as a second language?
With at least 45% of the total population of colleges in America belonging to the minorities or possibly the immigrants in the country, it is obvious that there are several students who cannot understand the English language as fully as they should, especially when it comes to completing college requirements.
Some institutions thinking of putting ESL speakers in special classes so as to be able to attended to their needs fully.
As evidently helpful as the approach may be for the students, there is still a negative aspect of the process.
Immigrants studying in American schools are already having a hard time as it is to fit in within the crowd without being bullied or at some point being treated as someone indifferent.
Would not the creation of a special class or separate classes for them create a more definite source of separation from their peers?
Handling this research could provide a more in depth understanding on what possible impacts separate classes for ESL students could have both on the behaviour of the American and non-American students in several colleges in the country.
Possible references
Crawford, J. (2004). Educating English Learners: Language Diversity in the Classroom (5th edition). Los Angeles: Bilingual Educational Services (BES)
Swain, M. (1996). Discovering successful second language teaching strategies and practices: From program evaluation to classroom experimentation." Journal of Multilingual and Multicultural Development, 17," 89-104.
Seidner, Stanley S.(1981–1989) Issues of Language Assessment. 3 vols. Springfield, Il.: State Board of Education.
Heuristic Assignment PART 2
(a) What is the particular point of crisis or tension?
There are experts who say that early childhood exposure to both television and computer affects the way they behave and the way they learn. Depending on the programs they watch or use, these children immediately adapt to what they see. But what of the child-friendly programs offered in both television and computer, do they fall in the same category that experts note to be harmful? Should these programs make a difference on the rule of not letting children use television or computer at such an early age? These questions raise a crucial point of argument that both parents and educators should learn about.
(b) How has the situation (or condition, behavior, policy) come about, and why does it continue?
Television and computers continue to thrive as the most advanced forms of communication and their influence to their viewers and users are virtually affective on how humans think and act. Would this be the same with children? Researching on the matter could help a lot in determining the learning pattern of children alongside with the discipline they should be provided with hence protecting them from the possible harms of the said devices.
(c) What are the effects of the situation (or condition, behavior, policy)?
Living in a modern society, television and computers would always be evident in the community. It is then expected that this study would be able to weigh both their positive and negative effects to young viewers and how such elements should be viewed by parties concerned.
(d) Why do I have an opinion on this topic?
Several news reports on children becoming violent at such an early age have been rising during the past five years. I strongly believe that television and computer has a great contribution to this matter, but I still need to find a proof that these devices really do influence the children's behaviours towards others.
(e) Why is the belief valuable?
This is a current issue that concerns not only the children but also the whole society on how they are supposed to hone the next generations following their footsteps.
Stuck with your Research Paper?
Get in touch with one of our experts for instant help!
Messenger
Live chat
Time is precious
don't waste it!
Get instant essay
writing help!
Plagiarism-free
guarantee
Privacy
guarantee
Secure
checkout
Money back
guarantee
Get a Free E-Book ($50 in value)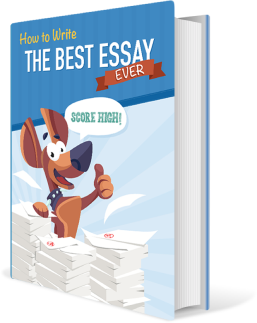 How To Write The Best Essay Ever!