Back to School Offer
Get 20% of Your First Order amount back in Reward Credits!
Get 20% of Your First Orderback in Rewards
Home
/
Research Paper
/
Maslow's Hierarchy of Needs and Its Application to Healthcare, Research Paper Example
Maslow's Hierarchy of Needs and Its Application to Healthcare, Research Paper Example
This Research Paper was written by one of our professional writers.
You are free to use it as an inspiration or a source for your own work.
Need a custom Research Paper written for you?
HIRE A WRITER!
Maslow's Hierarchy of Needs originally had its application in the business community (Maslow, 1954). It has, however, found its way into all industries including the field of healthcare (Tasman, Kay, Lieberman et al, 2008). The original hierarchy of needs was illustrated as a pyramid and divided into four levels. These four levels were designed to show the basic products of life that were important to a worker regardless of profession. The base of the pyramid contains the most basic human physiological needs: food water, sleep, and basic biological functions. The level above basic needs includes individual security, income, health, and family. The next higher level includes relationships of family and intimacy. Finally, at the apex of the pyramid is self-actualization; the employee has achieved all he needs in life. Some workers are content with that level while others feel the need to start over, engaging themselves in some other venture (Kosner, 2006).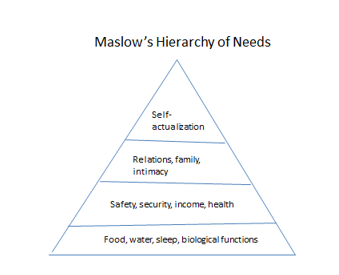 Maslow posited that the bottom tiers must be met first and that employee accomplishment was hindered if each basic need was not met in a specific order.
In applying Maslow to the healthcare industry it is safe to assume that the most basic needs of food, water, sleep, etc. can be covered by wages. Even when workers are employed doing the most menial tasks in the healthcare industry, paying them a livable wage will ensure their loyalty to the organization as a whole. Good work practices will ensure employee growth to the next level including safety and security. At the next level, safety, employees should be receiving professional development in safety procedures as they are applicable to the specific industry. A different term stemming from security may be a reduction in anxiety. An employee who has been properly trained in the safety factors associated with his or her job may feel less anxious about their personal safety when using specialized equipment.
Maslow's third hierarchal level, relations, family and intimacy, can easily be replaced with the formal and informal work groups which comprise all industries. Formal work groups are those created by the employer and usually includes a department supervisor and a specific number of employees. Informal groups are created by individual personalities. Those individuals who mesh well will depend upon each other to accomplish their specific tasks.
At the apex of Maslow's hierarchy is self-actualization. When it was created by Maslow it probably encompassed signal employees who, having realized their fiscal goals in life, were ready to either retire or start anew. In the 21st century, self-actualization may mean successful performance appraisals, incentives, and awards. These achievements are all part of self-actualization personified by feelings of self-confidence (Kendrick, Griskevisius, Neuberg, et al, 2010.
Maslow's Hierarchy examined the workplace as being individualized. The needs of each employee were achieved because of that individual's willingness to go "one more step" toward his or her personal achievement. Now, in the 21st century, Maslow's Hierarchy can be applied to healthcare or to any organization where the employer takes an active role in ensuring employee happiness and loyalty. For instance, Maslow talked about a worker's need for shelter. Indeed, there was a time when workers were hired for daily tasks, paid daily, and used those funds to provide for their basic needs in life. In the 21st century, workers employed in any field in these United States are given livable wages. In his or her mind, the wages provided are usually enough to have some kind of housing and that single most provision ensures some amount of employee loyalty. Where Maslow thought only of the individual, in the 21st century, Maslow's Hierarchy of Needs can best be used to illustrate the relation formed between and employer and his or her employees.
Response to the Quote, "If you want someone to do a good job you must provide them with a good job to do." Many employers now have a professional relationship with companies which provide employee aptitude tests as well as surveys seeking responses to professional interests. Applicant responses to these surveys helps an employer to determine what fields of interest a potential employee may want to be engaged in. Once the field of interest has been ascertained it's important to measure the quantity of skill an employee brings to the job. If the employer is assured that an employee will provide many years of service, training programs can also be provided so that aptitude equals skill.
References
Kenrick, D., Griskevicius, V., Neuberg, S., & Schaller, M. (2010, May 19). Renovating the pyramid of needs. Contemporary extensions built upon ancient foundations. Perspective on Psychological Science 6(10): 34-68.
Kosner, J. (2006). An ethnography reflecting individual differences between school principals and faculty members. Chicago, IL: Roosevelt University (published dissertation).
Maslow, A. (1954). Motivation and personality. New York: Harper Publishing.
Tasman, A., Kay, J., Lieberman, J., First, M., & Mano, M. (2008). Psychiatry (3rd Ed.). New York: John Wiley & Sons.
Stuck with your Research Paper?
Get in touch with one of our experts for instant help!
Messenger
Live chat
Time is precious
don't waste it!
Get instant essay
writing help!
It's a Free, No-Obligation Inquiry!
Plagiarism-free
guarantee
Privacy
guarantee
Secure
checkout
Money back
guarantee
Get a Free E-Book ($50 in value)
How To Write The Best Essay Ever!