Netflix, Research Paper Example
Competitive Forces in the Movie Rental Business
The movie rental business is one of the most aggressive and competitive business operations today. This is best illustrated by means of Porters Five Forces model which illustrates the attractive proposition of entering the movie rental business.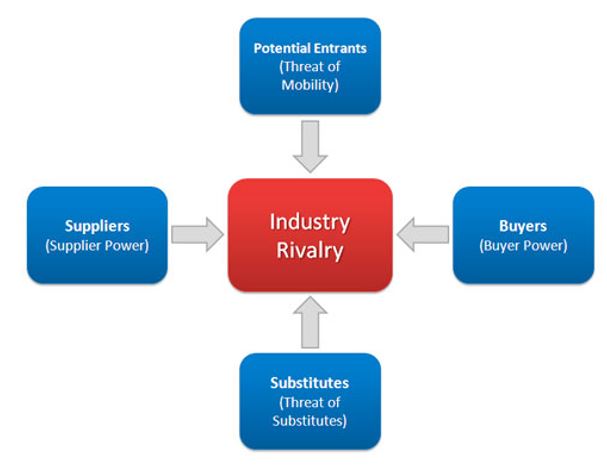 Buying Power  This is very high in the trade because of the amount of different choices that are available for the customer. One example being that of 'Redbox' that maintains low overhead costs in order to offer their product at an attractive price to their customers.  This means they use increased automation in order to reduce manpower labor costs. Despite the quality of DVD's increasing, like that of Blue-ray, the customers still only want to pay a set standard price for their movies and as such there is a need to remain very competitive for loyalty and customer retention.
Supplier Power  This remains relatively low because of the limited number of distributors.  It is the bargaining power of the customers that is the key determinant in market pressure. In this business the customers generally do not purchase in large volumes.  Further there are very few operators in the industry and as such supplier fixed cost remains high. This does however apply equally to all of the competition. Customers are unable to produce the product and as such this helps to sustain the market.
Threat of Alternative  In reality this does not really exist.  The main threat derives from the distribution channels.  In essence the customer will in most cases get the same quality of product regardless of the vendor that is selected.  Equally there is no visible difference in the price of performance of the product.  One of the negatives is that many vendors, owing to the pressure to keep costs down, offer very little in the way of customer service. Nevertheless, the customer dictates this by demanding a low price for the product. Overheads have to be kept low in order to produce reasonable profit margins on sales.
Threat of New Entrants   This side of the business is extremely volatile with new business ideas coming on stream all of the time.  In the early days the business was conducted off the strength of other retail store business e.g. Wallmart retail stores, Coffee Shops,  Pharmacies etc. This often considered as a lost leader to entice customers into their stores for videos on the strength of shopping for more profitable lines of goods.  The internet has made this easier by sophisticated websites that allow customers to browse movie selections and download or steam the movie to their computer.  This either on a pay per view or subscription  basis.
Industry Rivalry  This is extremely high in the business and competitors are constantly looking for methods to entice customers away from their competitors.  Advertising and price cuts, together with promotions have been traditional enticement to lure customers from competitors. Others have increased their technology platform against competitors but kept their prices the same as a means of having quality differentials over their competitors.
The future for this business has moved away from the traditional brick and mortar store and moved towards more Kiosk based business.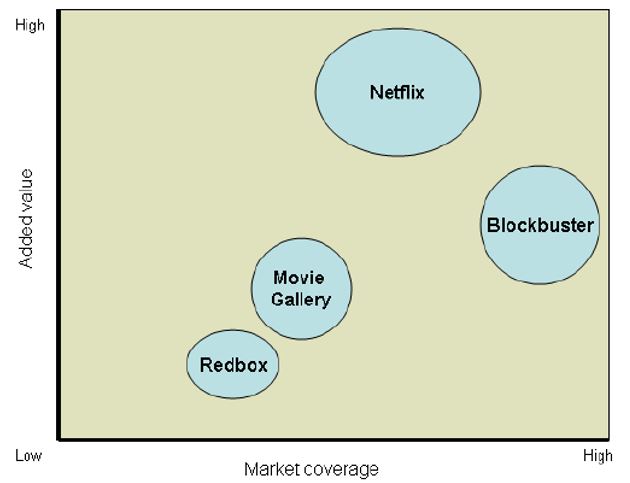 Netflix   The firm was founded in 1999 and is now recognized as one of the largest international firms in this field. It has over 6.3 million subscribers and over 100,000 DVD titles in order for the customer to choose from. Netflix has harnessed the power of the internet in order to drive up its market competitiveness and provide a service of high quality and low cost.  The firm of Neilson online has rated Netflix as the No 1 service provider for the movie rental business.
NetFlix has maintained a competitive strategy by having a business model based upon fast delivery, no late-fees policy  and a very useful return in the mail system.  This approach has virtually made the video bricks and mortar stores obsolete as you can simply place your order in the comfort of your own home.
The main rival has been that of Blockbuster and in 2007 the firm re-emerged as a major competitor and forced Netflix to reduce its prices.  This in turn alarmed the shareholders and created and caused a drop in the stock prices.  Redbox are new competitors in the marketplace and are using innovative technology applications to increase competition.
The diagram to the right illustrates the added value component and market coverage of the four main competitors in the movie rental business.  Thus illustrating the position of Netflix in comparison to its nearest rivals. This shows its high added vale but by contrast the wider market coverage by Blockbuster.
In terms of competition the critical success factors (CSF's) that drive the movie rental business may be summarized as follows:
Low costs;
Extent of market coverage;
Capacity of movie selection;
Maintenance of updated stock;
Fast turnaround of services;
Customer Service;
Good distribution system;
Maintaining latest technology in support of product and sales.
The chart to the right illustrates how Netflix compares from a profitability perspective to that of its nearest rival Blockbuster.  This being for the period 2002-2007. It illustrates the revival of blockbuster and its remarkable climb back since the major decline between 2000-2004 and how it has strengthened its' position against Netflix that has maintained a moderate growth profile.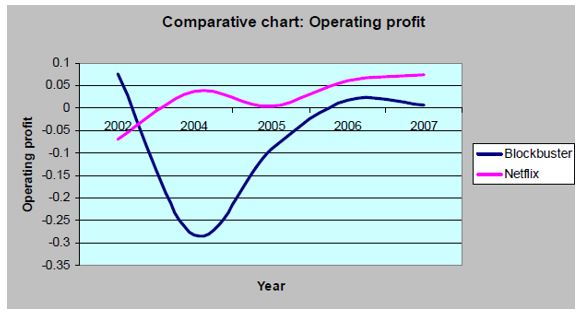 The forces for change in the movie rental business
From the perspective of Netflix the main focus that is driving change in the industry are the threats of substitution and competition. As such the movie rental business has to compete with a large range of competition i.e. the movie cinemas, cable TV, home theatres, video streaming etc. In order to remain in the business the firms have to keep inventing new and innovative means of doing business and maintaining a state of the art position in the applied use of technology.
Blockbuster remains the most significant threat to Netflix because of it wide customer base and geographical dispersion. Any new value-added strategy that the firm comes up with poses a direct threat to Netflix; owing to the wide coverage of its client base.  As to date Netflix has maintained the better business model by offering quality customer services at a relatively low cost whilst keeping its expenses under control. Hence it has become a very profitable business in terms of maintaining overall customer satisfaction and retention of high technology.  Its weakness was a lack of stores, too heavy a reliance upon the internet and a lack of geographical market penetration compare to its nearest rival.
The Financial drivers  Research of data obtained from the financial year of 2007 provides a useful set of comparative analysis figures for both Netflix and Blockbuster. (Thompson 2009).
The financial ratios illustrate that NetFlix is a highly liquid organization and as such has sufficient capital to deal with its expenses and any new expense initiatives. In addition, it has a low debt ratio showing the company to be extremely credit worthy. This also increases its borrowing power and the ability to raise money.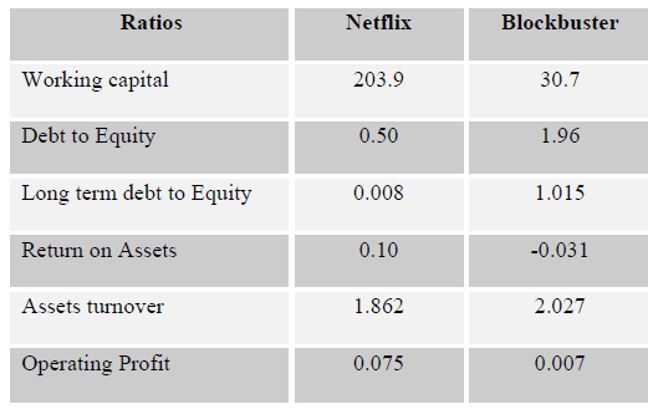 This contrasts with Blockbuster which has a low working capital and is challenged in order to meet any increase in operating expenses. In addition, it has a high debt ratio which is an indication of a weak balance sheet. This also shows a low operating profit for the firm.
Changes in the Industry  Liquidity will become a key factor in the movie rental business as firms strive to maintain the customer loyalty base.  Having the ability to maintain latest product technology, improve customer service levels whilst keeping operating expenses low will pose a significant challenge.  Companies like NetFlix and Redbox seem to be well positioned in order to meet these challenges.
FORCES FOR CHANGE
Forces Driving Change
NetFlix Response
Low Cost
Increased improvement trend over 7 years
Selection of movies
Large catalogue – over 100,000 movies
Latest catalogue
New releases are immediate on availability
Fast delivery
Online instant delivery / rapid mail service
Customer Service
24/7 online help facility
Latest Technology
Maintain current technology profile
Market coverage
Limited to internet coverage
Strategic outlook of the movie rental business
In the United States the movie rental business is dominated by two major players i.e. Netflix and Blockbuster with WallMart entering the competition in 2005.  There are other smaller players but at the moment they do not represent a significant threat to these two leaders.  During 2004 there was an intense period of hostility in a price war between the major players. Since that time the market has relatively stabilized and Netflix have established the benchmark on prices that is comparative to the main competition.  Innovation seems to be the key in differentiation by offering value-added services and improved technology offerings.  Netflix has focused its main efforts on building up its internet business whereas blockbuster has attempted to build more brick and mortar stores and expand its geographical distribution.
In 2005 Netflix acquired the WallMart online rental business, hence this narrowed again to blockbuster being the closest area of competitive rivalry. In 2004 Netflix was poised to expand its online business in both the UK and Canada; this however was changed on the fear that another entrant Amazon was about to offer a serious challenge to the US operation. Hence Netflix abandoned the expansion activity and focused upon bolstering the US business in order to defend and protect its market share.  Amazon poses a significant threat from a new entrant's perspective because it has a massive international client base with an established internet presence and loyal customer base.  Amazon moved into Germany in 2005 and it has the capital strength that positions it for future growth in the market place.
Winding the clock forward to 2011 a considerable number of developments transpired.  Blockbuster continued to decline after 2005 with increased financial losses, store closures and being pressured by Netflix.  This came to a head when Blockbuster filed for bankruptcy in early 2011.  The firm was rescued at the last minute and acquired by Dish Network for $233 million. Dish has a long uphill climb to try and restore the glory days of blockbuster and equally woo back the customer base that became disenchanted with the firm.  Netflix had responded to the elimination of its main rival by hiking prices up by 60% causing shockwaves throughout its customer base that have responded in an open negative manner.
Netflix has now amassed what is believed to be a 23 million customer base and hence the reason that it can feel somewhat bullish about its pricing policy.  Those who have complained only represent a fraction of the very large number of subscribers and as such NetFlix management team seem to have got away with the 2011 price increases.  Amazon has continued to make significant inroads into the business but there is insufficient data for comparative analysis to Netflix at this moment in time.
There is relatively little doubt that Netflix has become extremely successful in the internet movie rental space and is well positioned to continue this success into 2012 and beyond. The innovation in DVD technology and the media has been grasped by Netflix and they have been successful in consolidating their position in this business.  Netflix has developed a flexible but strong business strategy that has held wide appeal to its customer base.  Strategic deals with computer suppliers like that of ACER computers, where Netflix software, is pre-installed on the sale of its computers, thereby providing ease of entry to new customers.
Segmentation for Netflix was another important strategy in getting to know and understand its customer base.  This included integrating the sales strategy into a model that grouped customers into specific segments and selling categories.  This using terms like 'must have clients', 'nice to have clients', 'transient clients' etc.  This helped Netflix to get the demographics of its service provision sorted out and helped in the targeted expansion of its regions.  They discovered that their demographics being an internet firm is not bounded by geographical constraints but that of technology constraints. (Dean 2010).
Netflix also worked hard on establishing a good user community by getting its members to participate online in user forums, blogs and posting reviews.  These were carefully analysed in order to provide input into a continued process of customer service improvement actions. User reviews are moderated before being posted to the site but this does create a good interactive forum. This may have been instrumental in Netflix feeling confident in raising prices in 2011 and gaining little protest votes over the large client base.  Equally the demise of blockbuster saw a large shift towards Netflix as people moved away from bricks and mortar establishments into the online internet community.
The trend in 2012 is moving towards increased uses of portable devices like tablets, i-phones, and notebooks.  People are doing a lot more travelling around because of the poor economy and as such looking for entertainment whilst they are travelling.  Hence online services and movie download services are increasing in popularity.  Subscription based services are very popular in this regard and this is increasing the customer base of Netflix.  The management team at Netflix have become much more innovative in their marketing strategy using search engine optimization techniques, introduction of  banners on other popular sites that will redirect them to the Netflix site and increases in third party advertising.
In the third quarter of 2010 Netflix has posted sales revenues of around $550 million signifying significant growth and an upward trend of improvement in the business.  Business analysts have pointed to the success of the Netflix Management team in the generation of a good business and marketing strategy that will see the firm poised for future growth and success as a dominant player in this field. The entrepreneur and CEO Reed Hastings is credited with the successful vision that eliminated late movie rental fees and significantly improving customer satisfaction rates.
LOOKING AT THE SWOT POSITION OF NETFLIX
The following illustration provides a SWOT analysis of Netflix looking at the current situation based upon latest information available.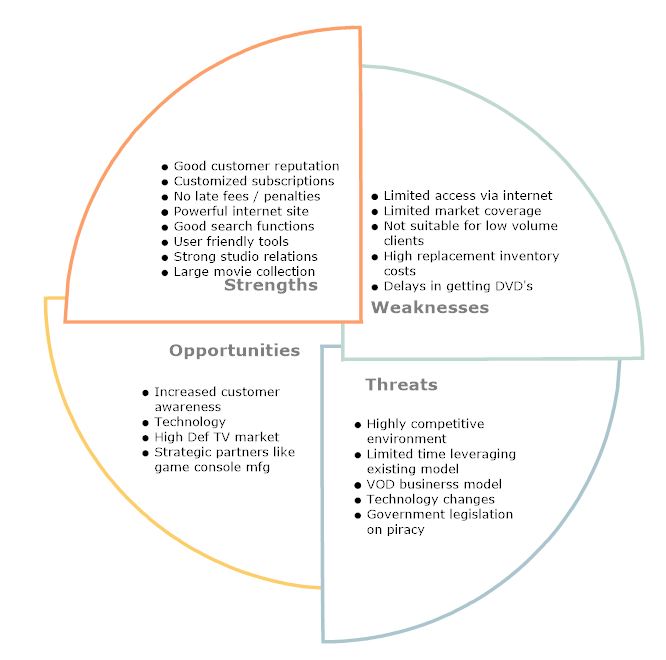 STRENGTHS
Netflix have established a long term good customer relationship in terms of both quality and service. This has been reflected in continued growth and high rates of customer satisfaction. They have been flexible in allowing subscriptions to be customized to a model that meets the customer requirements.  The elimination of no late fees and penalties improved customer relationships.  The software that supports the Netflix internet site is very feature rich and supports individual customization, good search capabilities over a library that contains in excess of 100,000 DVD's.  Strong studio relations have enabled Netflix to make a smooth transition into the High Definition TV / DVD market place.
WEAKNESSES
There has been some limitations imposed upon geographical dispersion by the internet.  Whilst this has to some extent limited the market coverage they have still been successful in a wide distribution.  The business is not considered to be a good fit to that of low volume clients. The company is faced with relative high value replacement inventory costs, particularly in the newer technology areas.  Customers who want DVD's (as opposed to video streaming) may experience some delays in service.
OPPORTUNITIES
As customers become more aware with internet and computer technology there tends to be a natural progression towards the services provided by Netflix.  The increased costs of movie rental by the Cable TV Companies has made Netflix as an attractive alternate supplier.  HDTV is seen as a rapidly emerging new market.  Films like Avatar in 3-D illustrate another advancement in technology and the potential for new films to be made in this media. Other strategic partners have included the gaming console manufacturers.
THREATS
The movie rental business is a highly competitive environment and this is unlikely to change in the future.  The business is very volatile and as such leaves only short periods of time to leverage off current sales and marketing models. The Video on Demand (VOD) model also changes over time.  This creates a visible demand for Netflix to maintain current technology profiles and move with the trends in the movie business.   Copyright has become an important issue in this business and particularly with video streaming.  Emerging and enhanced government legislation and legal rulings poses a potential threat to all businesses in this sector.  Historically, though copyright infringements have proved notoriously difficult to process under the law.
HOLISTIC VIEW
Overall the management team at Netflix have done extremely well in both the management of the business and the strategic positioning in the market place.  Despite fierce competition they have emerged as victors and are now well placed to develop the business well into the future. One of the most important aspects being the retention and development of a loyal customer base.
The removal of late penalties by CEO Hastings was a master stroke in the improvement of the service offering on postal DVD's and enhanced its position in the market place.
Works Cited
Dean, Gregory. Netflix: An Online Business Beyond Genius. 11 1, 2010. http://marketography.com/2010/11/10/online-business-beyond-genius/ (accessed 4 5, 2012).
Thompson, A.A. Strickland, A.J. Gamble, J.E. Crafting and Executing Strategy The quest for competitive advantage. New York: McGraw Hill, 2009.
Time is precious
don't waste it!
Plagiarism-free
guarantee
Privacy
guarantee
Secure
checkout
Money back
guarantee