Back to School Offer
Get 20% of Your First Order amount back in Reward Credits!
Get 20% of Your First Orderback in Rewards
Nutrition Blog, Essay Example
Pages: 5
Words: 1453
Essay
This Essay was written by one of our professional writers.
You are free to use it as an inspiration or a source for your own work.
Need a custom Essay written for you?
HIRE A WRITER!
Creating a food blog provides a number of important benefits to its users and reflects the willingness of individuals to make a commitment to healthier eating. This process is designed to allow individuals to review what they have eaten and to consider other alternatives if their food choices are not appropriate. These efforts also provide users with an opportunity to review caloric intake and other nutritional needs effectively. It is important to create a food log as a means of evaluating the diet, making a commitment to a healthy lifestyle, and becoming wiser regarding nutritional choices to achieve optimal health and wellbeing. In regards to my own diet, I would estimate that it needs some work in order to improve my nutritional intake, as there are a number of issues that must be considered to reduce any risks associated with chronic illness or other diseases. Since heart disease and diabetes run in my family, I must evaluate my current food choices and opt for foods that provide greater nutrition because there are significant issues that must be considered in supporting my future dietary needs more effectively. I believe that with small and gradual changes in my diet over a period of time, my overall health will improve and I will reduce my risk of heart disease and diabetes. These are my most important goals and objectives as related to my diet at the present time and will continue to be prevalent in making any and all future diet choices. I am still young and will benefit from some changes in my diet to accommodate nutritional food items.
With respect to my current diet, I tend to consume the wrong kinds of foods that may contribute to the risk of heart disease and diabetes over time, as well as the risk of other conditions, such as hypertension. My choices are not always optimal considering my low level of physical activity and my family history; therefore, I believe that it is necessary to develop a dietary strategy that will improve my health and wellbeing in different ways in order to support a healthier lifestyle. To be specific, I consume too much sodium in the form of processed foods, and I also drink diet soda, which does not provide any real health benefits and could actually contribute to my levels of hunger from time to time. Therefore, I must make modifications to my diet that will reduce my sodium and processed food intake and transition to natural foods without additives or preservatives to ensure that my nutritional intake is optimal, as well as my increased intake of fiber as well as vitamins D and B2, for which I appear to be deficient.
Methods/Procedure
In conducing my dietary analysis, I chose three separate days during the same week to demonstrate the variety in my diet, as well as the positive and negative aspects of my current food intake. These efforts are important because they provide evidence of my eating habits and where improvements are necessary. The three days were a Friday, a Sunday, and a Tuesday, respectively, each of which provides different dietary choices for consideration. This level of variety demonstrates that my dietary choices are sometimes different on the weekends because I have less structure in my life on those days and am more likely to "cheat" or eat less healthy on weekend days. I kept track of my food intake at first by using post it notes and receipt backs to write down everything that I ate, including any ingredients that were used in these foods. However, this became cumbersome; therefore, I started using my smartphone to record foods as I consumed them. In addition, I tracked my beverages and any snacks that I consumed throughout the three day period. I skipped one day in between each logging period in order to determine if there were any specific patterns associated with my food intake. I initially wrote down the foods that I ate in a small notebook and then transferred these notes into an online format during the evening hours when more time was available for this task. I was able to calculate such nutritional facts as calories, fat, protein, and carbohydrates by using an online food tracker known as ChooseMyPlate.gov, which is a government-sponsored tool that is preprogrammed to include nutrition information regarding thousands of different foods and ingredients. It was important to use an electronic food tracking system because it provides all of the information quickly and easily in order to determine nutritional status.
Results/Data
Part A: The graph describing fat, calories, protein, and carbohydrates for actual intake versus average intake is as follows:
Part B: The proposed nutrient comparison of actual consumed vs. average consumed is as follows: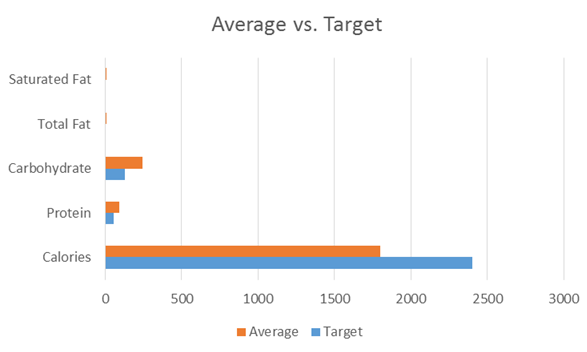 Discussion of Analysis
Based upon my current food intake, I must immediately lower my intake of sodium in order to reduce my risk of hypertension, stroke, and heart disease. Reducing salt intake is critical in my case because of my family history of heart disease, and I do not want to become ill at a young age with a chronic condition that could be prevented. Therefore, I must recognize those foods with high amounts of sodium and eliminate them from my diet (Mayo Clinic). It is known that close to 90 percent of Americans consume excess amounts of sodium in their diet, and I do not want to be another statistic (CDC). I need to adjust my current dietary habits in order to achieve optimal health and wellbeing for my age. I learned that I must move away from processed foods and consider other more natural alternatives, because the former are typically loaded with sodium (Fitday). Much of the time, I eat foods on the go and therefore, cannot always take the time that is necessary to cook my own meals. Therefore, I find myself struggling with sodium intake and my consumption of processed foods on a regular basis. In addition, although statistics demonstrate the dangers of these items, foods with high levels of sodium continue to be sold in mass quantities, thereby posing a risk on the population as a whole (CSPI).
I also learned that I possess considerable challenges in my efforts to eat healthier but that I must do so to reduce my risk of heart disease and diabetes. I am not exempt from these conditions and must take the means that are necessary within my dietary framework in order to accomplish these objectives, including better monitoring of my weekend food consumption to avoid overeating and binges. There are no unusual circumstances contributing to my food choices; however, I must reflect on why I eat more on the weekends than during the week. Unfortunately, I consume way too many processed foods and must reduce this level in order to accomplish my desired nutritional and dietary objectives in different ways. The first thing that I would change in my current diet is my sodium intake, which must be reduced immediately to prevent any further risks to my health.
Conclusions
Based upon the information provided in this report regarding my food intake and nutritional status, there is much room for improvement in my daily diet. Therefore, I must consider new alternatives as a means of promoting effective dietary outcomes more effectively. I must pay attention to each and every food and ingredient that I consume and refrain from the consumption of any products that may trigger a higher risk of heart disease or diabetes. In addition, it is important to demonstrate the impact of these conditions on the favorability of my diet over time. It is important to demonstrate that small changes in my dietary habits will go a long way in improving my health and wellbeing. This is best achieved through food modifications that will be successful throughout the week and into the weekends. Since I have a tendency to cheat and/or overeat on the weekends, I must refrain from these behaviors and take other measures as necessary to improve my diet each and every day as best as possible in order to achieve healthier outcomes over the long term. If I make these changes and remain consistent, I am also likely to reduce my risk of heart disease and diabetes. Therefore, adequate nutrition is critical to my success and the pursuit of healthy eating each and every day.
References
Centers for Disease Control. "Where's the sodium?" 2 April 2013: http://www.cdc.gov/vitalsigns/sodium/
Center for Science in the Public Interest, 2008. "Industry not lowering sodium in processed foods, despite public health concerns. 2 April 2013: http://www.cspinet.org/new/200812041.html
Fitday, 2013. "Why processed foods contain so much sodium. 2 April 2013: http://www.fitday.com/fitness-articles/nutrition/healthy-eating/why-processed-foods-contain-so-much-sodium.html
Mayo Clinic, 2013. "Sodium: how to tame your salt habit now." 2 April 2013: http://www.mayoclinic.com/health/sodium/NU00284
Time is precious
don't waste it!
Get instant essay
writing help!
It's a Free, No-Obligation Inquiry!
Plagiarism-free
guarantee
Privacy
guarantee
Secure
checkout
Money back
guarantee
Get a Free E-Book ($50 in value)
How To Write The Best Essay Ever!