Oncology Care Program, Research Paper Example
Cancer, which remains to be as one amongst serious causes of disease, challenge individuals irrespective of their age, sex, gender and ethnicity. The Cancer Programme, implemented at Sunshine Hospitals, enable in accelerating the development of innovative drugs and treatments, thus contributing to minimally toxic and excessively targeted therapies and cure of cancer. With an idea of innovative collaboration in to a single goal, this programme assisted in bringing together country's world top doctors as well as researchers towards fast track treatments. This programme emphasizes upon the following three main objectives (Raffell, 2007):
Conclude innovative, preliminary phase clinical trials amongst children and adults diagnosed with metastatic, high risk or soft tissue carcinoma.
Recognizing new drug development targets utilising sarcoma cell lines and biopsies of patient tumour, besides validating clinical trials targets.
The Commission on Cancer (CoC) outstanding achievement award (OAA), National Accreditation Programme for Breast Cancer (NAPBC), Blue distinction center for complex and rare cancers and Care First (Blue cross-Blue Sheffield) are some amongst the key awards and accreditations received by Sunshine Hospitals. The Oncology Care Committee, working within the Sunshine Hospitals, included the physician and non-physician members, and the following alphabetical list ascertains the departments as well as their positions.
| | | | |
| --- | --- | --- | --- |
| S.No | Name of the Person | Department | Position |
| 1 | Dr. Antonio Trindade | Medical Oncology | Physician |
| 2 | Dr. Edward Garcia | Pathology | Physician |
| 3 | Dr. Elisa DuPont | Breast Surgery | Physician |
| 4 | Dr. Fred Schreiber | Medical Oncology | Committee Chairman |
| 5 | Dr. Howard Gorell | Radiology | Physician |
| 6 | Dr. Jack Thigpen | General Surgery | Physician |
| 7 | Dr. Kamal Heider | Medical Oncology or Hematology | Physician |
| 8 | Dr. Luis Franco | Medical Oncology or Hematology | Cancer Liaison Physician |
Oncology Programme Narrative Report
Year Statistics
The Surgical and Cancer specialties at Sunshine Hospital are involved in diagnosing numerous kinds of diseases, especially cancer affecting the regions of nose, throat, head and neck. Out of a total number of 77 cases, around 67 males and 10 females appeared for the lung cancer treatment, with 9 of them for larynx, 25 for colon, 8 for stomach, 8 for rectum, 27 for uterus, 14 for bladder, 38 cervix, 63 and 97 for breast and others. The significant figures with regard to total number of cases diagnosed through Sunshine Hospitals indicate the relatively higher number of male attendance, in comparison to females.
Oncology Programme Standards
Obtaining care at Sunshine Hospital CoC accredited cancer program ensures the follow of below mentioned standards:
Ongoing monitoring of care and ensuring effective following of Needle Biopsy, Ultrasonography, Radiation Oncology, Medical Oncology, Diagnostic Imaging, Nursing, Support, Reconstructive strategies (2.1-2.10)
Level of responsibility and accountability (Standard: 1.1).
Interdisciplinary breast cancer conference with evaluation and management of Guidelines (1.2 and 1.3 standards).
The Joint commission accreditation possesses the critical responsibility in implementing different standards and requirements for hospitals and these govern the following:
Nature of the health care practices together with the compatibility with the elements of performance.
Effectively communicating with the hospital access, besides managing clinical personnel, understanding of medical records and documents linked to performance.
Developing agency contracts and offering the citizens a necessary and needed access.
Besides different standards, the Joint Commission additionally indicates requirements with regard to elements of performance, measurement of data, participation considerations as well as patient safety goals. The above mentioned standards need to be utilised in conjunction with different requirements as these enable in offering access to critical hospital's performance (Tyrson-Howard and Thomas, 2009). Any information with regard to Sunshine hospital's status need to be collected and reviewed through the Joint commission staff after carrying out the survey (Joint Commission Accreditation Hospital, 2008). In support to the hospital's mission and objectives, the use of pertinent accreditation and government requirements assist in increasing safety and quality of health care, risk management, treatment, service and sentinel events prevention. The responsibilities of Certified Tumour Registrar (CTR), pertaining to Oncology Care programme, include, producing reports and presentations of information in a tumour registry. Analyzing valuable information, another crucial responsibility, enable in exploring cancer survivor rates, besides identifying clinical drug candidates. Overseeing other staffs, who work for a tumour registry, undertaking responsibility for handling patient care and facility maintenance, are some amongst the crucial responsibilities of CTR. A certified tumour registrar assigns codes for treating and diagnosing different types of cancers and keeps a patient record updated through communication. By ensuring about the completeness, accuracy and timeliness in an appropriate manner, a certified tumour registrar undertakes the responsibility of recording how patients progress their illnesses and survive with diseases. Cancer registries made by Certified Tumour Registrar regulate the data on patients to be diagnosed, central, state and legal cases at the health care and other facilities. These registries possess information specific to a geographical area and serve as a remainder for scheduling regular clinical examinations and tests (Thomas-Brogan, 2009). The information supplied in cancer registry (demographic, diagnostic, medical, cancer and therapeutical) enable in evaluating patient outcomes, quality of life, satisfactions, besides procedures for improvement.
Conclusion
The use of Oncology assessment programmes enable in carrying out clinical quality assessment, performance improvement, quality management of cancer programmes. However, these needs to bridge the information gap through capture of complete patient disease summary, through their lifetime. As there is a tremendous potential for growth and development in government agencies, developing programmes coupled with management, administrative, knowledge and medical-based, programming, data retrieval and analytical skills, may sooner find a ready market in near future.
Pie-Graph on Total number of Cases
Depicted Pie diagram indicates the relative effectiveness of Sunshine Hospitals in diagnosing cases of different organs. Highest numbers of cases were visualized in cases of Lung and Breast and this suggests the fact of increased incidence of patients with respect to such disease in USA.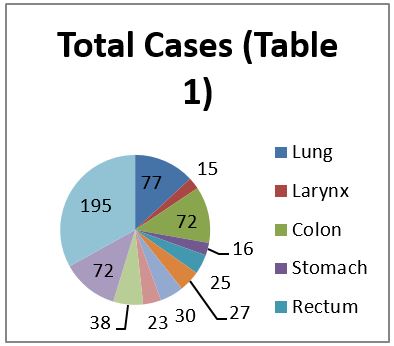 Pie-graph on Stage at Diagnosis of Cancer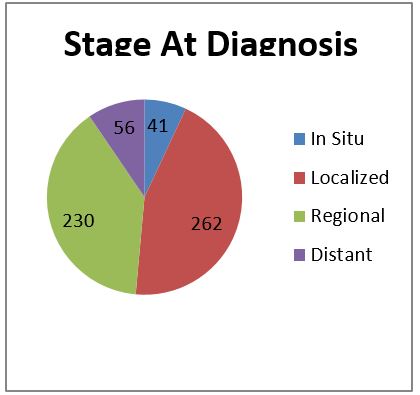 Following pie-graph explains us the fact of increased diagnosis pertaining to localized stages in comparison to regional (second), distant (third) and In-situ (fourth) stages.
Bar-diagram on age distribution
The below mentioned bar diagram ascertains us the fact that, the highest number of cases diagnosed with cancer through Sunshine Hospitals, possessed the age group ranging from 21-60 years.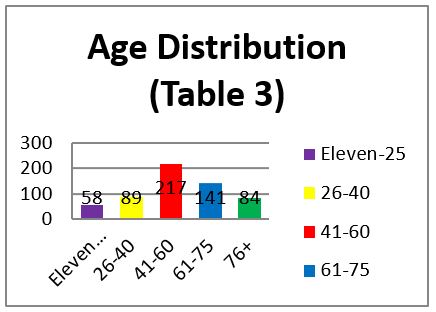 Line graph on number of cases accessioned
The above depicted line graph indicates the fact, the number of cases accessioned at Sunshine Hospitals increased in a progressive manner, although a minimal decrease was witnessed during 1999-2000.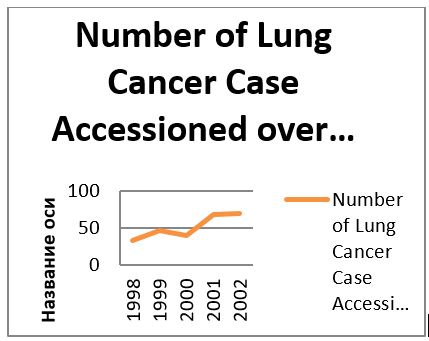 Lung Cancer Age at diagnosis
The below mentioned bar diagram illustrates us the fact that, increased number of lung cancer patients were diagnosed at the age of 65-74 years and this appeared to be around more than 50%,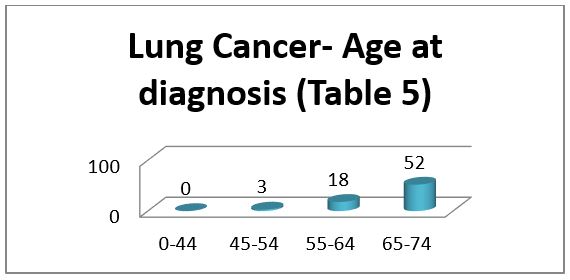 Diagnosis of Cancer
The above figure indicates the use of Bronchoscopy as the major tool by Sunshine Hospitals in diagnosing Cancer cases.
History of Lung Cancer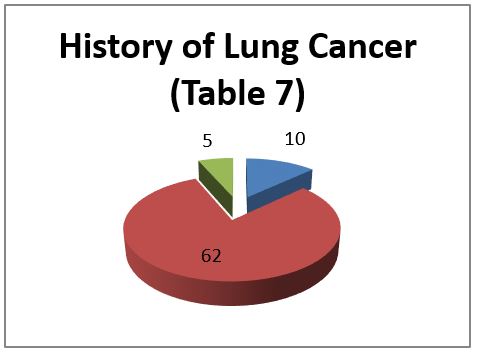 This pie diagram suggest us with the fact that, highest number of cases possessed the history of Adenocarcinoma (62%), whilst minimal percentage with undifferentiated type.
Lung Cancer Treatment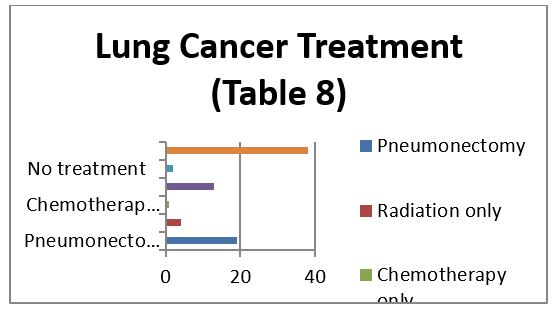 The above bar diagram ascertains the enhanced usage and effectiveness of Lobectomy amongst other techniques, for lung cancer treatment.
References
Joint Commission Accreditation Hospital, (2008). 2009 Hospital Accreditation Standards (HAS). United States of America: Heinemann Publishers, pp.120-150.
Raffell, M. (2007). Health Care and Reform in Industrialized Countries. United States of America: Hoffmann Publishers, pp. 35-60.
Thomas-Brogan, T. (2009). Health Information Technology Basics: A Concise Guide to Health. United States of America: Palgrave MacMillan Publishers, pp. 230-245.
Tyson-Howard, C., Thomas, C. (2009). The Comprehensive Review Guide for Health Information: RHIA and RHIT Health Professionals. United States of America: Routledge Publishers, pp. 90-100.
Time is precious
don't waste it!
Plagiarism-free
guarantee
Privacy
guarantee
Secure
checkout
Money back
guarantee