Poverty in America, Research Paper Example
This Research Paper was written by one of our professional writers.

You are free to use it as an inspiration or a source for your own work.
This paper will measure and explain the poverty in America. Let's define what poverty is and who the poor are. Poverty has been defined by government and statisticians in terms of income and wealth. Over 46 million Americans in 2010 were living below poverty level which was $22,314 for a family of four and $11,139 for an individual (U.S. Bureau of the Census, 2010).
The income gap between the rich and the poor is the highest in decades. "The top-earning 20 percent of Americans – those making more than $100,000 each year – received 49.4 percent of all income generated in the U.S., compared with the 3.4 percent made by the bottom 20 percent of earners, those who fell below the poverty line, according to the new figures. That ratio of 14.5-to-1 was an increase from 13.6 in 2008 and nearly double a low of 7.69 in 1968" (Yen, 2010).
The top 10% of American households held 80% of the stocks while less than 1% of the total stocks were owned by the bottom 40%. Hispanics and African Americans lag behind whites; less than half of African American and Hispanics had homes. Over 49.9 million people are not insured. "It is not a sustainable condition that the more-to-do have the luxury to turn away from poverty as poverty is enough in its own right, but the greatest loss for all of us is confidence in the American Dream defined as having a good job, being able to retire in security, owning a home, having affordable health care and a better future for our children"(What is the most recent poverty guidelines (2000).
Measuring Poverty
Poverty can be measured in a relative sense; for instance, if an individual's income falls to the bottom 20%, then they would consider poor. On the other hand, poor means those whose income falls below 50% of the population. Measuring the poverty in this way is relatively easy to compare across the different countries. There are several essential points for measuring poverty. To consider inflation, poverty levels can be adjusted every year. Clearly, buying a food basket today is more expensive than it was 40 years ago. Secondly, the rule of thumb to make sure that whether the individual level of poverty becomes above or below the poverty threshold is household income. Household income uses gross income yearly before taxes and social security taken out from the paycheck.
It does not contain similar program benefits, including Medicaid and Food Stamps. Fourth, in different parts of the country, the poverty level cannot differentiate among the cost of living. Lastly, the household income of a small family is different than that of a large family and, therefore, the poverty level is adjusted for each family size. For example, the poverty level for a single person was $11,139 in 2010 while it was $45,220 for a family of nine or more (Mazudmer, 2005).
Policies to restore America
Various tasks are completed without question simply because the policies that are meant to bring the American Dream back. If economic insecurity exists along a continuum with highly permeable boundaries between the poor with all the wealthy, programs that further the opportunity for many is very important. Direct government assistance through income based programs ought to be a strategy of last resort. Aside from that, new jobs need to be created so that people are at least able to pay their living wages and ensure that people are well prepared for these jobs. These policies promote strong families which will strengthen the communities in both rural and urban areas. During economic distress, policies meant to aid low wage workers and their families are encouraged and enacted by strong unions. The American Dream is becoming less achievable for people mainly because of the fact that they do not have an adequate job which is due to the lack of adequate skill sets and abilities to adopt the selling point of economic downturn and the opportunities that are generated based only on an expanding economy. We adopt the broadest possible definition of poverty and emphasize proposals for policy reform that can cause opportunity not only by improving jobs but also by providing income supports, encouraging savings and strengthening the community organizations and family institutions that mediate economic opportunity such as schools. Men and women who conduct business with the poor, including teachers, social workers, probation officers and job trainers, recognize men and women who come to an agency with one problem invariably are afflicted with a myriad of problems.
Yet, very few agencies are properly equipped to tackle any issue as opposed to the one presented. If schools, probation departments, job training centers, medical clinics, and other institutions were enhanced into gateways throughout which desperate families could pass into multiple services with regard to their multiple problems, a lot of good may be done. Occasionally, this happens in disconnected forms, essentially in private, nonprofit agencies. The approach, otherwise, must be widespread. Then, teachers could do more than grip amongst themselves about kids not learning, trainers could do far more than instruct in hard skills and doctors could do more in order to obtain a higher degree dispense medication vainly resistant on to the onslaught of disease producing poverty.
Figure 1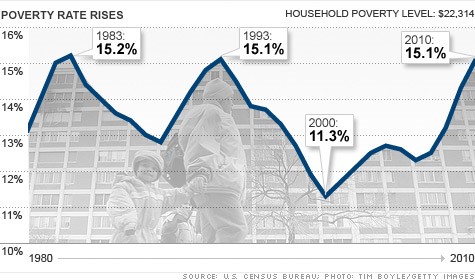 The figure given above shows that between the business cycle peaks of 1980 and 2010, the poverty rate in 1983 was 15.2% while in 2010 it fall 15.1% percent. The household income of the top 1 percent grew 184 percent over these years (The 2011 HHS Poverty Guidelines).
Conclusion
It is substantially recognized that income difference has increased greatly over time, because income growth at the top of the income scale has far exceeded that of middle and lower income families. That investigation, however, relied on shots of the U.S. income distribution in different periods. These innovations have properly motivated concern among those of us concerned about decreased equity in the U.S. economy. Yet a counterargument maintains that while the United States may be more unequal "in the cross section", Americans are more likely to vault across the income distribution, offsetting this increased inequality .
References
Yen, H.; (2010), Income Gap Widens: Census Finds Record Gap Between Rich and Poor. Retrieved from (http://www.huffingtonpost.com/2010/09/28/income-gap-widens-census-_n_741386.html).
U.S. Census Bureau, Weighted Average Poverty Thresholds, 2010, released in September 2011. Preliminary estimates for 2010 were released January 14, 2011.
Contacts and References on the Poverty Guidelines, the Poverty Thresholds, and the Development and History of U.S. Poverty Lines. Retrieved from http://aspe.hhs.gov/poverty/contacts.shtml
The 2011 HHS Poverty Guidelines one versionof the U.S. Federal Poverty Measure. Retrieved from http://aspe.hhs.gov/poverty/11poverty.shtml
What is the most recent poverty guidelines (2000). Retrieved from http://www.irp.wisc.edu/faqs/faq1.htm#year2000
Stuck with your Research Paper?
Get in touch with one of our experts for instant help!
Messenger
Live chat
Time is precious
don't waste it!
Get instant essay
writing help!
Plagiarism-free
guarantee
Privacy
guarantee
Secure
checkout
Money back
guarantee
Get a Free E-Book ($50 in value)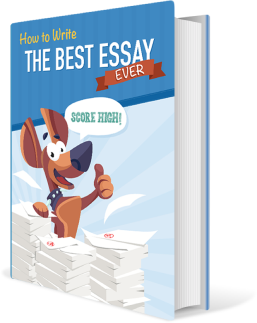 How To Write The Best Essay Ever!