Profile: Muhammad Ali, Essay Example
Pages: 4
Words: 983
Essay
This Essay was written by one of our professional writers.

You are free to use it as an inspiration or a source for your own work.
Introduction
On January 17, 1942, an African American man by the name of Cassius Marcellus Clay, Jr. was born in Louisville, Kentucky. As a child of the South, he understood segregation and injustice in the world. Ali became a professional boxer and in 1959 won the Golden Gloves Tournament. He went on to win a gold medal in the Olympics in 1960. Ali was a successful boxer and retired from the profession to begin spending a great amount of his time with causes he felt were close to his heart.
Although diagnosed with Parkinson's disease and slowly living with its many life-changing effects, Ali has managed to continue his mission of giving to those less fortunate and serving as a voice for those who cannot publicly speak for themselves. His life and kindness have shown the world that a person's fame can be used for the greater good of society, as long as true passion lies within them.
General Life & Boxing Career
Cassius Clay, Jr., had to be a fighter from day one. He was born in the South during the time of Segregation and, due to his race, was not looking kindly upon. After being introduced to boxing at the age of 12, he slowly began to make a name for himself. Ali won the 1956 Golden Gloves Championship, the Golden Gloves Tournament of Champions, and the Amateur Athletic Union's title in the national division for boxing.
Muhammad Ali traveled to Rome in the 1960 Olympics and won the gold medal for boxing. This officially made him a hero in the eyes of many, especially those in the segregated South, who were still struggling to find justice and acceptance. He continued to win match after match and became the Heavyweight Champion of the World in 1964. This put Ali in a classification all by himself.
Private Life
Although Muhammad Ali was a very outspoken man and spoke about his talent for boxing and his ability to sidestep his opponent and win, Ali's personal life was not as molded and concrete. He was in the midst of a personal search for his own spirituality and converted to Islam in 1964. It was then when Cassius Clay officially became known as Muhammad Ali. The conversion to Islam was a peaceful one for Ali, but not for the public, as Ali refused to participate in the Vietnam War due to religious reasons. He continued to be a social fighter both in and outside of the ring.
Ali retired and began giving back to the community that had given him so much. Sadly, however, he publicly announced his fight against Parkinson's disease in 1984. This neurological condition has silently wreaked havoc on Ali's life physically, but has not stopped him from doing what he does best- fighting. Ali did not let Parkinson's defeat him; rather, he used the condition as a means to open the door to a center for those with Parkinson's disease in Phoenix, Arizona. He also has been a known supporter of the Special Olympics and the Make a Wish Foundation.
Philanthropical World
Even after his diagnosis, Ali has made several trips to other countries in the name of peace and helping those in need. His work in the development of programs for those less fortunate and helping impoverished communities has shown what a fighter Ali truly is and how not even a chronic degenerative condition is capable of bringing a strong person down.
Muhammad Ali is no super hero. He is no person who was born into wealth and given his fortune on a silver platter. This is a man who struggled from day one to achieve everything he had and still struggles today, only in a little different aspect. Because of Ali's birth during segregation, he understood the stereotypical way African American people were treated and understood how sometimes the simple fact that a person had a different color skin could make all the difference in what they could or could not do in any given point in time.
Ali never believed in voicing this injustice in a hateful manner; rather, he believed in making things known by doing something better. He worked hard and strived to achieve goals set by himself in order to prove to the world and all those around him that he was just as good as any other person, despite the color of his skin or any other difference there may be. He was born with a talent; thus, he used this innate talent and maximized upon his abilities to fight, thereby gaining the attention of the world. Once the world noticed him, he could then go about helping those less fortunate and doing what he felt most important in life: giving back.
Conclusion
Muhammad Ali received the Presidential Medal of Freedom from George W. Bush in 2005 and opened the Muhammad Ali Center in Kentucky the very same year. His fans wanted to build a center focused on him and the achievements he has made during his prestigious and lengthy career. Ali had a different idea, though.
In the words of Ali, "I wanted a place that would inspire people to be the best that they could be at whatever they chose to do, and to encourage them to be respectful of one another." (Muhammad Ali biography). Respect is something Muhammad Ali worked his entire life at earning. This began from the time he was a small boy in the South and continued throughout his career and into his early days of philanthropy. Respect is something Ali believes in giving to other, though. He believes in the goodness of the human individual and believes there is greatness within us all. This greatness can be used to give to others who have little in life and there is great satisfaction in knowing you used the talents you were born with to help hundreds or thousands of others achieve things they otherwise would not have.
Works Cited
"Muhammad Ali biography." 2012. Biography.com http:/www.biography.com/people/muhammad-ali-9181165?page=2>.
Time is precious
don't waste it!
Get instant essay
writing help!
Plagiarism-free
guarantee
Privacy
guarantee
Secure
checkout
Money back
guarantee
Get a Free E-Book ($50 in value)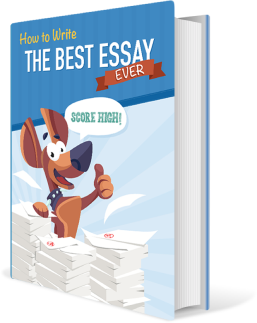 How To Write The Best Essay Ever!