Public Human Resource Management, Research Paper Example
Introduction
Today, the role of human resources has changed within public and non-profit organizations. This is a result of communication technology developments in the recent decades. (Farazmand, 2004)  According to Marquardt and Waddill, (2011), the approach of the company towards technological challenges determines its success rate. Still, the purpose of technology should not be neglected: it should make delivering training and development programs more effective, cheaper using a collaborative approach towards learning. The below paper is designed to reveal what public sector organizations need to change in order to create a "learning organization" that is able to grow competencies, and through these competencies deliver more value for the public. (American Compensation Association's Competencies Research Team, 1996)
Thesis statement: Human resource management has an important role in non-profit and public sector organizations. They are no longer separate departments, but their main role is to support the management in dealing with stakeholder demand and changes through adding value creating competency through training. Human resources should be analyzed in context. (Pynes, 2004, p. 3.)
The role of human resource management in organizations
Bach (2000, p. 3.) states that in the public sector the role of human resources is gaining importance: indeed: it is moving from its previous "neglected" status into a "valued asset" one.
Human resource management has a strategic role, as it has been confirmed before, and as the new theories' review in the literature review section will prove. While strategic, talent management, training and development roles are becoming more important, strategic partnering is still not a widely understood approach, therefore, it needs to be discussed before completing the study. Career planning, development, change planning and implementation are all important roles that are designed to support the management through human resource management. Capacity planning aligned with the organization's goals, targets and skills demand, as well as forecast and system, training development are some of the examples for human resource management's emerging strategic partnering role. Talent utilization, performance management, the development of reward and recognition systems can have a positive impact on not only people working within the organization, but the whole system. (Corporate Leadership Council, 1997)
Current Challenges of Human Resource Management
Some public and nonprofit organizations are downsizing their human resource department due to its non-productive status. Indeed, human resources take part in the process of creating value, strategic resource planning and operations management, contributing towards the success of the organization. Training and enabling talent to develop within the organization should be the main focus, as the reduction of size, funding and resources of non-profit and public organizations means that existing staff talent needs to be utilized, retention has to be increased through training, development and recognition. Further, technological challenges of the 21st Century are also present: enabling staff to effectively use interactive and communication systems requires an integrated approach towards training, personal, career and skills development.
The Role of Training within Human Resource Management
In order to create HR capabilities, there is a need for investing into training and development, according to Bach (2000, p. 6.) The contribution of human resources towards the innovation and productivity of government agencies should not be neglected. Public sector organizations should follow the example of some innovative corporations, making their human resource functions a valuable asset, which is the key source of government agency competencies.  Bach (2000, p. 4.) lists seven dimensions of human resource operations on the strategy level of the organization that can create value. These are: employment security, selective hiring, self-managed team creation, compensation, extensive training, reduced barriers and sharing information.
Private Sector Roles of Human Resource Management
According to the United States Office of Personnel Management (1999, p. 5), the trends of private sector that change the role of HRM into a strategic one are followed by the Federal HR systems. Still, there are some gaps in HR competencies within public and for-profit organizations. The study (United States Office of Personnel Management, 1999, p. 5) confirms that HR staff spends less time on maintaining records, auditing and implementing practices, while the time spent on practice development and strategic business partner involvement significantly increased between 1991 and 1996.
The Importance of Creating Value through Training and Development
According to Tucker & Cofsky. (1994), added value management through human resources is an important tool of employee motivation and communication. Learning new skills according to public demand is a part of creating value for stakeholders. Supporting learning environment also promotes a positive culture within the organization. (Messnarz et al. 2008, p. 3)
Huselid (1995, p. 637) indicates that positive approaches towards training and development are responsible for creating competitive advantage for firms. In the case of public sector organizations, the authors assume that these practices would have an impact on employee turnover, productivity, stakeholder engagement, satisfaction and the overall competency of the agency. Another important theory the author describes is that employees are often underutilized, therefore, they are unable to perform their maximum potential. That is the reason why training, personal and professional development has a great significance. The role of human capital is not only important in for-profit companies, but in the public sector as well.
Learning Organizations
According to Messnarz et al. (2008, p. 3.), positive learning culture is the third most important success factor of organizations. The authors describe a new approach towards learning, which is integrated into the business strategy and processes, calling it "the learning organization". It relates to a company or agency that encourages and supports team learning in order to fully exploit talent and competencies. Learning organizations have a complete infrastructure built to enable learning, talent management and spreading the knowledge across the system. The authors also state that there is a close relationship between processes, job roles and skills, therefore, developing skills should be one of the main focus areas of organizations. While the description of learning organizations is tailored for private companies, the theory will be tested in a private and non-profit environment, in order to reveal the potential benefits of implementing changes on a structural level.
Literature Review
Pynes (2009, p. 5) defines public sector human resource management as crucial, as the processes, activities of government agencies are controlled and owned by people. The position of employees of the state is different from those who work for private corporations. Civil service merit systems are in place to manage workforce and create a culture within the agency that reflects the initiatives of the federal government. The public sector is controlled by the Federal Equal Opportunity Laws (Pynes, p. 56). This also means that the public sector needs to face increased challenges of diversity management, eliminating glass ceilings, discrimination and promoting an inclusive environment.
Managing Added Value
According to a study by Yeung & Berman (1997), human resources can make a great impact on business results. In particular, the authors quote different studies concluded in various business environments, highlighting the impact of training programs on employee engagement, commitment and performance. Motivation can be addressed through life-long training programs and career progression paths developed. However, training creates added value and through high employee satisfaction, the cost of recruitment can be reduced. HR practices are suitable for adding value to the organization's performance, and these practices can be measured through different methods. One of the most commonly used methods of measuring outcomes in human resource management within private sector organizations is the Balanced Scorecard system. It is also used within the public sector. According to a publication created by the U.S. Department of Labor (1993), studies within the public sector show that high performance HR practices that create the best results include employee involvement in decision-making, compensation planning and profit/gain sharing, training and personal development programs and the constellation of high-performance practices in work.
Managing Change
Planning and managing change in an ever-changing environment is impossible without the support of human resources. Organizational planning needs to work alongside with training, development and human resources in order to become ready for challenges and changes of the environment. Human resources should be working with the management to develop competencies that are required to complete processes. When processes, approaches, regulations and stakeholder demand are changing, people's competencies need to change together with the organization. Human resources can also help in the process of adapting a new idea or behavior and gaining commitment from people.
Supporting Management through Training
Lifelong training and employability does not only mean that staff will be able to complete with day-to-day tasks. Several authors detail various benefits of training and managing talent. The capability of creating value within the organization impacts efficiency, competency, commitment of employees and the opportunities the organization is able to take advantage of through lifelong training programs. Further, Messnarz et al. (2008) confirms that learning organizations are created through value added by human resource planning and development. It impacts how the non-profit or public organization is able to respond to changing public demands.
The Impact of Learning and Development Practices on Productivity
Returning to Huselid's (1995) theory about the impacts of learning and development in for-profit organizations and the assumptions made previously about the positive impact of enabling talent on productivity, it can be confirmed that transformational labor relations result in better cooperation, higher level of job satisfaction and improved retention. The implication of the above is that training and development, especially collaborative learning environments and transformation into a  "learning organization" (Messnarz et al. 2008, p. 3.) can have a positive impact on performance.
The Training Process Framework
Pynes (2004, p. 308) notes that enabling talent should be completed as a part of the organization's strategy through motivation and training. Some people might have the skills and competencies to perform a particular task, however, they have no motivation. Creating a comprehensive training plan should be completed step-by-step. When a public sector agency reviews its processes, capabilities and areas of development, they should follow a proven framework, described by Pynes (2004, p. 313)
The first step of designing a training plan that can be implemented in the organization and strategy is needs assessment. The identification of needs should be determined by the results of reviewing public demand for services and competencies. Unlike in for-profit companies, where market demand is assessed, it is important to negotiate between government initiatives, legislation, priorities and the needs of the public. Once the needs of the public and stakeholders have been determined, these can easily be translated into training needs,  reviewing the existing capabilities and skills of employees. One of the most effective ways for determining training needs is a strategic job analysis. It helps organizations determine the formal and practical training needs at the same time.
Next, there is also a need to develop training objectives, followed by a complete curriculum, planning and execution of training delivery, as well as evaluation. Still, without implementing training into employee career development strategies and plans, it is possible that workers will not be motivated enough to learn new skills. This is also a way of making human resources and talent management an integral part of the organization.
KSA and Competencies
The United States Office of Personnel Management (1999, p. 8.) describes the connection between knowledge, skills and abilities and the new term used by modern approaches of human resource management: competencies. Several recent competency models use the old approach of KSI, however, in a new context. As a conclusion, the authors state that "knowledge, skills and abilities (KSAs) and competencies are not mutually exclusive, but can complement and build upon eachother to reinforce desired behaviors." (United States Office of Personnel Management, 1999, p. 8.) This also indicates that attitudes, performance and behavior of personnel can depend on both competencies and KSA-s.
The Competency Model
Reviewing the "old myths" and the "new realities" of human resource management, the authors also conclude their findings in a table, which summarizes the new approaches and requirements of human resource competency management approaches. While the authors of the current study will only quote two statements that are relevant to the research field of training and development, the table is found in Appendix B for further review and reference.
Human resource management's main goal should be to make employees more competitive, not more comfortable. As the most commonly used and most effective way of making employees more competitive is training and development, this statement confirms the thesis of the current study. Further, the government study also states that "HR practices must create value by increasing the intellectual capital".
Discussion
Challenges of HRM in the Public Sector
Pynes (2004) discusses the challenges of a dynamic environment human resource management faces today. The social and cultural changes would be analyzed and the authors would attempt to answer the question: "Can modern human resource management react to a fast-paced environment and support the organization through training?" The author confirms that public and nonprofit organizations today have to face several difficulties, such as decreased budgets, resulting in restrictions in recruitment. Further, the author also concludes that cultural and social, legal and technological challenges are also present in the non-profit and public sector. (Pynes, 2004, p. 396)
The answer provided by Pynes (2004, p. 395) lies in the training existing staff, and instead of creating and expanding organizational capabilities through recruitment, enabling personal and professional development within the agency.
Yeung and Berman (1997) describe their ultimate strategic HR management framework, consisting of several components, all interacting with each other. In the framework, HR practices are closely connected with key results areas. The main areas of the integrative model are shown in Appendix A.
While the framework is designed for private organizations, it can easily be translated to public sector agencies, therefore, in order to analyze the approaches, the authors would like to use it to evaluate outcomes and connections between different segments of the organization.
The business strategy of the framework translates into the mission and vision of the private sector organization. Organization capabilities are relevant to public sector: people, processes, compliance and legislation are present within this result area. Human resource practices influence shareholder satisfaction, customer satisfaction, which translates to public receiving the service, employee satisfaction, as well as creating and strengthening organizational capabilities.
Measures of HRM Practices
In order to measure the outcomes and benefits of human resource management practices, first there is a need to differentiate between three measurement clusters, noted by Yeung and Bergman (1997, p. 330) These three clusters all add to the effectiveness of HRM practices, namely: internal operational measures, internal strategic measures and external strategic measures. Training and development is an integral and crucial part if internal operational and integral strategic measures, and has an impact on external strategic measures as well. A public sector agency, providing health information services, for example, can perform better against government goals and initiatives, if employees are trained on the issues to be communicated towards the public, while the operation management can improve and customer, shareholder (in public sector it is more fortunate to use an umbrella term of  "stakeholders") satisfaction.
One of the main measures used by Kodak, quoted by Yeung and Bergman (1997, p. 331) is "training available to upgrade skills". This indicates that human resource management has a crucial role in increasing capabilities across the organization.
The Question of Turnover
Huselid (1995, p. 635) found a connection between human resource management effectiveness, turnover and productivity. The author states that human resource management practices that include comprehensive employee recruitment, training, reward, recognition and performance management result in higher level of employee involvement, commitment and retention. This is a logical statement, as people generally feeling valued, supported through training and development programs will be more likely to stay on the job. This also will mean that the organization will have more experienced and skilled staff, the public agency will have to spend less resources on recruitment and foundation training of new employees, therefore, the management will be able to increase productivity while saving money. As a summary, Huselid (1995, p. 638) states that "superior HRM practices exceed their true costs, then lower employee turnover and greater productivity should in turn enhance corporate financial performance".
What Competencies Really Are?
Tucker and Cofsky (1994) group competencies the following way: skills, knowledge, self-concepts, traits and motives. Further, the United States Office of Personnel Management (1999, p. 8) also confirms that the increased role of creating competencies indicates that there is a shift from focusing on regulations within human resources towards ensuring that the best possible results and outcomes are produced. Competencies, given that they are built into the organizational strategy can strengthen organizational culture, commitment, to comprehensively describe roles and responsibilities and to align individual and team performance with the goals, visions and missions of the organization. The latter supportive function of competencies should be highlighted when discussing public sector agencies' human resource management practices. The difficulty of managing staff in public organization lies in the requirement of complying with rules, regulations, government goals, objectives, targets and aligning them with the needs of the public. The regulatory environment has a greater impact on work in the public sector, and balancing the different performance measures can be challenging.
Technological Challenges and How Public Sector Deals With them
According to the documentation of the OPM Service Provider Seminar (2008), the government is embracing idea of providing interactive, organizational level training within the public sector. The federal government's e-Training Initiative was designed to utilize the benefits of shared services learning. According to the presentation, the initiative does not only create a cost-effective way of delivering skills, knowledge and competencies, but also creates a positive community of learning and supports collaboration among different agencies. While the challenges of technology are present, and there are often three-four generations working at the same department, e-learning investments are also helping workers getting support in IT, technology, safe database use and analysis. Further, coordinated team approach, integration of team members, sharing of knowledge is made possible through technology. While the funding of government agencies is declining, the federal budget provides sufficient funds for developing a collaborative e-learning experience, up-skilling people through the e-Training Initiative and the GoLearn capabilities and vision scheme. This approach includes transactional HR approaches closely related to learning management and competency management.
Testing the Theories of Learning Organizations in the Public Sector
Visser and Van der Togt (2010, p. 2.) states that in the past public sector organizations were more interested in public policy learning than organizational, therefore, the focus was somewhat on regulations, rules and policies within the human resources management instead of on increasing skills, knowledge, abilities and capabilities. The authors also created a framework for organizational learning within the public sector, similarly to the previously described "learning organization" model within the for-profit world. (Messnarz et al. 2008, p. 3.) They describe learning within the organization as "detection and correction of error". (Visser and Van der Togt, 2010, p. 5.) There are different types of learning that can produce results and correct errors, such as single-loop learning, technical learning, instrumental learning or improvement learning. All these approaches are only effective when they are built into the human resources strategy of the organization, and consequently the system.
One of the situations when this "detection and correction of error" needs to be completed within the public sector is when the organization is not meeting productivity targets. Let us look at a simple example of a family support helpline service within the Administration for Children and Families. The government indicates a goal of 12.000 calls answered and dealt with in each month for the next 12 months. The agency is constantly under-delivering and there is a need for a human resource management strategy to review capabilities, skills, knowledge and competencies. The analysis of the human resource management department shows that some employees answer and deal with three times more calls than others. This has its implication on performance, outcomes and stakeholder satisfaction. In order to enable the power of a "learning organization", the HRM department creates an appraisal system, a reward system based on productivity, while they utilize existing talent by engaging top performers in coaching employees who do not hit targets. This creates a supportive, interactive and positive learning environment while maximizing the capabilities of the organization.
Visser and Van der Togt (2010, p. 3), however, confirm that there is a difference in the learning process in businesses and public sector. While the learning processes and priorities of businesses and for-profit organizations are determined by market conditions, sales expectation and profit targets. Public sector organizations, on the other hand, have a bureaucratic operating environment. Their learning, human resource strategy and processes are determined by federal or local governance, rules, regulations and annual budgets.
Testing the Integrative Model in Public Organizational Environment.
As a final exercise and test of the theories detailed above, the authors would like to review the applicability of the integrative model of human resource management to public sector organizations. (Yeung and Berman, 1997) As previously discussed, some terms should be changed, according to the different role of public sector companies and for-profit organizations. In public organizations, it is important to manage workforce, maintain vision and mission, gain committeemen and increasing performance. The integrative model can be applied for government agencies, as well as non-profit organizations, as the goals are similar, only the outcome is different. Instead of focusing on profits as an end results of increased organizational competencies and productivity, the end result needs to be stakeholder satisfaction, achievement, performance and service delivery. The above literature review and research has shown that indeed, in public sector organizations, performance, stakeholder involvement, outcomes are influenced by the ability of the system to create competencies through training. This proves the initial thesis that assumes human resource management's training and development functions' increased importance within public sector.
The Way Out or the Way Forward?
The way forward for human resource management within public sector is already signposted by the developments of HRM approaches within the private sector. Visser and Van der Togt (2010, p. 2), government organizations need to face the pressure of politics and the public to become more effective, accountable and competent in delivering services. The authors mention two ideas related to policy learning: "the self-evaluating organization" and the "experimentalist organization" developed by organizational scientists.
It is necessary to visit the example of the "Pegasustown prostitution case" drawn up by Visser and Van der Togt (2010, p. 8) to understand the way forward for public sector organizations. (PSO-s) The learning processes and climates are described through the process of how the organization learns to deal with the problem of regulating, controlling and understanding trends within prostitution, taking into consideration the conflict of interest among parties. This implies that decisions and learning patterns in public sector need to be built upon agreement with government initiatives, legislation, media and public opinion, and this sets PSO learning apart from business environments' patterns.
Conclusion
The review of the different roles of human resources within non-profit and public organizations, its impact on operations management, culture and change management has been proven through the research above. Successful internal policies will be summarized within this part of the research paper. The authors have found that while there is a delay in embracing an integrative and structural level approach towards human resource management in the private sector compared to private companies, PSO-s have already realized the numerous benefits of integrating training into reward, recognition, career development and appraisal systems, in order to increase the overall competency of the agency, as well as the productivity of providing services.
It has also been proven that the integrative model of human resource management is applicable to public organizations, and creates higher rate of staff retention, commitment and performance. While the task of creating a framework for non-profit and public organizations to implement a strategy of creating a learning organization is still not complete, the main trends and directions have been identified within the paper. Collaboration, employee and stakeholder involvement, combined with interactive learning built into the system are likely to produce the best results for PSO-s.
The new realities of human resource management should be embraced by first the federal government and then by individual agencies, in order to strengthen employee commitment to values, visions, missions, government actions, regulations and initiatives. Through increasing the value of intellectual capital within the organization, not only the system-level competencies grow, but the value the PSO can provide for stakeholders: the public and other government agencies working jointly on projects and implementation of policies.
The role of human resources within organizations is changing. Instead of a standalone department, it is required to support the management through creating assets. As discussed during the review of literature, one of the most valuable of these assets is competencies within the system. Competencies can be created through learning and development programs, created by human resource management, integrated into the system.
References
American Compensation Association's Competencies Research Team. (1996) The role of competencies in an integrated HR strategy. ACA Journal. Summer 1996. Pages 5-21.
Bach, S. (2000) HR and new approaches to public sector management: improving HRM capacity. WHO Publication.
Corporate Leadership Council. (1997)  Developing a strategic HR function: Aligning individual competencies.  January 1997.  Washington: The Advisory Board Company.
Farazmand, A. (2004) Innovation in strategic human resource management: Building capacity in the age of globalization. Public Organization Review: A Global Journal 4: 3–24 (2004)
Huselid, Mark (1995) The impact of human resource management practices on turnover, productivity, and corporate financial performance. Academy of Management Journal.  June 1, 1995, 38:3 635-672
Marquardt, M., Waddill, D. (2011) The E-HR Advantage: The Complete Handbook for Technology-Enabled Human Resources. Nicholas Brealey Publishing
Messnarz, R., Ekert, D., Reiner, M. (2008) Human resources based improvement strategies—the learning factor. Software Process: Improvement and Practice. Volume 13 Issue 4, July   2008.  355-362 John Wiley and Sons.
Pynes, Joan (2004) Human resources management for public and nonprofit organizations. John Wiley & Sons
Tucker, Sharon A. &  Cofsky, Kathryn  (1994) Competency-Based Pay on a Banding Platform. ACA Journal. Spring 1994. Volume 3. Number 1.
United States Office of Personnel Management (1999) Looking to the Future: Human Resources Competencies.  Part 1-2 Web. Retrieved from http://archive.opm.gov/studies/trans2.pdf
United States Office of Personnel Management (2008) OPM Service Provider Seminar. March, 2008.
U.S. Department of Labor (1993). High performance work practices and firm performance, August. 1993.
Yeung, Arthur, Berman, Bob (1997) Adding value through human resources: Reorienting human resource measurement to drive business performance. Human Resource Management,      Fall 1997, Vol. 36, No. 3, Pp. 321–335
Appendix A
Source: Yeung and Berman,1997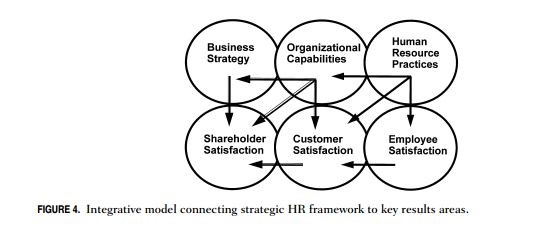 Appendix B
Source: United States Office of Personnel Management (1999) p. 8.
Time is precious
don't waste it!
Plagiarism-free
guarantee
Privacy
guarantee
Secure
checkout
Money back
guarantee