Back to School Offer
Get 20% of Your First Order amount back in Reward Credits!
Get 20% of Your First Orderback in Rewards
Refugees Migrating to Kenya, Research Paper Example
This Research Paper was written by one of our professional writers.
You are free to use it as an inspiration or a source for your own work.
Need a custom Research Paper written for you?
HIRE A WRITER!
Introduction
During the last two years we have witnessed a large influx of refugees into Kenya from its surrounding neighbors of Somalia, Sudan, Ethiopia, Rwanda and Uganda.  Most of these refugees have been fleeing from persecution and genocide in their own countries and they sought out Kenya as a place where they might get food, shelter and a better life. This paper examines this dilemma from the lens of a witness at the health refugee camp in Dadaab. These refugees fleeing as a result of a drought in the neighboring areas.
 Dadaab Refugee Camp
The Refugee camp at Dadaab in Kenya is the world's largest refugee camp. The refugee camp houses over 465,000 people and accommodates 58,000 refugees who do not have access to adequate health care. Of this number it is estimated that 130,000 refugees have inadequate shelter and malnutrition in the camps is in excess of 20%. The majority of these refugees are from Somalia where they have fled from war, drought and starvation.  The camp continues to grow as the exodus continues. (GulfNews).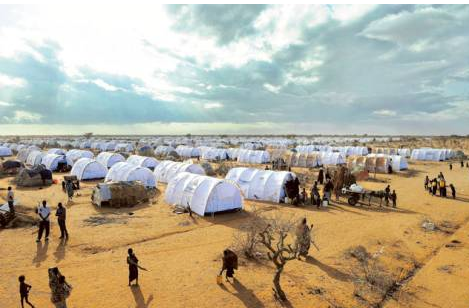 The Refugees
The early part of the problem happened with the droughts in Ethiopia and this displacement of the Anuak people who fled into Sudan. The displacement of the Anuak people came about in 1985 when the Ethiopian Government resettled 17,553 people from the area of Tigray onto the fertile Anuak lands of the Gambella in S.E. Ethiopia.  The Anuak were a small community numbering between 30-40,000 people.  It was a self-sustained community and the Anuak had farmed this land for centuries. The resettlement of the Highland people of Ethiopia into the Anuak land made the Anuaks a minority population and they were persecuted by the new settlers and Government officials. The Government wanted to get rid of the Anuak people and many viewed this as a policy of ethnic cleansing with a view towards extermination of the Anuak people and culture.
The plight of the people was such that they fled as refugees into war torn Sudan with little help of recognition or food aid.  There was little hope for those who fled into Sudan who were dealing with their own domestic refugee problem resulting from the war.  This spilled over from Sudan with the result of starvation and war resulting in a large exodus to Kenya.  Similarly people in Rwanda fled from the war and genocide in that country.
Dadaab Refugee Camp – Conditions
The conditions in the refugee camp are stated as deteriorating on an annual basis. More refugees arrive and there simply isn't the infrastructure or medical support to help them. With the inability to create new latrines and the absence of seawater there is a grave risk of a major cholera outbreak in the camps.  It has been estimated that they need to raise at least $25 million to provide the essential services and improve conditions in the camp before we face a crisis of huge proportions.  (Nzwili).
Hermander one of the Aid workers responsible for the campo stated "The 250,000-odd refugees who flooded into Dadaab over the past two years mean that there is now a funding shortfall of at least $60 million for the five camps," (Nzwili). Other world Agencies like Oxfam have stated that pumping money and international aid into the camps is only a 'band aid' solution and that we require a whole new strategy to deal with this problem owing to the rising number of refugees flooding to the camps.
As an international aid worker inspecting the site you will be amazed at the sheer scale of the site and the dire situation which the people find themselves in.  Clustered together in large groups and open tents in an open terrain that is short of food and drinking water, the camps have become reliant upon international aid workers for their very survival.  The camp is rife with mosquitoes and as such there is almost an epidemic of malaria across the camps. There are few mosquito nets and hardly any anti-malarial drugs in order to help these people. (Essa).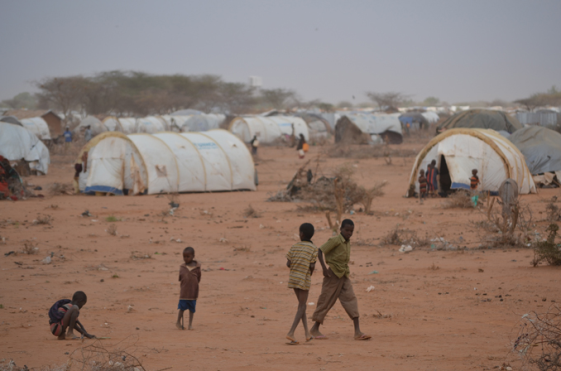 The volunteer doctors and nurses from the international aid stations are doing the best they can but they are helplessly outnumbered and under resourced. "Inside the Médecins Sans Frontières/Doctors without Borders (MSF) hospital in Dagahaley, a collection of makeshift structures made of wood and steel, hundreds of children were being treated for severe malnutrition" (Essa)
The Doctors feel they are fighting a losing battle but without the initial international aid this would rapidly deteriorate even faster into a humanitarian disaster story.   The camp depicts literally tens of thousands of tents assembled with bits of timber and covered with plastic sheets for cover.  There is very little food or sanitation and the area have livestock mixing with the people adding to the further threat of disease.  The camps have donkeys that drop their faeces throughout the camp area further adding to the threat of disease.  In early 2012 the international medical aid of Médecins Sans Frontières, stated that despite some aid coming to the area it was nevertheless wholly inadequate and nobody has looked towards finding a long term solution to the problem. (Médecins Sans Frontières).
The camp has also been located on a flood plain and this has compounded the problem as the camp becomes flooded out in the rainy season making it impossible to get in deliveries of food and water, health care and essential medical supplies. In addition the added concentration of poor sanitation conditions in this period further escalates the risk of a major cholera epidemic.  Other diseases like typhoid and dysentery are also present in the camps. (William J. Garvelink).
The Kenyan police have reported that the camps have now been infiltrated by terrorist groups from Al Shabab who have been kidnapping and terrorising victims in the camps further adding to their nightmare of living.  The terrorists have pushed further into Kenya and this has resulted in the camps being at the centre of a battleground where the refugees have received little sympathy or co-operation from the police as they attempt to stop the incursion of these terrorists into Kenya. (William J. Garvelink)
The Kenyan Government have stated that they can no longer carry the burden or be responsible for the welfare of these refugees and they have demanded that they be relocated and resettled in Somalia.  The issue is that everybody is looking at the plight of the refugees as a serious problem without exploring the opportunity side.  If these people could be provided with better living conditions and the opportunity to work it might be possible to turn this situation around.  There is already some enterprise being conducted from the camps – "A 2010 study commissioned by the Kenyan, Danish and Norwegian governments showed that the Dadaab camps bring about $14m into the surrounding community each year." (Tiff).
Conclusion
The reality is that nothing of any significance is likely to happen until it too late and Kenya is faced with a serious health crisis from the camps.  There is no real international effort or response because of the danger involved working in or around these camps.  It is unlikely that the situation will improve in the neighboring countries of Somalia, Sudan and Ethiopia.  As such Kenya is like to see a continued influx of refugees into the camps.  During the rainy season the camp poses a high risk of a major cholera epidemic and this could spread from the camps into the more populate areas of Kenya.  There are no contingency plans to deal with potential epidemics coming out of the camps and equally because of the scale of the place it would render any international aid as futile.  (Doctors without borders)
Works Cited
Doctors without borders. Dadaab Briefing Paper: Back to Square One. 16 2 2012. http://www.doctorswithoutborders.org/publications/article.cfm?id=5774&cat=special-report. 29 7 2012.
Essa, Azad. Dadaab, the world's biggest refugee camp. 11 7 2011. http://www.aljazeera.com/indepth/features/2011/07/201171182844876473.html. 29 7 2012.
GulfNews. World's largest refugee camp in Kenya faces funding crisis. 13 7 2012. http://gulfnews.com/news/world/other-world/world-s-largest-refugee-camp-in-kenya-faces-funding-crisis-1.1048022. 29 7 2012.
Médecins Sans Frontières. Worsening Conditions in Dadaab Refugee Camp. 15 3 2012. http://allafrica.com/view/resource/main/main/id/00030976.html. 29 7 2012.
Nzwili, Fredrick. Dadaab refugee camp conditions 'worsening'. 12 7 2012. http://www.anglicanjournal.com/nc/other/news-items/c/sliders/article/dadaab-refugee-camp-conditions-worsening-10960//abp/141.html. 29 7 2012.
Tiff, Melanie. Kenya can turn the Dadaab refugee camps into an asset. 18 4 2012. http://www.guardian.co.uk/global-development/poverty-matters/2012/apr/18/kenya-turn-dadaab-into-asset. 29 7 2012.
William J. Garvelink, Farha Tahir. The Dadaab Refugee Complex: A Powder Keg and It's Giving Off Sparks. 1 3 2012. http://csis.org/publication/dadaab-refugee-complex-powder-keg-and-its-giving-sparks. 29 7 2012.
Stuck with your Research Paper?
Get in touch with one of our experts for instant help!
Messenger
Live chat
Time is precious
don't waste it!
Get instant essay
writing help!
It's a Free, No-Obligation Inquiry!
Plagiarism-free
guarantee
Privacy
guarantee
Secure
checkout
Money back
guarantee
Get a Free E-Book ($50 in value)
How To Write The Best Essay Ever!