Role of Education in Human Capital and Economic Development, Essay Example
Pages: 11
Words: 3058
Essay
Introduction
Human capital holds a very significant place in economic growth of various countries. Economists consider education as a proxy with regard to human capital. Even then there always lays a doubt as to whether school education can be considered as a measure for weighing potential of human capital. This is because it is commonly believed that educational inputs have no role to play in human capital while educational outcomes determine the potential. The capability of an individual to think creatively, solve problems, to recall facts for interpretation in changing situation are factors considered as key elements in determining merit of human capital. Thus human capital that is job specific is set aside and general purpose capital is considered for this study. It is a common belief that education has an effect on development of human capital. This is why quality and quantity of education is considered as the factor contributing to economic growth of the country. This paper tries to analyse the role played by education in growth of human capital as well as economy in Vietnam and South Korea and to analyse the same using Solow growth model.
Education as a good
Education is considered as an economic good and is to be apportioned. It can not be obtained easily. Education is considered as a capital and consumer good by economist. This is because education offers the consumer utility and in case of production it is an input to goods and services. Education as a capital good is used for developing human resource that is an integral part of social and economic transformation. In this case education is considered as human capital where skill development is of great importance in activities of production. In order to understand whether education has an effect on human capital all we can do is to check the change created by education in mental stage of human capital. (Furnham). It can be seen that several countries like Vietnam and South Korea have attained economic growth with the increase of education. Investment in education is the factor that has lead to sustain and rapid economic growth in both these countries.
Vietnam
It was only in 1991 that Vietnam understood importance of education in development. Education was understood as capital investment for development and socio economic development of nation during this period. In 1993 the goal was further concretized and an educational goal was set. This included human resource training as one among the three educational goals. An Educational Development Strategy was adopted for 2001 – 2010 and this clearly defined the importance of development of human resource. According to this "A high quality human resource is one of the primary driving forces to enhance industrialization modernization processes; it is an essential factor for social development, rapid and sustainable economic growth"
Role played by various levels of education in development of human resource or skills are also mentioned by authors (Vu Ngoc Hai et al.). Education as well as training system of Vietnam is relatively developed. National educational system of the country is consistent, complete and diversified for it includes training and education from pre school level to post graduation level. There are several approaches and training forms of education. Network of schools is expanding through out the country. Diversification of educational system was in terms of delivery modes, types, resources and trends in education through out the world. Quality of human resource development has increased considerably with these reforms in education.
Education system
Vietnam now follows an educational system that is similar to most other countries of Asia. There are educational programs out of school like literacy campaigns and social welfare educational activities. Post secondary education is divided to two levels. College level called as certificate and university level as graduation. In these two there is facility for general and special education. Master or doctorate degree programs are also there after completion of bachelor degree. Ministry of Education and Training is the authority under which public education takes place. Education in Vietnam is mostly operated by government and some private institutions have started to operate in university and secondary levels. Vietnam has five multidisciplinary universities (DrTran-Nam).
Achievements
Even though Vietnam is an economically backward country and have understood the role of education in human development very recently, they have made several achievements in this area. Vietnam was at 122 positions in HDI index of human development in 1995 among 174 countries. By the year 2000 they reached the position of 109 among 173 countries. During 2001 Vietnam stood at 109 ranks though it was ranked 130 in PPP GDP per capita ranking. Between 1995 to 2001 Vietnam improved its position from 152 to 130 in PPP GDP ranking. At the same period ranking changed from 125 to 109 in HDI ranking. From this it is evident that performance of Vietnam in education was much lower than in GDP. Thus educational development of Vietnam have not kept in pace with economic developments (World Bank).
Literacy rate
Educational achievement of Vietnam is not that strong in comparison to its neighbors. Adult literacy rate of Vietnam was 20 percent during 1985 and it declined to 6.3 percent in 1995. By 2000 – 01 this reached to 7.3 percent. Adult literacy rate in China is 14.2 percent, Indonesia is 12.7 percent and in Philippines it is 4.9 percent during this period. Enrolment rate to education in Vietnam during 1995 was 55 percent while in China this rate was 60%, Indonesia 62 percent and in Philippines 80% and 61.6 percent at world level. During 1995 – 2001 this rate has increased to 64% in Vietnam. Education attainment rate at higher education as well as secondary level is very low in comparison to other countries in the world (DrTran-Nam).
Level of education
Level of education
Other nations
Vietnam
High Growth
Moderate growth
Low growth
Primary
98
91
74
80 – 85
Secondary
64
46
34
35.2
Post Secondary
23.4
14.3
5.7
2-3
 From the above table it is clear that percentage of literacy at all levels of education is low Vietnam. At post secondary level of education growth is only 2 – 3 percentages which are far below lowest growth level. In university level also enrolment rate is not showing any increase during 1980 – 1993 and this remains two percent. Further it is also found that level of gender disparity is highly increasing at university level. It is also seen that children from families of high income enjoy certain benefits and advantages over those from low income families at both secondary as well as university level.
South Korea
In South Korea from 1960 onwards considerable capital accumulation was done during this period along with investment in primary level of education. With this there occurred a gradual shift in value added chain towards commodities that are more sophisticated. During 1970's government of the country tried to improve the access towards quality of vocational and technical training. Higher education was expanded during 1980's and more investment was made in indigenous research and development. National Research and Development Program was established for this purpose (Mok and Welch). Capabilities of research and development in industries were continuously expanded and this drew more skilled labour which was the result of higher education system that was existing in the country. Various factors have contributed to rapid economic change in South Korea and the major factor is the harnessing of potential of technology and science with the introduction of high level of education. High education lead to an information structure that contributed a great deal in South Korea's human labour and thus economic growth (Shipstone and Burt).
Educational system
Education was of great importance to South Koreans from traditional time itself. A national education system was established during 1948 – 1961 by government. This was with the aim to improve human resource by providing high quality education to children. From 1953 onwards primary education was compulsory in South Korea. In 1955 South Korea released national curriculum for first time and this was reformed six times till now. South Korea now has one of these highest levels of literacy in the world. Economic growth of the country is due to highly educated people (Choi).
Students are to attend 40 hours of school in five days a week. Total school days per year are 220 and it is the Ministry of Education and Human Resource that looks after education system in country. As per seventh national curriculum which was introduced in 2000, facilities are provided for students to learn according to their talents, aptitudes and abilities. There is one common course to equip children with basic life skills like traditional three R's, information technology literacy, foreign language and interpersonal skills (Kim).
Benefits of educational system
South Korea has been expanding or reforming their curriculum according to changes in world. They have made a curriculum to make children capable enough to align to 21st century's knowledge based society. Primary education is completely free of cost and at rural areas free education is provided further at middle level as well. Education in Korea aims to build human resource that is really creative, make students self leading, ensuring to local community expanded autonomy, earning for lifelong, open education and expanded autonomy to schools in operation and planning of curriculum (Choi). All these reforms aim to keep the position of South Korea as leader in e-learning.
South Korea incorporated the Public Education enforcement Plan in its seventh curriculum in 2004 with an aim to make South Korea a nation based on information and knowledge. In 2005 on demand curriculum revision system was introduced with an aim to deliver knowledge when ever it became necessary (Choi).
Difference between Vietnam and South Korea
Educational system of Vietnam cannot be claimed to be much developed and well structured. There are several issues with the educational system which hold it back in comparison to educational system of South Korea. South Korea has a very advanced system of education aiming human resource development (Choi). Authority for regulating educations is itself called as Ministry of Education and Human Resources Development. It is evident from this that South Korea provides education with an aim to develop human resource. All educational reforms in South Korea are based on Information and Communication Technology in the field of education. Even in 21st century Vietnam has not even though t of implementing such a policy. Adult literacy rate in the country is very less in comparison to neighbouring states and enrolment rate to various levels of education is also at lower rate (DrTran-Nam). Education system of Vietnam is not that organised and has several issues. They are:
Lack of resource
Inefficient utilization of resources
Constraints of weakness of teaching staff
Irrelevant and outdated syllabi, teaching and assessment methods
Lack of coordination between production, education and employment
Inappropriate management (World Bank)
At the same time educational system of South Korea is highly centralised and standardised. With the curriculum evaluation system that is in existence quality of education can be easily evaluated. At the same time in Vietnam there is no such effort to revise their curriculum or to update it according to new developments and needs. Though system of education is in accordance with that of other countries in Asia they have not adopted any advanced curriculum. Even they are not having good faculty to provide quality guidance to their children and youth. Education is not oriented for human resource development in Vietnam while human resource development s the main goal of education in South Korea.
Statistical data
In order to understand the role of education in human resource development and thus on economic development it is necessary that some data is analysed. It is a known that better human resource contributes to better economic growth and this will lead to higher total factor productivity (TFP) level and GDP in countries. Education is the only method to develop a human resource that is better and advanced to enhance economic growth.
Human development indicator 1980 – 2011(South Korea)
| | | | | |
| --- | --- | --- | --- | --- |
| Year | Korea (Republic of) | Very high human development | OECD | World |
| 2011 | 0.897 | 0.889 | 0.873 | 0.682 |
| 2010 | 0.894 | 0.888 | 0.871 | 0.679 |
| 2009 | 0.889 | 0.885 | 0.869 | 0.676 |
| 2008 | 0.886 | 0.885 | 0.869 | 0.674 |
| 2007 | 0.881 | 0.882 | 0.866 | 0.670 |
| 2006 | 0.873 | 0.879 | 0.863 | 0.664 |
| 2005 | 0.866 | 0.876 | 0.860 | 0.660 |
| 2000 | 0.830 | 0.858 | 0.840 | 0.634 |
| 1995 | 0.793 | 0.834 | 0.816 | 0.613 |
| 1990 | 0.742 | 0.810 | 0.792 | 0.594 |
| 1985 | 0.690 | 0.786 | 0.769 | 0.576 |
| 1980 | 0.634 | 0.766 | 0.749 | 0.558 |
Human development indicator 1980 – 2011(Vietnam)
| | | | | | |
| --- | --- | --- | --- | --- | --- |
| Year |   | Viet Nam | Medium human development | East Asia and the Pacific | World |
| 2011 | | 0.593 | 0.630 | 0.671 | 0.682 |
| 2010 | | 0.590 | 0.625 | 0.666 | 0.679 |
| 2009 | | 0.584 | 0.618 | 0.658 | 0.676 |
| 2008 | | 0.580 | 0.612 | 0.651 | 0.674 |
| 2007 | | 0.575 | 0.605 | 0.642 | 0.670 |
| 2006 | | 0.568 | 0.595 | 0.631 | 0.664 |
| 2005 | | 0.561 | 0.587 | 0.622 | 0.660 |
| 2000 | | 0.528 | 0.548 | 0.581 | 0.634 |
| 1995 | | 0.486 | 0.517 | 0.544 | 0.613 |
| 1990 | | 0.435 | 0.480 | 0.498 | 0.594 |
From the above two tables it is evident that human development in Vietnam is below world level and far below that of South Korea. South Korea has a very high human development which is far higher than world rate. In Vietnam we can see that there is increase in human development over years. But they are not able to meet world level even now and the difference has also reduced in recent years. During 1990 difference between world level and that of Vietnam was almost 160 points and this difference has reduced to 90 by 2011. South Korea has a high rate which is more than 200 points higher than world level in 2011 and during 1990 this difference was only 148. South Korea has achieved more than medium human resource development while Vietnam is far behind this rate.
GDP growth rate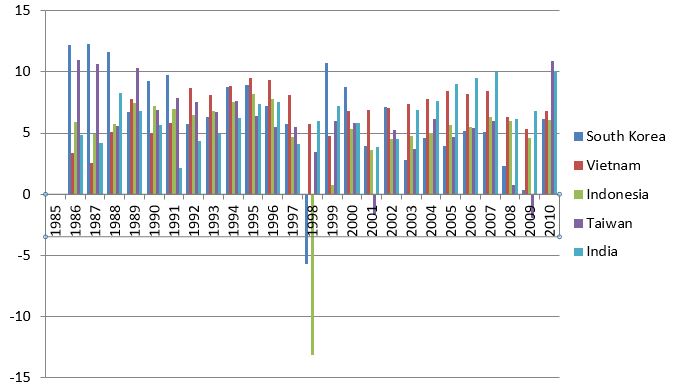 Source: www.indexmundi.com
With the introduction of better educational policies and reforms Korea and Vietnam has been able to achieve growth rate in its GDP as well. South Korea was able to achieve higher GDP rate than Vietnam and many other countries as shown above. Countries like India and Taiwan where education is of prime importance leads in GDP rate than Indonesia and Vietnam where education system is very weak.
TFP growth in South Korea
| | | | | | | | |
| --- | --- | --- | --- | --- | --- | --- | --- |
| Country | Year | Output growth | Capital growth | Labour growth | Capital contribution (%) | Labour contribution (%) | TFPG contribution (%) |
| South Korea | 80 – 85 | 0.4038 | 0.4577 | 0.0759 | 0.2537 | 0.1458 | 0.6005 |
| South Korea | 85 – 90 | 0.4865 | 0.5662 | 0.1703 | 0.3147 | 0.2554 | 0.4299 |
| South korea | 65 – 90 | 2.1951 | 3.5934 | 0.7357 | 0.4721 | 0.2385 | 0.2894 |
Source: www.indexmundi.com
From the above tables it is evident that with better education reforms TFP and GDP rate of both Vietnam and South Korea has increased. This is possible only with a good human resource and thus education plays a major role in development of human resource (Psacharopoulos and Woodhall) and thus leads to growth of TFP and GDP in a country.
Solow model
According to Solow growth model, production functions through labour (L), technology (A) and physical capital (K). Natural resources and land are not considered as factors of production in this model.
Y (t) = F (K (t), A (t) L (t))
Model considers AL as effective labour and technology as labour augmenting. Thus output over time is only affected by A, K and L. Thus according to this model those countries with high rates of investment in labour and technology will develop more capital and output from each worker with population growth and capital depreciation rates being low. Model further predicts that those countries having higher population rate is likely to produce outputs more aggregately with all others factors being equal.
Gregory Mankiw, David Romer and Philippe Weil modified this model to include human capital which further enhanced the performance of this model. In this model human capital is input as a capital much similar to physical capital K.
n is the rate of population growth
? is depreciation
L labour force
k is capital per worker
y income per worker
s is rate of savings
k and y will not remain constant as population (k) keeps on growing and same is with technology leading to growth of y. Hence time (t) is given as subscript. As
k = K/L and y = Y/L
Kt = AtLt (s/ n + g + ?) 1/1??
Yt = AtLt (s/ n + g + ?) ?/1??
According to Solow model with technology those countries having higher level of technology (A) and those with higher technological growth rate (g) will have more capital and output from each worker in a steady state. Then Y = n+g.
Assuming that each country is I, equation for y will be
yi = Ai [si/ ni+gi+?i] ?/1??
Production function of TFP in labour augmenting technology terms is
Y = BK? L1??
= K? (B1/1?? LL) 1??
Conclusion
It is evident from various studies that education plays a crucial role in development of human capital and thus to economic development. If education is of high quality capable enough to develop skills among human capital that are in demand in economy it will create significant contributions to economic development and growth. From the application of Solow model it is clear that education plays a major role in human growth and thus economic growth. This is because education leads to development of technology and at the same better equipped and skilled labour. Labour and technology are the most important factors leading to increase in productivity according to Solow model. Hence better education and technology will lead to higher productivity and over all economic growth.
References
Choi, E. Korean Educational Policies and Current Issues. Korea: Chungbuk National University, 2006.
Bank, World. World Development Report. New York: Oxford University Press, 2000/01.
DrTran-Nam, Binh. "Education Reform and Sustainable Development in Vietnam:A Preliminary Analysis." Conference on Sustainable Development in Vietnam. University of Maryland, 2003. 1 – 25.
Furnham, A. The shape of self-evaluation: Implicit theories of intelligence and judgments of intellectual ability. Personality and Individual Differences. 2001. 1381-1405.
Kim, S. "Globalisation, Statist Political Economy, and Unsuccessful Education Reform in South Korea." 1993 – 2003, Education Policy Analysis Archives (2006).
Mok, K and Welch, A. Globalization and Educational Restructuring in the Asia Pacific Region. New York: Palgrave Macmillan. 2003.
Psacharopoulos, G and M. Woodhall. Education for Development: An Analysis ofInvestment Choice. New York: Oxford University Press. 1997.
Shipstone, K and Burt, S. 25 years on: A replication of Flugel's (1947) work on popular views of intelligence and related topics. Journal of British Educational Psychology. 1973. 183 – 187.
Vu Ngoc Hai et al. Education of Vietnam: Renovation and Development for Modernization, Education Publishing House, Hanoi, Vietnam, 2007.
Time is precious
don't waste it!
Plagiarism-free
guarantee
Privacy
guarantee
Secure
checkout
Money back
guarantee