Root Cause Analysis, Essay Example
Pages: 1
Words: 895
Essay
Root cause analysis (RCA) is gaining credence within the healthcare industry in identifying problems and determining solutions. Root cause analysis is process whereby an investigation is conducted and problems are analyzed. Investigators are required to look beyond the problem and attempt to understand the underlying cause of the problem or situation that has arisen. This allows investigators to prevent the re-occurrence of problems and implement solutions for the underlying causes, which may be a problem in processes, activities, or behavior. Furthermore, RCA aims to identify lessons and areas for improvement in order to promote better outcomes and prevention of re-occurrence. To be effective, root cause analysis is required to be performed systematically and should be supported with necessary evidence. Problems arising within the healthcare field are usually influenced by a variety of factors, thus making identification of the root cause doubly hard. A timeline or sequence of events should be established during the initial part of the investigation in order to identify and understand the relationships between causative factors, the root cause and the problem or issue at hand.
In the given case scenario, a 75-year-old female was admitted for pneumonia in bed #1 of Room 10 on a medical telemetry unit. The patient has slight confusion and she was alone at the time. Meanwhile, another patient is staying at bed #2, inside the same room. The shift was very busy because of the high patient load and the ward is short of one nurse. The nurse comes in to see the patient at bed #1 and gives her the due medications. It is at this point that the nurse realizes she has given the medications intended for patient at bed #2 to the patient at bed #1.
Methods
            Medication errors are the most common problem and continue to have a significant impact within the healthcare industry. Medication errors continue to be a significant threat in patient safety and has cost the industry an estimated of 177 billion dollars annually in relation to morbidity and mortality. In the United States, 1.3 million people are injured annually and 1 person dies every day due to medication errors. To arrive at the root cause, various methods and procedures can be implemented, depending on preference and policy of the institution.
The Five Whys
The simplest method for conducting a structured root cause analysis is the 5 Whys. The question why is posed to determine underlying causes or relationships until a conclusion is reached. Below is the application of this method in the scenario above:
Issue/Problem:
Administration of medication to wrong patient
Why was medication administered incorrectly? Nurse did not check patient identifier
Why was the patient not identified correctly? Nurse was in a rush
Why was the nurse rushing? Nurse has an increased workload during the shift
Why is there an increase in workload in the ward? One nurse phoned in sick
Fishbone diagram/Ishikawa diagram
The Fishbone diagram or Ishikawa diagram is another useful visual tool that allows problems to be analyzed at an in-depth manner. The diagram is laid out like a fishbone, hence the name and allows factors to be grouped. Due to its layout, factors can be assessed individually and contributing factors can be clearly seen. In the diagram below, three factors were considered to have led to the medication error, namely: person, policies and work environment. Descriptions or situations that relate to the major factor are listed underneath its name, thus providing a clearer picture of the situation.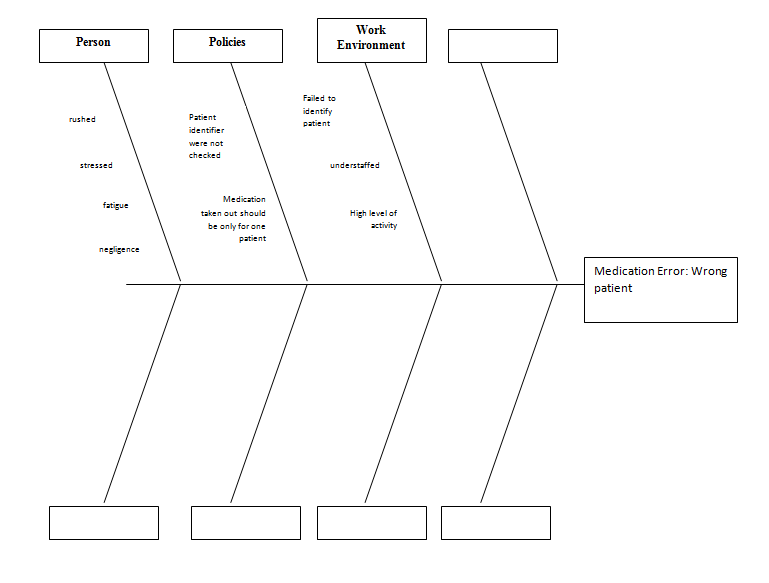 Discussion
Errors in medication administration have been largely attributed to individual practitioners, predominantly nurses, physicians and pharmacists. However, an open culture must be initiated within the healthcare field in order to address the underlying causes and reasons for medication errors and to determine failures within processes or policies that can lead to these fatal errors. In the scenario above, the medication error clearly resulted from incorrect identification of the patient. The hospital clearly has rules in place in relation to the process of administering medications and calls for the nurse to check at least two patient identifiers. Overburdened nurses working in a highly stressful environment also contributed to the medication error as interruptions and rushing work can serve as distractions and allow more room for error. This can also lead nurses to cut corners in order to save time, thus failing to follow correct procedures and protocol. However, the underlying cause of these things was the staff shortage.
After the implementation of a root cause analysis, it is essential to carry out a proposed action plan wherein identified failures are controlled, managed or adjusted. In the scenario above, the underlying cause was due to the ward being short of one staff. Hospital policy clearly indicated that the nursing supervisor must be contacted immediately if there is staff shortage. There is a need, therefore, to emphasize to staff the need to communicate with superiors regarding staffing problems and other related situations. Improvements in promoting medication safety can also be implemented by the organization through assessment of practices, the development of interventions and by providing feedback, particularly to frontline staff about rendering safe and quality care.
References
Institute of Medicine (2000). To err is human: building a safer health system. Washington, DC: National Academies Press.
US Joint Commission on Accreditation of Healthcare Organizations (2004). Reporting of Medical/Health Care Errors: A Position Statement of the Joint Commission on Accreditation of Healthcare Organizations. Retrieved from http://www.jcaho.org/accredited+organizations/patient+safety/medical+errors+disclosure
Time is precious
don't waste it!
Plagiarism-free
guarantee
Privacy
guarantee
Secure
checkout
Money back
guarantee