Severe Weather, Case Study Example
The 2019 tornado outbreak was extremely potent and destructive, with far-reaching consequences. A total of 324 people lost their lives, and the cost of this tornado outbreak was the highest ever recorded. There were 363 tornadoes, the most ever recorded in a single outbreak. Heavy rains caused flash floods, which further submerged the storm's victims. In Vilonia, Arkansas, the first tornado touched down on May 25. It persisted until May 29 and caused extensive damage. Different factors contributed to this enormous epidemic. Such a storm could only be produced under ideal circumstances. The trough that swept over the southern United States triggered this epidemic. There was a developing cyclone that centered on this area of low pressure. The resulting wind shear was catastrophic when a jet stream collided with this trough from behind. The impacted regions also had high temperatures, between 70 and 90 degrees.
Increases in rainfall, floods, droughts, and exceptionally hot and cold periods have been seen globally during the last decade. Some of these storms have been so violent that they set new records for intensity. That is to say, the winter of 2012–2013 was the wettest on record for the United Kingdom (ibid). Extreme weather occurrences have been on the rise recently, and many experts aren't yet able to agree on whether or not this is a result of human-caused climate change and global warming or if it's instead the result of natural climatic variability (Gensini & Tippett, 2019).
Over the past several decades, the globe has seen an increase in the frequency and severity of severe weather events. Scientists believe that the quickening pace of climate change due to global warming has had a role in this phenomenon. A rise in human activity, including industrialization at its current rapid pace, is a primary cause of global warming. In addition, the ozone layer's depletion, caused by the abundance of greenhouse gases in the atmosphere, lessens that layer's ability to shield the Earth's surface from the sun. Extreme weather has been documented throughout history, but climatologists claim that the extremes we're seeing in the 21st century are unprecedented.
Synoptic scale analysis
Predicting tornadoes in the United States has relied heavily on parameter-based and pattern-recognition prediction approaches during the last fifty years. These analyses focused on synoptic-scale cyclones, characterized by a cold, dry midlevel air mass located underneath a warm, moist low-level air mass that extends poleward. Synoptic-scale cyclones, which are conducive to tornado formation, arise over the central and eastern United States and undergo gradual changes as they go westward. A dryline may be the first source of the tornadic thunderstorms that plague the Great Plains. A cold front may replace the dryline as the synoptic-scale storm develops and travels eastward across the Great Plains.
Unpredictable, never-before-seen, locally-specific, and out-of-the-ordinary weather patterns are the hallmarks of extreme weather. Historically, climatologists have been able to categorize different places based on the types of weather they've experienced there. Weather patterns are unpredictable, and atmospheric conditions are exceedingly severe, although this phenomenon has evolved significantly. The combination of rising temperatures and dwindling precipitation quickly transforms semi-arid regions formerly into true deserts (Lagerquist et al., 2020). The most significant human activity contributing to global warming is the clearance of vegetation for agricultural, industrial, and settlement uses. Hurricane Katrina's 2005 landfall in the United States is an example of the severe weather conditions that have become commonplace across the globe.
Relation of Global warming and extreme weather condition
Today, global warming has become one of the most pressing global problems. Scientists have contended that the warming effect of artificial greenhouse gases and carbon dioxide production is dangerous to human existence. The rising sea levels, shifts in weather patterns, and resulting changes in animal life are all negative consequences of global warming. Climate change has been linked to a wide range of difficulties. Sea level rise is the most significant of them. Cities and communities along the low coast may get inundated, as has happened in Egypt, Bangladesh, and the Netherlands (Chernokulsky et al., 2020). Second, it's no secret that rising temperatures contribute to a shift in the way our weather behaves. Flooding, more frequent storms, and other forms of extreme weather are wreaking havoc in certain regions of the globe. Third, animals may feel the consequences of global warming. Some fish populations may be impacted, and disease-carrying insects may flourish. Finally, the difficulties caused by global warming may be mitigated partly by human actions. The creation of carbon dioxide is something that must be stopped. To do this, we can replace fossil fuels like coal, gas, and oil with renewable energy sources. Further, tree planting is an option for mitigating the issue. Trees remove carbon dioxide from the air while simultaneously creating oxygen (Kalinin et al., 2022). Using less power has a direct impact on atmospheric CO2 concentrations.
Modelled Data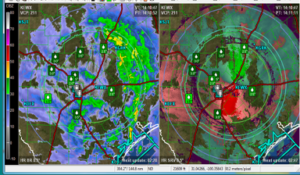 Figure 1: Report on Weather Conditions
Problem statement
According to studies, the Earth is now experiencing far more severe weather than humans have been used to for a very long time. Extreme weather is linked to global warming, mostly caused by human activity. On the other hand, many argue that the world's atmosphere has not altered. They say that only weather patterns have altered. However, they must acknowledge that the new patterns are unpredictable and out of sync with the seasons. Climate change is the cause of the more common occurrence of severe weather, such as heavy downpours, blizzards, and extended droughts (Choo et al., 2018). Significant holes have formed in the ozone layer, leading to a rise in global temperatures (Dube & Chikodzi, 2021). This, in turn, has disrupted the traditional weather patterns that humans have relied on for centuries. It is a pressing concern to find solutions to mitigate its effects and return the atmosphere to normal. Realizing that human activities need to be more ecologically sensitive and that climate change is the primary cause of severe weather events is the first step in accomplishing this goal.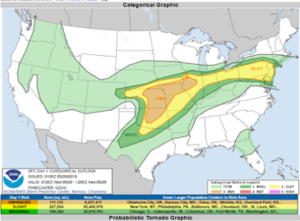 Figure 2: Probabilistic Damaging Wind Graphic
Research Justification
The United States Geological Survey (USGS) published a study on climate change and wildlife health that was utilized as a primary source for this project. This research details how rising global temperatures are affecting the health of animals throughout the globe, both wild and domestic. Images such as images, maps, and graphs are provided to back up the statements made in the study, which gives an analysis of the changes in the planet's ecology (Henderson et al., 2020). In addition, wildlife illnesses are analyzed thoroughly, and it is concluded that climate change and global warming are major factors in the extinction of animal species (Bell et al., 2019). The second is a report on the state of extreme weather and climate change by the Climate Communication group. Again, the report's main body supports and clarifies the factual data shown in the report's accompanying graphs and visuals. The primary difficulties induced by global warming are highlighted in the paper, including a reduction in cold weather, precipitation, floods, and droughts.
Sea Levels
Sea levels have risen significantly since the beginning of the Industrial Revolution due to global warming. The concentration of heat-trapping gases in the atmosphere has increased due to human activities like burning oil and clearing forests. This means that the Earth has warmed by 1.5 degrees Fahrenheit since 1880. Another factor in the ocean's warming is the increase in air temperature. More than half of the world's freshwater sources are stored in land ice, such as ice sheets and glaciers, and this ice is melting as the planet warms (Ellis et al., 2019).
Consequently, glaciers worldwide, including Greenland's ice sheet, are quickly losing ice and contributing unneeded water to the seas. Land subsidence and shifts in ocean currents also play significant roles in driving sea levels upward. These factors are the primary causes of the elevated sea levels along the East and Gulf coastlines of the United States, which are known as "hot spots." One-third of the state's population resides in low-lying coastal regions, making this an especially pressing problem. Additionally, around 40% of the national GDP comes from non-coastal regions. Extreme vulnerability to flooding due to climate change is present along the coasts of Florida, California, North Carolina, South Carolina, and Louisiana. People in those states live fewer than 3.3 feet above mean sea level. The average sea level may rise in the next century if greenhouse gas emissions continue to rise and land ice melts.
Upper air charts
Researchers have shown that as the global average temperature has risen, so too have the frequency and severity of extreme weather events like floods, blizzards, and droughts in different regions. For example, flooding is a constant problem in places where heavy downpours are common due to severe storms. As a result of the high temperatures, flash floods often arise in heavy precipitation, which has had major consequences since most impacted regions are never identified as susceptible (Ingrosso et al., 2020). Extreme weather is exacerbated by climate change, and one of its effects is tornadoes. They develop when air from the surface of the Earth is moistened by the sun and then collides with air higher in the atmosphere, which is much drier.
In the end, the updraft is defeated by the downdraft, ushering in the dispersing phase, and a great quantity of precipitation is created. The warm, moist air that fed the thunderstorm is cut off at the ground as the gust front spreads out ahead of the storm. Despite a reduction in rainfall intensity, lightning is still a threat. The NOAA Storm Prediction Center, staffed by meteorologists who monitor meteorological conditions throughout the United States around the clock, issues severe thunderstorm watches when conditions meet its criteria (Wu et al., 2021). Depending on the watch's size, it might include a whole state or many neighboring ones. Keep an eye on local TV stations or listen to NOAA Weather Radio to get alerts about severe weather so you can be ready in time. If severe weather is seen or indicated by radar, meteorologists at the local NOAA National Weather Service Forecast Office will issue a severe thunderstorm warning for the affected region. When a warning is issued, people and property in the storm's path are in immediate danger.
Devastating tornadoes may disrupt operations for days or weeks, particularly if they are unexpected and of unknown strength. According to scientific research, the vast majority of people throughout the globe have adjusted to the severe climate. They call these conditions "the new normal" since efforts to return them to a "normal" state are few, and results from the few tried techniques have been disappointing. The world must be made more aware of how human activities alter atmospheric composition and, by extension, influence climate patterns, and this needs to happen immediately (Weyrich et al., 2020). Since humans are morally obligated to preserve their environment, it is crucial to include them in any efforts aimed at doing so.
Researchers have shown that big severe weather events have been increasing over the last several decades. Credible data shows that the rise may be directly attributed to human actions. Due to the continued depletion of the ozone layer, global warming will accelerate as long as these chemicals continue to be released in large enough quantities. As a result, the planet's climate undergoes various shifts, including heatwaves, lengthy droughts owing to low rainfall levels, and massive downpours in certain regions. Extremely high temperatures persist for an extended time as heat waves. For example, a month-long heatwave hit Texas in 2011 and the Midwest in 2012, among the longest on record for the United States.
Experts say that the likelihood of these catastrophic weather events occurring and inflicting significant damage has grown due to human-induced climate change. The worldwide prevalence of drought is indicative of unusually severe weather worldwide. Extremely high temperatures enhance the rate of evaporation at the Earth'sEarth's surface and the loss of moisture from plants owing to dry soils, leading to a prolonged lack of rainfall. Drought is often caused by various circumstances, including low humidity and strong winds. Drought is the most common weather emergency recorded worldwide, and climate change is largely to blame for the erratic rainfall patterns contributing to this problem. If the global average temperature does not decrease or remains high for an extended time, dryness is a real risk, even in traditionally rainy regions.
Related Events- HURRICANE IRMA
For 37 straight hours, Irma pounded Barbuda as a category 5 hurricane with 185 miles per hour winds, reducing the whole island to ruins and destroying 90% of its buildings. Once again, Hurricane Irma made landfall in Southwest Florida near Marco Island on September 10, 2017 at 07:00 pm GMT as a category 4 storm, producing 6 feet of rainfall and gusts of around 120 mph and knocking out power to seven million people across five states in the United States. Comparing Irma to Harvey, the latter was less devastating. Hurricane category 5 strength was achieved when the storm progressed across the water with an average temperature of roughly 30 degrees Celsius, above the freezing point of water. Waves generated by Hurricane Irma's storm surges were almost 20 feet greater than normal, causing widespread devastation across the Atlantic Basin (Pilguj et al., 2022). The NHC issued evacuation orders for most of the Atlantic Basin before the storm's impact. The evacuation procedure was made more difficult in Florida because of petrol shortages and traffic congestion caused by mandatory evacuation orders. Of the 6.5 million individuals who were told to leave, just 77,000 made it to safety (Lawrence et al., 2020). As a result of its unprecedented damage in the Florida Keys and the Atlantic Basin, Irma was also a tragedy. Over 102 people were killed, 75 of them in Florida, all communication lines were wiped out, 60% of the population lost their homes, over 8 million people were impacted, high winds tore the roofs off of buildings, the string of islands was obliterated, trees were uprooted, and streets became waterways. Hundreds of thousands of Floridians were impacted by Hurricane Irma's statewide assault. Large sums of money were spent due to Hurricane Irma, with estimates ranging from $100 billion to $200 billion. As of September 13, Irma had mostly gone, but the extraordinary social reaction has allowed the state to move ahead with its rebuilding efforts. Roofs were ripped off during the Hurricane, so resilience is something to consider. Protecting homes with Hurricane clips might be useful for residents. High temperatures and power outages contributed to the majority of fatalities in Florida.
Weather Change
Climate change due to global warming has a role in almost all-weather phenomena. While natural variability plays a significant role in producing severe weather, global warming has an ever-increasing impact. Extreme weather events, which are more likely to occur as a result of global warming, have been occurring with increasing frequency. While this is true, our knowledge of how global warming contributes to weather shifts is growing. Recent precipitation variations are larger than most climate models projected because warmer air can hold more moisture (Kalina et al., 2019). Wildlife and domestic animals alike are severely impacted by the climatic shifts brought on by human-caused global warming. All creatures are at risk from the spread of illness due to the warming temperatures and accompanying increases in humidity and precipitation, but wildlife is particularly vulnerable. In the Northern Hemisphere, rising temperatures have facilitated the spread of parasite illnesses with intricate life cycles. For instance, the black-legged tick, which is harmful to local animals and cattle because it transmits a variety of illnesses, including Lyme disease, has been expanding throughout North America (Sherman-Morris et al., 2020). Similarly, disease-transmitting bean ticks have been identified in Sweden and Norway. Feeding ticks carried by migratory birds most likely bring on this problem.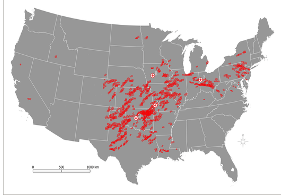 Figure 3: Tornado warning 
Drenching rains are another symptom of the unusually severe weather that has been seen recently throughout the globe. According to climatologists, rainfall levels and patterns have shifted significantly over the last several decades. Greater precipitation has been occurring regularly in several previously designated high rainfall zones. Consequently, many streets and other types of infrastructure have been washed away, and flooded areas have been severely damaged (Sanders et al., 2020). Climate scientists believe that the frequent occurrence of intense downpours is partly due to the high rates of precipitation that come from flooding. Weather extremes are commonplace as a result of global warming. The hot air may take in more vapors when the atmosphere is full of hot air. As soon as the vapor is entrapped in the atmosphere, it may be used by the mechanisms that trigger precipitation to occur. As a result, rainfall patterns may vary, and it's crucial to remember that climate change is a key factor in these shifts.
The same is true for storms, the severity, and frequency of which are very sensitive to the degree to which human activities have influenced climate change. Extreme weather across the globe is often connected with four different forms of floods. The first is flash flooding, which often occurs in rocky streams and is brought on by sudden, heavy rain. The second is urban flooding, which is brought on by rapid and intense rainfall. Climatologists have found that cities are more likely to flood because of impervious surfaces like roads and parking lots (Johnson et al., 2021). The third kind is river flooding, when excessive water is drained into a river. Finally, we have coastal flooding caused by storms that drive significant amounts of water toward the beach. Finally, a rise in precipitation causes heavier downpours, which raises the sea level, which in turn causes coastal flooding, mostly caused by human-induced climate change.
Hurricanes are another solid evidence demonstrating the world's current apocalyptic weather. Heavy rain and gusts of 73 to 136 knots are the hallmarks of these strong tropical cyclones. A rising sea surface temperature that occurs for no apparent reason is a major contributor to storm formation (Zanocco et al., 2019). Due to this factor and the rising concentration of gases that trap heat from the atmosphere, major storms are occurring more often. Researchers in the field of climatology has hypothesized that the proliferation of human activity in and around the world's oceans and other big bodies of water, as well as the inefficient disposal of both solid and liquid waste, are major causes of the recent spate of hurricanes.
The same factor has also contributed to the dramatic rise in the frequency and severity of winter storms. According to reports, most hurricanes in the United States during the previous two decades have caused significant economic damage. The most important factor contributing to this issue is the increased frequency and severity of unexpected storms. Due to these two factors, it has been very challenging for the proper authorities to implement efficient disaster preparation and mitigation plans. According to research, changes in weather patterns have been linked to several causes, including human activities like expanding world population and decreasing poverty levels.
Conclusion
This research examined how severe weather affects people's need to take time off work. The probability of missing work due to a storm has been calculated and shown to be unaffected. The lack of a hurricane's impact may be traced to a resilient labor market due to prior exposure to natural disasters. However, the likelihood of missing work due to rain is affected. The answer to this question is context-specific; for instance, agricultural and retail employees may take more time off than office workers due to weather or other unforeseen circumstances. On the other hand, it's less likely that someone working in manufacturing or the government will have to miss work for an extended time. Poor road conditions, interruptions in public transit, and unanticipated home situations were all cited as potential causes of the rise in absenteeism. However, companies that plan for employees to continue working despite inclement weather might expect a reduced absence rate.
Given the lack of previous work in this field, future researchers must consider some factors when estimating outcomes, particularly when using survey data. First, as health issues are a potential factor in workers' absences from work, such information might serve as a useful control variable in the research. Second, pinpointing the precise processes through which inclement weather influences absence is possible. Third, the study needs to provide a precise description of adverse weather. Fourth, it is still being determined whether or not companies allow employees to work from home during severe weather (Zamanian et al., 2020). This allows for the data to be better captured in subsequent surveys. In addition, the quarterly frequency of the labor force survey allows for incorporating weather-related items.
Some climatologists blame human activities that have contributed to the greenhouse effect increase as contributing elements to global climate change. Human actions are not the only probable cause of climate change, as studies have shown, but it is crucial to emphasize that human-induced climate change has played the largest influence in modifying weather patterns throughout the globe. Natural sources of climate change, such as volcanic eruptions and orbital adjustments, have disrupted the atmospheric equilibrium and contributed to ozone depletion. Climate change is to blame for the more frequent and severe weather events that have been happening throughout the planet.
The melting of glaciers, drying up water sources, and shifting plant maturation times are all consequences of climate change. Because of climate change, there has been a significant shift in the world's average temperature. Tornadoes, hurricanes, droughts, storms, floods, and torrential downpours are just examples of the severe weather that the globe is now experiencing. Humanity must now reevaluate how its actions are upsetting the delicate equilibrium of Earth's atmosphere. The appropriate authorities should gather together to effect several changes and ensure they have everyone's backing. Reducing emissions and implementing sustainable waste management are crucial steps in combating global warming; everyone must recognize this.
References
Bell, J., Gebremichael, E., Molthan, A., Schultz, L., Meyer, F., & Shrestha, S. (2019, July). Synthetic Aperture Radar and Optical Remote Sensing of Crop Damage Attributed to Severe Weather in the Central United States. In IGARSS 2019-2019 IEEE International Geoscience and Remote Sensing Symposium (pp. 9938-9941). IEEE.
Chernokulsky, A., Shikhov, A., Bykov, A., & Azhigov, I. (2020). Satellite-based study and numerical forecasting of two Tornado outbreaks in the ural region in June 2017. Atmosphere, 11(11), 1146.
Choo, S., Min, K. H., Kim, K. E., & Lee, G. (2018). A Case Study of Tsukuba Tornado in Japan on 6 May 2012. Journal of the Korean earth science society, 39(5), 403-418.
Dube, K., & Chikodzi, D. (2021). Characterisation and Impacts of Tornado-Induced Flooding and Windstorms in Mpumalanga Province, South Africa. In The Increasing Risk of Floods and Tornadoes in Southern Africa (pp. 257-269). Springer, Cham.
Ellis, K. N., Mason, L. R., & Gassert, K. N. (2019). Public understanding of local tornado characteristics and perceived protection from land-surface features in Tennessee, USA. PLoS one, 14(7), e0219897.
Henderson, J., Nielsen, E. R., Herman, G. R., & Schumacher, R. S. (2020). A hazard multiple: Overlapping Tornado and flash flood warnings in a National Weather Service Forecast Office in the Southeastern United States. Weather and Forecasting, 35(4), 1459-1481.
Ingrosso, R., Lionello, P., Miglietta, M. M., & Salvadori, G. (2020). A statistical investigation of mesoscale precursors of significant tornadoes: The Italian case study. Atmosphere, 11(3), 301.
Kalina, E. A., Jankov, I., Berner, J., Alcott, T., Olson, J., Dowell, D., … & Alexander, C. (2019, December). Using Model Ensembles and Stochastic Parameter Perturbations to Forecast Severe and Hazardous Weather. In AGU Fall Meeting Abstracts (Vol. 2019, pp. A34C-03).
Kalinin, N. A., Bykov, A. V., & Shikhov, A. N. (2022). Object-Oriented Estimation of the Short-Term Forecast of Convective Hazardous Weather Events in Perm Krai by the WRF Model. Atmospheric and Oceanic Optics, 35(4), 423-433.
Johnson, V. A., Klockow-McClain, K. E., Peppler, R. A., & Person, A. M. (2021). Tornado climatology and risk perception in central Oklahoma. Weather, climate, and society, 13(4), 743-751.
Lagerquist, R., McGovern, A., Homeyer, C. R., Gagne II, D. J., & Smith, T. (2020). Deep learning on three-dimensional multiscale data for next-hour tornado prediction. Monthly Weather Review, 148(7), 2837-2861.
Lawrence, J. M., Hossain, N. U. I., Jaradat, R., & Hamilton, M. (2020). Leveraging a Bayesian network approach to model and analyze supplier vulnerability to severe weather risk: A case study of the US pharmaceutical supply chain following Hurricane Maria. International Journal of Disaster Risk Reduction, 49, 101607.
Gensini, V. A., & Tippett, M. K. (2019). Global Ensemble Forecast System (GEFS) predictions of days 1–15 US tornado and hail frequencies. Geophysical Research Letters, 46(5), 2922-2930.
Sanders, S., Adams, T., & Joseph, E. (2020). Severe weather forecasts and public perceptions: an analysis of the 2011 super outbreak in Tuscaloosa, Alabama. Weather, climate, and society, 12(3), 473-485.
Pilguj, N., Taszarek, M., Kryza, M., & Brooks, H. E. (2022). Reconstruction of Violent Tornado Environments in Europe: High?Resolution Dynamical Downscaling of ERA5. Geophysical Research Letters, 49(11), e2022GL098242.
Sherman-Morris, K., Pechacek, T., Griffin, D. J., & Senkbeil, J. (2020). Tornado warning awareness, information needs and the barriers to protective action of individuals who are blind. International Journal of Disaster Risk Reduction, 50, 101709.
Weyrich, P., Scolobig, A., Walther, F., & Patt, A. (2020). Responses to severe weather warnings and affective decision-making. Natural Hazards and Earth System Sciences, 20(10), 2811-2821.
Wu, I. C. N., Mathews, A. J., Liu, H. L. S., & Rose, N. (2021). A historical geospatial analysis of severe weather events in Oklahoma state parks: A park management perspective. Journal of Park and Recreation Administration, 39(2).
Zamanian, S., Rahimi, M., & Shafieezadeh, A. (2020). Resilience of sewer networks to extreme weather hazards: past experiences and an assessment framework. In Pipelines 2020 (pp. 50-59). Reston, VA: American Society of Civil Engineers.
Zanocco, C., Boudet, H., Nilson, R., & Flora, J. (2019). Personal harm and support for climate change mitigation policies: Evidence from 10 US communities impacted by extreme weather. Global Environmental Change, 59, 101984.
Time is precious
don't waste it!
Plagiarism-free
guarantee
Privacy
guarantee
Secure
checkout
Money back
guarantee