Sports and Leisure Facilities in Guildford, Coursework Example
Leisure and sport activities have become a preserve of many who want to spend quality time enjoying themselves from their routine schedules which are always hectic. Governments have seized this opportunity to have in place infrastructure and other facilities which are aimed at ensuring a smooth stay of the tourists (BBC News). Tourists will always be attracted to a place owing to the level of hospitality, security and accessibility of the most attractive sites. Guildford Borough Council has not been left behind in this respect. They have embarked on negotiations with other interested players to come up with an economic strategy (Coles 204-22). They have done so due to the fact that the economic growth of an area can only be achieved by working with a number of players in various sectors. Their new strategy is aimed at ensuring that Guildford retains its top performing economic status in Surrey beyond 2031. To achieve this they need to have an innovative, smart, balanced and socially sustainable economy. By having such an economy the quality of life, not only for the residents, but even the visitors will be improved significantly.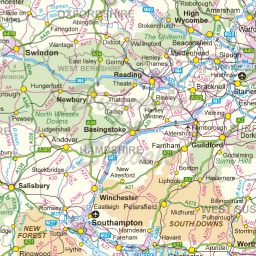 Figure 1. Major areas of attraction within Guildford Park
Source DigiMap for  schools
Aims Of Investigation
The study aims at pinpointing the main areas which attract outsiders for both sport and leisure activities. This will be realized by looking at what the authorities in Guildford have done to cultivate an environment where tourist feels more welcome. The study will seek to investigate areas which have been instrumental in increasing the tourists' numbers and what all stakeholders are doing to enhance the economy. Any venture not involving locals always has its progress curtailed. To this end the local participation will be looked at and ways of their increased participation addressed.
Location Map Of The United Kingdom (In The World)
United Kingdom is located in the continent of Europe and its latitude and longitude are 51* 36' N and 00*05'W. The country borders Belgium, Denmark, France, Germany, Ireland, Netherlands Norway and Faroe Islands.
Guildford location in the UK: Guildford is located on the western edge of the county of Surrey, which is within a short commuting distance of London. There is a resident population of around 134,000 and this ranks the highest among the districts in Surrey. The majority of the land area in borough is rural whereas the major urban areas are located in the town centre of Guildford as well as the western fringes of the borough on the outskirts of the town of Aldershot. The area is near the two main airports in the UK among them Heathrow International Airport, which means that the visitors do have easy access to and out of Gilford (Penrose, J. 2011).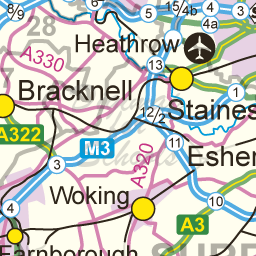 Figure 2.  Location of Guildford within the United Kingdom
Source: DigiMap for Schools
Globalization: The world has emerged as a small, interconnected village owing mainly to the technological advancement. This has come in areas of communication, transport, industrial development and cultural interaction. Thus, globalization can be termed as the process of interaction and integration among people, companies and governments. As a result of globalization, trade between countries has been enhanced, cultural ties strengthened and security enhanced. It is as a result of globalization that Guildford has managed to attract tourists from far and wide.
Hypothesis
Do factors such as closeness to London and the major airports in the United Kingdom attract people to sports and leisure facilities in Guildford? Does the indulgence of Guildford Council result into an increase in the number of tourists visiting Guildford area?
Methodology
I carried out my experiment by going around asking people several questions of a survey my teacher provided for us-firstly, I visited the Surrey University Sports Complex from around 9.30am to 12pm and the Guildford Spectrum from 13pm to around 15.30pm.
Analysis Of Results
Tourism: Tourism is a difficult term to define as it encompasses many aspects. For it instance the tourism sector covers hotels, restraints, pubs and clubs, travel agencies, attractions, sports centres and recreational activities such as gambling (Brotherton, Wood).  The night economy in Guildford is built around three main activities which are eating out, drinking and entertainment in the form of cinemas, dance halls and art facilities (Collins 26). This night time economy supports many within Guildford and that's why the authorities have supported this establishment.
Guildford has played a key role in ensuring that tourism remains a vibrant activity within the area. What constitutes tourism and the visitor economy are a myriad number of small and medium enterprises and these have been sighted and prioritized for growth by the Enterprise M3 LEP. Guildford Borough Council has a variety of facilities such as G Live and the Yvonne Arnaud Theatre, which end up attracting national tourist's shows. The council has also in its possession a number of smaller arts facilities such as the Guildford House gallery.
The borough in addition to the above tourist attracting facilities has got the Scheduled Ancient Monument of the Castle, the Royal Horticultural Gardens at Wisley and the Chilworth Powder Mills. The rural areas are not left out in this venture of attracting tourists within their area. The valuable contribution to tourism and the visitor economy by the rural come in the form of the vast national Trust Properties and the attractive landscape gardens for instance Loseley House and the Clandon Park. Majority of businesses and other stakeholders in the area always strive to develop better tourist facilities alongside looking for new opportunities which are aimed at attracting more tourists with the Enterprise M3 LEP.
The area boosts of various leisure areas such as Gala leisure, Restaurant and cafes which are spread within Guildford. Entertainment facilities such as clubs and pubs, cinemas and other theatre facilities have served as key components which are attracting tourists. There is a new trend with Guildford where focus is on leaner business models and an inclination towards lifestyle alongside health on-line retailing. The tourism and the night-time economies are also aligning themselves with the cultural activities in the area which have the potential of attracting more tourists in the area.
Support for the local retail sectors and town centre activities: The authorities in the borough of Guildford are going out to see that they extend their support to the retail sector. These are an important group of people without whom tourism could not be what it is at Guildford. This retail sector is supported by night economy, which is based around the town centre and the town's youth and student population.
Improved provision of public transport: Another aspect which attracts tourists in Guildford is the modernized form of transport and its closeness to the main airports such as Heathrow International airport. This means that tourists don't get lost as they navigate their way in and out of Guildford. Transport is supplemented by train transport, which helps to avert decongestion. With such mode of transport, access to the existing parks is simplified.
Geographic context: According to a report which emanated from a 2009 survey, it shows that Guildford is a thriving local economy, which has a highly skilled workforce, an attractive living and working environment. Guildford is located in the heart of the 'prosperous South East' close to London. This is an ideal location to be situated in, but this can lead to complacency with the Borough assuming that in the post recession recovery it will be swept along with the future growth of the region. More requires to be done for the Borough to remain a competitive area especially in relation to a tourist attraction.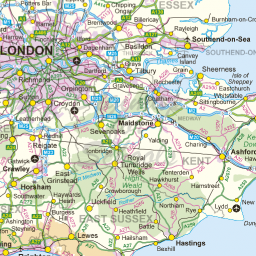 Figure 3: City of London
Source: Digimap For Schools
By virtue of sport and leisure Guildford has managed to move a step ahead in terms of creating job opportunities for many. These are the direct jobs, especially in the facilities which are in town. Those in the rural areas do support this venture by way of availing services and produce for consumption by those in town. It is a result of this drive to attract tourist that the authorities in Guildford are in the improvement drive of the numerous infrastructure facilities so as to avert jams and congestion in town. (Collins, M.F.)
Hierarchy Of Sports And Leisure In Guildford
In relation to hierarchy of the leisure facilities in Guildford, regard must be had to the high end facilities especially those located in the town centre and frequented by foreigners as well as those in the country side which offers ample space for various activities (Lashley, Morrison). Such high end locations include those casinos and bars which are mainly located in town and sport facilities found in the country side (Slattery). The locals also do practise local tourism and thus they also fit in the lower hierarchy especially in the areas they do frequent within Borough Guilford.
But much as there are those facilities aimed at attracting lovers of sports and leisure, Guildford authorities need to do more. This can be determined from carrying out a SWOT analysis of the area.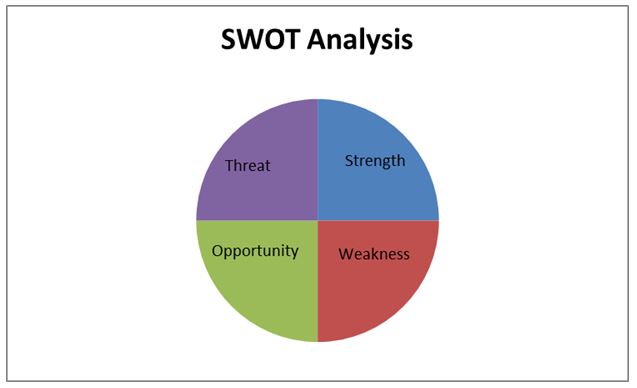 Figure 4: SWOT Analysis
Source: Author's work
Strengths: Guildford is located centrally with the south east region and its closeness to London and other major urban centre's is a plus as its goods and services get a ready market.
The economy of Guilford has been excellent in terms of performance for the last six years, whereas more than 5,000 new jobs have been created throughout Borough. What has led to this unprecedented growth are business and commercial services, health, financial and leisure and tourism clusters.
The area has in its possession a highly skilled workforce, whose qualifications level does exceed county, regional and national averages. These high level qualifications of the workforce turn out to be a major factor in attracting and retaining firms in the knowledge and high technology clusters.
Attraction and nurturing of international and local businesses has been boosted by the presence of The University of Surrey and the Surrey Research Park.  Guildford is a widely recognized international centre of excellence for firms in clusters such as knowledge, health bio-technology and ICT (Jones).
Weaknesses: The area has got its own weaknesses and thus do border on the levels of deprivation of a number of local communities despite the area being dubbed as an affluent. These areas have got low levels of education attainment, low levels of engagement in post-16 education and training and higher levels of benefit claims.
The area has three wards which have high concentration of employees. The areas are Onslow, holy Trinity & Friary and St. Nicolas and as a result of this high concentration of employees in these areas there is a lot of congestion in and around the town during the peak hours especially on the main routes around Guildford. This is heightened by the high levels of daily in and out-commuting.
There has been a sharp decline in employment in the erstwhile traditional employing subsectors such as retail and manufacturing. People have shifted their attention to the service sector and here there is a mismatch of skills of the labour force especially those who do not adapt quickly. This is known as structural unemployment.
Opportunities: Guildford is a place for the rich since its affluent status has resulted into rates and weekly earnings exceeding county, regional and national averages. This leads to significant revenues for firms in clusters such as leisure, catering and retail that depend upon local disposable income (Roberts).
Threats: As a result of the traffic congestion being witnessed in Guildford and the scarcity of land for expansion, this may lead to some firms consider locating out of Borough. This is not ideal for sport and leisure development (Janson 22).
Another threat is mainly given to an increasing skills gap, especially where those with lower skills do not meet the requirements of local business and those with the desired skills are lured away by higher salaries offered in London and adjacent districts.
Conclusion
For sport and leisure to be an attractive venture in Surrey University Sports Complex and the Guildford Spectrum, various players especially the authorities have to come on board to offer their input. An area always strives to be ahead of others in terms of strategic positioning since others might grab that position and ran away with it. Guildford has managed to attract tourists due to its strategic location and proximity to London; alongside the service industries it has which support this venture (Cooper 11). But the weaknesses and threats pinpointed above need to be addressed so that it can remain a key area which attracts sport and leisure lovers to the highlighted centres.
Works cited
Brotherton, B. and Wood, R. Hospitality and hospitality management. In Lashley & Morrison (eds). Oxford: Butterworth Heinemann, 2000. Web
Cameron, David. Tourism vital to British Economy. London: BBC News. 2001. Web.
Coles, T.E. 'The implementation of sustainable tourism: a project-based perspective', in Gössling. S., Weaver, D. and Hall, C.M. (eds). London, Routledge: 204-22, 2008. Print.
Collins, M.F.  Raising the Game: Sights on Sport. Leisure Management. Oxford: CAIB Publication, 1996. Web.
Collins, M.F. Does a new philosophy change the structure?  Leisure and ICT in local government in Midland England. Eastbourne: LSA, 1997. Web
Cooper, I.S. Summer Musings. Leisure Management. Oxford: CAB International, 1995b. Web.
Janson, K. Tourism Policy: the challenges ahead. London: Destination UK Magazine, May/June issue, p.22, 2011. Print.
Jones, P. Introduction to Hospitality Operations. London: Cassell, 1996. Web.
Lashley, C. & Morrison, A. In Search of Hospitality; Theoretical perspectives and debates. Oxford: Butterworth-Heinemann, 2000. Web.
Penrose, J. Government Tourism Policy. London: DCMS, 2011. Web.
Roberts, J. The Commercial Sector in Leisure. London: ERSC, 1997. Web.
Slattery, P. Finding the hospitality industry. London: Journal of Hospitality, Leisure, Sport & Tourism Education, Vol.1, No.1. 2002. Web.http://digimapforschools.edina.ac.uk/cosmo/osmapper?session=141ce355-95d4-4a3d-ac79-babe76b24c07
Time is precious
don't waste it!
Plagiarism-free
guarantee
Privacy
guarantee
Secure
checkout
Money back
guarantee