Spousal Abuse, Research Paper Example
How have the high rates of divorce, single parenting and spousal abuse affected US Society?  Do you consider these family issues to be private problems or social problems?
Introduction
High rates of divorce, spousal abuse and single parenting are all examples of social problems that are endemic in US society today. Much of this is attributed to the changing roles in society, the pressure and demands of work and environmental conditions that are not conducive to raising families. These and other sociological issues are explored in this paper.
The rising rates of divorce
The  social issues of divorce and  the rising status of women at work ,as opposed to being the traditional stay at home mom and raising the family, have contributed to rising divorce rates. It is useful to contrast two distinct societies and for this illustration we will compare the USA to Japan.  Statistics in 2002 showed a general decrease in divorce rates in the USA whilst Japan showed an increase. It is anticipated that in 2010 they might converge.  One of the big noticeable changes in American society  is the amount of women that live alone.  This trend established from the 1960's and was attributed to women having more freedom and the ability to earn their own living.  As such the concept of marriage is more by a matter of choice in US modern society.  Fig 1 shows the decline in divorce in the USA from the 1980's and the steady increase i in Japanese society.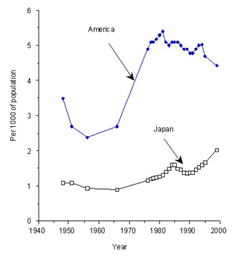 The concept of traditional families in the USA has changed.  Now in a large number of cases both parents work outside the home and many with extensive periods of travel required.  This has changed the traditional role of Mother ( the stay at home child rearer) and the Father ( the provider or main income earner).  Owing to career many parent delay having children until their 30's or early 40's.  Equally the foundation has changed seeing the Fathers taking much more responsibility in the maternal upbringing of the Children.  Most people picture a traditional family (in stereotypes the normal family) as a married man and woman and their biologic children.  The model has now changed and may comprise anything from a gay couple, two nonrelated grownups that raise children or that of a single parent. This in turn has created a very different environment for the children being raised.
The rising social status of women
A recent article appeared in Forbes Magazine that sparked off a round of controversy.  In essence the article cautioning the male population to stay away from career women.   An interesting point of view but in itself is insufficient to constitute a final verdict.  Most marriages are built upon strong foundations and these are normally formed in the first 5 years.  Communications is vital and that both parties are prepared to listen and respect each other's point of view. It should not be a question of dominance but a partnership of equals. True love is based upon mutual respect and understanding and the willingness of both parties to make sacrifices for the other.
Certainly having Children too early in a marriage is not a good proposition until these foundations have been securely lain.  Elizabeth Corcoran wrote a counter argument in Forbes illustrating the female point of view.  (Concoran).   She went on to say that she has been happily married for 18 years.  The important point that Elizabeth makes is the teamwork concept  having complimentary interests and skills, with less overlap there is less competing.  Equally there is greater recognition for each other's skills and attributes.
Perception of others is another point that puts social pressure on both parties.  For example where a man stays at home to look after the children whist his professional wife becomes the main income earner.  The man gains feedback from other males at work.   This essentially can result in loss of self-esteem in the men and can often drive them into external relationships or affairs where they attempt to regain dominance and self-respect.  (Browne)
The counter side of this is that the professional working woman often finds other male peers that become more attractive that the domesticated partner at home.  This can be intensified if the partner at home becomes angry, resentful and bitter towards his role in life.  You have the beginnings of a downward spiral and one where the children are unwilling participants and suffer as a result.  Children are intelligent and quickly recognize the social problems emerging, particularly when one or both parents start having affairs outside of the marriage.  Whilst ultimately the parents tend to go on and lead new lives with other partners, the damage to children can be immense and can result in psychological problems that will remain with the children for the rest of their lives.   From the male perspective this seems to work best with those who have had a successful business career and now see it as the wife's turn.  Particularly where she made sacrifices to help the man succeed.
Resolving the social issues
In a lot of cases what gets quickly forgotten is the sanctity of marriage and the pledge that was made between both partners consenting to marriage.  It was never intended to be easy but a means of two people forming a bond where the sum of the parts is greater than the individual. There are a number of attributes that make for a successful marriage and these have to be endured by both parties.  It is not just a question of simple love that can be all too fleeting. The early foundations of marriage require : good communications – talk openly and honestly to one another at all times, have a mutual respect for one another,  solve life's problems as a team – learn to trust and work together, never betray trust, it can prove very difficult to regain,  be prepared to compromise, be there for one another always!  If the foundations are there, then the rest can be built slowly over time.
In those marriages where the foundations are not properly built, like any building built upon poor foundations there will always be structural problems.  To an extent you can work on repairs but all too often the damage is done and the more repairs ultimately only lead to the collapse of the building or in this case the marriage.  It is equally possible to build good foundations and then not work on sustaining the very principles you have agreed upon.  This is often most dangerous for those couples who married young or at early age.  After several years of hardship or struggling at making a marriage work there is a tendency to look towards greener pastures.  The male perspective  might be the back packer friend that has just returned from his exploits in Australia and the South Pacific.  The single guy image of having a good time, seeing the world, free from burdensome responsibilities – all lures to pull the young married person away into a perceived better life.  The young married girl married early and did not have many relationships, she might become attracted by more interesting males, particularly vulnerable where she has retained a network of old school friends who are also married and wish to challenge the boredom of a single relationship.  The temptations are there at an early age and this can be compounded where there is a family and they are struggling with financial issues.
The recent recession and unemployment has imposed tremendous strains on young people. This particularly where there is loss of employment, mounting debts, too heavy reliance on credit cards.  The impossibility of getting mortgages due to a poor credit rating.  It is all too easy to walk away and try to start a new life somewhere else.  Both partners have to recognise the signs, be prepared to talk about the situation, seek help from close family and friends.  Very often be prepared to go through a re-financing package and scale back to a position that they can both afford and work together to build a better future.  If you work as a team you learn from these situations and ultimately become stronger for the experience.
When the marriage has completely broken down and a potential reconciliation is impossible.  The first consideration must be the welfare of the Children.  If there are no children this is greatly simplified.  Children are most likely to feel betrayed by one or both of their parents in a divorce situation.  They will feel angry, sad and frightened about the uncertainty of life after the loss of one of their parents.  The most important aspect is communication and the expression of love from both parents for their children.  They are not being abandoned  and both parents will continue to strive for their safety and support.  Both parents should strive towards a good civil relationship with one another to lessen the severity of the impact on the children.  Given the right level of support the child will be able to grieve the loss but ultimately emerge a stronger and more resilient person.  Above all else Children need to feel protected and loved by their parents. The trials of divorce can be extremely upsetting and disturbing for children, particularly where the parents express animosity towards one another.  Good communications is essential and it is important to carefully and calmly talk about this with the children.  Empathy being vital in terms of listening and understanding the children's point of view.  Above all the need for re-assurance and that everyone in the family unit will get through the process.  Ultimately everything will be alright and life will continue as normal for the children.  They may live with one parent and will continue to see the other parent, they are not being abandoned.
Spousal Abuse
Battered Women are classified as those women who experience post-traumatic stress disorder through repeated cases of domestic violence. The abuse is normally systematic and episodic and may be both verbal and physical abuse.  The male assailant in this case is often a bully and is seeking to gain male dominance and control over his wife.  This is designed to both humiliate and create fear in the woman.  In many cases women initially tolerate this because they are trying to make a marriage work and by nature are peacemakers.
Records of domestic violence are most common amongst the poorer working classes and the men are prone to both alcohol and substance abuse.  Unemployment is often another contributory factor to why men behave and act in this way.  The situation is made worse when there are children involved and this increases the fear factor in terms of the mother being the protector of the children. The fear being that the assailant will turn the domestic violence towards the children.
Legal Recourse
It can be extremely traumatic and difficult for a female victim of domestic violence to seek legal retribution for a violent personal assault.  The attack often leads the victim confused, traumatised and fearful of further abuse from the partner. Apart from being a criminal act, it is a blatant abuse of an individual's human rights and is unacceptable in any terms.  The police often have difficulties in bringing such cases to court because of the fear factor and the mental cruelty that has been inflicted upon the victim.
The Prosecutors office makes it a high priority to deal with acts of domestic violence but they must always be prepared to deal with the psychological impact upon the victim. Most victims walk away from these incidents highly traumatised, often in a state of shock and confusion and above all fearful of immediate retribution or further attack from the assailant. In disturbing domestic situations, this is often about male dominance and gaining control over the partner.  It illustrates a breakdown in communications and a degree of ignorance from the assailant resorting to such measures.  Trends often indicate there are other factors at play like substance abuse, alcohol or money related matters.  One research study carried out revealed, from findings conducted over a 15 year period, that abused women  exhibit what has been referred to as 'dual trauma', essentially mental, psychological and behavioural conditions resulting from conditions of abuse.  (Stark)
Single Parents
Singleness is often viewed as a personal failing or negative attribute to a person's life.  The perception is based upon the single person missing some vital aspect or quality of life that is associated with the so called 'norm' or anticipated normal behaviour pattern of heterosexual adults.  It  was estimated that in 2003  there are more than 14.9 million single family households in the USA.  Of this figure some 20 % relate to that of single father households.  Fathers are very important in the upbringing of children and the child benefits from both care styles i.e. the father and the mother. The concept of the Father taking a more proactive role also creates a stronger bond with the mother and this creates a happier and more secure mother. It shows that the father is committed to a lifelong relationship with both mother and child.
Psychologists historically thought that the mother was the most important factor in the upbringing of the children. Later it was considered that the Father had an important role in guiding intellectual and social development of the children. Fathers also tended to take a more active role in the play cycles with small children and children are stimulated by this response. It this interaction with the father that helps the child to express emotional development. The fathers that are involved in this way promote better interaction between brother and sister. This paternal influence can last well into adulthood. As such it is the father who helps the children builds strong social relationships during childhood and into adult life. The Fathers are also important in the promotion of the children's school activities and encouraging them in both sports and academic learning goals. This encouragement is crucial for being successful both at school and later in life. (Sheridan)
Works Cited
Browne, K. Social Pressure. 2009. http://wingspouse.com/blog/tag/social-pressure/. 2 12 2011.
Concoran, E. Counterpoint: Dont marry a lazy man. 13 12 2009. http://www.forbes.com/2006/08/23/Marriage-Careers-Divorce_cx_mn_land.html. 2 12 2011.
G, Sheridan. How to write a marriage contract. 2010. http://www.ehow.com/how_5028492_write-marriage-contract.html. 2 12 2011.
Stark, E. "Women at risk: domestic violence and womens health." PsychNet (1996): 264.
Time is precious
don't waste it!
Plagiarism-free
guarantee
Privacy
guarantee
Secure
checkout
Money back
guarantee