Back to School Offer
Get 20% of Your First Order amount back in Reward Credits!
Get 20% of Your First Orderback in Rewards
Structure and Culture of Google, Essay Example
Pages: 4
Words: 999
Essay
This Essay was written by one of our professional writers.
You are free to use it as an inspiration or a source for your own work.
Need a custom Essay written for you?
HIRE A WRITER!
Google is one of the successful internet-bases companies and businesses since the coming of dotcom years. It remains a leader at present. Its success stems from its notable organizational practices and vital competencies. The success formula is not the only competent technology. Google has an added advantage in its aggressiveness to develop both profit oriented and innovative projects. Information is Enlightment and not power for Google. The organization gives freely and learns, from each other, using vast computational resources and data to change peoples' ways of learning and working. This means that work at Google concerns flatness, openness and transparency.
Google has a flat hierarchy whose aim is to give significant value to talent. This means that management ladder is less valuable than technology ladder. Across the entire company, management is transparent and open. A distributed system of public performance management ensures automation of the complete process. The system requires discussion and gives calibration and data. At Google, organizational structure, technology and people have a connection and always changing. However, we note that Google has a structure for functionality and operations and not power show. The functional structure looks like the one shown below.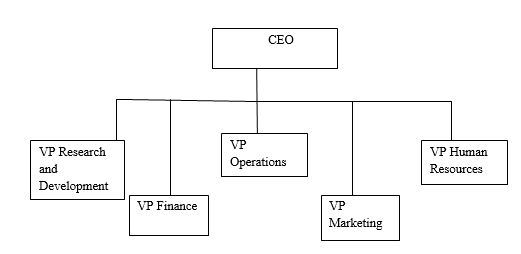 The modern Google organization structure has adopted a flexible empowering structure type. This consists of few levels of management, broad control spans, less centralization, formalization and specialization. There are also divisional, functional units. The flexible approach gives freedom to lower level associates and managers to think for them, to try new ideas and to communicate with any individual who can provide help. There are three factors influencing structure. These are growth, corporate strategy, and diversification. Growth relates to increases in associates and managers as well as increases in sales. Corporate strategy means the overall strategy used by the organization while interacting with its environment. Diversification consists of a variety of product lines in the organization.
Organizational culture
Google has strived to provide a free interaction and share of idea work environment. It has realized enormous success, as a result. Google's organizational cultures centre on shared values. Culture starts with shared values that produce norms governing behavior. Behavior results in outcomes, which are punished or reinforced thus bolstering culture. Thus, any culture, negative or positive, becomes difficult to change and self-reinforcing. Google's organizational culture development process looks like the one below.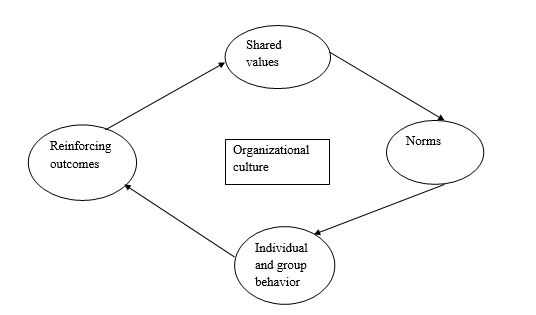 Google had stuck to an informal system of product development for a long time. Therefore, there was a movement of ideas upwards without any formal process from Googlers for review by senior managers. The teams dealing with innovative stuff were small, and the system worked well when Google was still young. Regular meetings have begun where employees get encouragement to present new ideas to the CEO. This has given certain projects increased independence and more resources than in the past. Google strives to hire smart and determined people favoring ability over experience. Google strives to maintain open culture consisting of startups, where everyone is a contributor and feels free to share ideas and opinions.
However, Google's lack of hierarchy has come under criticism, that this contributes to the absence of people vested with critical decision-making tasks. The organization's culture employs five steps in its cultural audit. First, analysis of process and content. Second, follows response analysis to critical incidents. Third, we have analysis of values and beliefs of culture creators. Fourth follows exploration of puzzling failures and anomalies. Finally, we have an examination of linkage-culture with goals.
Identify at least one specific organizational strength and recommend how to utilize and/or build upon the organizational strength you identified: Google uses a cross-functional organization structure maintained by practicing successful leadership and management techniques. This is a brilliant structure in that freedom to interact and communicate between employees and anybody in the organization, including the senior managers can bring about efficiency and innovation.
Identify one specific organizational disconnect and discuss what you observed: Google lacks a meaningful hierarchy, which is very necessary in addressing of decision-making. There should be a hierarchy not to show who is powerful but for order, and persons to give direction in certain cases that demand such actions
How does the culture handicap or enhance one or more of the structural components of the organization? The culture allowing employees to interact deeply and exchange ideas to translate them into reality plays a crucial role in enhancing cooperation and teamwork in the structural components such as the divisional units, for example, finance unit.
What should the organization continue to do, improve upon, or change? Why? The organization should come up with clear hierarchy not for power reasons but for functionality- to determine decision-makers. Since Google has been without this for long, then it should consider the best approach to use.
Which areas seem to stand out as exemplary or problematic? Freedom in the organizational culture stands out as exemplary in such enormous freedom. This has enabled sharing of ideas and opinions freely leading to innovations that have driven Google to notable heights.
What concept from this course will you be able to apply immediately to the workplace? I would like to apply the concept of doing what lies in my interests. When a person involves himself or herself in activities that are their interests, chances are high that they would succeed. I will allow free interaction and share of ideas among my working staff for this could result to innovations.
How will the concept you apply help you understand why your organization functions the way it does? If my organization is not successful yet I have encouraged freedom of interaction in the business, then I will be able to cite other reasons that could be causing thus.
How will that knowledge benefit you and the organization? The knowledge will help me address other factors that play roles in bringing about organizational setbacks.
Time is precious
don't waste it!
Get instant essay
writing help!
It's a Free, No-Obligation Inquiry!
Plagiarism-free
guarantee
Privacy
guarantee
Secure
checkout
Money back
guarantee
Get a Free E-Book ($50 in value)
How To Write The Best Essay Ever!