The City of Bellinzona, Essay Example
Pages: 6
Words: 1744
Essay
This Essay was written by one of our professional writers.

You are free to use it as an inspiration or a source for your own work.
The city of Bellinzona is famous for its carnival. The carnival celebration is called Radadan. The term Rabadan means noise. More than 150, 000 people gather in the streets to celebrate and have fun. Rabadan is the largest celebration in Switzerland. Wearing a mask is an ancient form of changing one's identity. The origin of wearing masks is unclear, but different cultures have been practicing this art for centuries. According to the readings, "Masks are the most Ancient means of changing identity and assuming a new persona" (pg. 15). Likewise, remnants of mask usage have appeared in every region around the world.  When I was first asked to complete this assignment, I felt it was almost pointless. However, as I read more about the complexity of masks usage and its origins, I found that the assignment would be complex and interesting. The reading pointed out five fundamental reasons why humans used masked and participated in masquerades.  For this assignment, I decided not to wear the mask during Rabadan, but instead on campus and in downtown Lugano. I choose to wear the mask outside the carnival because I wanted to get a clear depiction of how people react to a person who is different. If I had worn it during the festival, I don't believe I would have gotten a clear depiction because everyone else would have been wearing a mask too. The mask I choose to wear was one of a cat. The mask had a furry face and whiskers. The only part of my face that could be seen was my mouth. I choose to cover my lips with a gaudy, orange lipstick. I choose to be a cat because it is one of my favorite animals.
First, I decided to ask friends and other professors to participate in a questionnaire about masks.  I provided each participant with a questionnaire about masks and why people from different cultures wear them. The questionnaire consisted of the following questions.
Why do people wear masks?
What are some cultures that use masks today?
What materials are masks made of?
Have you ever seen someone wearing a mask?
How do you feel about wearing a mask in public?
Each person was given a deadline to have returned the questionnaire to the drop box a made available on campus. Each person was made aware of the assignment that I was completing. They were insured confidentiality and anonymity in their responses. After collecting the responses, I then decided to wear my mask on campus and take note of the facial expressions of the persons I encountered. After wearing it on campus, I decided to wear it downtown and make note of the same information. I wanted to see if there would be a difference in the reaction of students and professors and the general population. I believed that the people on campus would be less judgmental than those downtown. While downtown, I sat up a booth with a sign that said, "If you are interested in learning about my mask, please stop by". Those who stopped by were given the same information that I gave to persons' on campus who participated. In conjunction, they were also allowed to ask questions about the masks.
The results of my survey conveyed that most people know very little about masks and why people wear them. Most people thought that they were worn for events like Halloween and masquerade parties. All of the people who completed the survey stated that they would not wear a mask in public unless it was an event where everyone else was wearing one.  A total of 48 people completed my survey.
I had hypothesized that people on campus would be less affected by me wearing a mask. That part of my assumption was correct. The people I encountered on campus looked at me as I passed, but only a few stared at me. Many of the people I encountered on campus came up to me inquiring why I was wearing a mask. Some even asked what type of mask it was. For the most part, the people on campus just walked by me without giving a second look at my mask. The most common response that I received was that people thought my mask had something to do with a religious ritual. According to the reading, "Since the beginnings of Homo sapiens, human societies have tended to believe in the existence of a spirit world. The fact that our distant cousins the Neanderthals practiced burial rites by stacking bones, rubbing them with red ocher, and burying them with accompanying objects suggests that they believed in spirits and the idea that invisible forces can empower visible matter"(page 30). This alone supports the fact that many people believe that masks and the wearing of masks are rooted in religious practices. The author went on to say that many common occurrences were equated to the spirit world because of the lack of scientific knowledge during ancient times (page, 31). On the other hand, people that I encountered downtown were in many cases afraid of me. Many of them would not look at me directly or crossed over to the opposite side of the street to avoid me. Yet, there were many that stared and did double takes at me to determine "what" I was. When I was walking around among people downtown, no one approached me to ask questions. However, after I sat up the booth with the poster, many people came up to talk to me. Usually, the first question was why you are wearing the mask. Many asked if I was in a play. For example, "The doubleness emerges most clearly in the use of masks in the earliest forms of Western theater. To wear a mask is to literally put on a second face, a second identity-a theatrical identity removed from the everyday world… A mask blots out the actor's face, the primary way that we identify people, and substitutes another identity. The masks simultaneously hide one identity while revealing another, providing the actor with a double self" (page, 231). Finally, I did approach some of the people who were trying to avoid me. Only one of the person's a tried to approach was willing to talk to me. The others nearly ran to get away from me. The one person that I was able to talk to explained that they were afraid of me. She stated that in her culture, wearing a mask is equated to witchcraft and sorcery. When I explained to her what I was doing, she relaxed and agreed to talk to me. She explained to me that she knew the carnival was taking place soon and that she never attended because she felt it was rooted in pagan rituals and traditions.
This was a very interesting assignment for me. I tried to place myself in the place of the people who were looking at me with the mask on. Honestly, I must say that I would have been one of those people who crossed to the other side of the street to avoid the masked person. I probably would have stared as well. This assignment really made me think about the burdens we all carry more closely. I have found that I examine situations thoroughly instead of jumping to conclusions about a person's choice. I try to evaluate from various perspectives. Literally, we all wear masks that cover the problems we may be dealing with. We smile in the public when we are said. We often tell little lies to spare a person's feelings. Although the assignment was to wear a literal mask, it made me think of the metaphorical masks that we wear.  Ethics and morals are often associated with types of religion, but schools often provide important lessons in ethical behavior. For me, this assignment did just that.  Nevertheless, there's a fear that somehow teaching ethics in school will steer students towards a particular religious viewpoint. However, ethics must be taught and are being taught because schools are producing tomorrow's leaders. As a college educated person, I want to be able to judge a person by their credentials and not by what they look like. It's impossible not to teach ethics in a school. If schools have a code of conduct, they are teaching ethics. If teachers have classrooms rules, they are teaching ethics. Most people learn ethical manners at home, at school, in church, social settings, or a combination of the four. Although most people acquire their sense of right and wrong during childhood, moral development occurs throughout life and human beings pass through different stages of growth as they mature. Ethical norms are so omnipresent that one might be tempted to regard them as simple commonsense. Often we are taught that if a person does not look like us, the person is different or deviant. This activity gave me the opportunity to walk in the shoes of the other person. I was no longer the norm, but the deviant.  On the other hand, if morality were nothing more than commonsense, then why are there so many ethical disputes and issues in our society? We often fail in our daily struggle to act with wisdom – it does not always come easily or naturally. Although it is easier to follow our less-than wise impulses, the reward for acting with wisdom is great. When we give it our best effort, the payoff in self-esteem and inner peace will compensate us many times over.
The most important lesson I learned through this assignment is being comfortable with myself. I was on the receiving end of many dirty looks and blank stares. Ironically, I know that I have given those same blank stares and dirty looks to people who had body piercing, tattoos, or even those that were overweight or too small, in my opinion. This assignment also made me evaluate myself physically. I found myself looking in the mirror intently after this assignment. I noticed things about myself that I never paid attention to before. For example, I looked closely at my nose, the shape of my eyes and the length they are apart. I looked at the shape of my face and the way I wear my hair. I tried to imagine what people saw and thought when they looked at me. Honestly, this assignment made me evaluate what I consider beauty to be. We always say that beauty is skin deep, but the outer person is what we notice first.
Time is precious
don't waste it!
Get instant essay
writing help!
Plagiarism-free
guarantee
Privacy
guarantee
Secure
checkout
Money back
guarantee
Get a Free E-Book ($50 in value)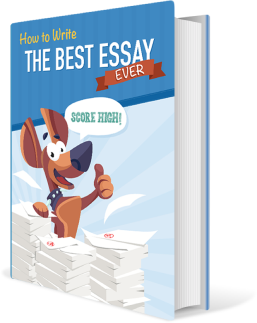 How To Write The Best Essay Ever!