The Construction Industry in the United States, Research Paper Example
This Research Paper was written by one of our professional writers.
You are free to use it as an inspiration or a source for your own work.
Need a custom Research Paper written for you?
HIRE A WRITER!
What are the past environmental damages/impacts caused by the Construction Industry?
When environmental issues are raised, the focus is usually on transportation, specifically carbon dioxide produced from vehicle exhaust. Major source of environmental decay stems from the construction industry, as building utilize a vast amount of natural resources. As noted by the environmental protection agency, "buildings in the United States contribute to 38.9 percent of the nation's total carbon dioxide emissions, including 20.8 percent from the residential sector and 18.0 percent from the commercial sector (US Environmental Protection Agency, 2009)." This has had a dramatic impact on the environment, specifically in regards to water usage. While the U.S. population practically doubled between 1950 and 2000, in that same time, "public demand for water more than tripled (U.S. Census Bureau, 2002)!"  It is estimated that Americans now use an average of 100 gallons of water per day. This is enough to fill 1,600 drinking glasses Green Roofs. (n.d.).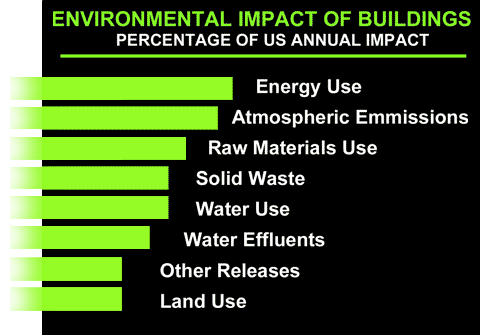 (Green Roofs. n.d.).
The U.S. Environmental protection agency reports that in 2002 there were 223,114 establishments or businesses just working in the construction industry. These companies earned more than $531 billion in annual revenues and they accounted for nearly $62 billion in annual payroll. They had 1.7 million employees in 2002 (US Environmental Protection Agency, 2009). The influence these companies placed on the use on land has also had a dramatic effect on the environment. It is reported that the total land area in the U.S. is 2.3 billion acres, and while urban land area quadrupled from 1945 to 2002, which increased it by about twice the rate of population growth over this period, the amount of acreage, specifically rural land used for residential use expanded by 21 million acres. This was a 29 percent increase from 1997 to 2002 (U.S. Energy Information Administration & U.S. Department of Energy, 2008).
Urban run off is a major aspect of this issue as well. It's estimated that over "65% of this impervious area is due to transportation surfaces (roads, parking lots, sidewalks, driveways, and 35% is due to roofs of offices, homes, stores and patios. This represents buildings and the transportation infrastructure that are constructed by companies to replace natural regions ("National Oceanic", n.d.). Urban run-off is most commonly defined as the expansion of man-made constructions into natural habitats.  This depletes oxygen and actually adds to Co2 admissions. The authors note this "serves them replace natural surfaces with impermeable materials, creating runoff that washes pollutants and sediments into surface waters. Urban runoff is the sixth leading source of impairment in rivers, ninth in lakes, and fifth in estuaries (U.S. Department of Transportation, 2002).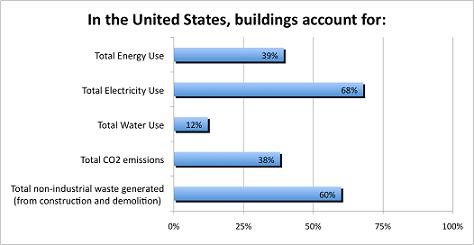 (WBDG Sustainable Committee, 2012)
How did the United States tackle these environmental damages/impacts?
Regulations on business has long been a controversial issue. There are actually very few companies willing to exercise social responsibility. As Lawrence and Weber note, "Many of today's corporate executives see themselves as stewards, or trustees, who act in the general public's interest. Although their companies are privately owned and they try to make profits for the stockholders, business leaders who follow the stewardship principle believe they have an obligation to see that everyone—particularly those in need or at risk—benefits from their firms' actions (Lawrence & Weber,2010)."  This puts companies in a position where they abuse the environment for personal interests. To tackle the environmental damages and impacts companies impose, the U.S. government implemented policies to give companies incentives to be more environmentally responsible. Laws and regulations assist the market in having a level playing field for businesses that compete against one another. By requiring all firms to meet the same social standards—for example, the safe disposal of hazardous wastes—government prevents one firm from gaining a competitive advantage over its rivals by acting irresponsibly (Lawerence & Weber, 2010)."  The government also implements bonuses and incentives for companies that incorporate the use of hybrid vehicles, solar panels, and eco-friendly window sealants. All these lessen the impact of buildings on the environment (Akbari, 2005).
Work Cited
Akbari, H. (2005). Energy Saving Potentials and Air Quality Benefits of Urban Heat Island Mitigation  (PDF) (19 pp, 251K). Lawrence Berkeley National Laboratory.
Estimated Water Use in the United States (1995). U.S. Geological Survey. http://water.usgs.gov/watuse/pdf1995/html/
Green Roofs. (n.d.). How buildings impact the environment:. Retrieved fromhttp://www.crcsealsit.com/green-roof.php
Lawrence, A. T., & Weber, J. (2010). Business and society, stakeholders, ethics, public policy. (Thirteenth ed.). New York: McGraw-Hill/Irwin.
National Oceanic and Atmospheric Administration. (n.d.)http://www.ngdc.noaa.gov/dmsp/pubs/ISAglobal_20070921-1.pdf
US Environmental Protection Agency. (2009). Buildings and their impact on the environment: a statistical summary
U.S. Energy Information Administration , & U.S. Department of Energy, (2008). Emissions of greenhouse gases in the united states.
2002 Economic Census: Table 2. Advance Comparative Statistics for the United States. 1997 NAICS Basis
U.S. Department of Transportation. (n.d.). The state of the national pipeline infrastructure. Retrieved from http://opsweb.phmsa.dot.gov/pipelineforum/docs/Secretarys Infrastructure Report_Revised per PHC_103111.pd
WBDG Sustainable Committee. (2012). In the united states, buildings account for: [Web]. Retrieved from http://www.wbdg.org/design/sustainable.php
Stuck with your Research Paper?
Get in touch with one of our experts for instant help!
Messenger
Live chat
Time is precious
don't waste it!
Get instant essay
writing help!
It's a Free, No-Obligation Inquiry!
Plagiarism-free
guarantee
Privacy
guarantee
Secure
checkout
Money back
guarantee