The Impact on Emerson Students of Engagement in E-Learning, Essay Example
Pages: 18
Words: 4994
Essay
Abstract
Everyone has his or her own learning style, and the different learning styles influence the ways that people attach their own meanings to the topic being taught, and can produce different degrees of success (Emerson & Taylor, 2004) and learning outcomes. The objective of this project is to evaluate the effectiveness of these teaching methods compared to traditional teaching style. The results collected from this study can help Emerson Collegediscoverthemosteffective E-learning methods, and help them more effectively design and better integrate E-learning as part of theirteaching resources. On the other hand, the effective E-learning style can also enable students to have more frequent interactions with their professors and classmates and better engage with the class so as to learn more than before.
Keywords: E-learning, student engagement
Literature review
In recent 20 years, E-learning has become a very popular teaching method for a variety of different colleges. Today more than 75% of colleges offer online courses or degrees and online public schools are not a rare commodity (Brophy, 2010). Although these implementations have different objectives and follow different strategies, the importance of the use of E-learning technologies to improve the quality of education has been widely accepted. E-learning is a web-based learning that uses technology to enable people to learn anytime and anywhere (E-learning consulting, 2012). Even though the implement of technologies in education has lasted several decades, the use of internet has promoted a "considerate shift and innovation" (Falcão&Soeiro). The "e" of E-learning refers to the use of computerized teaching software, also known as courseware, other custom software application, CDs, DVDs, and more recently, the use of the internet. The "learning" simply refers to the learning that takes place with the aid of the technology.
The common characteristics of E-learning that have emerged include a facility for 24-hour provision and accessibility; flexibility so that learning can be broken down into appropriate units, of a size to suit the learner in terms of time; students control of navigation, resources access and the use of interaction; new shapes and forms in learning material; the ability to create links between related topics and themes to achieve vertical and horizontal integration of theory and practice, and assist students in searching related data and resources; moderated online discussion groups of learners, which may be synchronous or asynchronous (Rich, 2001). These various characters facilitate education quality from different dimensions.
The impact of E-learning on student engagement depends on a myriad of factors. One of the most important factors is a student's learning style. Learning style depends on how one's senses process the information. Everyone learns differently; E-learning may be the best choice for one person while it may be completely useless for the other. That is the reason this new high-tech education teaching style requires constant improvement. In addition, it is essential that the high-speed technology development meet the needs of each student's specific learning style. Personality type is the second factor in determining the impact of E-learning on student engagement. For example, introverted students may prefer distance online learning and may find it less intimidating than participating in a traditional classroom. These introverted students may feel uncomfortable in a traditional classroom, but may feel at ease participating in discussions with others through email or chat rooms. However, for those people who prefer face-to face interactions, E-learning may be interpreted as less immediate or even isolating, which may make it difficult for them to express themselves freely while facing a cold computer screen. Self-discipline is another important factor that will determine the success level of online learning. Although there are a lot of debates and doubts about the effectiveness of E-learning, everyone seems to agree that E-learning requires discipline and a certain sense of internal motivation. Students who lack self-discipline struggle and for the most part, are not engaged as much as they would be in a traditional classroom, which provides teachers who can help with skills such as time management, direct motivation and providing personal feedback (Brophy, 2010).
In a traditional classroom setting, there are various techniques an instructor can use to identify a student's specific learning style. The first step may involve a preliminary analysis through brief personal interviews and formal observation of specific behaviors in the classroom. Another method for evaluating a student's learning style is conducting an in-depth personal interview with the student. Defining learning styles may also involve a checklists or the VARK questionnaire (Zapalska & Brozik, 2007). In online courses, it is impossible to conduct observation and in-depth personal interviews; however, the VARK questionnaire can be used to determine the learning styles of students who participate in online course. However, it is important to keep in mind that even when a specific student learns best in a certain way, he or she should be exposed to a variety of learning experiences in order to become a more versatile learner. As students' learning styles are identified, it is also possible to define an appropriate context of learning (Zapalska & Broik, 2007).
In order to help students succeed in an online educational setting, instructors need to understand how they learn, how they perceive, and how they process specific information. The learning styles of online students must be identified so that the instructor can implement appropriate teaching strategies and accommodate individual strengths and needs. It is also crucial that instructors share information with students regarding their specific learning style and the teaching strategies designed to accommodate those styles (Zapalska & Broik, 2007). By sharing information about various learning styles, instructors can help their students learn to recognize and implement their personal learning style in order to aid in the learning process and maximize learning outcomes.
Three primary issues arise when the effectiveness of online education is examined. First is the student's perception of online learning. Do students feel they receive as good an education online as they would in a face-to-face classroom? The second is that of faculty perceptions. Are faculty members who teach in a traditional classroom willing to adopt the new paradigm of online teaching? Finally, do the educational outcomes show online learning to be as effective as learning in traditional classrooms? Student perceptions of online learning are generally positive and most students report a moderate to high level of satisfaction with the online learning experience. However, online learning requires students to be more self-motivated than traditional students. As a result, attrition rates are often 10 to 20 percent higher in online classes (Perry & Pilati, 2011).
One of the major barriers to online learning is finding faculty members who are willing to learn a new way of teaching. Although there are faculty members who opt to teach online, some do not invest time in, or are not provided with, the pedagogical and technological training necessary to maximize the online experience. In addition to learning new technology, faculty members teaching within the online environment must also learn the best practices for online learning, and many are unsure that the effort they spend in developing online (Perry & Pilati, 2011). Faculty concerns also include the perception that online learning does not accomplish the same or better outcomes than traditional learning. However, recent studies indicate that students who took all or part of their class online performed better, on average, than those taking the same course through traditional face-to face instruction. Moreover, the effectiveness of online learning approaches appears quite broad across different content and learner types. The effectiveness of online learning was similar for undergraduates, graduate students, and professionals and was independent of the subject being learned (Perry & Pilati, 2011).
Quality online teaching and learning does not seem to occur naturally. Faculty members need training and support regarding the development of online materials. Both faculty members and students need support during the delivery of online classes and the lack of support for online teaching should be viewed as the equivalent of providing traditional faculty members with poorly equipped classrooms. Online students need to be granted access to the same resources as traditional students. In addition, efforts to provide online students with access to all forms of student services could benefit traditional students as well because some efficiency may be achieved by serving both groups with technology-based support systems (Perry & Pilati, 2011).
It is obvious that in order to improve teaching effectiveness and academic achievement, higher education should aim to improve E-learning teaching strategies that encourage greater engagement while taking into consideration various learning styles and personalities according to student need. Moreover, any new system that is to be developed to support E-learning should be designed to meet the specified criteria in order to maximize the value of teaching and learning.
Results
Researchquestions: In order to further understand the impact of E-, I formulate a study to attempt to address the following research questions:
RQ 1:  How do E-learningaffects the way students engage?
RQ 2:  How can E-learning better engage students?
This paper will engage the knowledge of the human resources field, in which learning and development is the main topic. Besides that I will also involve verbal communication as well in my focus group.
Project methodology
Focus group will be used in this study, which will employ qualitative research methods in order to capture content from being broad-based to specific. Qualitative research methods will be used to discover possible effects on the students resulting from the E-learning that emerge so as to answer Research Question 2:" How do these E-learning methods affect the way students engage to the class?" It is also designed to discuss how to eliminate shortage and improve E-learning so as to better engage students into the class and produce better outcomes. Qualitative data will be collected in this study to answer Research Question 3:"How can E-learning better engaging college students?" In order to let all respondents have more direct or comprehensive impression or experience towards E-learning class, a short E-learning course will be provided before the discussion.
Participants: Focus group will be conducted to collect data from a total of 8 students (4 female and 4 male preferred) in Study 2. The respondents will be asked to take a 20 minutes long online course and then discuss their feelings and outcomes from this 20 minutes. Except discuss the effectiveness of E-learning, participants will also be asked to provide suggestions and reasons to explain how and why can E-learning better engage students in class and facilitate study outcomes.
Approaches: In this study, I will contact eight Emerson students to see if they would like to accept a focus group discussing about E-learning improvement in class engagement. All participants will be asked to take a 20 minutes online course before discussion. Later, the respondents will be asked to list and describe both positive and negative effects that the E-learning had on them. They will also be asked about their outcomes and procedure in the online course experience. This can show the E-learning's effective and impact on students. The focus group transcript will be written down for further analysis in order to concludes the suggestions or advice for more effective E-learning.
Questions:
How well do you know about e-learning? Please share some experience with us.
Would you like to share your study outcomes from that 20 minutes online course?
Please tell us the procedure of how you did your course, have you skip any section or cheated on it in order to finish it faster? How do you think of that kind of behavior?
What are the positive and negative effects on you based on this course?
Is there any section or feature in this course that you think is effective or helpful?
If you can change something or add something to the course, what would you change and why?
Will you be interested in taking any online courses or programs if they are available in our school?
Evaluation procedure: Content analysis and ground theory will be used in this Study. The first two questions I will ask are to get a sense of how well do my participants know about e-learning. The third question I will ask can help me have a basic evaluation of how effective can students absorb the knowledge base on this short online course. Next, I will list all the procedure has been used by all participants to see if there are some different learning styles. For instance, some students prefer to see the quiz questions first and then go back to the course with clear objective while some prefer the classic way as to go through the course first and then do the quiz. Then, I will combine all the possible effects described by all participants, eliminate the overlapping ones and rank the top ten influences that result frome-learning. After that, I will list all the possible changes mentioned by participants and code through written transcript to examine why those improvement in terms of E-learning offered by focus group participants are necessary and how it can change learning outcomes. Base on that, I will conclude all the suggestions and their reason. Finally, eliminating overlap ones and categories according to their boarder meanings into organized and logical advices for future E-learning.
Content analysis
How much do Emerson students know about E-learning?
Even though our school has limited e-learning courses, most participants in the focus group have different forms of the E-learning experience from their past. However, only 25% of them have positive reactions and felt beneficial from their e-learning experience. As a result, people tend to have a neutral or negative impression towards e-learning. According to table 1, there are some keywords have been mentioned by all participants in terms of their impression and experience of e-learning.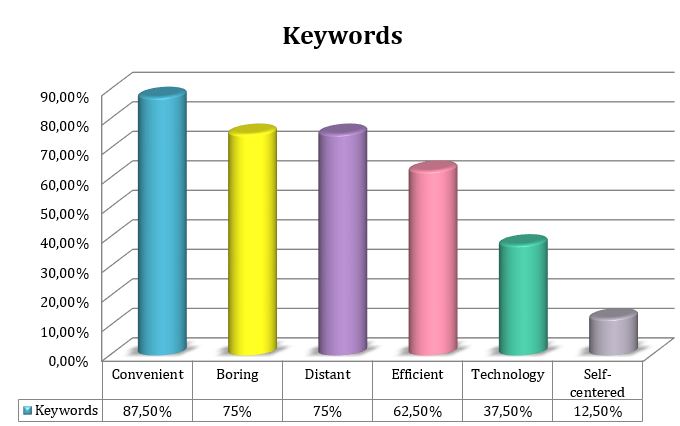 Luckily, even though all participants were not familiar with the example e-learning course I chose. Most of them understood the content well, and they were able to explain and repeat what they just learned.
How different are people's e-learning habits?
Among these participants, 88% of them tend to see quizzes before starting the course. There are various reasons described which include the following:
Being able to see the quiz first can help them navigate the emphasis of each specific course.
Being able to see the quiz first can help them be more effective so as to better finishing the course.
Being able to see the quiz first can save students a lot of time. They can spend more time on those parts that are more useful to them or more interesting for them.
Furthermore, all participants prefer to be able to clip back and review previous contents. This is also one of the reasons why some of them enjoy e-learning courses. Some participants mentioned that compared to the traditional classroom courses, if distractions took place causing missed content, they are able to review previous content when participating in an e-learning course.
On the other hand, there are 12% of the participants who prefer to follow the usual order. There is one condition that seems to contradict this, which tends to occur only when the student is unfamiliar with the learning content.
How can we avoid bad learning habits (cheating) in e-learning course?
Even though there are a lot advantages for students to be able to review previous learning contents, there are disadvantages as well. E-learning is a self-centered learning method that requires students' high self discipline. There are possibilities that students skip back and forward to look for answers for the quiz to finish the course as soon as possible, which may hinder the ability to gain adequate knowledge from the course. This will affect the learning outcome and may lessen the ability to retain crucial information. Even more importantly, the school or teacher might not be aware that their students are not maximizing the learning experience. So how can these particular implications be avoided? In the focus group, participants gave us some practical advices.
First, cheating can be avoided by limiting the time for students to finish the course or quiz. When students try to go back and search for answers instead of doing it after thoroughly understand the course, it may take them longer time to finish the course. Limiting the time of the quiz will put a lot stress on those who are trying to get a free ride.
Second, students will be able go back into those small quizzes between different course sections, but we will not be able to skip back in the final exams. For those quizzes, it is ok that some students might not know the answer and fail to memorize the content. This may help students understand how they are doing and what information is important according to course content. The final exam allows the school or teacher to evaluate the learning outcomes of the students.
Yet, there are some participants indicating that for higher level education, the creation of e-learning is to provide self-centered course for those who need it. People need to have self-discipline if they want to make the most of the learning experience. If they decide to cheat in the course, the consequences will be reflected in the learning outcome and level of success within the classroom.
What are the positive and negative effects of e-learning?
According to the focus group, the top 4 positive and negative effects of e-learning are listed in table 2. Moreover, the percentages of the different effects voted by participants have also been listed in table 3 and table 4.
Table 2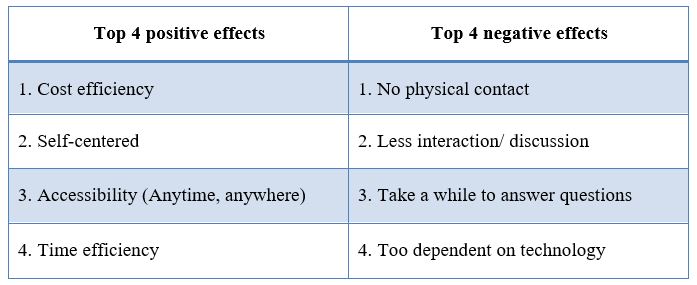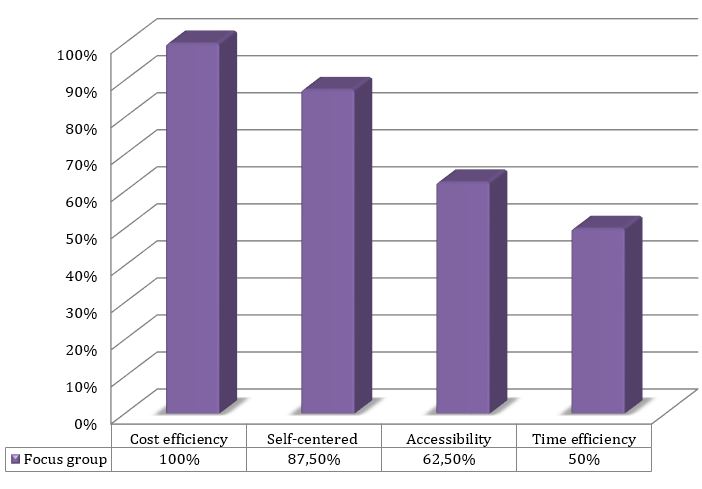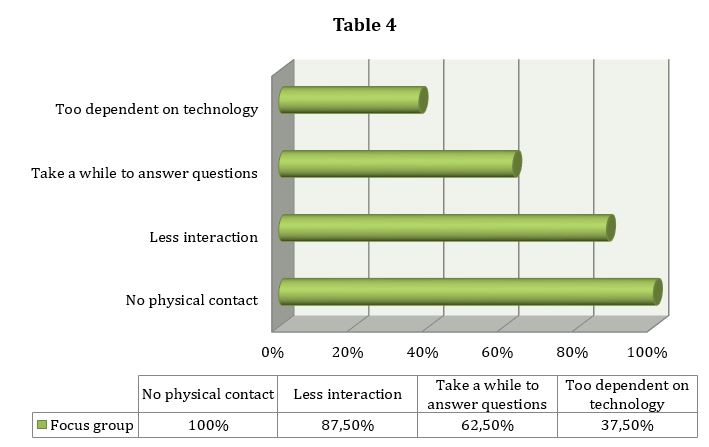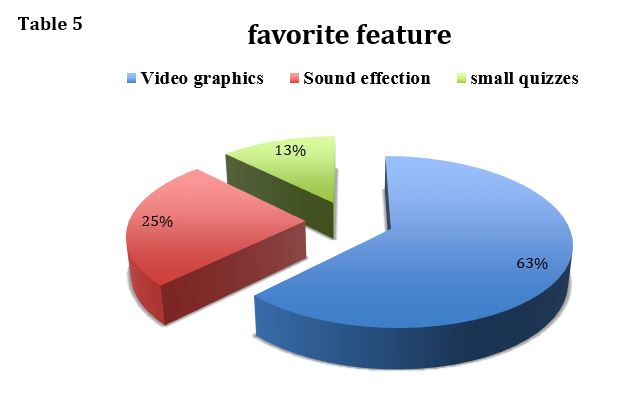 What is the favoritee-learning feature in the module course?
According to table 4, there are three favorite features that were mentioned by participants based on the e-learning course I demonstrated in the focus group. The reason why people prefer video graphics is because there are a lot readings and slides in the course. Video clips can give students some fresh air and change their visual status into something different, providing stimulation for both visual and auditory learning styles.
A lot of students found that it was difficult to concentrate after spend too much time in e-learning course because there was not enough live interaction. This seems to indicate that video graphics and sound affection can stimulate students' visual and hearing senses before they get distracted or fall asleep.
With except those two features, small quizzes are also voted by 13% of people. Their reason is that quizzes can urge students to focus on the contents; otherwise they may not be able to answer the questions. Furthermore, quiz is a very good way to evaluate the learning outcomes.
What changes do students want to make?
There are two major changes that all participants want to make. First, most students want to have more interactions with their teacher. Indicating they want to add some commence or discussion function into e-learning course. As a result, students can communicate with each other and their teacher as well. Some participants indicate that when they have questions in the middle of the course, they have no one to ask or communicate with. That is why the discussion function is necessary; it better engages students and creates more effective learning outcomes. Even though there are some e-learning courses that include discussion parts, most of them take a long time to digest and commence before answering.
Second, the need to appeal to different learning styles proves to be an important aspect of the e-learning process according to the large percent of students who preferred the visual and auditory stimulation of video graphics. However, the way of presenting learning material and performing learning activities remains the same for all learners, whereas in fact everyone has his or her own individual learning preferences and prefers implementing this into the learning experience. Another commonly used means of personalization takes into account the different levels of advancement of the users. There are two possible ways of fulfilling this requirement. In the first approach, the learning content offered to all the learners remains the same but users are allowed to skip freely within some parts of a course if they are already familiar with those pieces of information. The other approach requires preparing learning content in such a way that various learning paths are possible and the learners can modify their own paths along the course by switching to more advanced topics or – just the opposite – trying to find basic explanations when necessary (Zajac, 2009).
Results of the research also need to take into consideration how the learning environment may be inconsistent with the participant's learning styles. For example, Students with an auditory style may prefer learning by listening while students with a visual style prefer learning through reading text or looking at diagrams. Those students with an applied style prefer learning through examples and cases compared to students with a conceptual style who prefer concepts and theories. Students with a spatial style prefer learning in context; students with a non-spatial style are more abstract in their preferences. In addition, social styles prefer teamwork, which is opposite of students with an individual style who prefer working alone. Finally, Students with a creative style prefer using their creativity to solve elaborate problems; students with a pragmatic style prefer to work on simpler problems (Santo, 2006).
Implications
One problem with this instrument may lie with its construct validity. Although the descriptions appear to be three sets of opposites, only the participant and avoidant styles are negatively correlated. In a recent study conducted at a university in Virginia, there were no significant relationships between grades or attitudes and any of the six learning styles of an online advanced composition course (Santo, 2006). Another implication is the accuracy of self-perception and the number of subjects may not have been large enough for correlations to reach significance. Online degree providers are increasingly offering self-developed instruments which students can complete to determine if their learning styles make it likely that they will be comfortable online, although it is argued that these short surveys may not accurately measure a student's style (Santo, 2006). An example is an instrument developed by Western Governors University that focuses on areas such as preference for face to-face interaction, preference for discussion, being good at prioritizing, being able to work independently, and having an auditory, visual, or tactile learning style (Santo, 2006).
Another possible issue that may require additional investigation may involve not taking into consideration the moods and resent experiences of the participants during the time the research was conducted. In addition, it is possible that students with prevailing auditory learning preferences may not be selecting online education as an option (Zapalska & Broik, 2007). Perceptions regarding what consists of effective learning methods may also produce results with hidden biases that do not accurately reflect learning outcomes. It is also worth noting that in the examples used, bias may favorable to the present situation. The research questions measure not only attitudes toward specific issues, but may also imply general attitudes toward life. It seems possible that if the rating questions showed a great deal of dissatisfaction, the hark-back question may show a bias unfavorable to the present situation. If such a negative bias were found, one might conclude that this gives pessimists as well as optimists an opportunity to exaggerate (Westfield, 1953).
Research on online learning has often been characterized as being low quality.  Part of the reason for this classification is the near obsession of past researchers with conducting comparison studies; that is, studies that compare online learning to traditional face-to-face learning (Lowenthal & Leech, nd). Despite researchers' attempts to conduct research with other types of designs, the use of comparison studies are still preferred. Researchers tend to demonstrate that online learning is as good as face-to-face learning. However, in the past few years, comparison studies have come under increased scrutiny because the majority, of comparison studies—like most research on online learning—has failed to employ robust research designs or control for extraneous variables (Lowenthal & Leech, nd).
While survey data, which is self-report data and the most often utilized method to study online learning is useful and seems to be needed in educational research, this type of data alone is retroactive and insensitive to possible changes over time. This type of data is not always appropriate in investigating all research problems. Instead, researchers need to employ different ways of studying online learning that will increase the rigor of the research results. In addition to conducting design based research, researchers should begin to employ mixed approaches to study online learning (Lowenthal & Leech, nd).
Researching online learning needs to consider the complexities of conducting research and some of the issues that can be overlooked. In addition, recent research suggests that the researcher should include the following goals during a study. These goals consist of the following : (a) determining the goal of the study, (b) formulating the research objective, (c) determining the research/mixing rationale, (d) determining the research/mixing purpose, (e) determining the research question(s), (f) selecting the sample design, (g) selecting the mixed research design, (h) collecting the data, (i) analyzing the data, (j) validating/legitimating the data, (k) interpreting the data, (l) writing the mixed research report, and reformulating the research question(s). These 13 steps were designed to assist researchers in conducting mixed research studies, from start to finish (Lowenthal & Leech, nd). It appears that by incorporating these components into research studies may help alleviate some of the issues that may be overlooked by play a role in the outcome of the research results.
Additional investigation may consider including the type of research design used, the sample size and sampling scheme employed, and the type of instruments administered as well as the data analysis technique. Mixed research must be proficient at creating both qualitative and quantitative research questions. Quantitative questions should identify the population and dependent variables and whether they represent descriptive, comparative, or relationship research questions (Lowenthal & Leech, nd). Furthermore, research questions should avoid starting a quantitative research question with the words, "Do," "Does," "Is," or "Are" because they motivate "yes/no" responses. Using open ended questions that describe, rather than relate variables or compare groups may provide more accurate and personalized results. Quantitative and qualitative research questions can lead to very different samples, data, and analyses. These aspects of research need to be taken into consideration when writing multiple research questions (Lowenthal & Leech, nd).
Project value
Education has always played an important role in the development of society; not only because it is the backbone of a country's future development, but it is also the way to help build a civil society. As a result, large amounts of money have been invested to improve educational technical instruments. In recent years, higher and continuing education and the use of E-learning mythologies is becoming a common resource (Rodgers, 2008). Many teachers use it as a way to better interact or communicate with students in order to better transmit knowledge while developing a self-focused learning environment. After over twenty years of development, people might wonder how these efforts are reflected through students.  Is this really a beneficial method of facilitating learning outcomes? This is the primary reason I choose to do this research; which has allowed the examination of effectiveness to be measured and analyzed. Furthermore, I will dig deeper to see if there is any way to improve E-learning in order to better the interaction between teachers and students.
This paper presents the results of a study that examines the impact on the Emerson students regarding levels of student engagement in the E-learning process. The results collected in this study can help education peer practitioners better improve E-learning style and better engage students in order to produce better learning outcomes.
References
Brophy, N. (2010, Aug 31). The impact of e-learning on student engagement. Bright Hub. Retrieved from http://www.brighthub.com/education/online-learning/articles/85303.aspx
Chen, L., Chen, H., Wang, N. (2009). Distance education in China: the current state of e-learning. Campus-wide information systems, Vol. 26(2), 82-89.
Falcão R &Soeiro, A. (n.d.) Measuring impact of e-learning on quality and learning outcomes- a proposal for a phD project. Retrieved from http://en.scientificcommons.org/41679777
Impact and challenges of E-learning. (2003). Supporting E-learning in Higher Education, 3, 39-47.
Kickul, G &Kickul, J. (2006). Closing the gap: Impact of student proactivity and learning goal orientation on E-learning outcomes. International Journal on Elearning, 5(3), 361-372.
Lautenbach, G. (2008). Stories of engagement with E-learning: revisiting the taxonomy of learning. International Journal of Information and Communication Technology Education, 4(3), 11-19.
Lawenthal, P.R. & Leech, N.L. (nd). Mixed Research and Online Learning: Strategies for Improvement. School of Education and Human Development University of Colorado Denver.
Nora, A & Snyder, B.P. (2008-2009). Technology and higher education: The impact of E-learning approaches on student academic achievement, perceptions and persistence. Journal of College Student Retention, 10(1), 3-19.
Perry, E. H., & Pilati, M. L. (2011). Online learning. New Directions For Teaching & Learning, 2011(128), 95-104. doi:10.1002/tl.472
Rich, T. (2001). E-learning futures reports of an AUA study group. Perspective, 5, 68-77
Rodgers, T. (2008). Student engagement in the E-learning process and the impact in their grades.International Journal of Cyber Society and Education.1(2), 143-156.
Roffe, I. (2002). E-learning: engagement, enhancement and execution. Quality Assurance in Education, 10(1), 40-50
Roy, K. (2006). The impact of learning styles on interactivity in asynchronous e-learning. Performance Improvement, 45(10), 21.
Santo, A. S. (2006). Relationships between learning styles and online learning: Myth or reality? Performance Improvement Quarterly, 19(3), 73-88. Retrieved from http://search.proquest.com/docview/218517854?accountid=27965
Westefeld, A. (1953). A Problem of Interpretation in Survey Results. Journal Of Marketing, 17(3), 295-29
Zajac, M. (2009). Using learning styles to personalize online learning. Campus – Wide Information Systems, 26(3), 256-265. doi:http://dx.doi.org/10.1108/10650740910967410
Zapalska, A., & Brozik, D. (2007). Learning styles and online education. Campus – Wide Information Systems, 24(1), 6-6. doi:http://dx.doi.org/10.1108/10650740710726455
Time is precious
don't waste it!
Plagiarism-free
guarantee
Privacy
guarantee
Secure
checkout
Money back
guarantee