The Popularity of Casino Gaming, Research Paper Example
The Popularity of Casino Gaming
Commercial gambling is an increasingly popular pastime in America. People consider it a privilege and a benefit that allows them the opportunity to win some extra cash. The event of commercial gambling in the United States dates back many decades, with the commercial casino industry representing a large part of American gaming. According to the American Gaming Association, casinos in America are ever-expanding and evolving, as is seen from their mainstream success and evolution over the past 25 years. In years past, casino gambling operations only existed in Las Vegas, Atlantic City and New Jersey. However, as of 2010, the industry has grown to include 22 states with 566 operating casinos (Bazelon, Neels, & Seth, 2012). Moreover, casino gaming and gambling is a multi-billion dollar industry that caters to a host of diverse entertainment tastes, not just gambling.
Impact of the Casino Industry
A study conducted by a Washington D.C.-based economic analysis firm, reports on the impact of the commercial casino industry. Research findings of this comprehensive study include statistics on gross revenue of casinos in the United States over the past 15 years. This speaks to the popularity of gambling in the United States and how much people are willing to pay for the entertainment offered at casino resorts. The study concluded that people in this country spent nearly $125 billion at commercial casinos in 2010, and this equates to about 1 percent of the U.S. gross domestic product (Bazelon, Neels, & Seth, 2012). This is an astounding figure to comprehend, as the gross domestic product is approximately $14.5 trillion, as reported by the American Gaming Association.
Major casino markets in the United States include the popular Las Vegas, Nevada and Atlantic City, New Jersey markets, as well as some less popular casino markets such as Biloxi, Mississippi and Shreveport, Louisiana. The figure below illustrates revenue figures of ten of the top 20 casino markets in the U.S. as of 2008 (Casinos, 2010).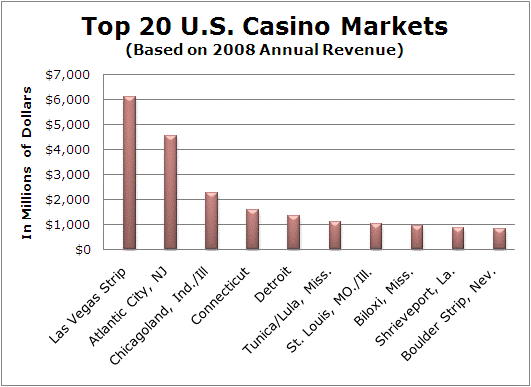 The impact of the multi-billion dollar commercial casino industry touches the lives of many, including consumers, employees, communities, and the country, in terms of the economy. Bazelon, Neels, & Seth (2012) reports the casino industry employed more than 820,000 people in the United States in 2010. This has an impact on the economy because it fosters spending, not only at the casinos, but also in other areas of the national community. Bazelon, Neels, & Seth (2012) states, "Taking all lines of business into account, commercial casinos directly generated $49.7 billion in consumer spending and about 350,000 jobs with salaries and benefits totaling nearly $15 billion in 2010" (para 3). This is highly significant, as it shows the economic impact the casino industry has on the country's stability and growth.
Popularity of the Casino Industry
The popularity of gambling and the casino industry is apparent in statistics that show the number of people who patronize casinos each year, and it also shows in reports on how much money is spent at casinos in America. The fact that consumers spend so much money on casino entertainment and gambling attests to the popularity of the industry. This is no doubt due, in part, to the allure of the possibility of winning large sums of money. Many people may see a trip to the casino as a way to relax, socialize, and party. Most casino resorts offer the amenities for guests to enjoy the many facets of entertainment they pursue. For example, Las Vegas is considered a place where families vacation. It is not just for adults anymore, with the many choices of entertainment options, there is much more to do than gamble.
The larger, more popular casinos may offer its patrons the option of watching live shows, dining in casino restaurants, renting out party rooms, relaxing or socializing in casino bars or lounges, booking casino hotel accommodations, and spending time in the casino gaming area itself.
Moreover, consumer spending at casinos directly impacts the economy with funds generated from sales of food and beverages, hotel stays, and gambling revenue, as well as other products, services or events purchased on casino property (American Gaming Association, 2013).
Gambling in the United States, it appears, is a favorite pastime, for many in the country, as a major form of entertainment. However, in recent times, reports show that consumer demand for casino offerings falls with economic downturns. A 2008 study reveals a drop in casino industry gross gaming revenue, trending through 2009. Uncertain economic times, which include high employment rates, make people rethink how they spend their money, and this causes cutbacks on aspects of their entertainment budgets, such as going on vacations and eating out at restaurants.
As it relates to how much less people spend on casino gaming, in lieu of a recession, Casinos (2010) states, "The drop in consumer spending means that people are taking shorter trips and spending less on high–end luxuries that casinos offer like restaurants, shows and spas" (para. 4). This is particularly true with the realization of the possibility of losing money when gambling. Additionally,
The American Gaming Associations reports that about 60 percent of regular patronizers of casinos cut back on their entertainment spending in touch economic times, as illustrated by the chart below (Casinos, 2010).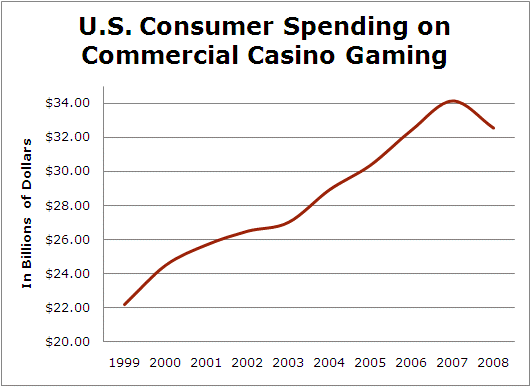 It is interesting to note that even with the possibility of loss, recession and the need to cut back, many consumers still include their regular trips to the casino in their budgeting plans. For example, Clark (2005) gives an account of a woman who admits visiting the casino once a week to play the penny slot machines. She feels like it is worth it because she says she gets out of the house and she only spends $20, 60 cents at a time. To her, going to the casino is something to do, with the chance of winning some extra cash.
Types of Casino Gambling
Casinos offer a wide variety of gambling entertainment options available with slot machines and other electronic gaming machines; however, table games are likely what casinos are most known for in the industry. Table games offer interest patrons many options to choose from, such as board-type games such as Backgammon and Chess, and card games such as Bridge and Poker, as arguably the most popular card game associated with the gaming and gambling industry.
The Popularity of Poker
As stated, poker is a large part of the gaming industry, and is largely responsible for much of the revenues brought into the industry. Krim (2004) states that Mark Twain's complaints about poker being a neglected game is now trumped by the hundreds of thousands of poker players who play 24-hours-a-day. It is estimated that up to 80 million people in the United States are poker players. These people include high school students, college students, those who play online, professional poker players, celebrity players, and casino regulars.
The popularity of poker stems from many motivating factors. For instance, people play for the sheer fun of it, to win big money, to compete, or to interact and socialize with other poker players online. In addition, organized professional poker tournaments draw enthusiasts, speculators and spectators, and there are also private tournaments held in people's homes or through community organizations all across the country. Krim (2004) reports that the mother of a 16-year-old boy, who hosts poker nights with his friends, approves of this and feels it is better than them playing computer games. She says playing poker stimulates his mind more. In contrast to the small size of these types of private tournaments, the magnitude of impact imposed by the well-known World Series of Poker tournaments adds to poker's allure and popularity. There are many people, who do not even play poker, constantly keeping up with those who do, and watching the World Poker Tournaments is a form of entertainment for them.
It is interesting to note that, as mentioned, online poker is a popular trend among enthusiasts as well. According to a report from PokerPulse.com, people wagered nearly $124 million in a 24-hour period on 100 or more online poker sites. In addition, estimated earnings of these online poker sites are more than $3 million a day, a mind-blowing number, particularly in lieu of unsteady economic times (Krim, 2004).
The popularity of poker, as stated, is a major part of why the casino industry is so popular, both offline and online, and is but one example of the many alluring qualities of the casino industry. Following is a review of the literature in this report that highlights the popularity of the casino gaming industry of today and how it is trending toward the future.
Literature Review
Gambling as an American Pastime
In the article, "Against the Odds," Clark (2005) examines the popularity of gambling in America, how much gamblers spend, and the growth of the industry, particularly how casinos make money. The article also reports that, as of 2005, estimates show that at least 73 million people in the United States were slated to spend money in American gaming venues. In 2000, the number was 53 million. In addition, it is stated that, on average, gamblers visit casinos up to six times a year and more the 6 million Americans are estimated to place bets on internet gaming sites, and they will lose a collective $80 billion gambling. Part of the growth in the gambling industry is due to new technologies which makes gambling more convenient and more fun. Gambling is even available via cellphones and other personal gadgets (Clark, 2005).
There are many ways that gaming and gambling industry masterminds find to lure people into playing paid games or gambling, while they pocket the profits. It is important that consumers are aware of the possibility of becoming victims of fraud and should protect themselves, accordingly. Also, as gambling can become addictive, especially when a person is allowed to win a few times and then begins to lose. Casino patrons should ensure they are playing responsibly to make certain they do not go overboard with gambling all of their money away.
Poker's Popularity
Krim (2004) and his article entitled "Poker's Popularity Proves a Hot Hand for Gaming Industry: Online and Off, Card Game Draws Players With Money, Competition," it is apparent that the allure of poker play is almost addictive. The article states, "Poker is on fire, its popularity fanned by a combination of television, technology and, for some, the allure of big money" (para. 4). Poker is both a game and a sport, and people often start playing off of the influence of others by way of socializing or interacting in other ways. For example, the article states that popular "meet-ups" are groups of people who share similar interest who meet each other online and gather offline to interact in a shared interest such as poker. In addition, as noted above, the article points out that 50 million to 80 million people in America play poker. In relationship to this, the article states the number of high school boys who play poker now out-numbers those who play video games. In addition, people have many reasons why they play poker. Some people play for money, others for recreation, and others play because it satisfies their competitive instincts, challenges their thinking ability, and gives them a reason to socialize.
Economic Impact of the Casino Industry
Bazelon, Neels, & Seth (2012) focuses on the significance of the commerical casino industry and its expansive growth over the last 25 years. The article points out how industry trends resulted in its expansion into more than 22 states by the year 2010. Additionally, it is stated that a large portion of the money that people spend in casinos goes toward the casino's expenses and overhead such as employee salaries and casino operating costs. The casino industry generates more than 470,000 jobs between suppliers and casino employees, and this equates to about $25 billion. Paying this expense is made possible by the billions of dollars spent in the casinos.
The American Gaming Associated hired the Brattle Group, an economic analysis firm, to do a research study on the U.S. casino gaming industry. Findings revealed that casino profit margins are based on direct, indirect and induced impacts which are generated from diverse steams of revenue. It is reported that casinos garner the majority of their revenue (over two-thirds) from the casino floor. The other third of total revenue is derived from the sale of products, services, hotel bookings, shows, event bookings, food, and beverages.
Casinos in Tough Economic Times
According to Accuval, a corporate valuation and advisory service firm, the history gambling is traced back to ancient times by the discovery of dice in Egyptian tombs. This speaks to the power of gambling and its allure, which is the reason behind the popularity of gambling in modern times. A report from the American Gaming Association shows that 25 percent of adults in American gamble at least once a year. However, studies show that, in touch economic times, this number decreases. Consequently, the casino industry, as a whole, feels the effects of a recession if its patrons cut back on entertainment and gambling spending (Casinos, 2010). Another reason casinos face challenges is over supply when demand is low, due to people not wanting to spend as much on recreational activities, such as vacationing at a casino resort.
In addition, casinos face competition by online casinos. This is interesting because online gambling is illegal in the United States, yet, online gambling continues as a multi-billion dollar industry. This is due to online gambling sites moving to overseas locations. In light of this, new legislation is proposed to allow online gambling in the U.S., with the provision of protecting U.S. citizens from fraud.
Industry competition concerns also stem from state-to-state and internationally, as well. More than 50 percent of the states in America operate legalized casinos and new markets are opening rapidly. New casino markets in Kansas and Massachusetts are examples. In addition, competition from other types of gambling venues, such as racetracks, is coming into play. For example, racetrack owners are looking to expand racetrack offerings by incorporating casino-type areas in their establishments. Internally, China and Singapore are showing promise in the industry with multi-billion dollar casino business plans for the near future. One cannot help but to wonder how the international casino gaming market will impact the American domestic casino gaming market.
Conclusion
The past 25 years show the commercial casino industry's tremendous growth and significant evolution. Casinos of yester-year did not have the advantage of technology that is available today. Casinos of today are more sophisticated, high-tech and diversified than in the past. Casino establishments now cater to the various needs of its patrons with offerings such as hotel stays, restaurants, live entertainment, and other ammenities, as well as state-of-the-art gambling facilities.
Additionally, the casino industry's growth trends remain, even in light of setbacks from the recession. With this, plenty of people still patronize casinos and this impacts the economy in positive ways, by helping it grow by generating more than $100 billion in economic activity and a tremendous workforce in the industry. The nation's economy is all the better for the casino industry (Krim, 2004).
References
Casinos: Facing Tough Odds During the Recession. (2010, February). Retrieved from Accuval: http://www.accuval.net/insights/industryinsights/detail.php?ID=126
American Gaming Association. (2013). The Economic Impact of the Commercial Casino Industry. Retrieved from American Gaming Association: http://www.americangaming.org/industry-resources/beyond-the-casino-floor/the-economic-impact-of-the-commercial-casino-industry
Bazelon, C., Neels, K., & Seth, P. (2012). Beyond the Casino Floor: Economic Impacts of the Commercial Casino Industry. Washington, DC: The Brattle Group.
Clark, K. (2005, May 23). Against the Odds. U.S. News & World Report, 138(19), 46-53.
Krim, J. (2004, September 6). Poker's Popularity Proves a Hot Hand for Gaming Industry. (The Washington Post) Retrieved from Technology: http://www.washingtonpost.com/wp-dyn/articles/A64457-2004Sep5.html
Time is precious
don't waste it!
Plagiarism-free
guarantee
Privacy
guarantee
Secure
checkout
Money back
guarantee