The Yellow Wallpaper, Research Paper Example
Introduction
It was Charlotte Gilman who wrote the short story entitled "The Yellow Wallpaper", first published in 1892.  Gilman was an American feminist residing in New England and had literary works that reviewed and discussed the physical and mental health conditions of women during this time.  The inspiration for the book came from Gilman's own personal experience as a patient at that time and having a near mental breakdown. She was particularly critical of her physician Dr. S. Weir Mitchell whom she consulted after suffering from acute bouts of depression. The Doctor prescribed a rest cure and limited her mental stimulation to only a few hours of work during the day. She returned to work and believed the mental stimulation aided her recovery, as opposed to the vegetative state of rest cures.
The story tells of how Gilman was confined owing to the state of her mental health condition and how as a result she lapsed into psychosis. As such she became obsessive about the pattern of the yellow wallpaper in her room. It made her think of all the foul and horrible things that were yellow, as opposed to beautiful yellow objects like buttercups.  She also associated sensory smells with the yellow wallpaper and hence the foul odor became a 'yellow smell'. She starts to experience hallucinations where she becomes entangled in the patterns of the wallpaper. Essentially a decline into the realms of insanity.  It is believed these are the description of what is now referred to the illness of postpartum psychosis.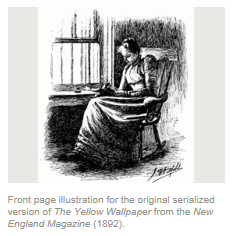 Postpartum Psychosis
Postpartum Psychosis is a clinical depression condition in the severest form and requires immediate treatment.   It is a relatively rare condition and most commonly associated with mothers having just given birth.  Conditions include hallucinations; delusions and imagining that you are hearing things that do not exist.  This major depression and mood disorder, if left untreated, can lead towards serious mental illness and risk of suicidal tendencies.  The symptoms are often associated with bipolar disorder.  Medication is now available as a maintenance treatment for those with bipolar disorder. Research has shown that a high proportion of patients do not comply with the treatment. Clinicians believe that there is a need for 'psychoeducation' in order to explain the importance of maintaining medication. Many patients find it difficult to accept that they have a mental or psychological illness. This causes them to rebel against the treatment program. Impulse controls have been accepted as a psychiatric disorder that results from illnesses like bipolar disorder. This often leads to acts of violent behavior. (Dryden-Edwards).
Current research studies have pointed out that over 1 billion people have Vitamin D deficiency and this has been linked to influence such diseases as Cancer, Diabetes, Osteoporosis and Cardio Vascular disease.  Further, the role of this deficiency is extended to that of depression and aspects of mental illness.  As such it is considered that additional Vitamin D nutrition in the daily diet may have significant benefits for both men and women.
Further studies have linked Vitamin D to other psychiatric disorders. Empirical research being conducted over a group where the influence of Vitamin D was considered to reduce the effects of Schizophrenia in patients. Similar studies have been carried out with patients suffering from Alzheimer's where it was indicated their Vitamin D levels were considered to be excessively low. The concept of Vitamin D deficiencies and that of mental disorders is still relatively undiscovered country. This particularly in terms of the neurological conditions and how the functioning of the brain is impacted by this deficiency.
Feminists Perspective
Modern feminists perspectives on Gilman's novel have reflected upon how she felt trapped in her marriage. When looking at the yellow wallpaper she saw visions of other women trapped and incarcerated behind bars.  She came to realize that she could no longer live her life in this sort of way. Towards the end of the story Gilman's husband lays on the floor in an unconscious state and she is seen to crawl over him. The symbolism being to represent her rising above him but at the cost of her sanity.
The story was considered to be written in the gothic style in the way that it treated the interpretation of power and madness.  It is considered that many parts of the story are the products of a deluded mind and as such the reader is unable to interpret what is truth and what is not i.e. the interpretation between that of reality and fantasy.
Influence on Gilman's life
Gilman stated that the intention of the book was not to irritate or make people mad but rather an intervention in order to try and help other people from going insane who suffered from severe bouts of depression.  It influenced her life by regaining her independence and freedom and provided her with the self-confidence to resume her work. It is important to note that this was a time of great change in New England and the women were rising in power as the spiritual and moral leaders of their homes. Further women were pushing beyond the basics of domesticity and demanding more active roles in both public and political life.  Gilman represented a strong advocate for women's rights and more recognition for their place and roles in society. She was a strong believer in the financial independence of women and should not be subjugated by men. It may be argued that the treatment prescribed by the male physician was viewed as being another example of male dominance and as such a reason to resist his prescription of 'rest cure' as derogatory.  (Edsitement).
Gilman went on to be a successful author and publisher "Charlotte Perkins Gilman established The Forerunner, a magazine that allowed her to express her ideas on women's issues and on social reform… " (Gilman).  Gilman later married for a second time to George Gilman whom she remained with until her death in 1934.  She had rather a tragic ending discovering that she had inoperable breast cancer and committed suicide in August 1935.
The rise of feminism
The struggle for women's rights in America began in the 1820s, with the writings of Fanny Wright.  Wright also advocated for the abolition of slavery.  Her views had little support at the time, and it was not until 1848 that Elizabeth Cady Stanton and Lucretia Mott held a women's rights convention in Seneca Falls that the matters surfaced again.  In 1866, Stanton mocked and Anthony est. the American equal rights Association, and in 1869 saw the national women's suffrage Association being inaugurated.
Alice Paul became a political activist that saw her arrested on three different occasions. Later in 1913 she was instrumental in the formation of the congressional Union for Women's suffrage and attempted to introduce more militant practices, successfully carried out by the women's Council and political Union in England.
Life in the early colonies
Women were instrumental in helping to domesticate and civilize the early American colonies; despite gender issues they made a significant contribution to early settlement. Many of the women moved to the Americas because of financial hardship in Europe. Of mainly working to middle class tier they were a hardy self-determined breed of women.  In 1851 a census revealed that women outnumbered the men by 2:1 and agencies hired women for roles such as Governesses, nurses, domestic help and as potential wives.  The women were faced with numerous obstacles in this new frontier that included racism and lack of privileges. (Steel).
Life in the early American colonies was very hard because of the limited resources and the need for everyone to pitch in. Partucular demands were placed upon the women colonists. Many of the women were expected to perform domestic chores of sewing, cooking and tending animals.  The women were somewhat stereotyped by the men as being the weaker sex and as such not physically strong or mentally stable as the men.  This limited many of their rights and privileges which included such items as:  the right to vote, inability to hold public office and unable to participate in local community decision making.
Women were in general in short supply across the colonies and as such made them a more highly valued commodity than in Europe. In this regard the women had better opportunities to undertake job roles that were either denied them or harder to come by in Europe. In addition, the communities in the New England area were very religious ( puritans) and as such the women were considered to be at the very heart of family life. It was the women who raised the children to become good Christians.  Women did gain greater respect in these communities and over time they evolved beyond  the role of wives into small business owners, shop owners and helped in the administration of public affairs. Although they still did not achieve the equal rights of men.
Works Cited
Dryden-Edwards, R. Postpartum Depression. 25 7 2012. <http://www.emedicinehealth.com/postpartum_depression/article_em.htm>.
Edsitement. Charlotte Perkins Gilman's "The Yellow Wall-paper"—Writing Women. 25 7 2012. <http://edsitement.neh.gov/lesson-plan/charlotte-perkins-gilmans-yellow-wall-papermdashwriting-women>.
Gilman, " Charlotte Perkins. Biography.com. 2012. http://www.biography.com/people/charlotte-perkins-gilman-9311669. 25 7 2012.
Steel, E.A. and Gardiner. G. The complete Indian Housekeeper and Cook. New York: Heinemann, 1902.
Time is precious
don't waste it!
Plagiarism-free
guarantee
Privacy
guarantee
Secure
checkout
Money back
guarantee